The 2022 Holiday Season at Disney World
By Dave Shute
DISNEY WORLD'S HOLIDAY PROGRAM
In 2022, Disney World has returned to a largely complete set of holiday program offerings, with particularly rich offerings at Epcot and Magic Kingdom.
More details are available on Disney World's website, for example here, but in sum:
At Disney's Animal Kingdom, the key offering is the "Merry Menagerie," a subtle but delightful show of arctic themed animal puppets at the Tree of Life. Special winter and holiday effects also enrich the Tree of Life Awakenings show. Elsewhere in the park, Santa Claus floats down the Discovery River.
At Disney's Hollywood Studios, the major offering is Sunset Seasons Greetings, a charming projection show in the evening on the building that houses Tower or Terror, the Hollywood Tower Hotel. You'll also find a Santa Claus motorcade, and a special ending to For the First Time in Forever.
Epcot has several major offerings beginning November 25, including
The Epcot International Festival of the Holidays, one of Epcot's many food and drink festivals
Holiday storytellers in most of the pavilions of World Showcase
The beloved Candlelight Processional, a retelling of the Christmas story by a celebrity narrator and massed choirs. The Candlelight Processional is best seen via reserved seat available through booking a Candlelight Processional Dining Package
Epcot will also see a holiday overlay added to Guardians of the Galaxy: Cosmic Rewind.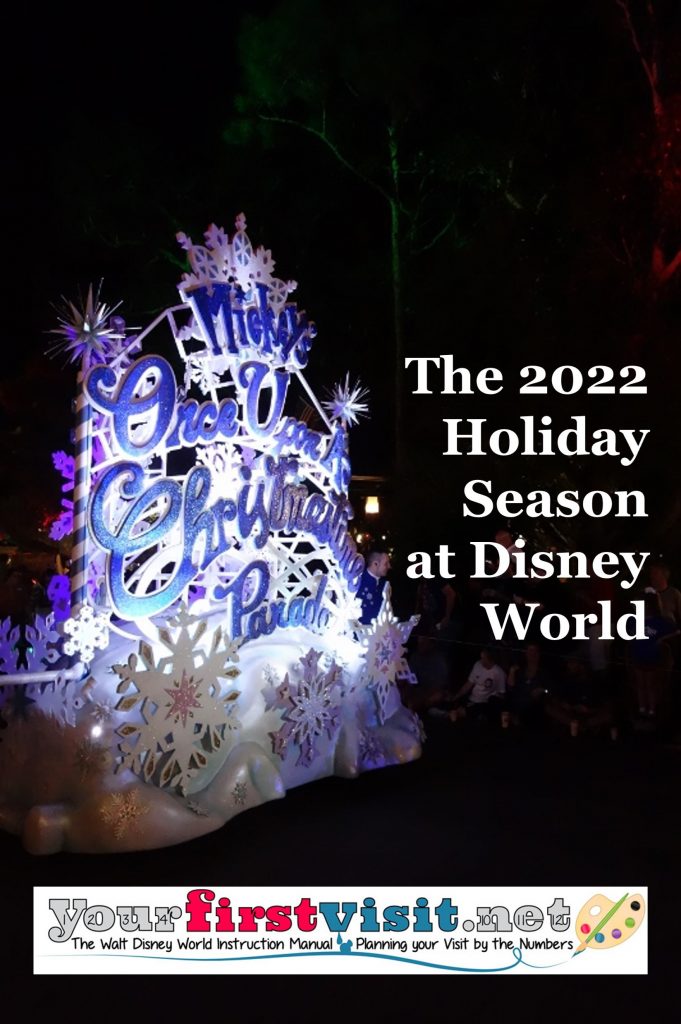 At Magic Kingdom, the signature event is Mickey's Very Merry Christmas Party ("MVMCP), an additional ticket for which is required (but which does not require a park reservation.)
Officially running three to four nights a week most weeks from November 8 through December 22 from 7p through midnight, guests with tickets for the party can enter as early as 4p if they choose, and enjoy a wonderful Christmas parade, spectacular fireworks, and, other than at a few rides, low waits for attractions. MCMVP tickets are available here.
HOW TO BUILD THESE HOLIDAY PROGRAM ELEMENTS INTO THE DISNEY WORLD GENIE+ ITINERARY
For more than a decade I have provided a separate itinerary—the "Basic Itinerary"–that integrates all of these offerings into a plan for Walt Disney World. This year I do not do so, largely because the cost of of MVMCP now approaches $750 for a family of four…
Rather, I offer suggestions below for how to see these holiday program elements on an a la carte basis in the Disney World Genie+ Itinerary for visits the weeks beginning 11/26, 12/3, 12/10 and 12/16. (Many of these offerings except those at Epcot will also be available for November visits.)
Animal Kingdom: see the holiday program offerings in your Tuesday visit
Hollywood Studios: see the holiday program offerings on your Sunday visit
Epcot:
Enjoy the Epcot International Festival of the Holidays and the holiday storytellers as you tour World Showcase on both Saturday and Monday
Book the Candlelight Processional Dining Package and see the show on Monday
Magic Kingdom: The best day in your itinerary to see Mickey's Very Merry Christmas Party is Thursday, which otherwise is your off day. If Thursday is sold out, Friday will also work most of these weeks—although it will lead to a very long day. One option with a sold-out Thursday but an available Friday is to swap Thursday and Friday in your itinerary, making Friday your off day with MVMCP, and Thursday your second Magic Kingdom day.
RELATED STUFF