The Latest Update to the 2019 Edition of The Best-Reviewed Disney World Guide Book Is Out!
By Dave Shute
Josh (of easyWDW.com)  and I have just released (on Amazon, through Theme Park Press) the latest update to the 2019 edition of the best reviewed Walt Disney World guide book, ever, The easy Guide to Your Walt Disney World Visit 2019.
We did more than 30 pages of changes for this update—but probably the most important change is that our material and advice now fully incorporates Disney World's new date-based ticket pricing approach. Other changes worth noting: all the recently-opened stuff at Caribbean Beach is covered, and there is a minor change to Day Two of the Character-Centric Two Day Touring Plan for Magic Kingdom.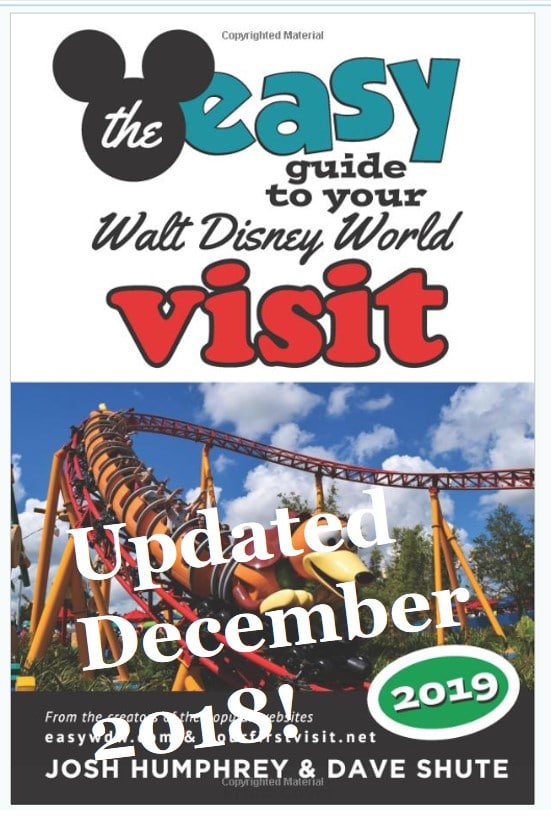 If your Disney World guidebook does not know about lunch at Centertown or about the exact new model for ticket pricing and what it means for you, then cast that weak stuff aside and get our book!
Chock full of great advice for both returning and first-time visitors, the 2019 edition continues our tradition of offering the best, clearest, shortest, and wisest advice for your Disney World trip, ever.
It also continues our model of offering a free Kindle version to those who buy the paperback edition, and of free updates* (as PDFs) over the course of 2018 and 2019 (until we publish our 2020 edition), because Disney World changes faster than any guidebook on solely an annual publishing calendar can respond to.
I've already emailed those who have already signed up for getting the updated version of the book (unless I messed up).  For those who bought the 2019 edition but have not yet signed up for their updates, see the instructions you'll find on page XII.
Our Disney World guide book series began in 2014, and since then has received hundreds of reviews on Amazon, 90%+ of them five stars. Some of our recent reviews:






More comments from my recent email traffic:
Michelle: "I've bought every one since the beginning of time 🙂 I appreciate all the hard work that goes into it!"
Jason: "Great book. My favorite Disney book. I'm one of the crazies that buy it every year!"
Fred: "A very interesting and helpful book!"
Andra: "Thank you for a great book!"
Cheryl: "Thanks for a fantastic guide that is both extremely helpful AND fun to read!"
No other guide book can claim to be the best-reviewed, ever, because no other guide book is as good as The easy Guide to Your Walt Disney World Visit 2019! Click the link to get yours today!
Follow yourfirstvisit.net on Facebook or Twitter or Pinterest!!
RELATED STUFF