Most Relevant Disney World Ticket Prices Increase 8-12%
By Dave Shute
As expected, on February 12, 2017 Disney World put into place new ticket prices.
There's a couple of new twists to the ticketing model, too—multi-day tickets now have an expiration date (12/31/2018 at the moment) and those buying three day and longer ticket options will pay an extra $20 if they do not get their tickets in advance and online.
The full set of new multi-day Disney World ticket prices is here.
A couple of observations about this latest price increase:
While short non-hopper tickets showed some price stability and even decreases, four day and longer non-hopper tickets—the sort most will buy—went up 8% to 11.5%
The biggest driver of this is a major increase in the cost of the fourth ticket day, which for those 10 and older went from $346.13 to $372.75 (up $26.63).
On top of this increase to a four day ticket, Disney World increased the cost to add days 5 through 7—from $15.98 a day to $21.30 per day, or an increase of $5.33 per day.
Here's a chart of the increases in prices compared to the last set of prices by length of ticket in days for non-hopper tickets. Price increases for tickets for those 10 and older are in blue, and kids 3-9 in red.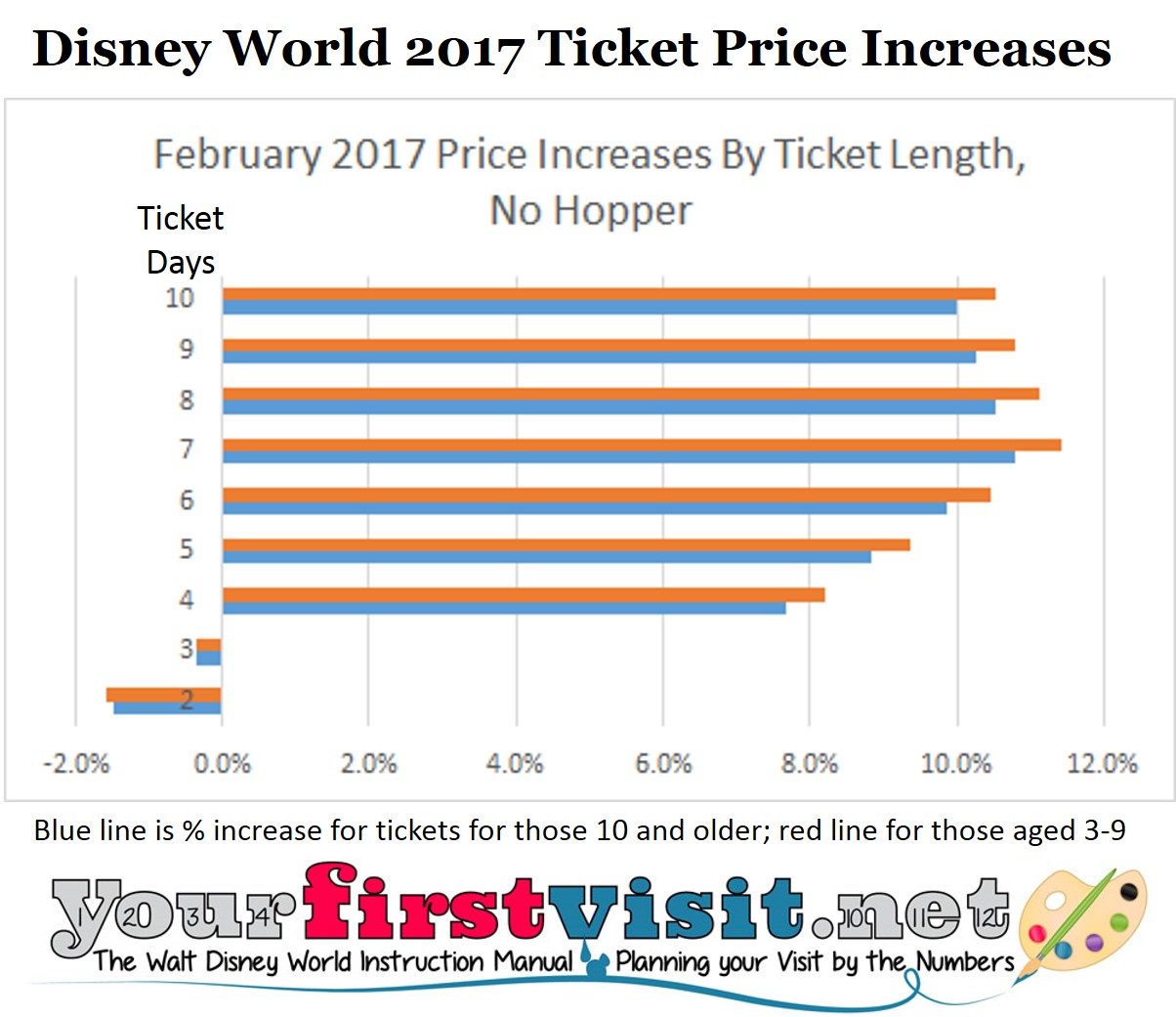 In addition, Park Hopper prices went up more than $10 for tickets longer than three days, so Park Hopper tickets show as a result an increase in four day and longer tickets of 9% to 12%.
I had expected Disney World to shift to seasonal pricing for multi-day tickets in this round. Instead, the main package change is the new expiration date. This date of course allows it to enforce seasonal multi-day prices later. (The price of totally unused expired tickets can be credited towards the price of new tickets.)
These price increases are quite steep. In business terms, they allow Disney to recapture the value of the investment it is putting into the Animal Kingdom park, with Pandora opening in late May 2017, and into Hollywood Studios, with Toy Story Land there perhaps opening in 2018.
It also creates headroom for when, and if, it changes multi-day tickets to seasonal pricing, allowing "value season" dates to show little increase…at least the first year…
My friends at the Official Ticket Center likely will have tickets at the older price levels available for a bit.


Follow yourfirstvisit.net on Facebook or Google+ or Twitter or Pinterest!!
RELATED STUFF