The Fourth of July 2017 at Walt Disney World
By Dave Shute
THE 4th OF JULY IN 2017 AT WALT DISNEY WORLD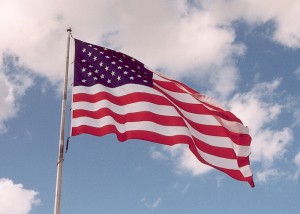 Disney World celebrates the 4th of July at several parks–and on July 3rd as well!
Hours may change a bit later, but here's the current scoop
On Monday, July 3, 2017, the Magic Kingdom has a special fireworks show "Fantasy in the Sky" at 9p.
On Tuesday, July 4, 2017
The Magic Kingdom has the same show at the same time–"Fantasy in the Sky" at 9p
Epcot's Illuminations will likely have a special holiday ending added, and likely will be shifted from its normal 9p time to 10p, and
Moreover, the normal Wednesday evening Extra Magic Hours at the Magic Kingdom will happen Monday the 3rd instead.
Those following this site's FastPass+ High Crowd Itinerary for Walt Disney World will be at Hollywood Studios the 3rd, and Magic Kingdom the 4th. I suggest that instead folks swap the itinerary on Tuesday and Wednesday this week, so they avoid parks wit fireworks entirely, because of the crowds.
If you must see fireworks, you best bet is to add a hopper to your ticket and hop to Magic Kingdom Monday evening.
FOURTH OF JULY CROWDS AT WALT DISNEY WORLD
July is the most consistently crowded month at Disney World, and in the month, visits that include the 4th of July see the highest crowds.
July is the most crowded month because every US schoolkid on a typical (that is, not year-round) calendar has the entire month off.  This is not true of either June or August. Within July, many parents gravitate towards the week of the 4th for their vacations, because since the 4th is a holiday, they need to take one fewer vacation day to get a week off.
And people want to see fireworks on the 4th…so the Disney World parks offering fireworks on the 4th of July will be packed!
For more on July 2017 at Disney World, see this.



Follow yourfirstvisit.net on Facebook or Google+ or Twitter or Pinterest!!
RELATED STUFF