The Basics: Setting Up Your FastPass+
By Dave Shute
Note: Disney is not currently offering FastPass+.  It has been replaced by two paid programs, covered here.
Disney World's FastPass+ program is one of the most important ways to reduce waits on your Disney World visit. The overall program and recommended FastPass+ are covered here.
This post is about the mechanics of setting your FastPass+ up using your web browser. (Disney hopes people will use browsers for planning, and the app for in-Orlando changes.  Doing it via the app is covered in Josh's post here.)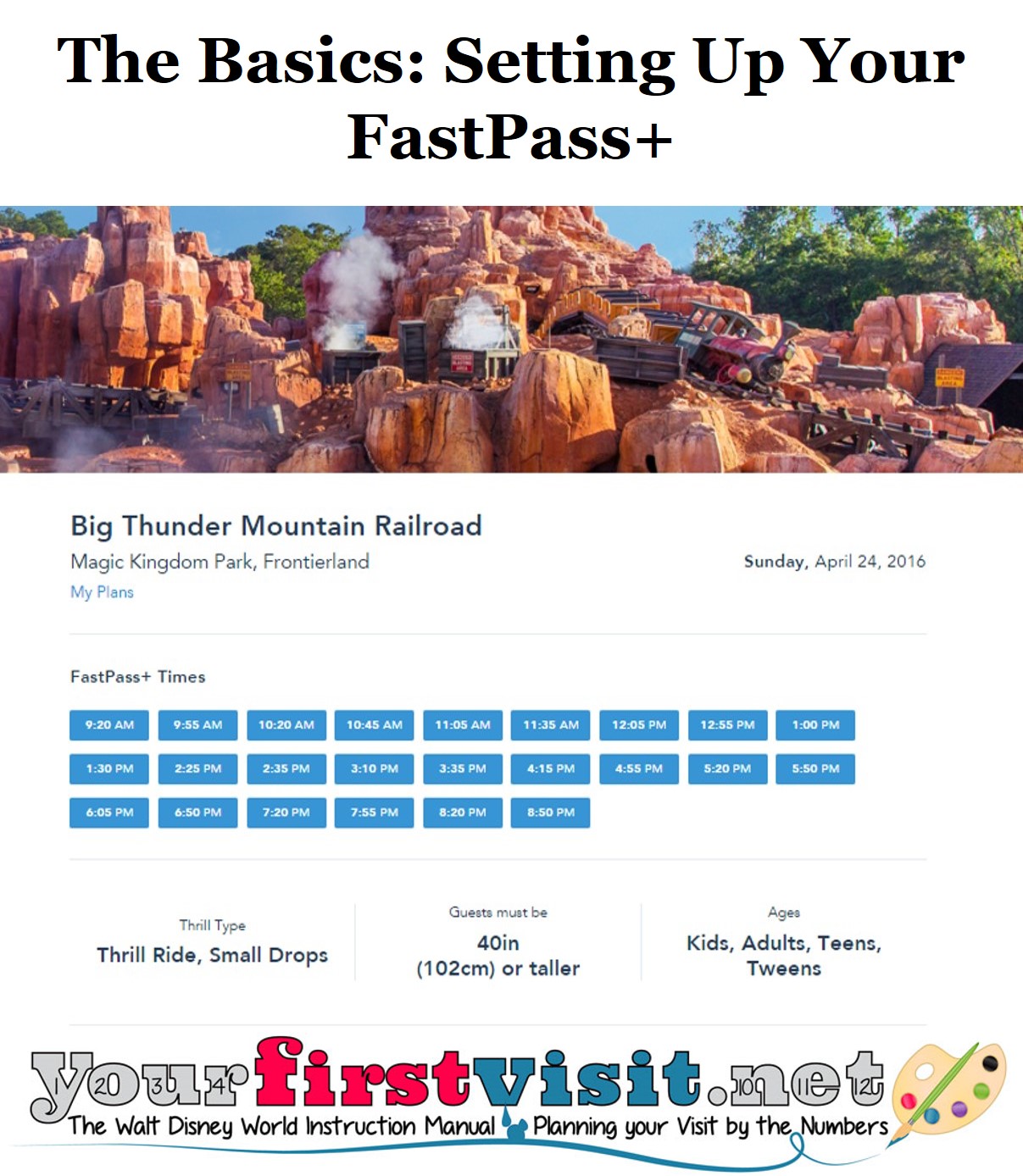 To book FastPass+, you need a My Disney Experience account with valid tickets linked within it for the folk for whom you plan to make FastPass+.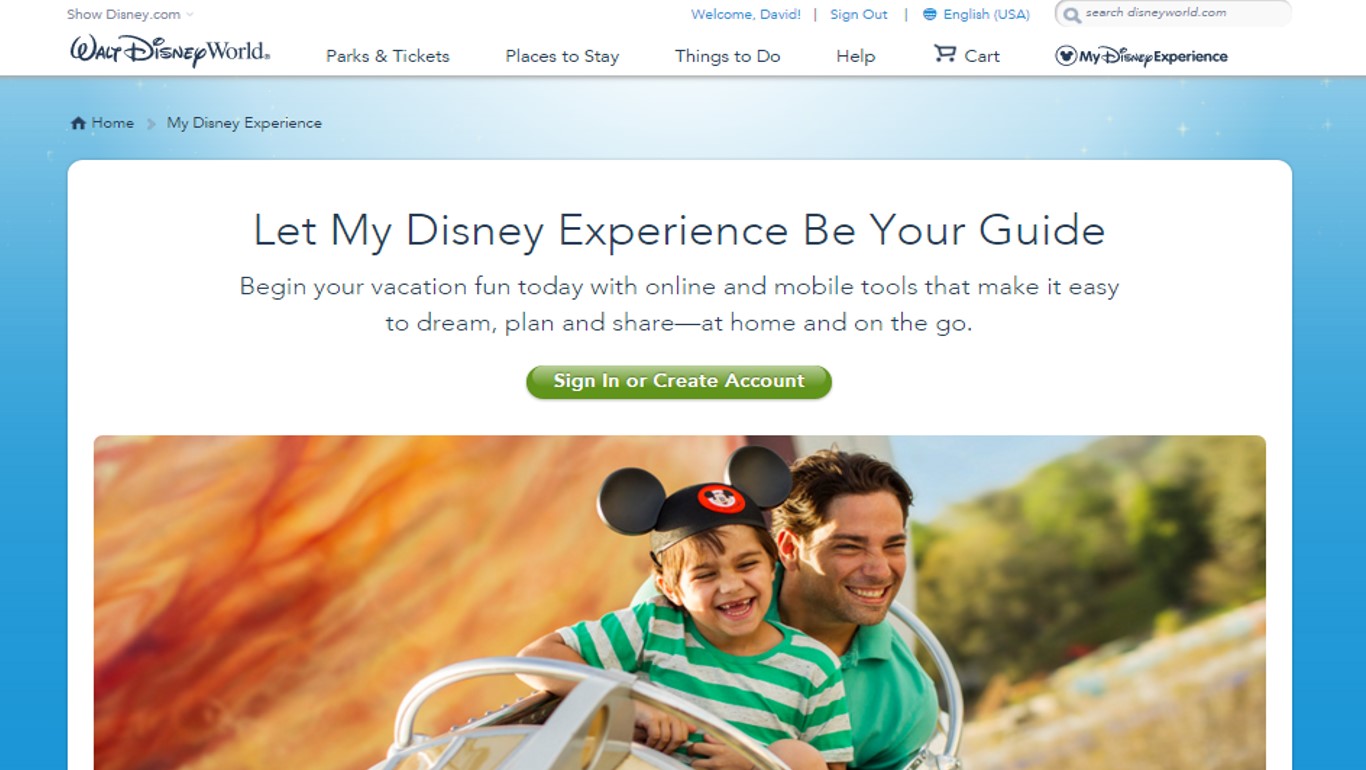 (It's easiest if you set the account up first, then buy your tickets from within the account.  But you can also link tickets you already have, or that you bought at a discount from someone like The Official Ticket Center.)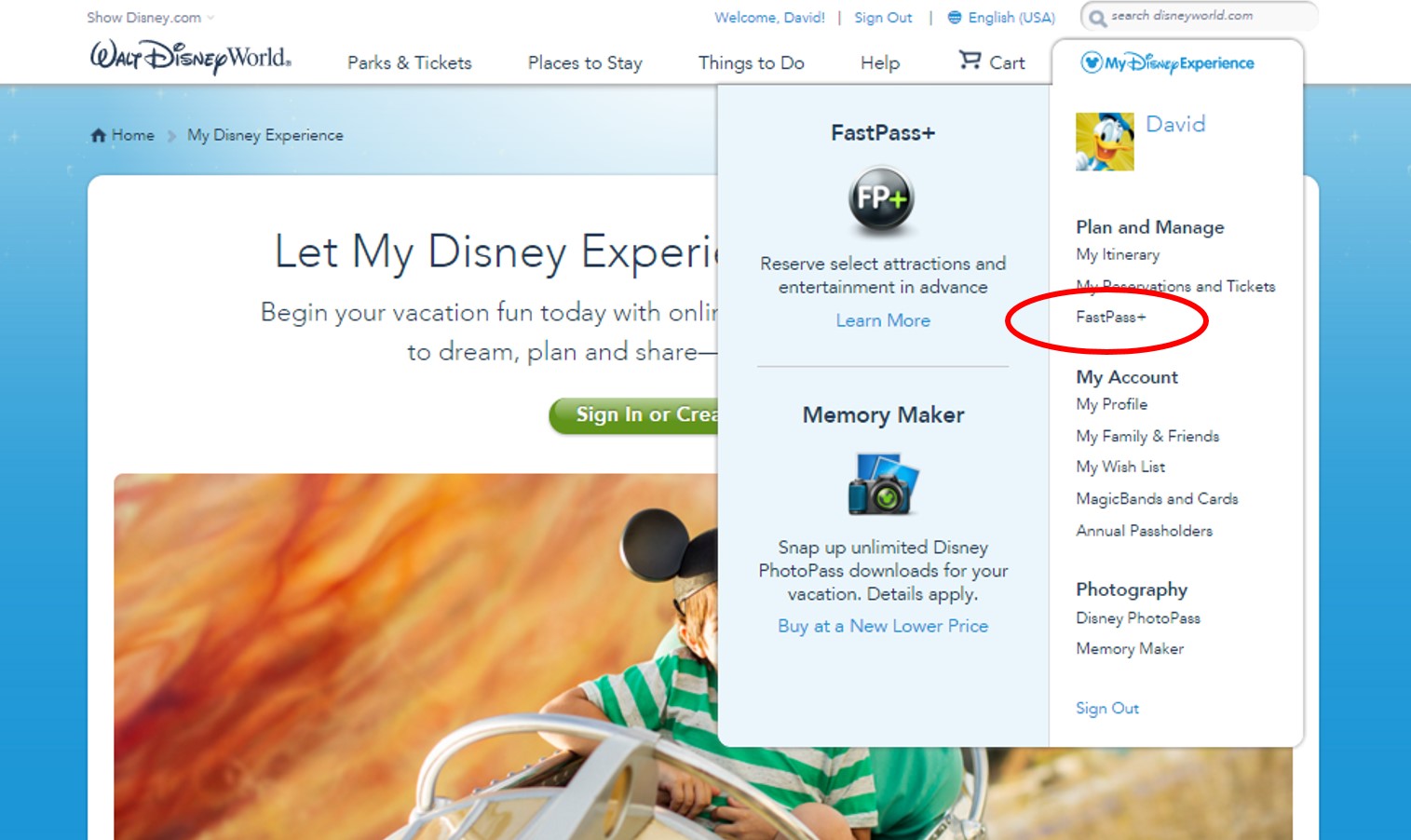 Log in, and at the top right hover over the words "My Disney Experience." From the drop down that emerges, click FastPass+.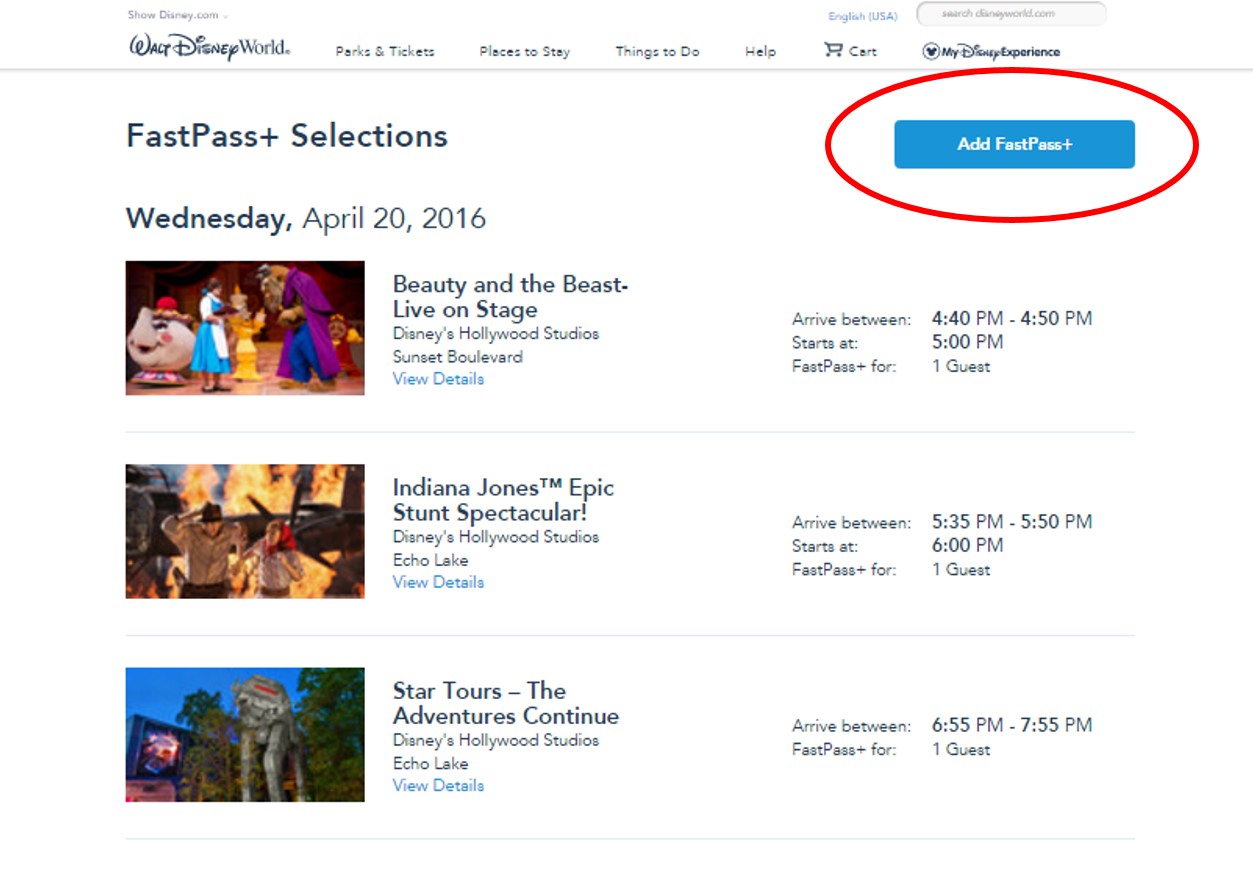 If you already have FastPass+ booked, your current ones will show.  Click
"Add FastPass+" to add more. (If you have none, you'll go straight to the next page.)
Then you add, one at a time, FastPass+ up to a total of three per day.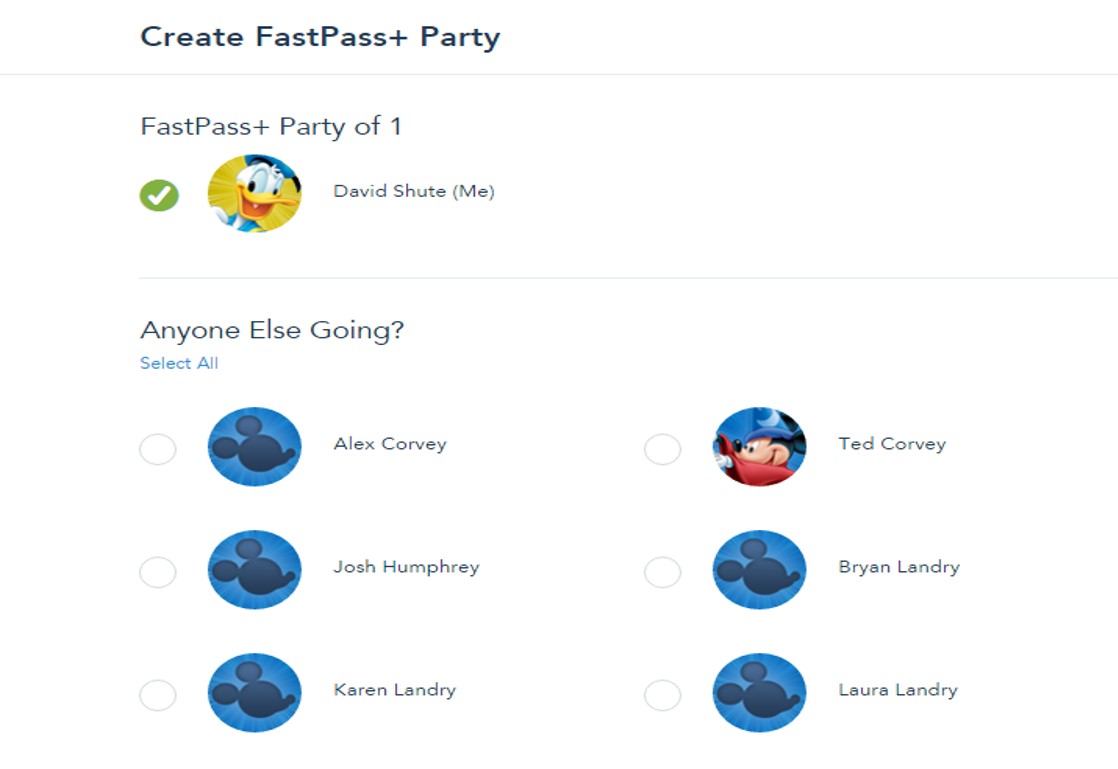 First you select the party for your FastPass+.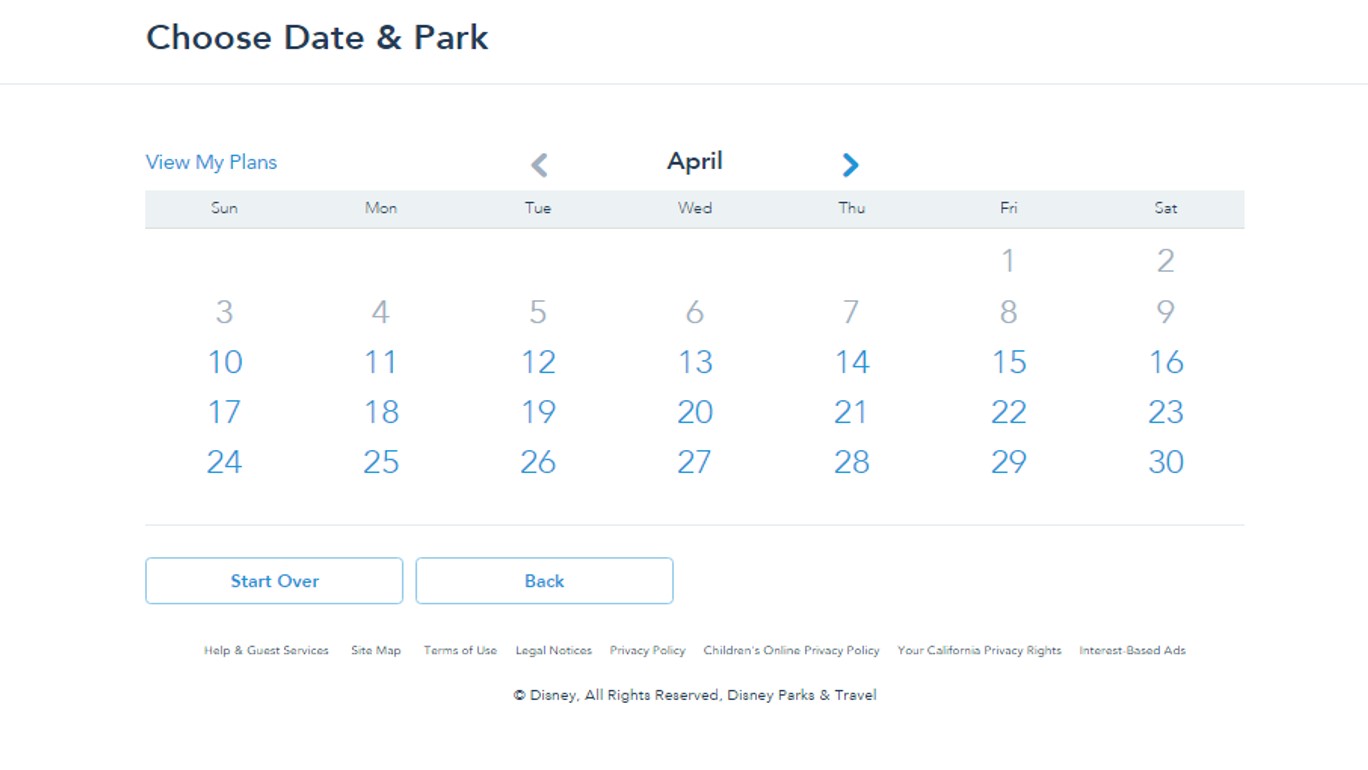 Then you pick the date…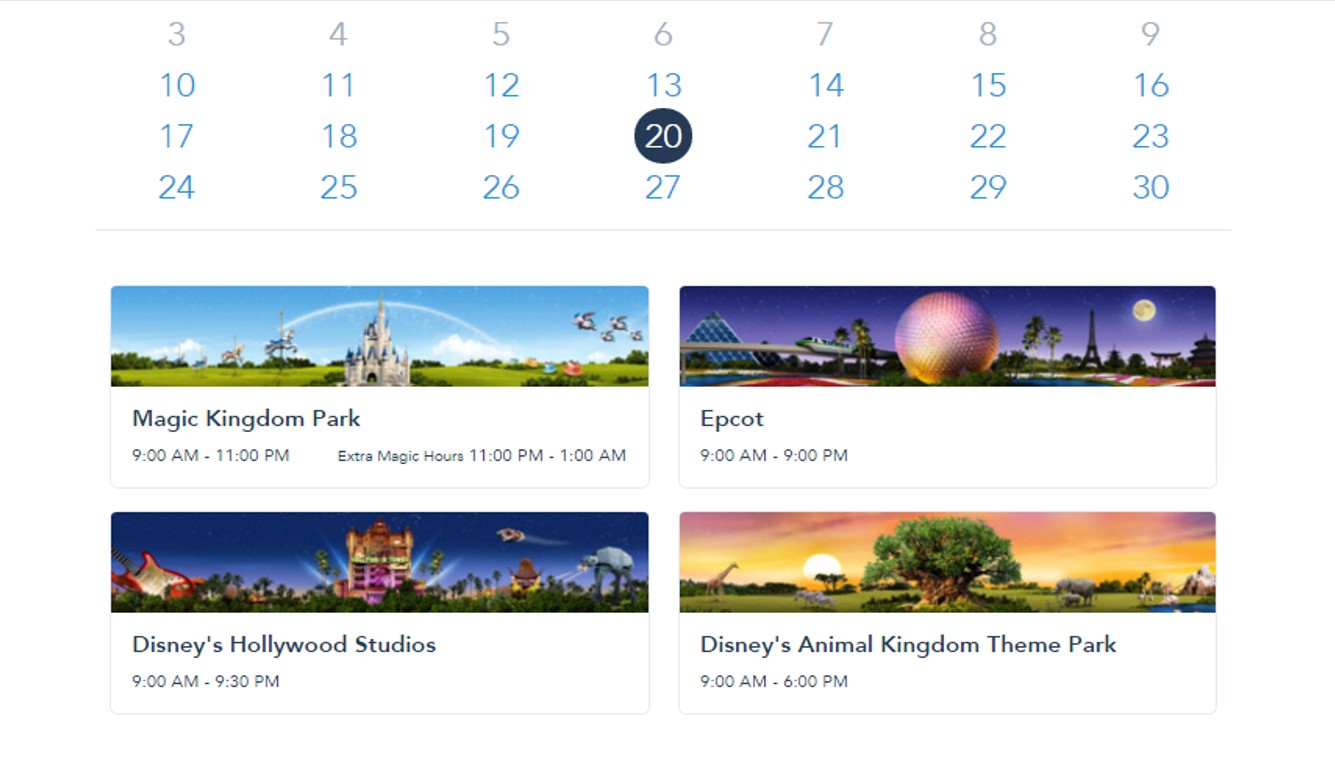 …and then at the bottom of the calendar page the park.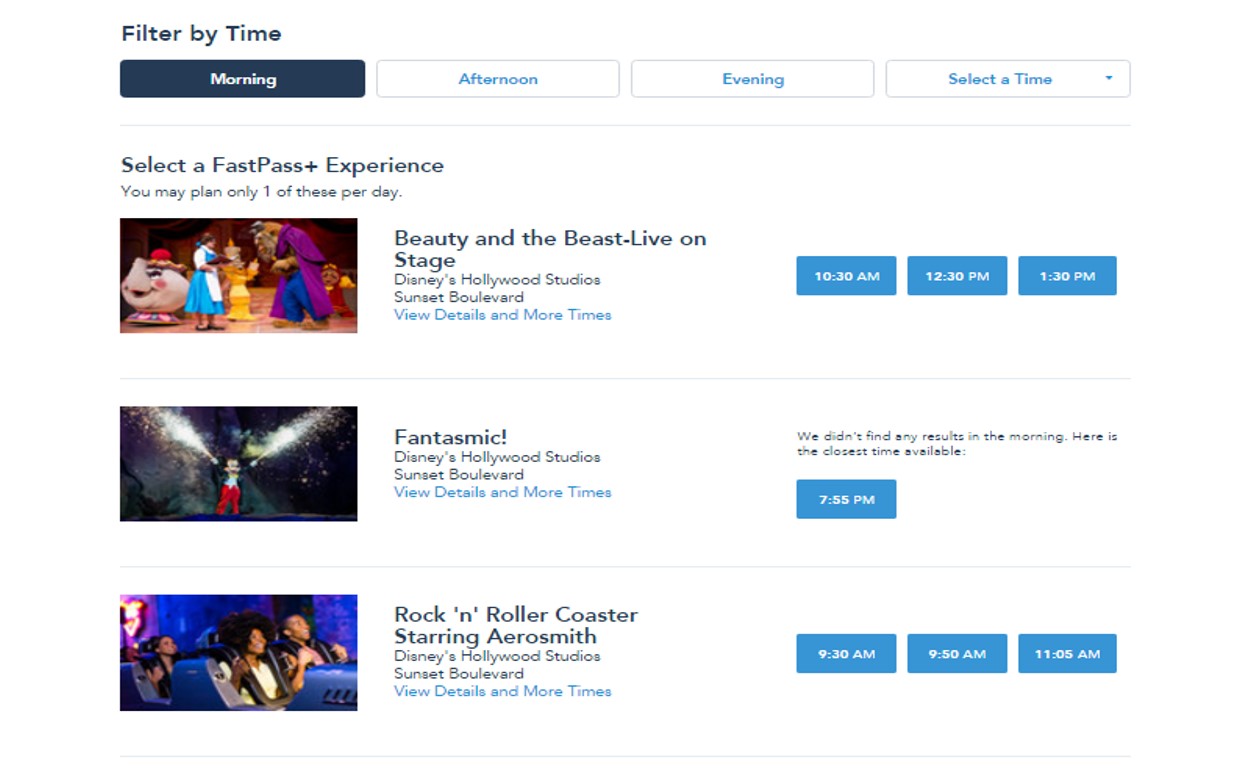 Rides and some possible times for your FastPass+ that day will then show on your screen.
Note that there are tabs above where you can target morning, afternoon, and evening. Attractions only available in the evening will still show, even if you picked morning, like Fantasmic in the image above.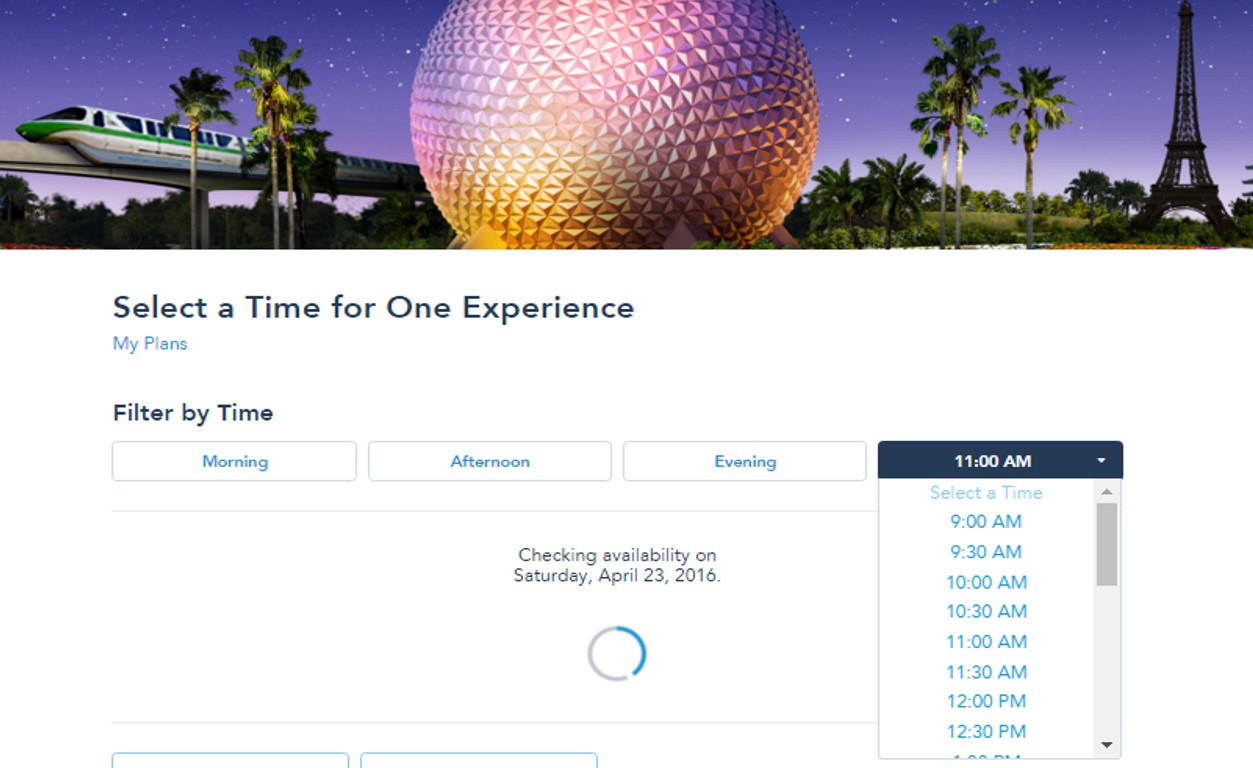 By clicking the rightmost tab, you can even target a specific time.
By default, the system will show only up to three time choices for each ride.

But note that under each ride's name is a link "View Details and More Times."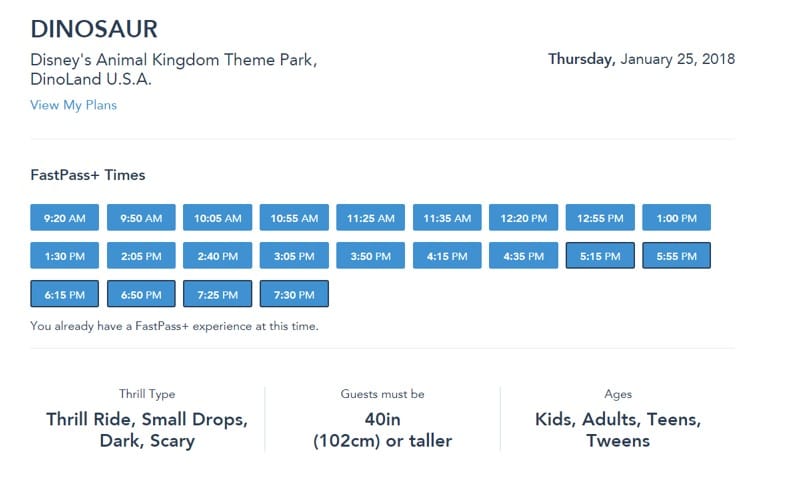 Click it, and if available you'll see a lot more times to pick from. It's a little subtle, but times that conflict with your other FastPass+ have a black border around them. In the DINOSAUR example above, the black border begins at 5.15p.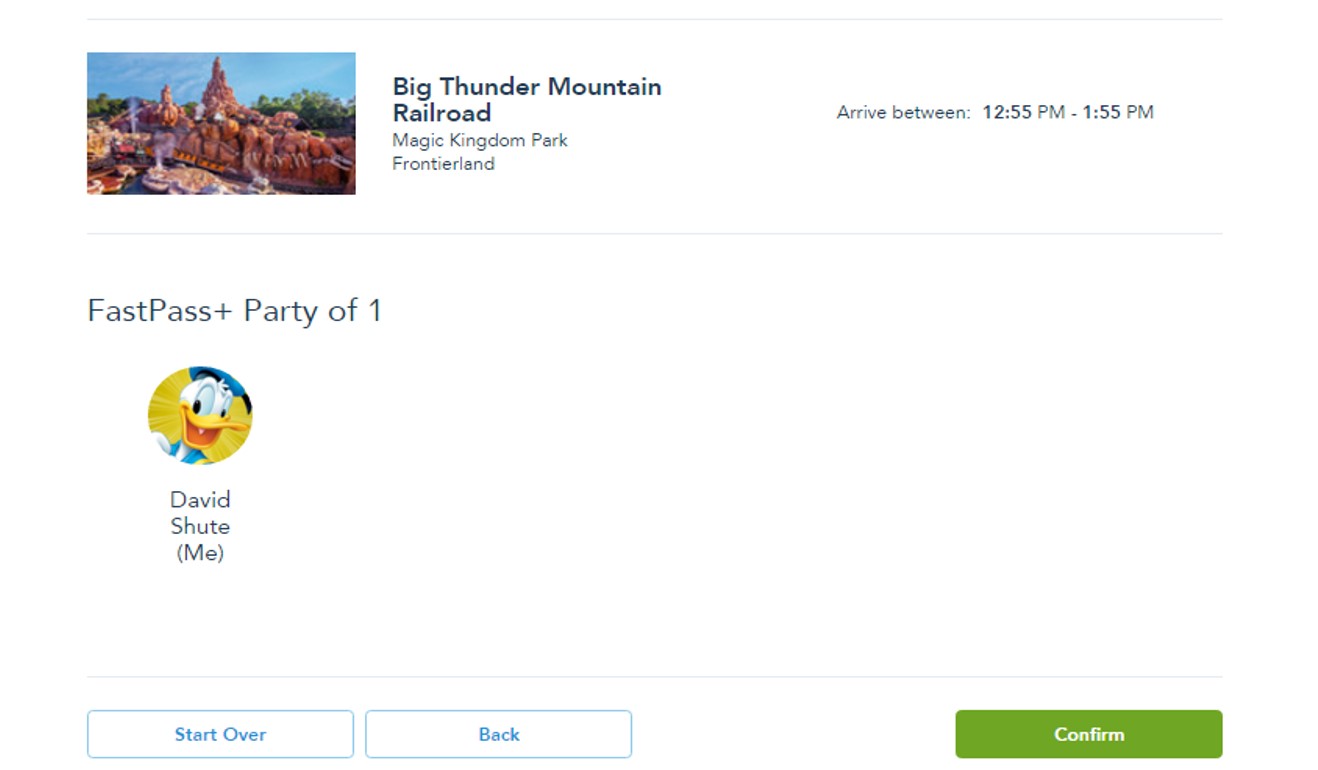 Tap the time you want, and hit the green "Confirm" button at the lower left of the next screen.
Your FastPass+ may conflict with another time you've picked, or even a set of FastPass+ at a different park.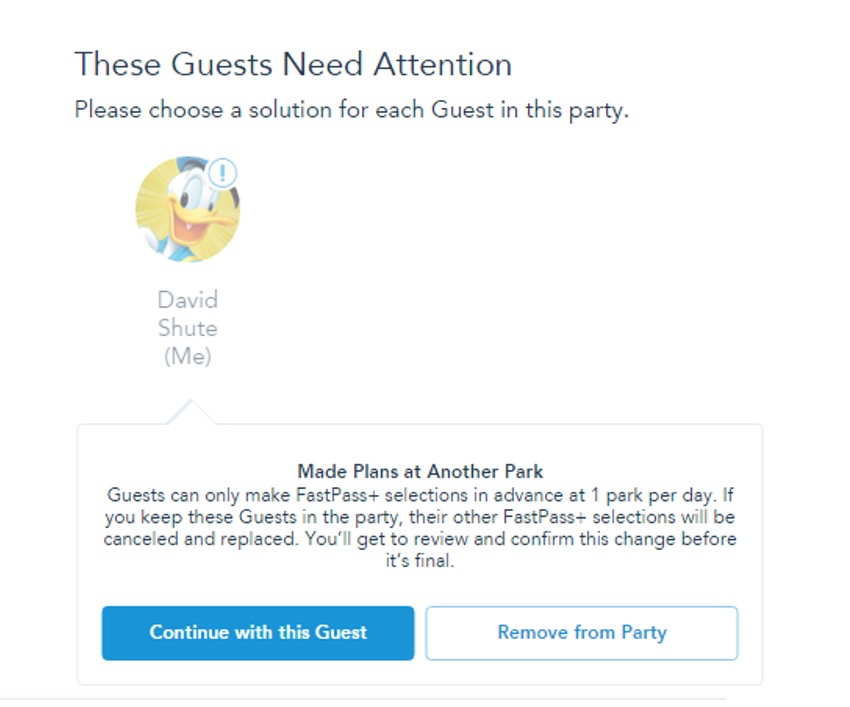 If so, you'll get something like this error screen.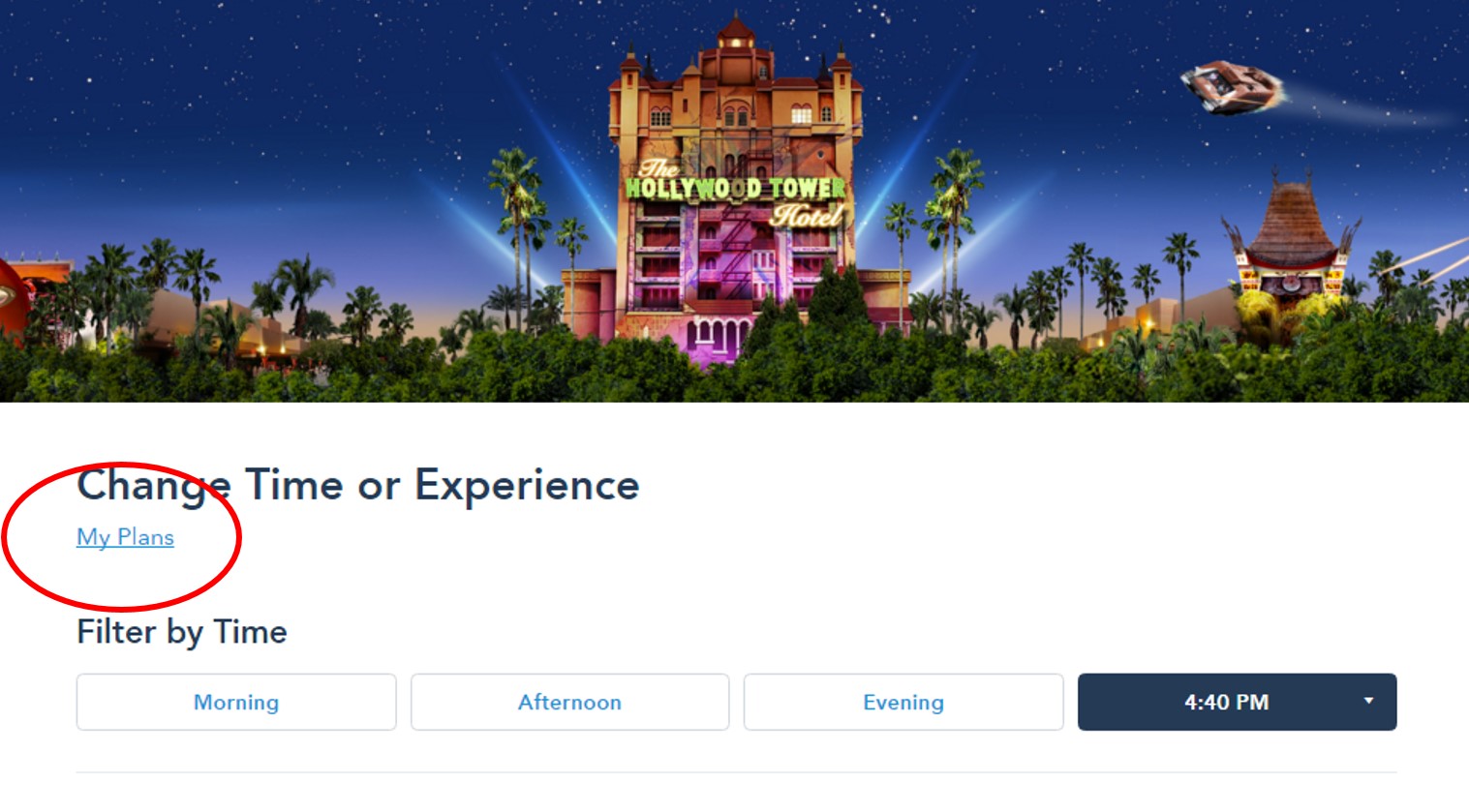 If you lose track of the FastPass+ you've already booked for that day, most pages have a link "My Plans" in the top left.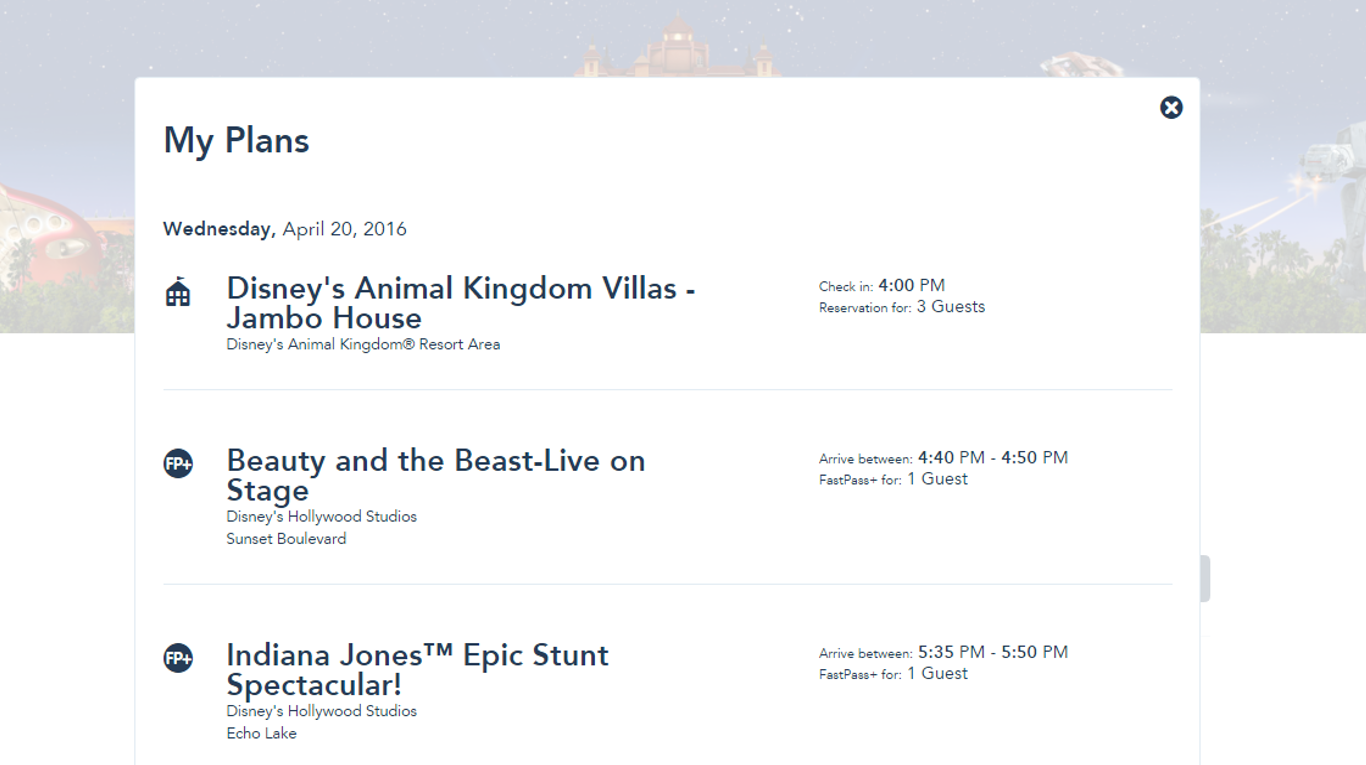 Click that and a pop up of your plans will show up.  Scroll down to the appropriate day to see what's up, then X out the pop-up.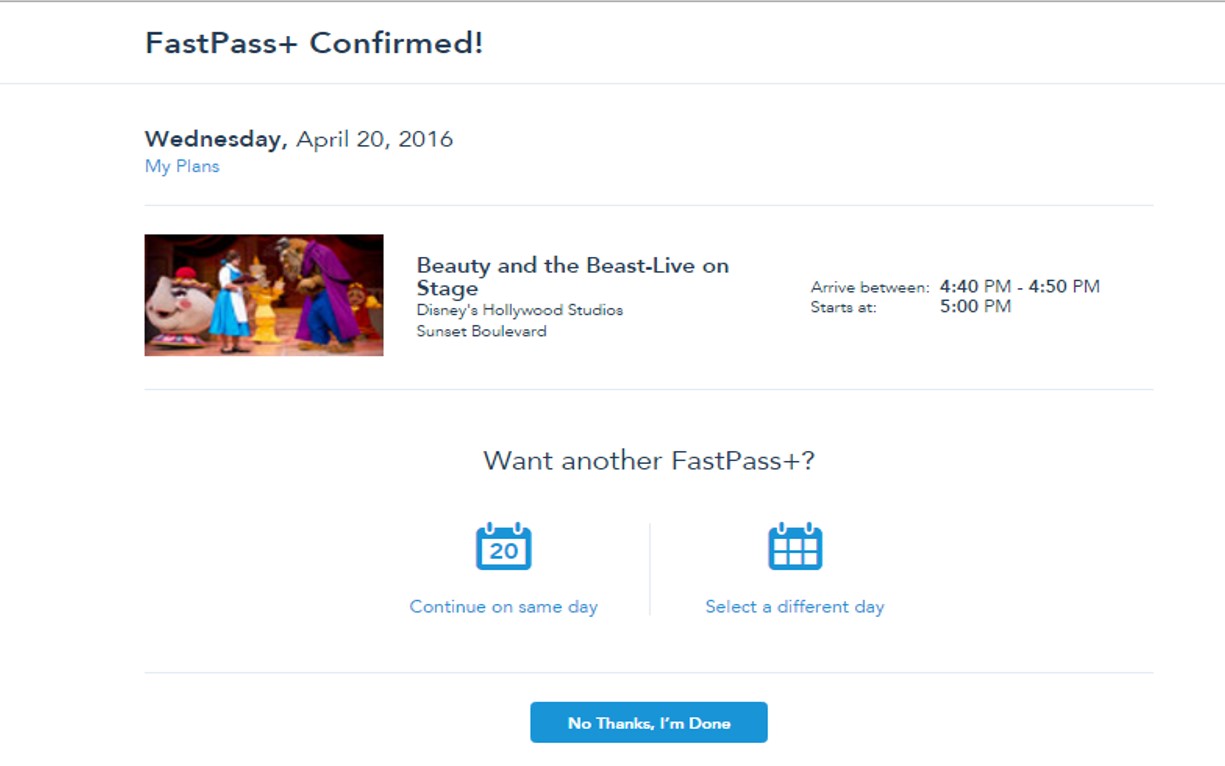 Once you have a successful "confirm," the screen above opens, giving you the choice of continuing that day or working another day. Either way, you will start back at the beginning, picking the people involved for whom you are scheduling a FastPass.
Changing your FastPass+ after they are booked is also straightforward. Open the FastPass+ material just like you did above (by hovering over the "My Disney Experience" words at the top right) and your current FP+ will load: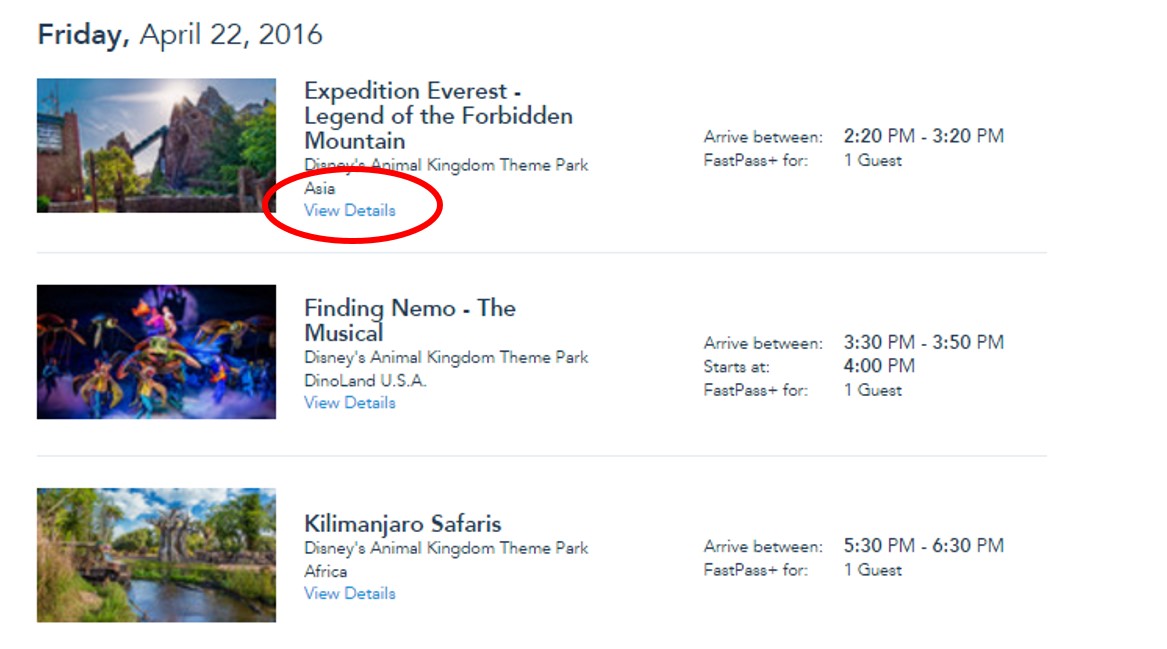 Click "View Details" and you'll get a screen allowing you to modify the FastPass+–change its time, its folk, or cancel it altogether.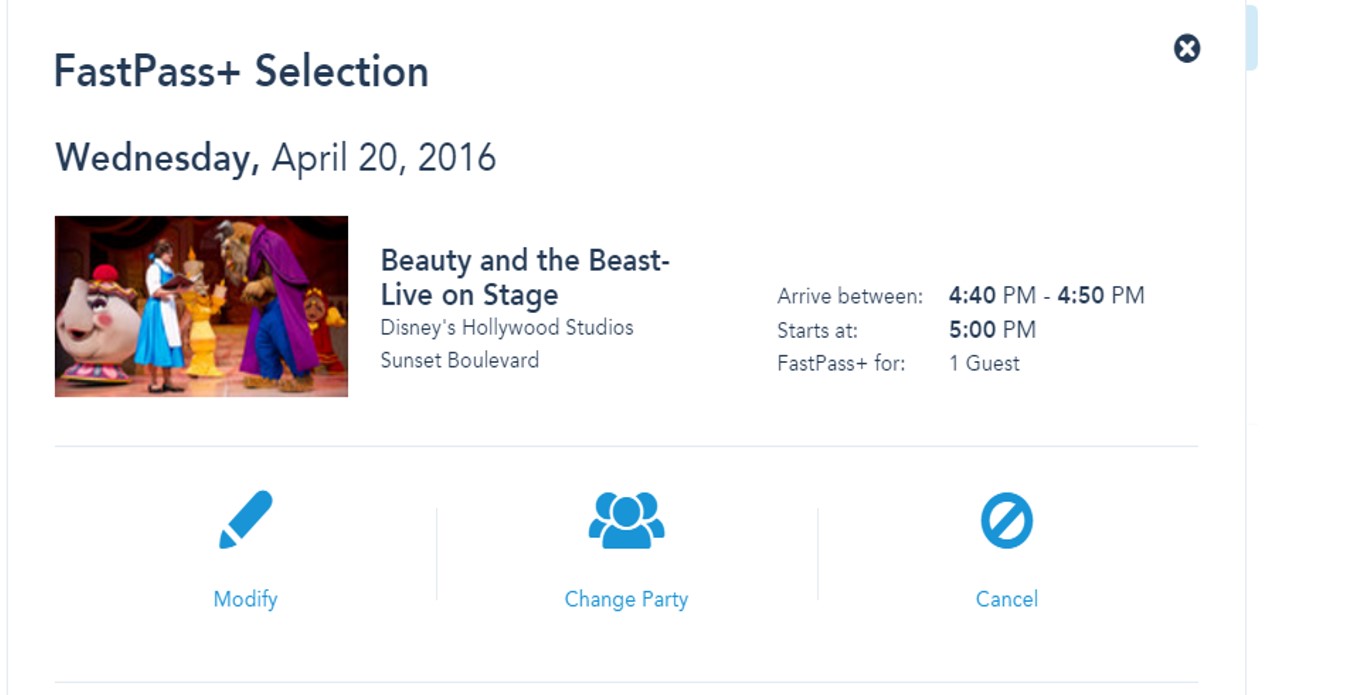 There's a couple of additional features to FastPass+ worth noting:
As noted above, you can now make one, two or three in advance. In the old system, you had to book three.
In the parks, as soon as you have tapped in for the last one you booked in advance, you can use the app to book another one, if available.  You don't have to go to a kiosk, and you don't have to be in the park where you want the FastPass+


Follow yourfirstvisit.net on Facebook or Twitter or Pinterest!!
RELATED STUFF