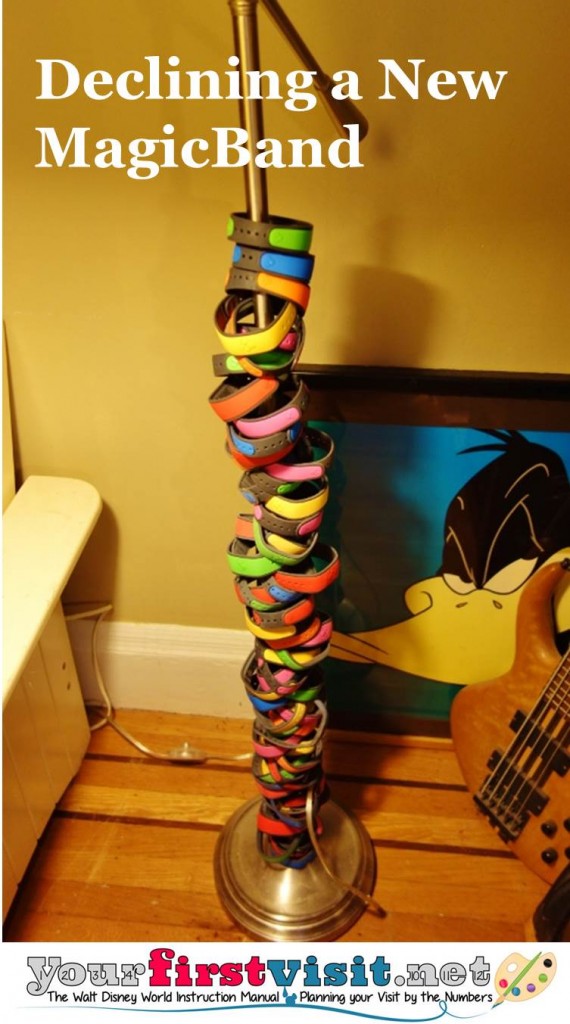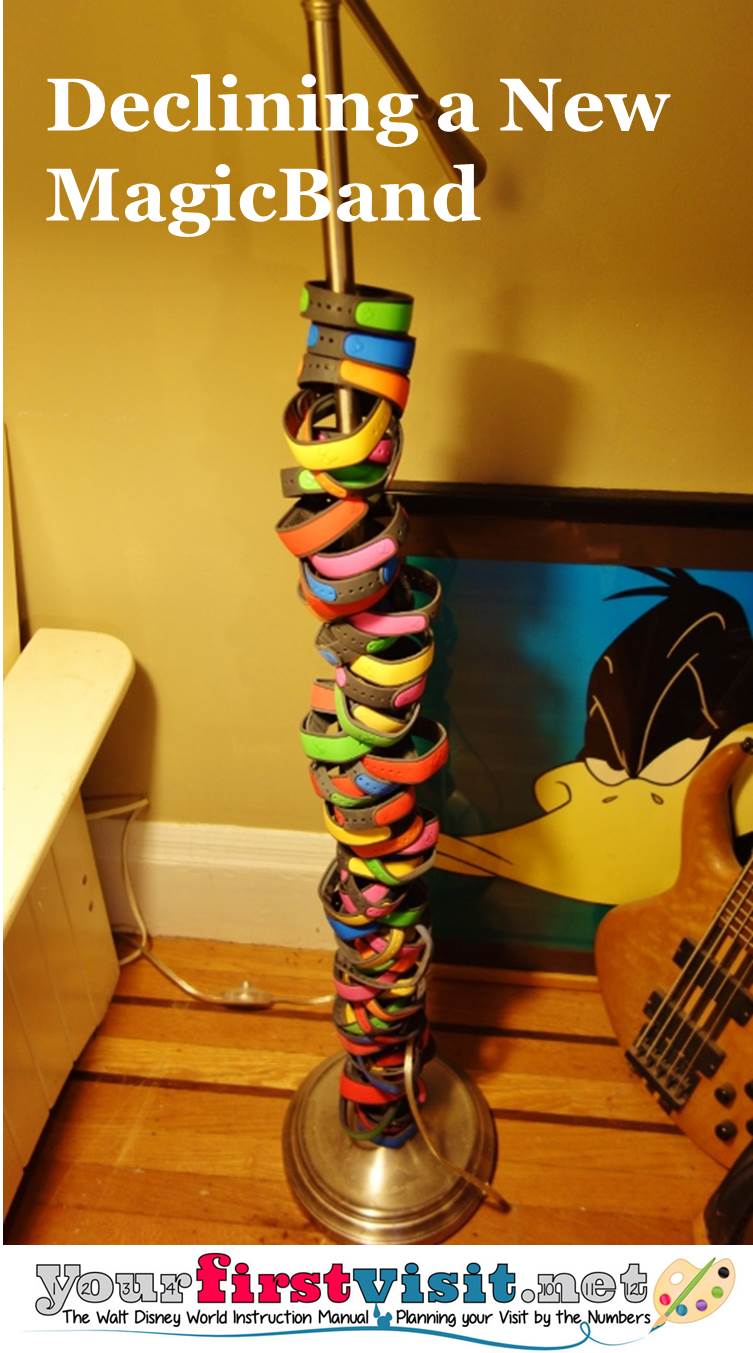 TURNING DOWN NEW MAGICBANDS AT DISNEY WORLD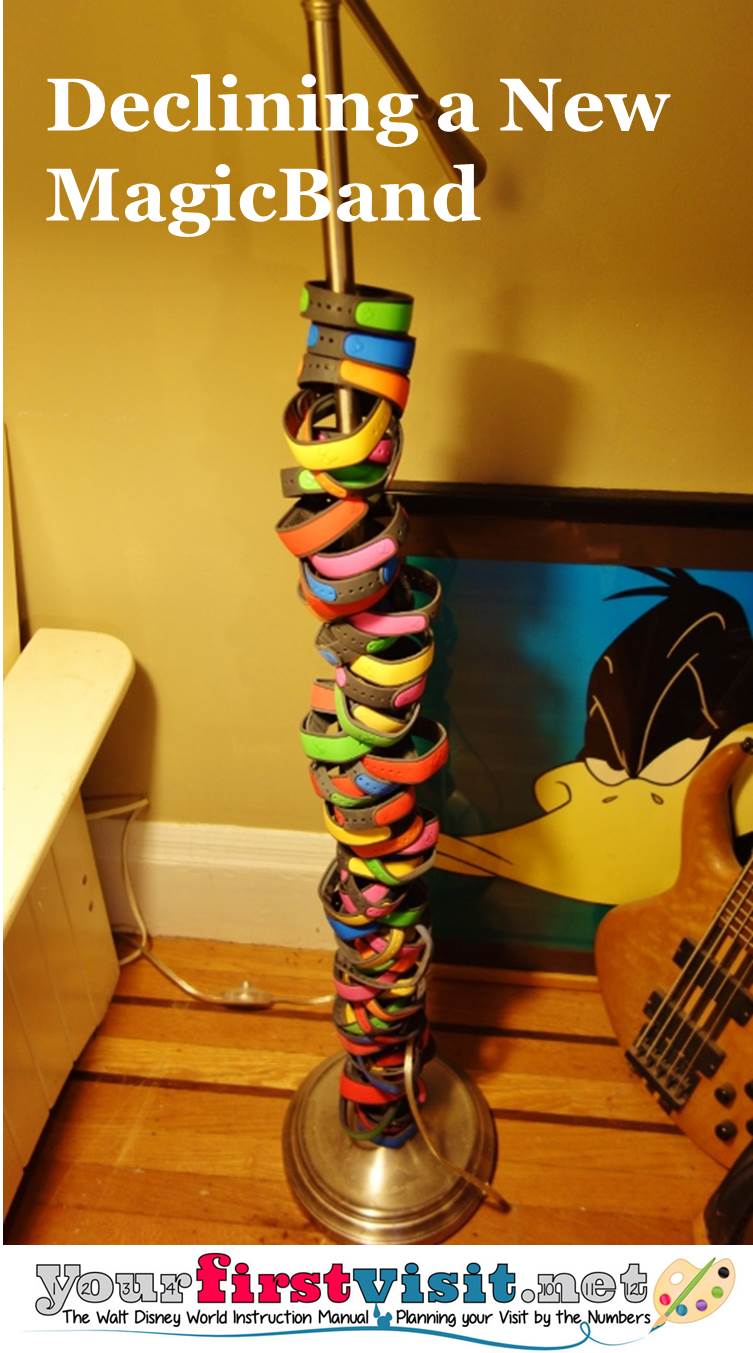 If you are booked in a Disney-owned resort, you have the opportunity use MagicBands.
These wristbands can play the role of room key, park ticket, identification for FastPass+ return, link to your room account for charging, identify you to PhotoPass, and serve many other functions on your trip.
Until recently, while you didn't have to use them (you could use standard credit-card shaped RFID cards as your room key, park ticket, etc.), you would get MagicBands created for you whether you wanted them or not.
If you wanted to, you could customize their colors and names and have them shipped to your home, like the ones below for our upcoming Port Orleans Riverside trip…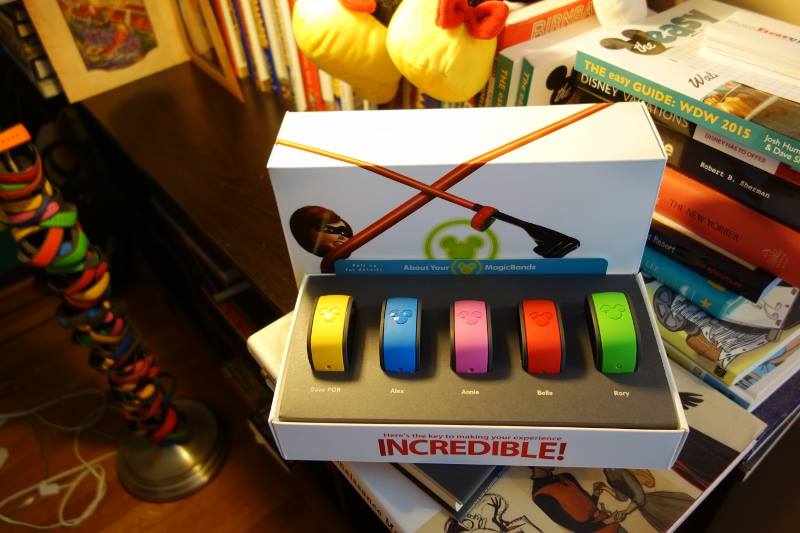 …But even if you didn't want them, they'd still be made and waiting for you at resort check-in, in gray with the first names on the reservation.
Recently, Disney World has started offering folk who have gotten a MagicBand in around the last 12 months the opportunity to turn down a new one. (The last 12 months because the batteries do run out.)
So here's how to decline MagicBands if you don't want a new one.
First, go to the My Disney Experience MagicBand customization page, just like usual.
If anyone in your party is eligible to skip getting a new MagicBand–that is, they've had one issued in the last year or so–the option to decline will show up.  Note the link circled in red in the screenshot below: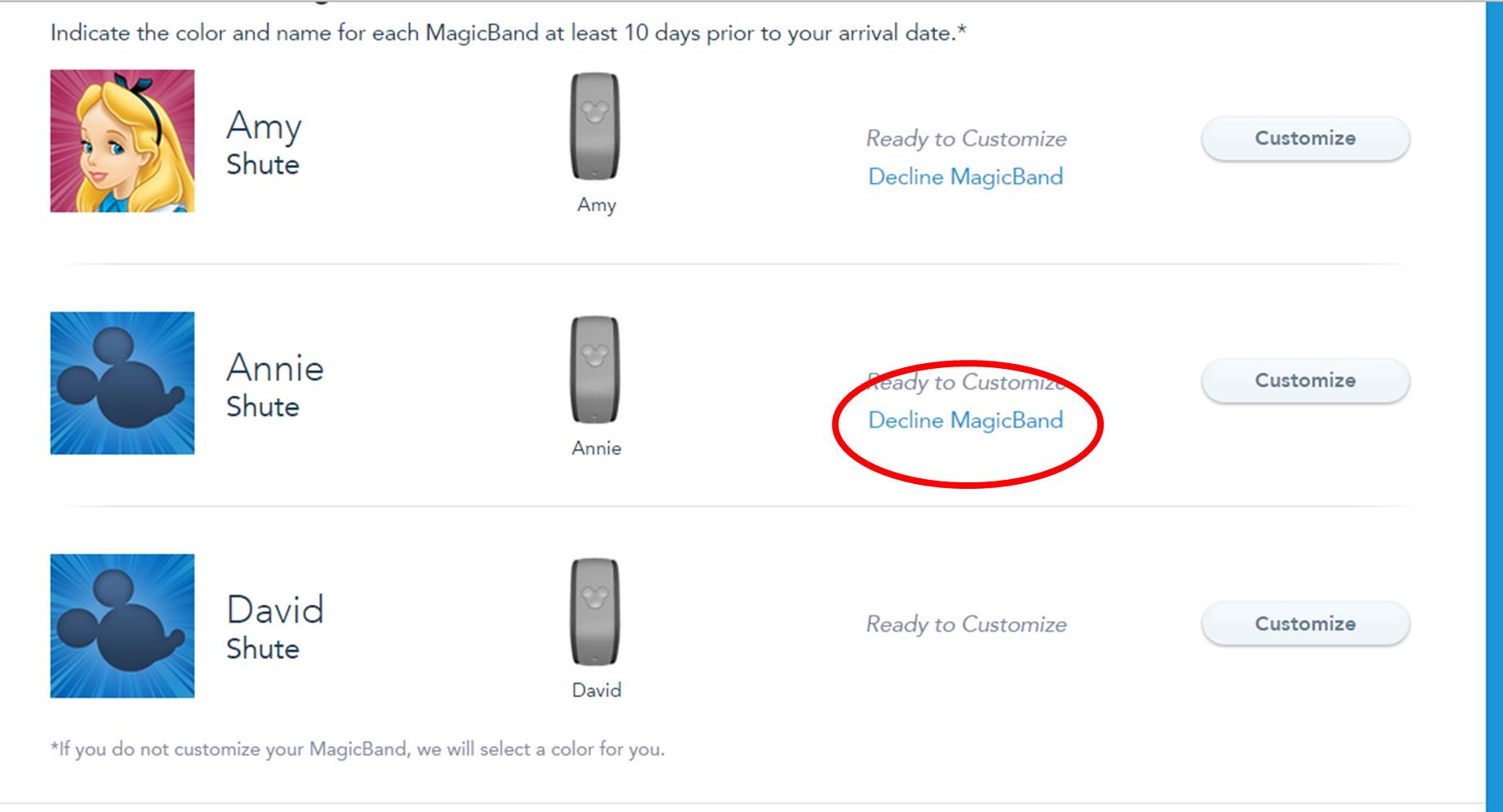 Curiously, for this upcoming visit to the Beach Club in November, Disney's systems did not recognize me (which is keeping me up a night just a little), so note that I don't have the option to decline–since it did not recognize me, it does not know that I already have 41 MagicBands from 41 different Disney World rooms, 15 from the last 12 months, and six more booked… (see the lamp at the top of the page).
So while you, too, can worry about why Disney has turned its back on me, the real point I am trying to make–and I do have one–is that if there's a member of your party who is not known to Disney to have gotten a MagicBand in the last 12ish months, they will not be offered the option to decline, the way Annie and lovely wife Amy Girl are.
If you click the "Decline MagicBand" link, this is the screen that pops up: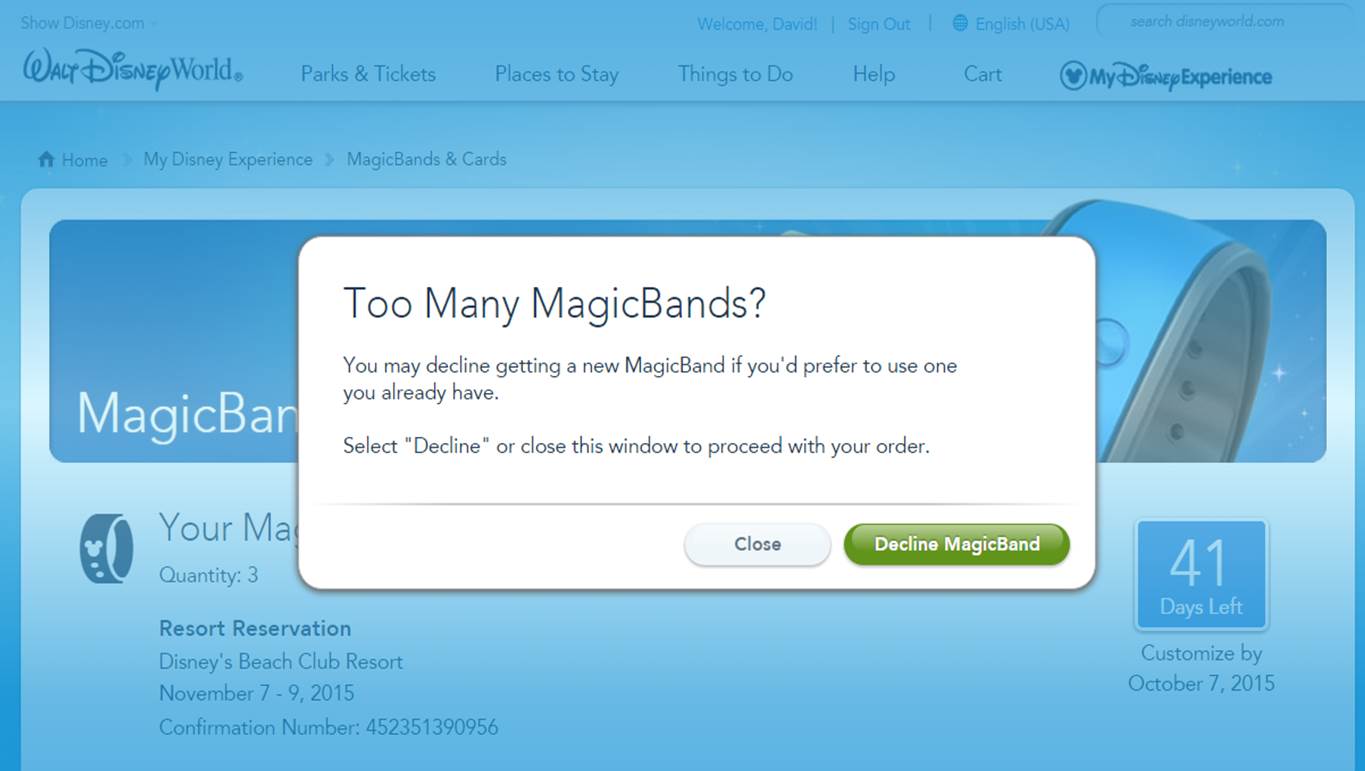 Click the green "Decline MagicBand" button and you'll be returned to this page: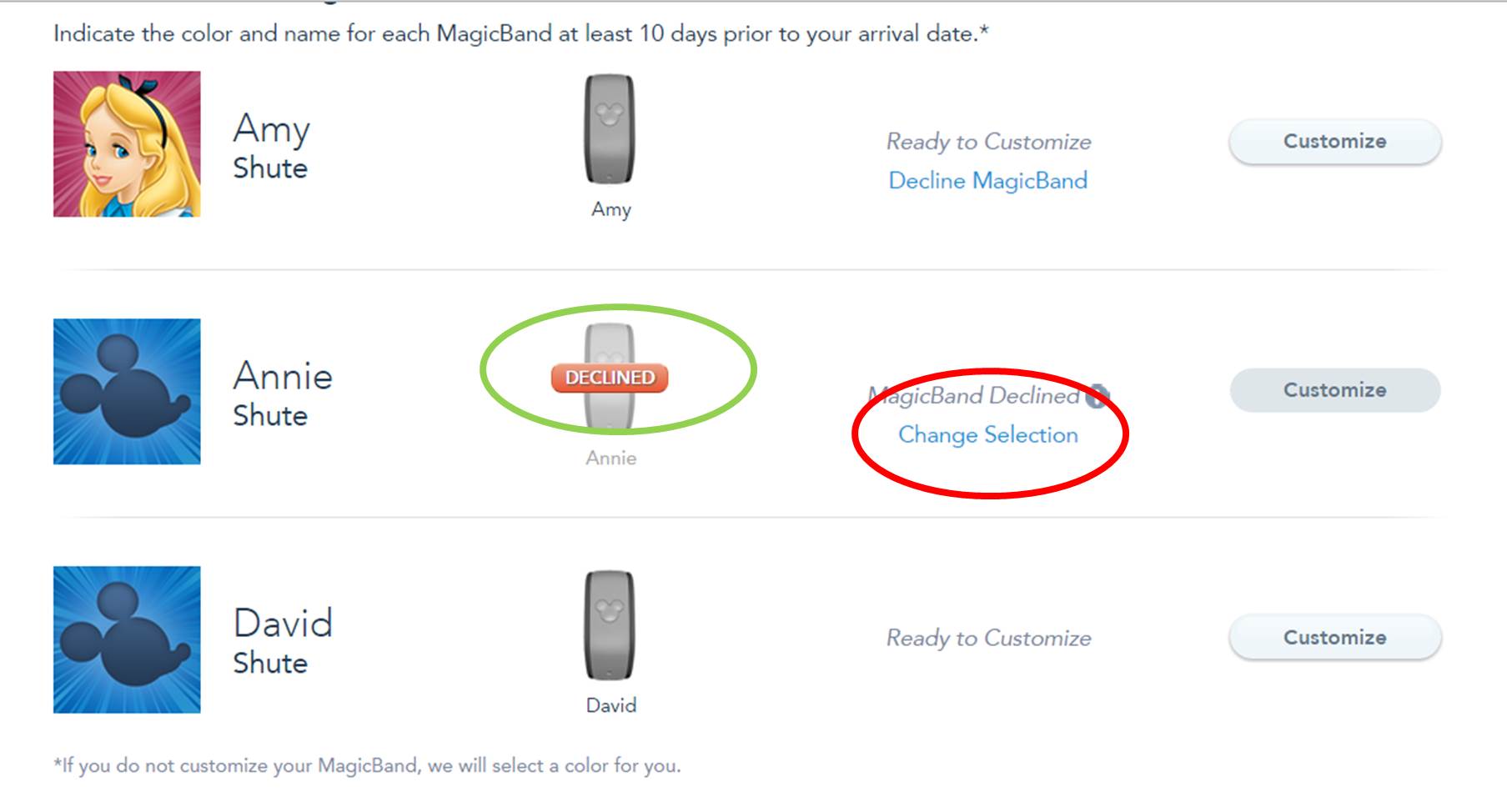 Note that there's now the label "Declined" occluding the MagicBand, and the link on the right has shifted to "Change Selection."
Yes, you can change your mind. Just click "Change Selection," and you'll get this pop-up: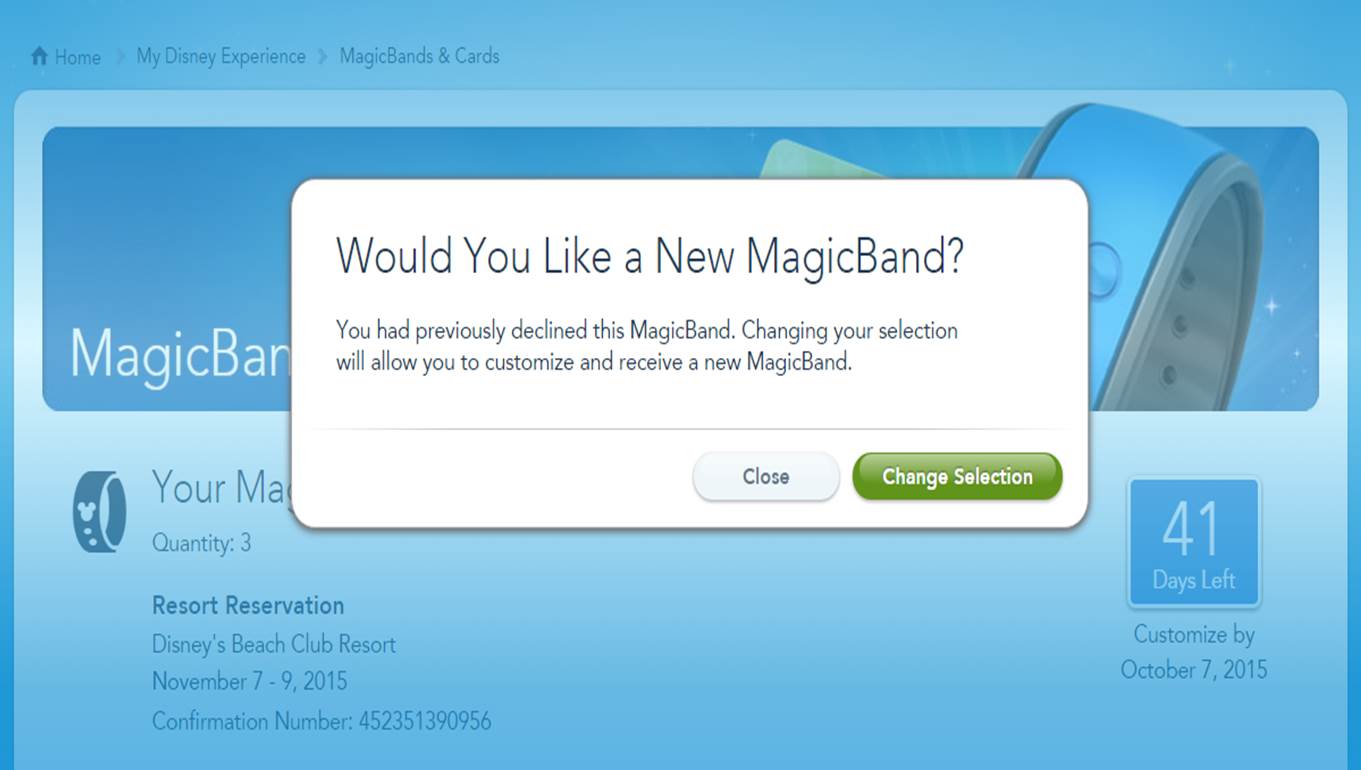 Just as you can keep changing the names and colors of the MagicBands you want, you can keep changing your mind about whether you want them at all until the system cuts you off when it's time to ship.
WHO MIGHT WANT TO DECLINE A MAGICBAND

The best reason to decline a MagicBand is if you already have ten or more.
Disney's systems tend to bust if you have more than ten MagicBands active, so if you are the sort who, for example, tries to keep your resort reviews up to date based on recent experience, then you either have to go into your bands and de-activate so that you have fewer than ten, or, more simply, decline new MagicBands.
See the image on the side for all the bands I've had to deactivate. The ones with the orange bar through the middle are deactivated.
The other reason to decline is if you are happy with what you have, and need no more.  If you need no more MagicBands, you might as well avoid the waste of having one created for and shipped to you.
There's no material incremental environmental impact from not having a MagicBand created and sent to you.
The carbon footprint of your travel to Disney World will dwarf by orders of magnitude the waste you avoid by skipping a new MagicBand. (The only truly sustainable vacation is drinking homebrew in your backyard.)
But avoided waste is avoided waste…
Me? Well, I still have some room on my lamp…
Follow yourfirstvisit.net on Facebook or Google+ or Twitter or Pinterest!!