The Master Bedroom and Bath in the Treehouse Villas at Disney's Saratoga Springs Resort
By Dave Shute
(For the first page of this review of the Treehouse Villas, click here.)
THE MASTER BEDROOM AND BATH AT THE TREEHOUSE VILLAS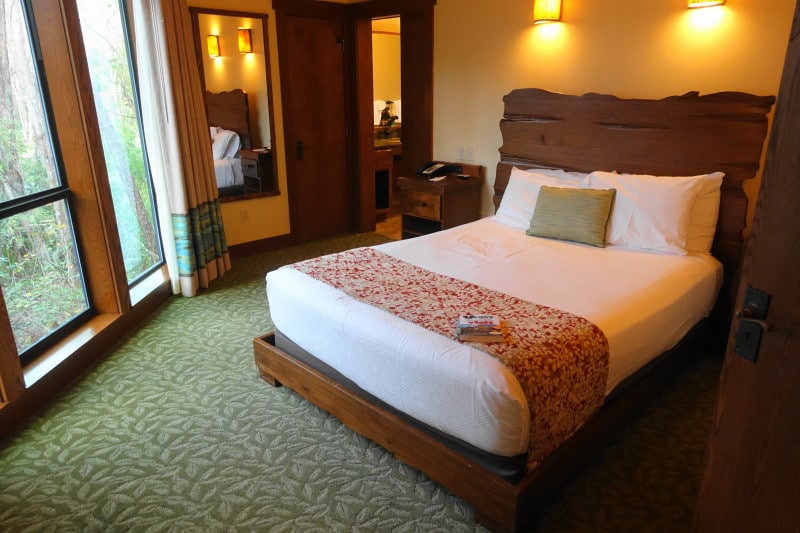 The master bedroom in the Treehouse Villas has a queen bed–smaller than the kings in other DVC master bedrooms.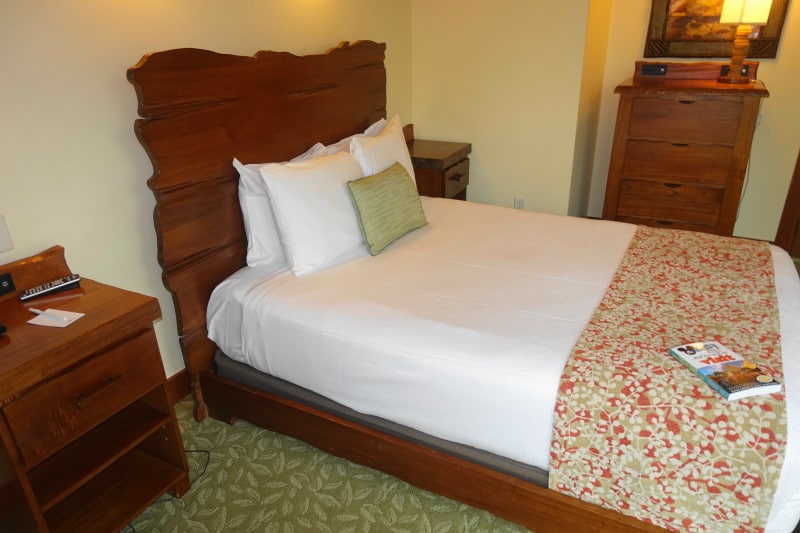 Here's another view of the queen. Note the fun headboard…
…and the tables on either side, with a drawer above and shelf below.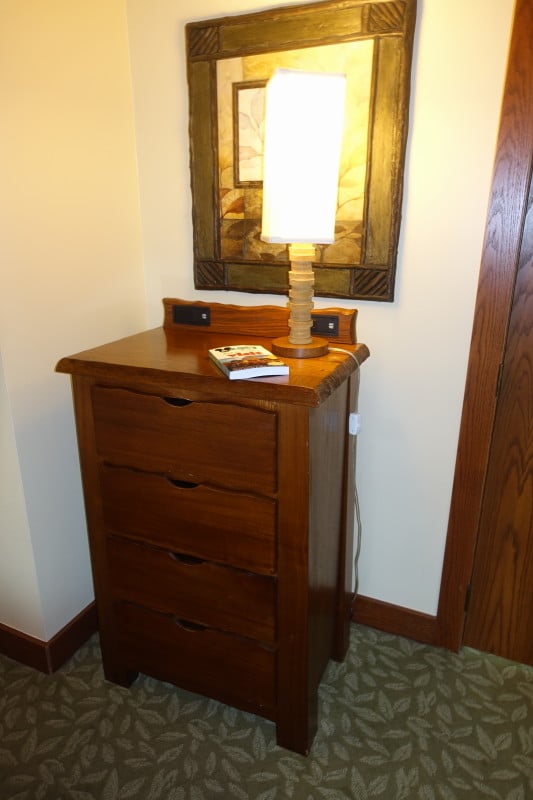 On the wall between the living room and bedroom you'll find this dresser…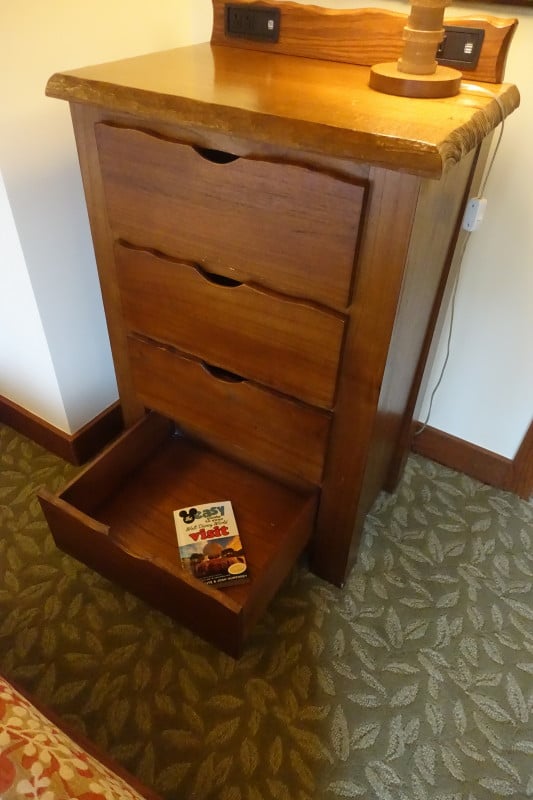 …with four smallish-drawers.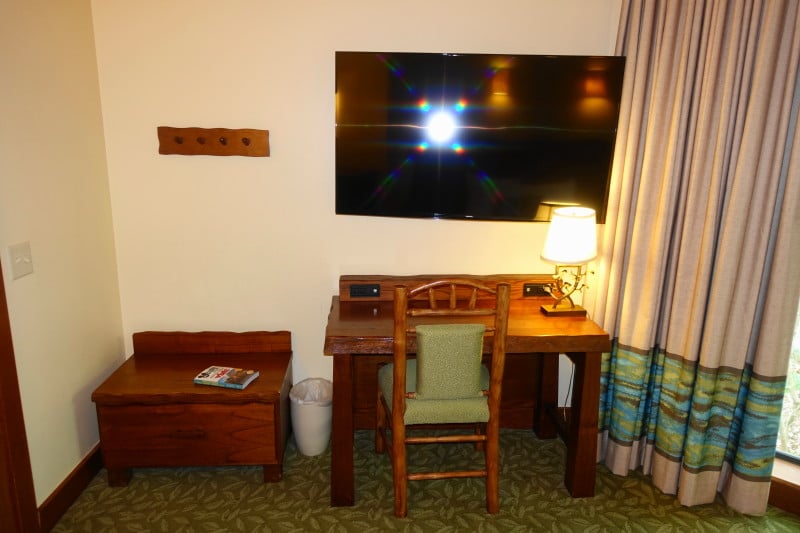 The wall across from the foot of the bed has a bench with a coat rack above, and a desk with a 54 inch TV above.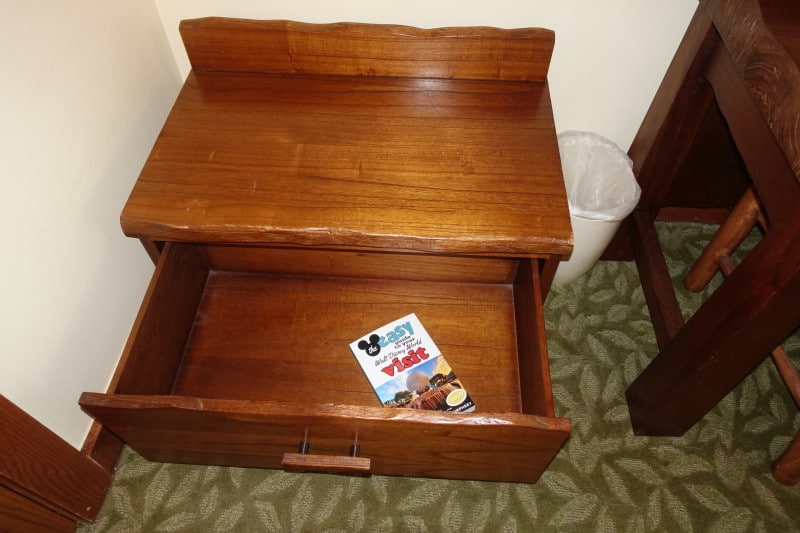 The bench includes this large drawer.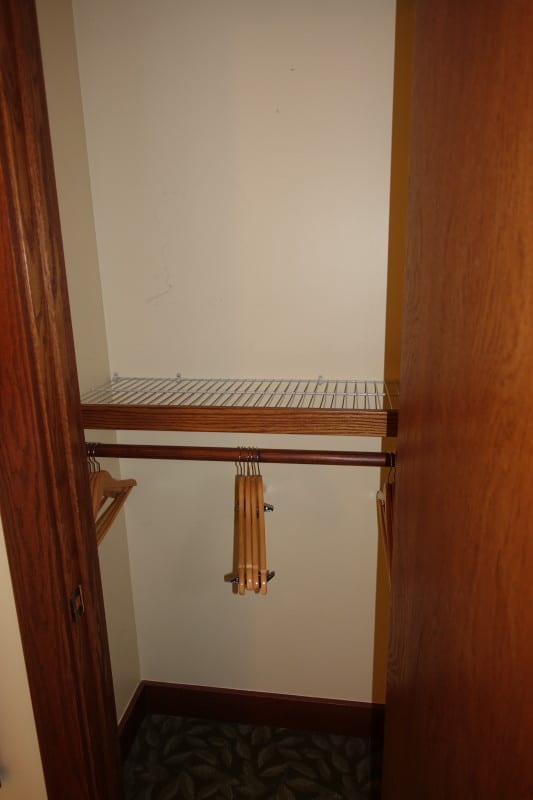 Near the door to the bath you'll find this closet–there's plenty of storage both in this room and in the Treehouse overall. (The lower clothes rod makes the closet more accessible. Standard rooms have a higher one.)
The master bath layouts vary quite  a bit between accessible and standard rooms. First I'll show a standard bath.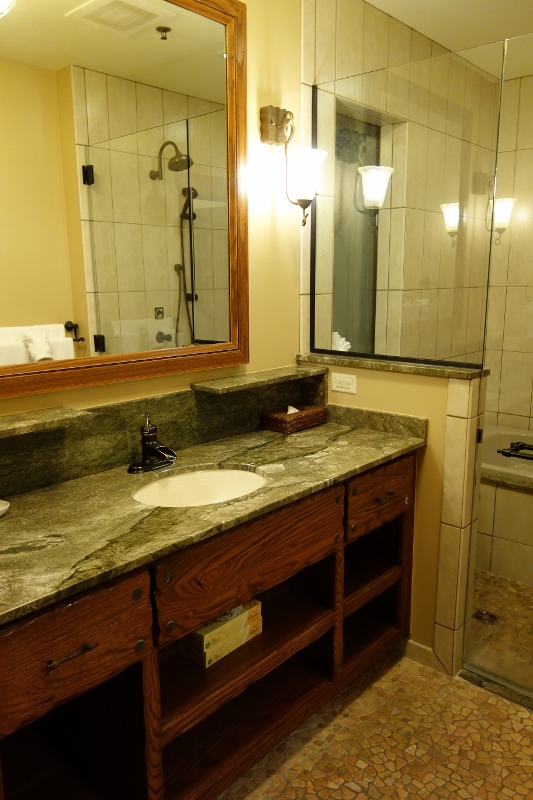 The master bath opens from the back of the bedroom. It offers this sink and large counter, with storage underneath.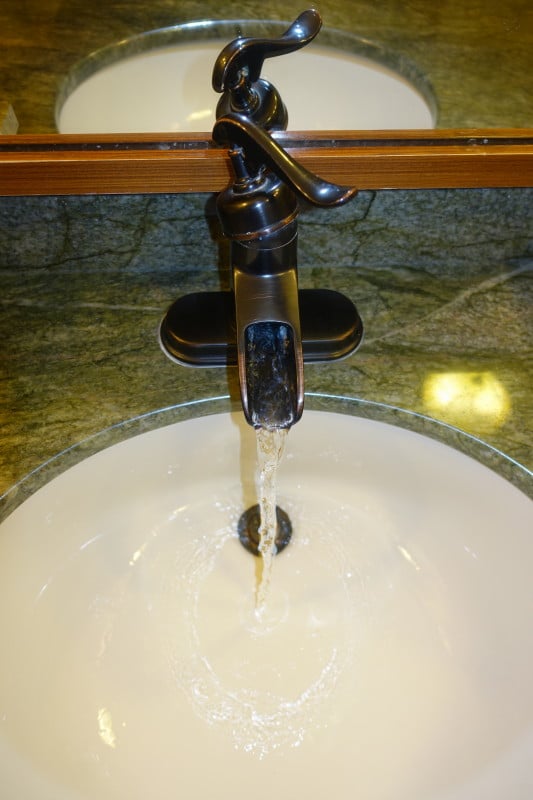 Note the fun sculpting of the faucet–one of many little design touches in the Treehouses that add add to their woodsy charm.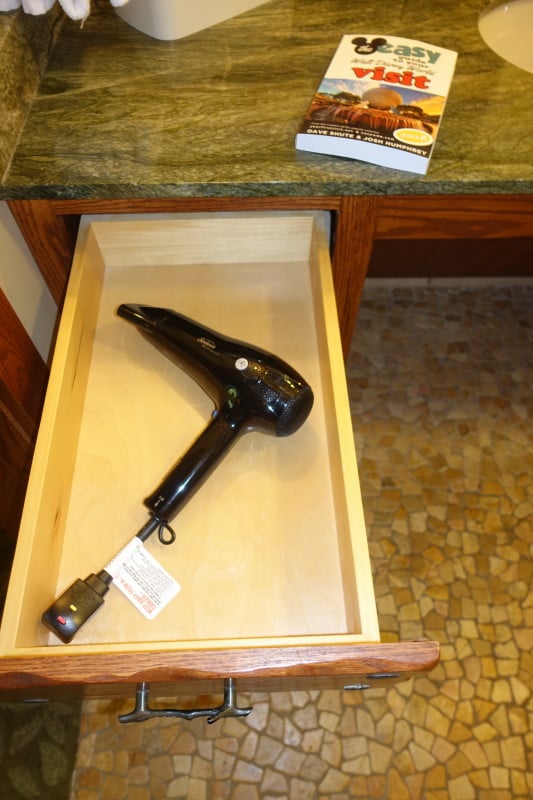 In a drawer under the sink you'll find a hair dryer.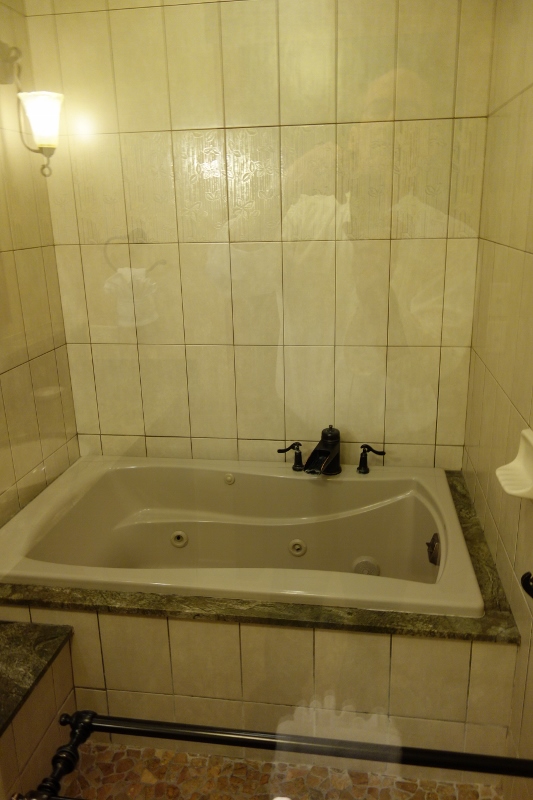 Beyond is a glassed-in whirlpool bath, with, unusually…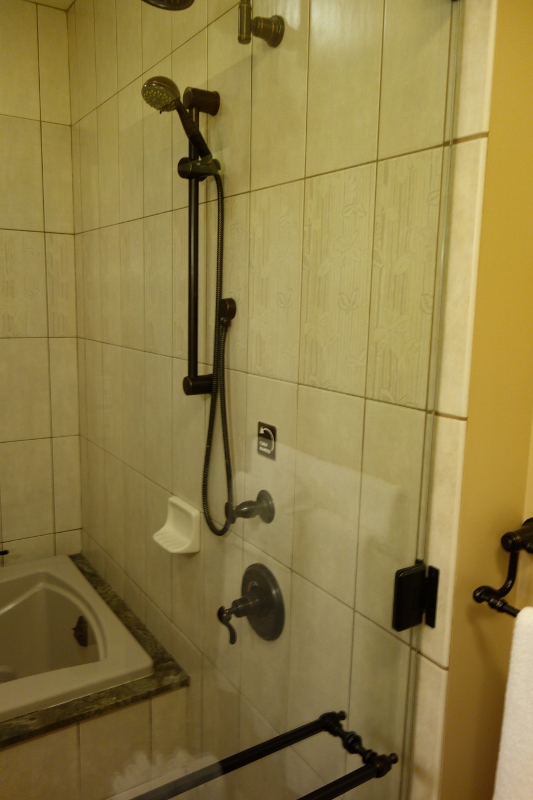 …a shower before the bath in the same glassed-in space.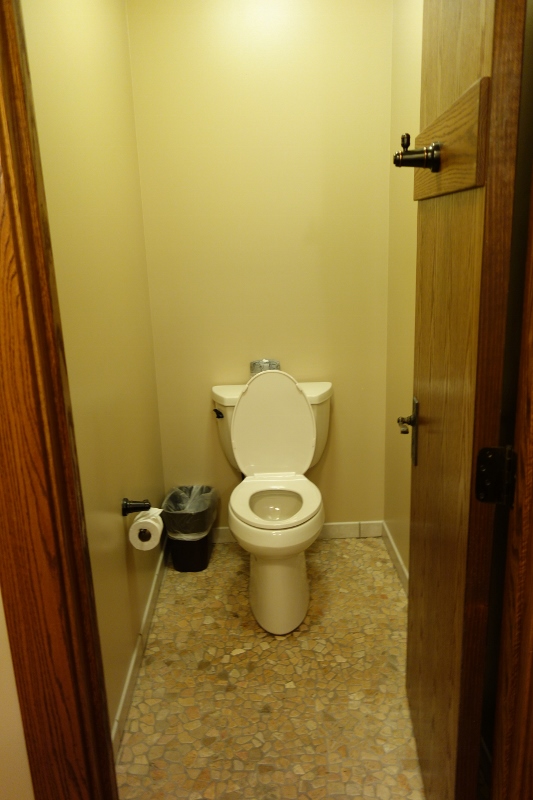 The toilet has its own separate space.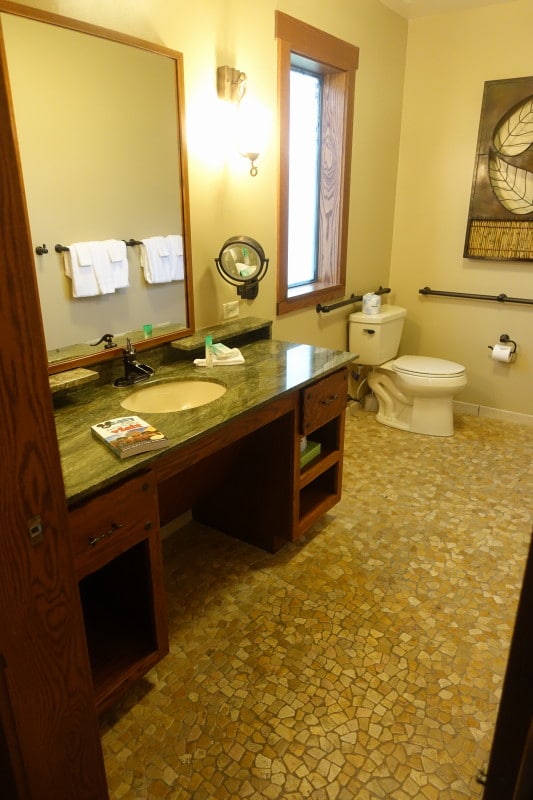 Accessible master baths have a different layout other than the sink, and the sink has a cutout rather than storage shelves below. The toilet is in the area where in a standard room you'd find the tub and shower…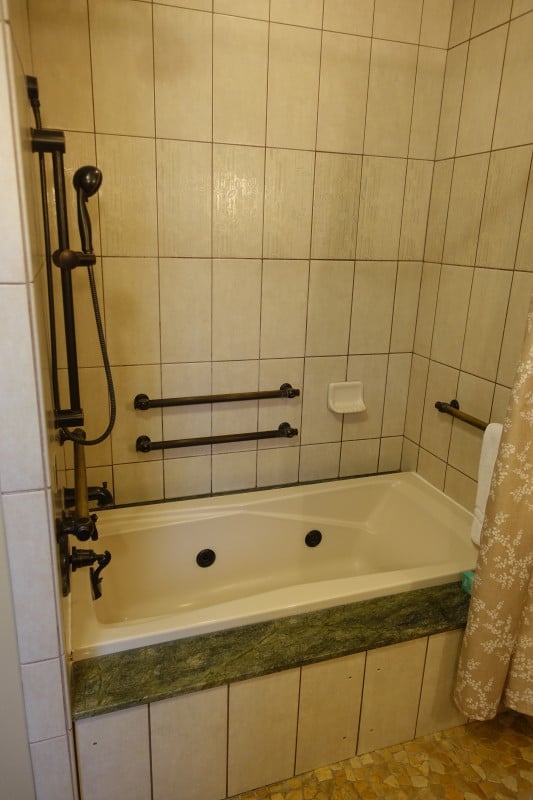 And vice versa, except in an accessible room you get a tub/shower combo.
This review continues here.


Follow yourfirstvisit.net on Facebook or Twitter or Pinterest!!
RELATED STUFF