Harry Potter and the Battle of the Afternoons
By Dave Shute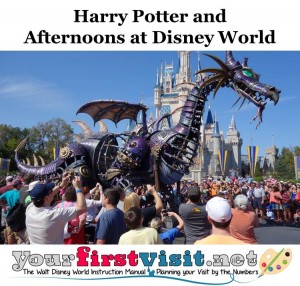 Sometime this summer—my bet is June 13, by the way, technically spring—On July 8th the second installment of Harry Potter at Universal Orlando will open at Universal Studios. The effect for Harry Potter fans will be to make Universal a two-day park.
For Disney World this has multiple implications, and its responses will likely try to address then all. The core issues for Disney are
Harry Potter will draw incrementally more people to Orlando, so Disney's task for these is to grab some of their time and money while they are in town
Of the people who would have come to Orlando anyway, Disney's task is to not lose too much from people spending time and money at Universal that they might otherwise have spent at Disney World
In this post, I'm gonna focus on the second issue, as it is widely misunderstood—and in particular the role of FastPass+ in it.
The best way to see the new and older Harry Potter is to get a two-day multi-park ticket, stay in a Universal hotel, and use Universal's early entry to hit one area each morning, fitting Hogwarts Express rides back and forth in as well.
For younger kids, though, there's not enough age-appropriate stuff to stay all day at Universal—and that's where FastPass+ kick in.
In the olden days, the best way to see Disney World was to arrive before open, see a bunch of rides first thing, and then pull old-style FastPass+ over the rest of the day. Guests who arrived in the afternoon—e.g. after a visit to Universal—would see long lines stand-by lines and Fastpasses either gone or with very late return times. Nobody with Disney World experience would advise that such could be a great day.
But with FastPass+, you can book three great Disney World rides for the late afternoon/early evening and be able to see them with hardly any wait. So a day that begins at Universal and ends at Disney World can be a much better experience—one that would be recommended, rather than suggested as to be avoided.
This is the key point. With great late days available at Disney World, the competition is no longer about which park gets the only entry that day—competition is about how to spend the afternoon and evening. That's a much easier competition for Disney to win with pre-teens and their families.
Note that Disney's recent deals have had a lot of "buy this many nights and tickets, and get another ticket day free." It's been years since Disney World has had free tickets for so many deals—and the effect of these is to make another afternoon/evening at Disney World that much more doable.
And you can also see other stuff happening in late August and September that has the effect of making Disney World more attractive in the afternoons and evenings—one that's clear, one that's speculative, and one that's probably me just making stuff up.
The clear one: Food and Wine is beginning a week earlier in 2014 than in prior years—adding that much more attractiveness to Epcot in the afternoons and evenings that week.
The speculative one: The Magic Kingdom has more and earlier 7p closes in September than in past years. The widespread guess is that this means that Mickey's Not-So-Scary Halloween Party will have more and earlier shows in 2014 than in the past—e.g. an earlier show may be September 1. Later in the month, there's likely to be two more shows than in recent years. Add it up, and Magic Kingdom becomes more attractive in the evenings. (Confirmed.)
The made-up one: Disney's Hollywood Studios has four straight nights in early September (the second through the fifth) with no Fantasmic scheduled. It's been years since the last time that happened. Sensible people are guessing that this is because of a quick rehab to the Fantasmic operations. But I can't help wondering if there might not be some special event planned those evenings to make HS more attractive those nights…perhaps a test of a villains party?
I'm probably wrong—as usual—on that last guess. But more broadly, Harry Potter is gonna happen, and it's gonna have a real draw for some subsets of people who would otherwise attend Disney World. FastPass+–and some of the other items I've noted—make afternoons and evenings at Disney World much more attractive than they'd otherwise be, making its parks more competitive for the second half of a visitor's day…
Follow yourfirstvisit.net on Facebook or Google+ or Twitter or Pinterest!!
RELATED STUFF