Getting Your Disney World Room Request
By Dave Shute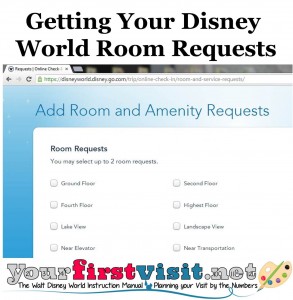 A reader using my friends at Destinations in Florida to book his family's Disney World vacation emailed me about why he had to help with getting building and view requests.
Following my advice that the best Little Mermaid rooms are "lake-facing building 7 rooms, as near the Lion King area as possible," he asked the agent to request that.
He got this back from his agent: "I can put a note on your booking; however, it's not guaranteed.  When you check in, just make sure you mention the note and ask them for the building and view and location."
So he reached out to me to find out why he had to do this too at check-in. And I asked the big boss, Allison, and below is an edited version of her response!
"Disney's Reservation System has a special notes section to leave any special requests. This section gets transferred to the Room Assignments at the Disney Resort.  When the guest does Online Check-in, they can add those requests again by checking the boxes.  Those checked boxes go to that same notes section of the reservation.
The reason we remind the guest to mention it at check in, is because all these are "requests" and not guaranteed…and sometimes get lost in the process….
We call Room Assignments about 3 days prior to arrival to remind the resort of the guest requests.  Then we call again on the arrival day and talk with the Front Desk about the requests for our guests.  However, rooms still get moved around and sometimes the Front Desk moves the rooms without looking at the requests in the reservation.
If our guest requests a specific room location, floor, or view; we ask them to re-confirm with the Front Desk (at check in) to make sure that request is granted if at all possible.  It is just to make sure the guest does not get to the room and find out Disney did not give them the request, but could have!
Many of our guests do not know all of the extra steps we go through with every reservation to make sure our guests have the best chance possible to get their requests.  We add the notes, call Room Assignments 3 days prior, and then the Front Desk on arrival day, all to make sure Disney has our guest requests; and then we want our guests to ask again at check-in too."
I thought this was really helpful and a great reminder to everyone about how to handle these Disney World room requests. Get them in to the system, and then call Disney to remind them that they are in the system, then ask again at check-in!
And thanks again, Allison and the Destinations in Florida team!
Follow yourfirstvisit.net on Facebook or Google+ or Twitter or Pinterest!!
RELATED STUFF