The Joint yourfirstvisit.net and Magical Mouse Schoolhouse Fan Meet-Up is Today!
By Dave Shute
JOINT FAN MEET UP TODAY AT THE MAGIC KINGDOM!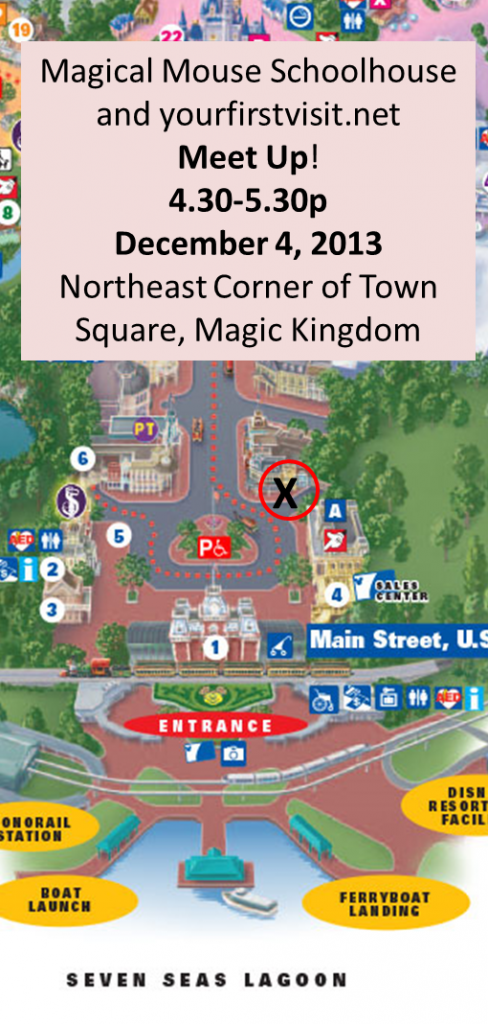 The Magical Mouse Schoolhouse and yourfirstvisit.net fan meet-up is today!
Meet us from 4.30-5.30p in the northeast corner of the Magic Kingdom's Town Square, interrupted by the 5p Flag Retreat.
Jodi of Magical Mouse Schoolhouse and I will be
Meeting and greeting our fan(s)
Giving away the new "Glow with the Show" mouse ear hats to the first five fans that show up (if we hit that many…), and
Watching the Retreat together.
Look for us with goofy Glow with the Show hats between the candy ("Main Street Confectionery") and hat ("The Chapeau") shops!
We will tweet and update on Facebook where we are, and we'd love to meet you later in the evening as well, if you can't make the 4.30-5.30 meet up.
We'll be also be giving "Glow with the Show" ears away to randomly selected people who join the meet-up virtually by re-tweeting our meet-up tweets or commenting on our Facebook posts about the meet-up. (On Twitter, Jodi is @MagicalMouseSch  and Dave is @yourfirstvisit. On Facebook, Dave is here and Jodi here.)
Our travel partners are also helping out!  Thanks 3D Travel Agency and Destinations in Florida!
Follow yourfirstvisit.net on Facebook or Google+ or Twitter or Pinterest!!
RELATED STUFF