Review: Rainforest Cafe in Downtown Disney
By Dave Shute
THE RAINFOREST CAFE AT DOWNTOWN DISNEY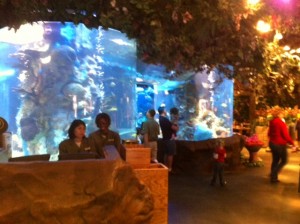 All of this site's eight night itineraries include an evening at Downtown Disney to see the amazing Cirque du Soleil.
And you gotta eat, so among the dozens of options available at Downtown Disney, the dining spot recommended in the itineraries is the Downtown Disney Rainforest Cafe.
Now the Rainforest Cafe is no Cress
; it's not even Whispering Canyon. But it is a wonderfully themed, usually reliable family dining spot.
DINING AT DOWNTOWN DISNEY AND THE RAINFOREST CAFE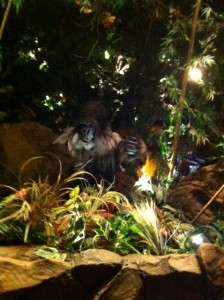 There's a variety of dining options at Downtown Disney, many either national brands or with some nationally known chef or celebrity in the name.
Rainforest Cafe is one of the national chains, which make some resist going there. I get this, but there's only a couple of dozen of them in the country, in fewer than a dozen states, so for most families it will be new.
What makes it stand out among the Downtown Disney offerings is its distinctive and broadly appealing theming.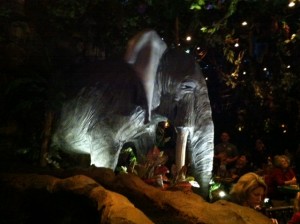 Rainforest Cafe has a…well…rainforest theme with elements of a safari tied in. The rainforest theme fills the ceiling, walls, and the spaces between seating areas, creating the impression you are in an active forest.
The theming is supported by animatronic figures of animals, which move every now and then, thunderstorms and lighting, and other effects.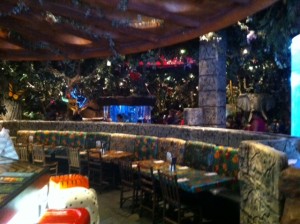 This theming makes it fun for kids, and situates it well within an overall Disney World experience.
The menu is adequate without being special; not being special is usually good for kids! For menu details, see this. We enjoyed our meals–especially the "Awesome Appetizer Adventure."
But the reason to go here is for the physical environment, not the food.  It's the most fun restaurant for kids at Downtown Disney.
(You'll find reviews saying that it's loud and scary.  It's no louder than most restaurants filled with kids, and it's not scary for kids older than five who have already been on Disney rides.)
Follow yourfirstvisit.net on Facebook!
RELATED STUFF