Avatar, Disney's Animal Kingdom, and Walt Disney World's 5th Park, p3
By Dave Shute
This is the third page of this entry. For the first page, click here.
WON'T CANNIBALIZATION KILL THE ECONOMICS OF THE FIFTH GATE?
The most common argument presented against a fifth park at Walt Disney World is that cannibalization means its economics can't work.
"Cannibalization" is the issue that comes up when a business releases a product related to its current product line. 
Some of the revenue of the new product comes from people who would have bought the old product had the new product not come out.  So the new product's revenue isn't all "new" revenue.  Meanwhile the new product has all of its associated new costs, and the old product's fixed costs still have to be paid for.
You can infer this from the Animal Kingdom's first year.  The park is estimated to have drawn six million people that year, but attendance at the other three parks dropped an estimated 3.3 million people–suggesting that only 2.7 million people represented new revenue.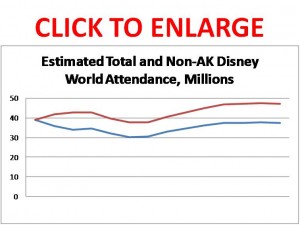 See the chart, where the red line represents total attendance and the blue line the attendance at Epcot, the Magic Kingdom, and the Studios, added together. (All numbers are based on industry estimates.)
The chart starts the year before AK opened, and goes through 2010.
There's a lot behind this chart–two recessions, the dot-com bust, Harry Potter, and especially 9/11. 
But regardless of these external factors, you can see that attendance at the three older parks dropped immediately and didn't catch up to pre-Animal Kingdom opening levels until the last few years.
But you can take another point from the chart–attendance at all four parks is up by 20% since the year before Disney's Animal Kingdom opened, and that's not just 20% more park days, but also more room nights, more meals, more ponchos…
Moreover, that's money that people were willing to spend on vacation in Orlando that Disney did not let slip through its hands and into someone else's pockets.
And this brings up the key point–cannibalization is a fact to be analyzed, not an argument.  A decision always needs to be compared to the next best alternative.  And not investing in the Animal Kingdom could have led to a decline in attendance. 
A new park gives a new reason for people to come who might have deferred, and a reason for people to stay longer when they do come.  And if they are staying longer within a fixed pool of total spending, then they are spending less money at non-Disney options.
Especially Harry Potter.
The investment decision is not just about the direct returns to Disney.  It's also about starving the funds flows of its competitors. 
A family that spends $32 on tickets, plus more on souvenirs, food, Disney hotels, etc., for an extra day to see a fifth park is a bonus to Disney. A family that just spends a day at a fifth park that they would have spent at one of the other four anyway is not.  But a family who spends an extra day at Disney instead of at Universal takes a lot out of Universal, given first day vs. last day ticket price structures.
So cannibalization means that return on invested capital takes longer than it would have otherwise.   The numbers have to work…but it's not as simple as "cannibalization means no fifth park."  A new park enables long term growth, and has the potential to reduce funds available to competitors. These to me are the best arguments for a fifth gate…one that could include the Beastly Kingdom after all…
Follow yourfirstvisit.net on Facebook or Google+ or Twitter or Pinterest!!
RELATED STUFF