Steve Bell of Military Disney Tips to Moderate "Military Families" Comments
By Dave Shute
ADULT SUPERVISION FOR MATERIAL ON MILITARY FAMILIES AT WALT DISNEY WORLD
Longtime readers of this site's comments (that is, my mom) will know the name "Steve from MilitaryDisneyTips.com" as that of an expert who helps out all the time when I'm over my head on some of the complexities that military families face at Walt Disney World.  See for example this.
Disney World has a variety of great opportunities for military families, but since they exist at the intersection of two of the world's great bureaucracies, sorting out who is eligible for what when can be a trial.
Steve has helped this site's readers with these and other issues for years now, and now we've agreed to formalize this relationship and he's become the "official" moderator of comments and questions on this site's military family pages!
ABOUT STEVE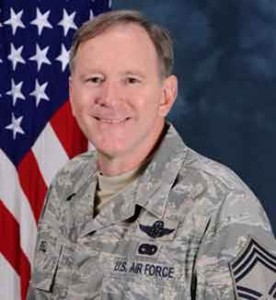 Steve brings both Disney World and military expertise.
His Disney World background began even before the Magic Kingdom opened, as he and his family began their Disney World story with a visit to the old Welcome Center.
Soon they visited the Magic Kingdom itself, and that's been followed by dozens of visits since to Walt Disney World.  Moreover, Steve also worked for years as a Magic Kingdom cast member!
His cast member experience was preceded and followed by stints in the Air Force, from which he retired as a Chief Master Sergeant in 2012.
There's nothing quite like the combination of being both a former very senior NCO and a former Disney World cast member for bringing insight and compassion to military families planning their Disney World visits.
Steve's been combining these two skill sets for almost five years on his site Military Disney Tips and its associated blog.
I first ran across him, I think, in 2009 when I was expanding my material for military families and realized that my readers would often be better served from me just linking to his pages rather than writing a lot about stuff I only partially understand.
Since then we've become tight collaborators and friends, and, in trying to help our readers as best we can, we have sent tens of thousands of them to each other's sites.  And he's always been willing to take the time to help out when I'm over my head!
So I was happy as a clam when he said he'd be willing to formally take on the role of moderating this site's military family comments!
Follow yourfirstvisit.net on Facebook!
RELATED STUFF