Celebrating Your First Visit to Walt Disney World
By Dave Shute
CELEBRATIONS AT WALT DISNEY WORLD
Magical Blogorail Teal is writing this month about Disney Celebrations: anniversaries, birthdays, and such.
Welcome to those of you joining me from The World of Deej and those of you who have just hopped aboard. I am the final stop on our Magical Blogorail.
My Disney Celebration topic–you guessed it–is celebrating your first visit!
FIRST VISIT CELEBRATIONS AT DISNEY WORLD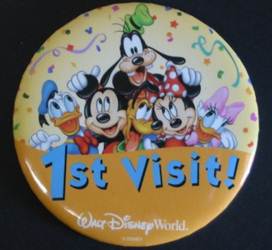 The simplest thing you can do to celebrate your first visit is to get and wear a button.
Disney offers buttons that highlight many occasions–first visits being one of them.
You can get these buttons at your resort's front desk, or at any of the Guest Services areas of the parks.
Disney cast members pay attention to buttons, and wearing one will get you even more friendliness than you'd usually get! …and you never know what else may happen.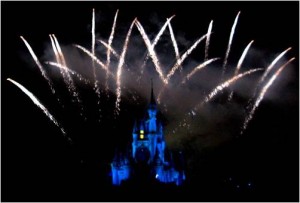 Another way of celebrating your first visit to Walt Disney World is a little more special.
It is seeing the Magic Kingdom fireworks show "Wishes" on your last night at Disneyy World.
There's a couple of different reasons why all of this site's itineraries end with your family spending its final Saturday evening at the Magic Kingdom, and one of them is so that you can celebrate your trip by seeing Wishes,
Wishes is a wonderful show and a spectacular way to celebrate your trip…and even more wonderful in memory.
If you are like most people, at some point you'll return to Walt Disney World, and at some point your kids will return with their kids.
Its name may change, but there will always be an evening fireworks show at the Magic Kingdom.
And when you see it again, you will remember the first time you saw it with your kids when they were little, and when you are old, your kids will remember seeing it with you when you were young.
Seeing it again someday will bring back wonderful memories of seeing it for the first time.
MORE ON DISNEY CELEBRATIONS FROM MAGICAL BLOGORAIL TEAL
Thank you for joining Magical Blogorail Teal this month. We will be back October 25th with an all new theme.
Keep checking in with our blogs in between loops to keep up to date with our Disney info, photos and stories.
If you are looking for more Disney magic, you can make your way over to the Magical Blogorail website to see all our members and their blogs, as well as all our previous loops.
Here is the map of our Magical Blogorail loop should you happen to have to make a stop along the way and want to reboard:
RELATED STUFF