What's New at Disney World in 2011?
By Dave Shute
(This page is one of a series explicating Walt Disney World lingo, abbreviations, and FAQ for first time family visitors to Walt Disney World.)
WHAT'S NEW AT DISNEY WORLD IN 2011?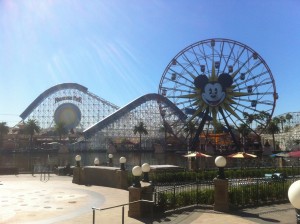 Disney's theme parks division is in the middle of a massive multi-billion dollar capital spend.
(The link is to a PDF.)
Unfortunately, not much of this spend will show up as new rides and attractions at Walt Disney World in 2011.
The bulk of what's new in 2011 will be new Disney cruise ships and major new stuff at Disney California Adventure park at the Disneyland Resort.
What's new at Disney World in 2011 will largely be the result of tweaks and rehabs.
2012 and later, however, will be a different story…although one whose unfolding plot is still a little hard to predict.
NOT MUCH NEW FOR DISNEY WORLD 2011
No completely new major ride or attraction is expected to launch at Walt Disney World in 2011.
The closest to something new will be the results of the rehab of Star Tours at Disney's Hollywood Studios.
The revised ride is currently scheduled to open in mid-2011.  The Disney website currently says it will re-open May 20, 2011.  These dates can shift…
The underlying concept of a Star Wars-themed ride into the galaxy will remain, but a new story, host, 3-D film and effects will make the result more like a new ride than like a sprucing up of the old Star Tours. See this for more.
Minor tweaks and changes for 2011 include
A new afternoon parade,  Pixar Pals Countdown to Fun Parade, has launched at Disney's Hollywood Studios
Replacement of the High School Musical event at the Studios with a Disney Channel Rocks event
Replacement of Storytime with Belle at the Magic Kingdom with a meet and greet with characters from Tangled
This story by Dewayne Bevil of the Orlando Sentinel has more on each of these last two.
Finally, a new, expensive, and low capacity—that is, dozens of people per day—adventure has opened at the Animal Kingdom. It's called the Wild Africa Trek Adventures.  See this on the Disney Parks blog for more.
On the 2011 rumor front—and add your own rumors by using the comment form below!—the one I find most credible is the replacement of Captain EO at Epcot with a new 3D film.
MORE NEW STUFF TO COME TO WALT DISNEY WORLD IN 2012 AND 2013
The new rides and attractions at Walt Disney World show up not in 2011 but rather in 2012 and later.
Disney has re-thought its Fantasyland expansion plans, and I expect the new Little Mermaid ride and Be Our Guest restaurant to open in 2012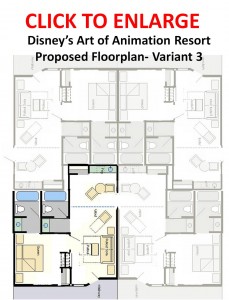 Even more may be happening at Walt Disney World in 2012.
 According to Disney's FY10 earnings call, World of Color popped attendance up by 20% at California Adventure.
And of course Harry Potter has had a great impact on Universal, raising attendance by 36%.
All this must reinforce the impact great new attractions can have on attendance.
Beyond the Fantasyland expansion, Disney's NextGen project remains largely obscure in its full scope and timing, although more info about NextGen came out in February 2011.
I doubt NextGen will have a material impact in 2011 other than continued improvements to Disney's waiting areas.
On the other hand, for later years I would not be surprised if some of the capital planned for NextGen finds its way into even more new rides instead….thanks to World of Color and Harry Potter.
Also new at Walt Disney World in 2012 will be a new family-suite oriented value resort, Disney's Art of Animation Resort. See the image above for my best guess at floor plans, or check out this page.
MORE ON WHEN TO GO TO WALT DISNEY WORLD
RELATED STUFF