Review: Standard Little Mermaid Rooms at Disney's Art of Animation Resort, p3
By Dave Shute
This is the third page of this review of the Little Mermaid rooms. For the first page, see this.
BEST AND WORST PLACES TO STAY IN THE LITTLE MERMAID AREA OF ART OF ANIMATION
The Little Mermaid Section of Art of Animation has three buildings, numbered 7, 8 and 9.
Seven is the best, and 8 the worst.  Specifically, ask for an Hourglass Lake view room in building 7 closer to the Lion King area.  This will give you the shortest walk, least pool noise, and best views.
DISTANCE, NOISE AND VIEWS IN THE LITTLE MERMAID AREA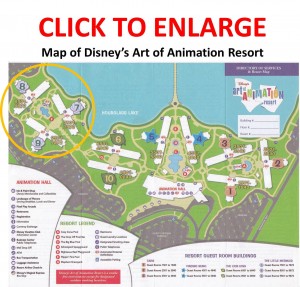 Distance. All three Little Mermaid buildings are further away from the core Art of Animation services—the main pool, food court, gift shop, concierge desk, and bus stops—than any other buildings at this hotel.
See the map—where the Little Mermaid buildings are on the left, circled in orange.
For most, this distance will matter little, adding five minutes to ten minutes per round trip of walking.  Many more expensive Disney World resorts have even longer walks.
But anyone aimed at a standard-sized value resort room with a mobility issue ought to consider either renting a wheelchair or scooter, or getting a room closer to core services at another value resort.  (Pop Century is the next highest ranked value resort.)
Of the three buildings, rooms in 8 all have longer walks than rooms in 7 and 9. Seven and 9 are tied for distance, and in 7 and 9, rooms closer to the Lion King area will have a shorter walk.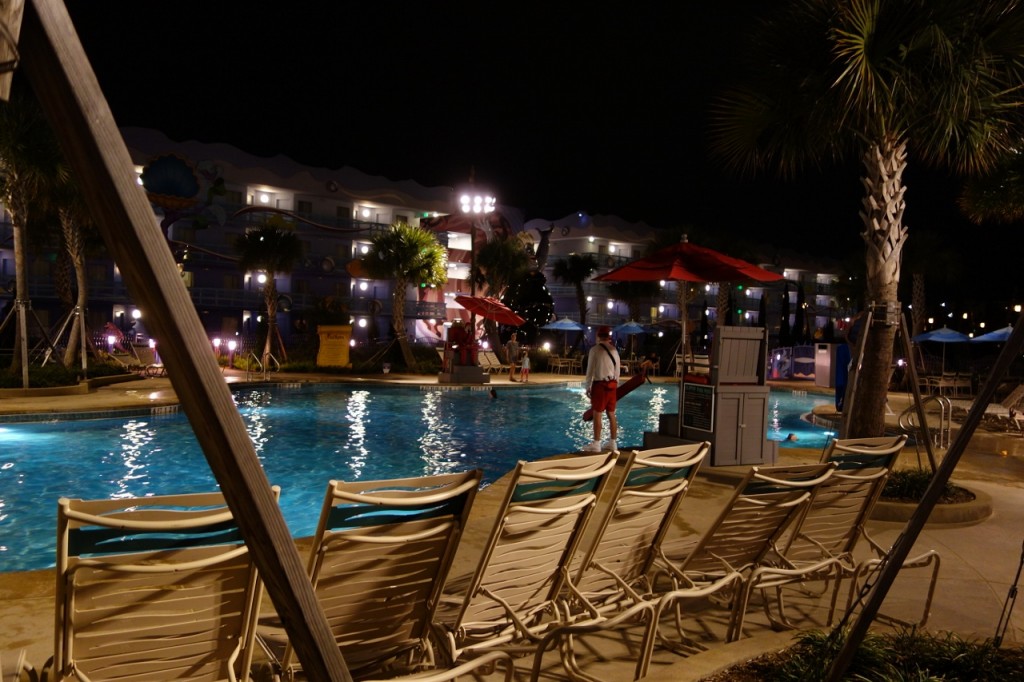 Noise.  Unlike in the Family Suites at Art of Animation, corridor noise is not much of an issue in the Little Mermaid section. This is because there are twice as many corridors, none are walled on all sides, none are air conditioned, and thus none has a real draw as a pathway to  the resort's central services.
Noise, to the extent it is an issue, comes from the pool.  One-third of rooms in building 8, and one-sixth of rooms in each of 7 and 9, face the pool.
Views. Two thirds of the rooms in both buildings 8 and 9 have parking lot views; there are no bad views in building 7, though as noted above the pool-view rooms in 7 can be noisy.
Art of Animation and Pop Century are the only value resorts on a lake—Hourglass Lake separates the two.  While there may be some obtuse views of Hourglass Lake from a few of the pool-facing rooms of building 8, a third of building 7 rooms have a view of the lake.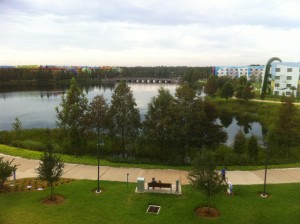 All in, building 7 is the best and 8 the worst of the Little Mermaid buildings.  So ask for a lake-facing building 7 room, as near the Lion King area as possible.  This will give you the shortest walk, least noise and best view!
The best rooms specifically are 7513-7524, 7613-7624, 7713-7724, and 7813 to 7824. The image above is taken from outside of 7813.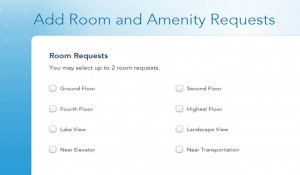 On the online check-in form, click "Lake View" and "Near Transportation."
MORE ON WHERE TO STAY AT DISNEY WORLD
RELATED STUFF