Walt Disney World Genie+ with TRON Detailed Itinerary
By Dave Shute
OPTIMIZED ITINERARY WITH TRON FOR GENIE+ AND INDIVIDUAL LIGHTNING LANES AT WALT DISNEY WORLD
Below is my Genie+ based Disney World itinerary for first time visitors who may never return, updated in February 2023 to incorporate the addition of TRON Lightcycle Run at Magic Kingdom and to add back in best-loved dining, which is now fully open.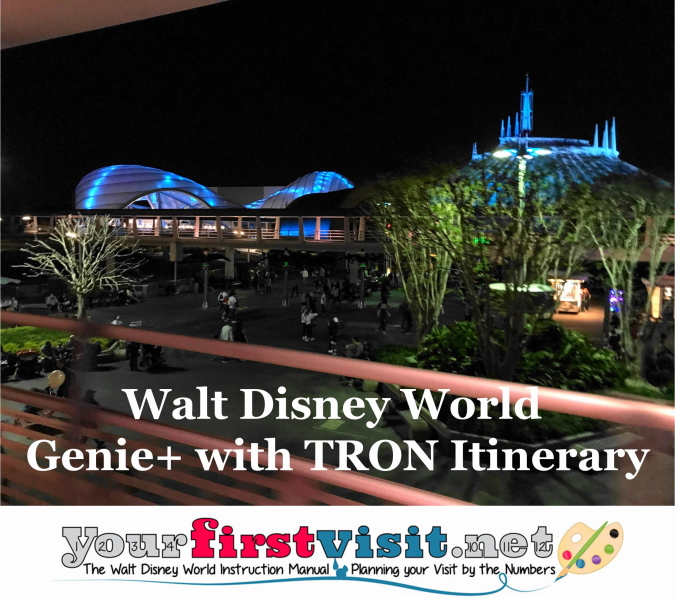 It uses all the tools available to guests to shorten waits, and thus will only work for those staying in a Disney-owned or other hotel eligible for both Early Entry and for 7a booking of Individual Lightning Lane attractions. That narrows the list to all of the Disney-owned value, moderate, deluxe, and DVC properties, and in addition Shades of Green, the Swan, Swan Reserve, and Dolphin. (For more on these hotels, see this.)
Included are a detailed To-Do List with everything you need to do–especially reservations–when, and detailed daily agendas that cover what to do and see, in order, in each of the parks.
For how I constructed it, see lower on the page.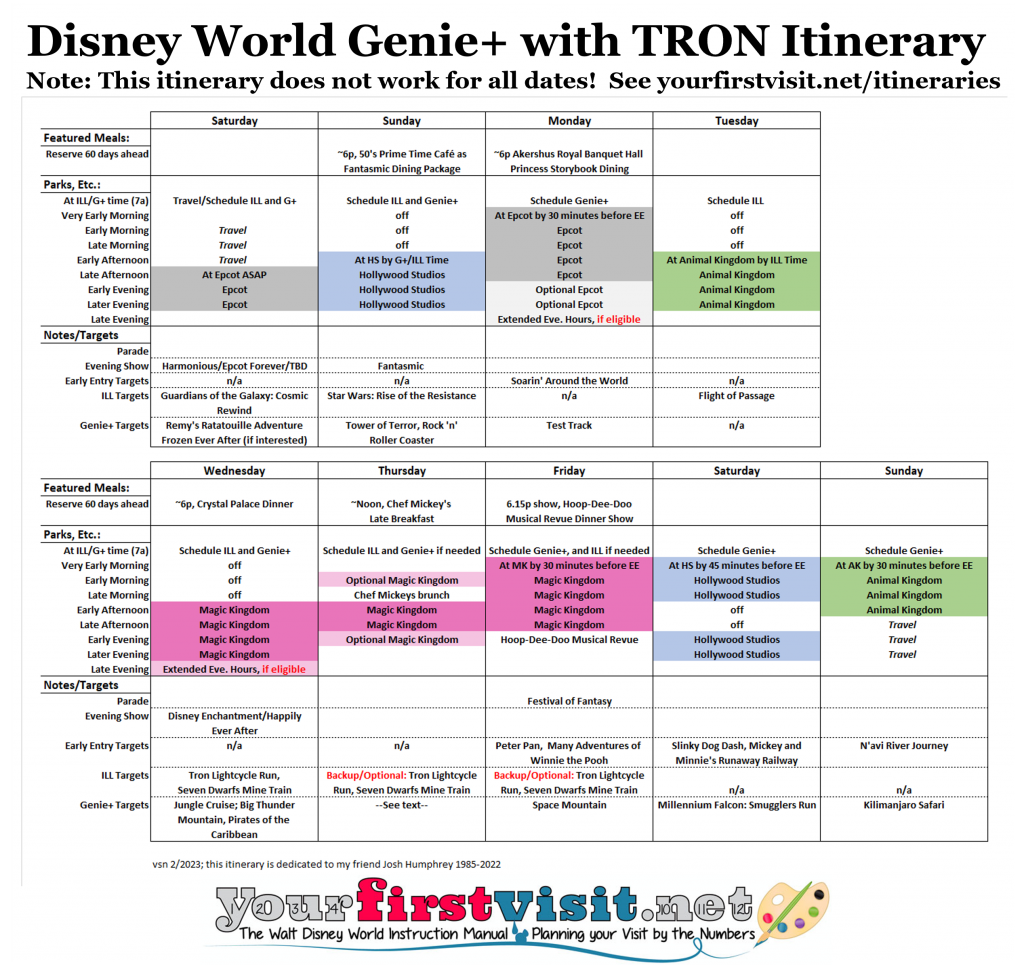 For a larger version of the itinerary image, click here.
This itinerary won't work all weeks, and some weeks that it mostly works it may need some little adjustments. Check your week here.
TO-DO LIST FOR THE DISNEY WORLD GENIE+ ITINERARY
The To-Do List for this itinerary is here.
DAILY AGENDAS FOR THE DISNEY WORLD GENIE+ ITINERARY
Detailed daily agendas are in the links:
BUILDING AN ITINERARY FOR FIRST-TIMERS AT DISNEY WORLD
The basic parameters of the itinerary follow my previous itineraries—guests see Epcot first and Magic Kingdom last among the four parks, and specific days are chosen for specific parks to avoid typically higher-crowd days.
Beyond that, the general approach is to put Hollywood Studios on weekends, as it is horrible pretty much every day, and weekends are busy at all the parks. If there's no better day at HS than a weekend, why not go there on a weekend, so that you can see another park on a possibly less busy weekday?
In addition, guests are at Epcot and Magic Kingdom on the days these parks most commonly have Extended Evening Hours (which don't make crowds higher those days, as the old EMH might have), so that guests eligible for Extended Evening Hours can enjoy them if they wish without paying for a park hopper.
Since Early Entry happens every day now, we don't see the ebb and flow of specific park crowds on specific days that we used to see with the once or twice a week Extra Magic Hours. During the party season from August to late December, the ebb and flow of crowds from it returns, especially at Magic Kingdom. The itinerary takes advantage of typical party-season patterns.
Overall there's a mix of later evening and early morning days. Late evenings are mostly followed by low-key mornings.
The general approach to the parks is to see the most popular ride via ILL, and the most popular Genie+ ride via Early Entry. This puts you several steps ahead of everyone else in the parks. In general I don't use some advanced techniques available (such as stacking Genie+ in afternoons or evenings) unless they work naturally in the flow of a day, and for cost reasons avoid park hopper tickets–which also limits some advanced Genie+ techniques available.  Future itineraries may use such tools.
This itinerary is dedicated to my friend and co-author Josh Humphrey, who died at the age of 36 on March 10th, 2022. I'll be writing more about Josh one of these days, but every time I begin to draft this appreciation, I start to cry…
Follow yourfirstvisit.net on Facebook or Twitter or Pinterest!!
RELATED STUFF