(This page is one of a series explicating Walt Disney World lingo, abbreviations, and FAQ for first time family visitors to Walt Disney World.)
GETTING FROM YOUR WALT DISNEY WORLD RESORT HOTEL TO THE WIZARDING WORLD OF HARRY POTTER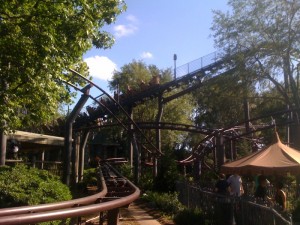 I recently had a comment from Dave on this page:
"How long from Disney resorts to Universal, and what's the cheapest way to get back and forth?"
I told him that it takes 20-50 minutes, depending on which resort and on I-4 traffic, and said that I'd find out about the cheapest way and post on it.
Here's the post!
GETTING FROM WALT DISNEY WORLD TO UNIVERSAL ORLANDO
The Wizarding World of Harry Potter is not part of Walt Disney World—it is part of Universal Orlando's Islands of Adventure and Universal Studios theme parks.
To get there from Walt Disney World you have three paid options, plus another that's discounted!
The first option is to use your rental car, or get one to use for the day from the Alamo site right in Walt Disney World (Alamo will pick you up from your hotel and bring you to their rental site, and also bring you back to your hotel when you are done with the car).  For Alamo, see this.
This option tends to be the most expensive, especially during busy parts of the year when rental car rates skyrocket.  You may be able to offset some of the cost by using the car to go food or drinks shopping, letting you spend less on these than you otherwise would.
The second option is to take a cab—this is more flexible and usually cheaper than renting a car. For cabs in Orlando, see yellowtaxiorlandocab.com or call 407 812-7000.
The third option is to arrange a shuttle pick up with Mears.  Mears shuttles will stop at your hotel and take you back and forth.  These are typically the least expensive options, but also the least flexible. For Mears's website, see mearstransportation.com.
GETTING FROM DISNEY WORLD TO HARRY POTTER FOR A LOWER PRICE!
My friends at Destinations in Florida recently let me know about a lower-priced option.
If you buy a one-day two park Universal Orlando ticket from them, not only will it be about $10 per person cheaper than getting tickets at the gate, but also they'll throw their shuttle in for about $7 bucks per person less than list!!
Note that this is a two-park ticket—it lets you enter both of Universal's parks, Islands of Adventure and Universal Studios.
Depending on how many people are in your family, it may be cheaper for you to get the one park tickets and take a cab or pay for Mears yourself.
To check out these tickets with lower-priced shuttle service from your Disney World resort to Universal Orlando and Harry Potter, click here.
LINKS FOR THE WIZARDING WORLD OF HARRY POTTER