WHERE TO FIND FLOOR PLANS FOR WALT DISNEY WORLD RESORTS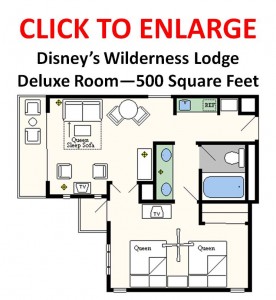 All of my Disney World resort hotel reviews contain floor plans.
The Disney-owned and operated resorts are listed below.
If I've published a review, the hotel name is a link to the page where the review can be found.
Click the hotel name, the review will open, and you'll find floor plans within it.
Floor plans of Value Resorts at Walt Disney World
Standard 4-person rooms:
Six-person "Family Suites"
Floor plans of Moderate Resorts at Walt Disney World
Floor plans of Deluxe Resorts at Walt Disney World
(These hotels are grouped by price category. See this for details on the features of the various resort price categories. Within price categories, they are in order of how well they suit typical first time family visitors. See this for more on where to stay.)
For floor plans of typical Disney World suites, see this.
For an overview of the Disney Vacation Club floor plans, see this.
For comparative square feet, see this.


Follow yourfirstvisit.net on Facebook or Google+ or Twitter or Pinterest!!