Epcot Day 2 and Magic Kingdom Day 2 Disney World 2019 Basic December Itinerary
By Dave Shute
(Note: this is from the 2019 Basic December Itinerary. The itinerary works only for the three weeks beginning the Saturday after Thanksgiving 2019.)
EPCOT DAY 2 AND MAGIC KINGDOM DAY 2: THURSDAY AGENDA
Today you have the early morning off, and then in the late morning continue your visit to Epcot.
In the late afternoon, you switch to the Magic Kingdom, using your Mickey's Very Merry Christmas Party tickets to enter as early as 4p (your tickets will say 7p, but Disney has let party-goers enter at 4p for years).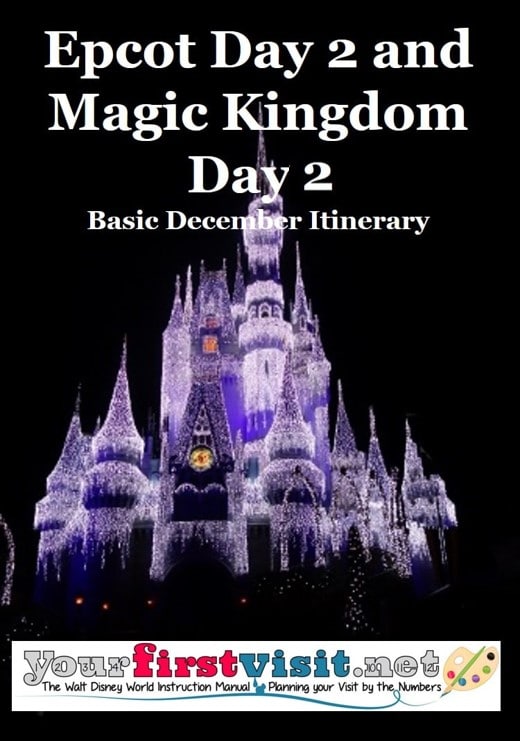 You should have FastPass+ for Frozen Ever After, Spaceship Earth and MISSION: Space. You have no scheduled meals.
MORNING
Sleep in and eat breakfast in your room
Arrive at Epcot by 11.45a
AT EPCOT
At Epcot today your goal is to see a few rides in World Showcase and the east side of Future World, plus a Holiday Storyteller or two if you'd like.
Enter the park, grab a times guide, and check for Holiday Storytellers on the east side of World Showcase you might want to see early this afternoon.
Have lunch
Ride Frozen Ever After using FastPass+
See a Holiday Storyteller or three
Ride MISSION: Space using FastPass+ (those with the least tiny bit of motion sickness should ride the "Green"/"Earth" side)
Ride Spaceship Earth using FastPass+
Exit the park, and take the monorail to the Magic Kingdom
AT THE MAGIC KINGDOM
In the earlier part of today's Magic Kingdom visit, you'll be seeing some lower-wait attractions. When the party starts, you'll be seeing rides in Fantasyland and Tomorrowland until the fireworks, then watch the special Christmas fireworks and the second showing of the special Christmas parade. Exact times are not out yet, so this agenda may be modified a bit in early November.
Arrive at Magic Kingdom, go to the special event turnstiles and get your party bracelet. Get both a regular Times Guide and a party map.
Head back into Frontierland and get a raft to Tom Sawyer Island. Play and explore.
Take a raft back, walk to Liberty Square and ride the Liberty Belle Steamboat
See the Hall of Presidents (which will have a show on just a few minutes after the Liberty Belle unloads)
Have dinner at a counter service (Columbia Harbor House is nearby and recommended)
A little before 7p, head to Tomorrowland.
See the Carousel of Progress
See Buzz Lightyear's Space Ranger Spin
See Space Mountain
See Astro Orbiter
Walk to Fantasyland
Ride Winnie the Pooh
Make your way to a spot between the Castle and the entrance to Main Street by half an hour before the fireworks begin
See the fireworks
Stay in the same spot and watch the Christmas Parade
Head to Adventureland and see the Jungle Cruise
If there's' time and you still have the energy, see any special shows that have another performance, or re-ride one of your favorites from this evening
Head back to your hotel
PREVIEW OF TOMORROW
Tomorrow you complete your visit to Epcot.
MATERIAL IN THIS DISNEY WORLD ITINERARY

Follow yourfirstvisit.net on Facebook or Twitter or Pinterest!!
RELATED STUFF