Accommodations at Disney's Wilderness Lodge
By Dave Shute
For the first page of this review of Disney's Wilderness Lodge, click here.
THE ACCOMMODATIONS AT DISNEY'S WILDERNESS LODGE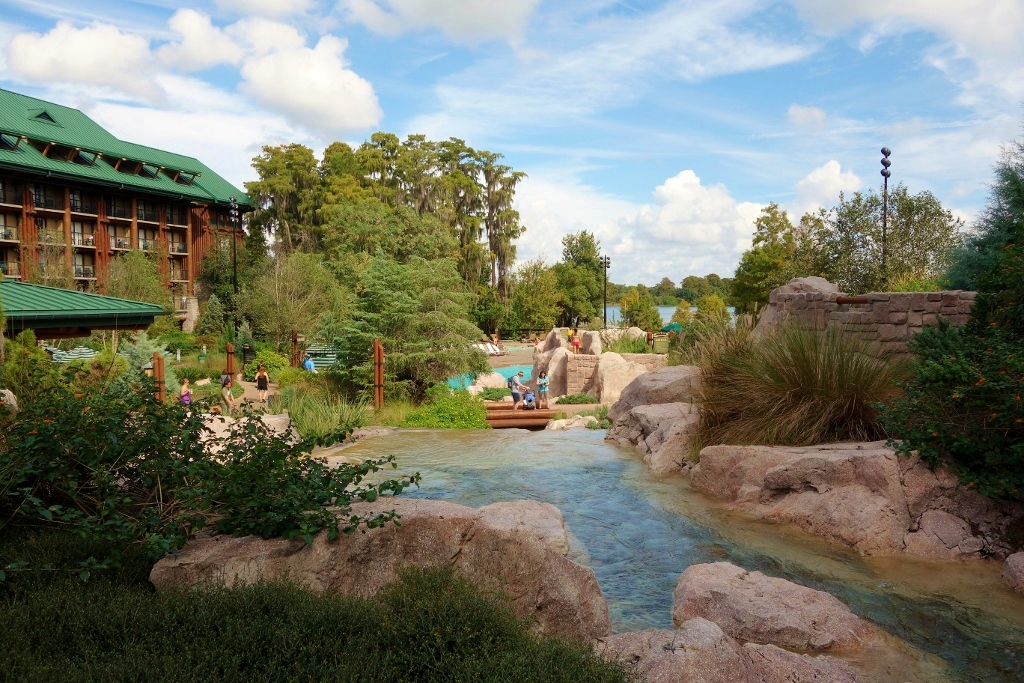 All Disney deluxe resorts have standard rooms; concierge rooms, which Disney calls "club" rooms; and suites. (See this for more on suites at Walt Disney World.)  The Wilderness Lodge has, in addition to these, club-level "deluxe rooms."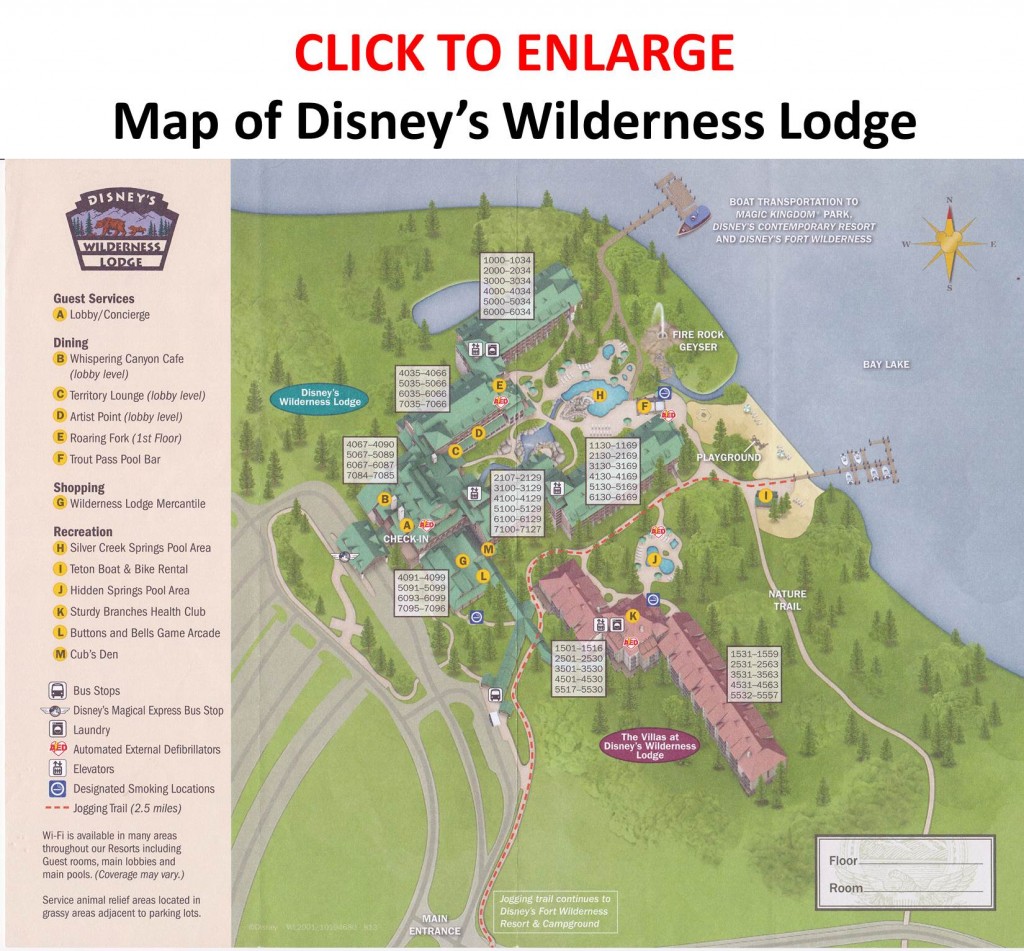 Rooms in Disney's Wilderness Lodge are in a connected set of six and seven story high buildings, in a "Y"  shape. On the map, the Wilderness Lodge is the green-roofed building at the top center.  The nearby Villas at Disney Wilderness Lodge (reviewed separately here) is the red-roofed area below and right.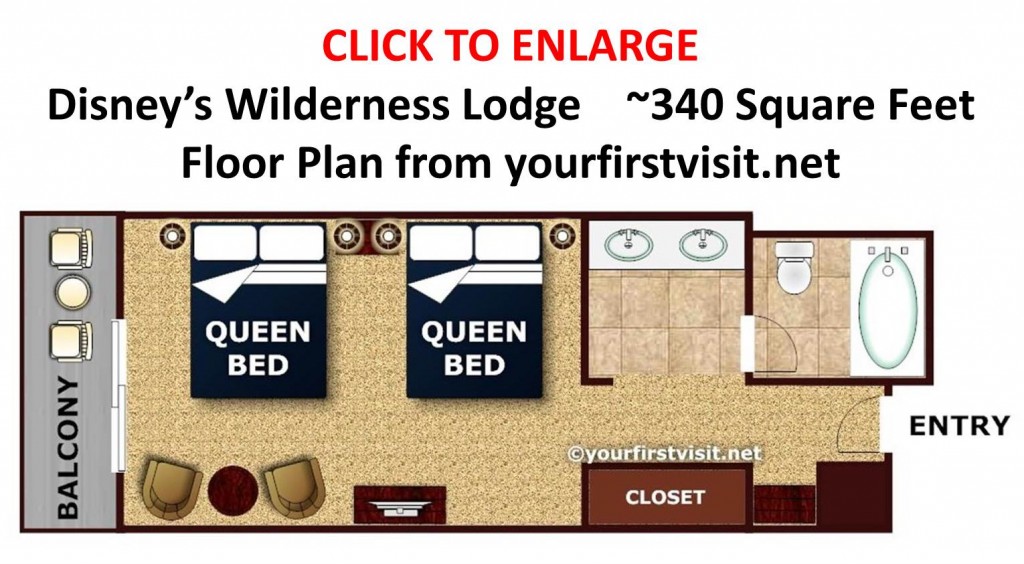 At Disney's Wilderness Lodge, standard and club/ concierge rooms sleep four, in two queen beds, or a queen and bunk beds. The floor plan above is for a two-queen standard or club room. There's a photo tour of one of these rooms here.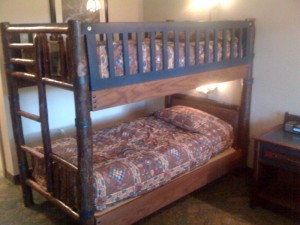 (See photo for the bunks, the mattresses of which I measured as 5'9″ long and 39″ wide.)
A few standard rooms with a king, sleeping two, are also available.
Standard rooms are sold with "standard," "courtyard", and "woods" views.
Courtyard views look into the center of the open space, woods views into the woods, and standard views–the least expensive–onto something else…e.g. a parking lot.
Though these standard rooms are tied with the Animal Kingdom Lodge's rooms as the smallest standard deluxe rooms on property, the space rarely feels cramped; it just has no more space than it absolutely needs.
Club rooms–which the rest of the world calls concierge rooms–all on the key-access 7th floor, have the same layout as standard rooms but have various services and amenities added on, as well as a substantial extra cost.  The outside balcony half-wall in many of these rooms (as well as other top-floor rooms in other areas of the Lodge) is solid, not railed–limiting views except for standing adults.  Some of these rooms also have sloped ceilings.
Club rooms are not worth the extra cost for most first time family visitors. However, they may be well worth it for families intending to spend more time at the Wilderness Lodge than implied by this site's itineraries. TikimanPages.com has a great discussion of the value of concierge rooms here. Though focused on the Polynesian, it applies to any deluxe resort.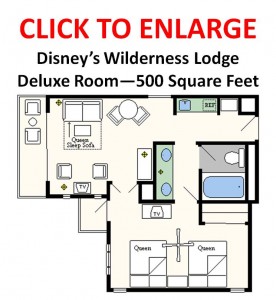 Deluxe rooms (sometimes called "junior suites") are suite-like club rooms, although they are found on many floors, not just the 7th.  They sleep 6–four in two queens in the bedroom, and two in a fold-out couch in the sitting room. (See floor plan at right.)  For a review of these rooms, click here.
Suites sleeping 2 to 4 people are available for families seeking a particularly comfortable visit–see this for more on suites at Walt Disney World.  The Yosemite Vice Presidential suite, with 885 square feet, sleeps 4–two in the bedroom in a king, and 2 in a queen sleeper sofa in the parlor. The Yellowstone Presidential Suite has the same sleeping arrangements in 1000 square feet.
(To each of the capacity figures above, you can add one more kid under 3 at time of check in who sleeps in a crib.)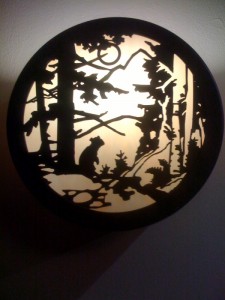 The Wilderness Lodge inspires devotion among its fans–of which I am one.
Families who have stayed at it once will have difficulty understanding why they should ever go to a different Walt Disney World resort hotel.
The Wilderness Lodge's strengths for first time visitors are its unsurpassed kid appeal and its reasonable prices.
The Wilderness Lodge's principal negatives compared to other deluxes are its small rooms and relative inconvenience for parks other than the Magic Kingdom.
This review continues here.


Follow yourfirstvisit.net on Facebook or Google+ or Twitter or Pinterest!!
RELATED STUFF