Accommodations and Theming at Disney's Animal Kingdom Villas–Jambo House
By Dave Shute
(For the first page of this review of the Villas at Jambo House, see this.)
The Jambo House Villas is one of many Disney Vacation Club options at Walt Disney World. These resorts are available not only to DVC members, but also to everyone else, just like any other Disney World offering, through the regular Walt Disney World website or resort reservations phone number at 407-939-7675.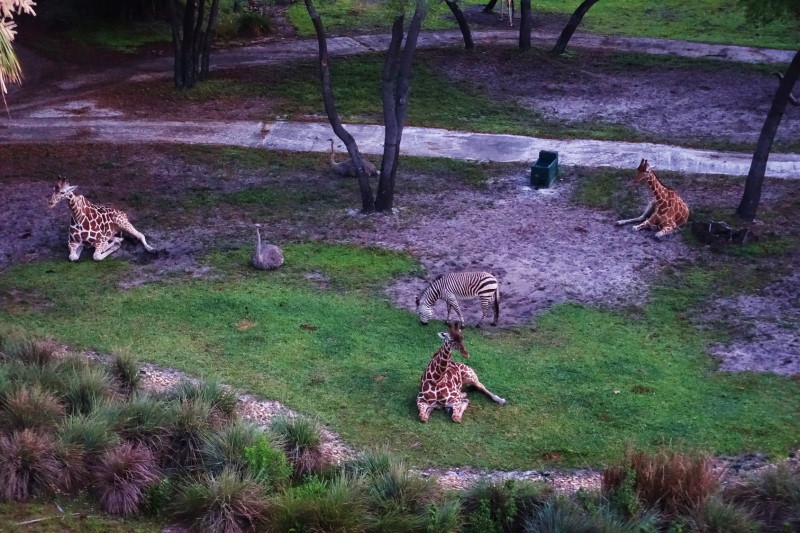 Kelly, the long-time travel agent partner of this site, can also book them for you. See the form near the bottom of this page for how to contact her.
They also are sometimes available to the general public at a discount through renting points from a Disney Vacation Club member or point broker.
Because the two sets of options at the Wilderness Lodge, Animal Kingdom Lodge and Saratoga Springs are so different, for review purposes I count thirteen options among the Disney Vacation Club resorts at Walt Disney World.
The overall ranking among them for first time family visitors is as follows:
The next DVC offering to open will be Reflections, located on grounds that were formerly part of Fort Wilderness.
THE THEMING OF THE JAMBO HOUSE VILLAS
Disney's Animal Kingdom Lodge is described on Walt Disney World's website as an
"African lodge-style resort amidst a 43-acre wildlife preserve. The Resort offers authentic African-inspired architecture and the kraal African-village landscape design—a semi-circle design popular in Africa which offers expansive views of the surrounding savanna and its many animal inhabitants. Thatched ceilings, large beams, hand-carved golden-tone furnishings, real African artifacts and a vast mud fireplace in the main lobby surround you in the inimitable spirit of Africa."
"Just outside the main lobby, an elevated rock platform—Arusha Rock—offers up-close glimpses of the animals and a panoramic view of the sprawling grounds. In addition to animals, thousands of indigenous African shrubs and grasses—including the most recognized canopy tree of Africa, the copperpod—paint a picture reminiscent of the unspoiled African grasslands."
The resort opened in April 2001 and since has been changed twice.
In the first change, Disney Vacation Club villas replaced a number of rooms in the Animal Kingdom Lodge itself.
In the second, a new Disney Vacation Club resort in a new building–Kidani Village–opened next door. At the same time as Kidani Village opened, the name of the main resort building was changed to Jambo House.
So the Animal Kingdom Lodge is now the whole thing, and the building that holds the Jambo House Villas and the resort's regular hotel rooms is now Jambo House.
Jambo House is one large building.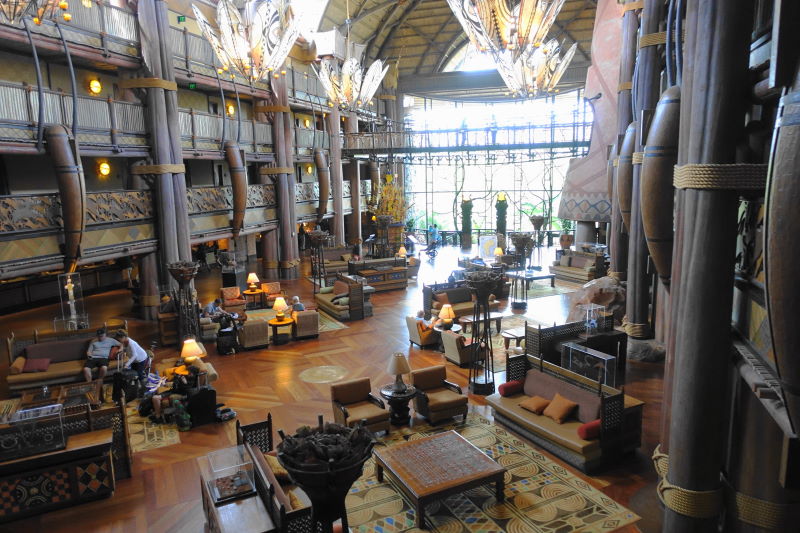 You enter into the glorious lobby, with check-in and other services on the left, and a gift shop on the right.
Further on the right but down a few levels are Jambo House's two great restaurants–Jiko and Boma, and its quick service option, Mara.
Between the lobby and these restaurants is a wonderful bar, the Victoria Falls Lounge.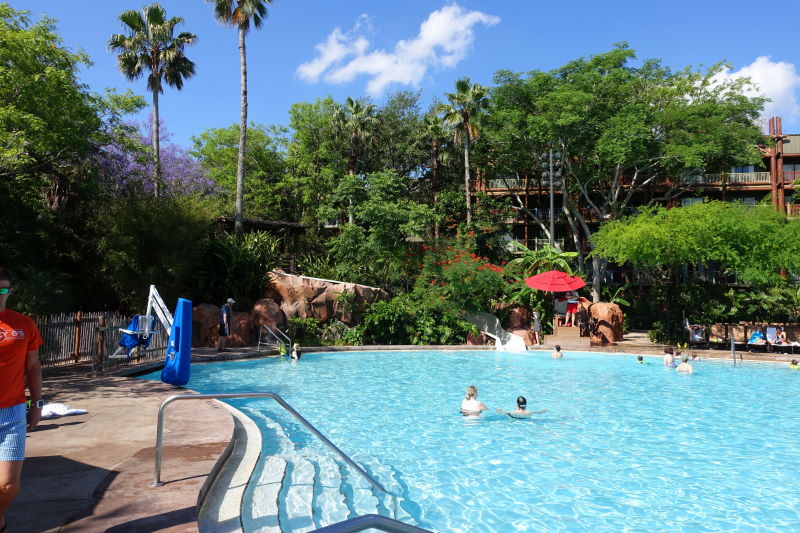 Still further on the right is the spectacular Uzima pool.
The lodging components of Jambo House are divided into four "trails," Ostrich, Giraffe, Zebra and Kudu. (There's a resort map on the first page of this review–click here to get to it.)
Giraffe Trail has only pool and standard views–avoid it
Ostrich Trail is short and very lightly trafficked, and convenient to the lobby. About half its rooms have views of the Sunset Savanna. A savanna view room here is the best choice for families looking for quiet.
Kudu Trail is very long. It rooms almost all have savanna views–most of the Sunset Savanna, but many of the Arusha Savanna. Kudu Trail has less traffic than Zebra Trail, because it is not convenient to anything.
Zebra Trail is as long as Kudu trail, but more convenient to the restaurants and pools. Its rooms have a mix of views–pool views, Uzima Savanna views, and Arusha Savanna views.
The Jambo House Disney Vacation Club Villas are on the fifth and sixth floors.
Besides the "regular" villa types, which this review largely addresses, you'll also find two other villa types unique to Jambo House:
"Value" villas and studios. These rooms are smaller–shorter–than the equivalent room types in the "regular" villas, and in the case of One-Bedroom and Two-Bedroom villas, value villas hold one person less–4 instead of 5, and 8 instead of 9.
These rooms are smaller because they were rebuilt from standard Animal Kingdom Lodge rooms, not its former "Deluxe" rooms, longer by the width of a balcony.
"Club Level" villas and studios. A few of the Jambo House villas are also part of the Animal Kingdom Lodge's club service. "Club service" is what Disney calls what the rest of the world calls concierge service.
These Club Level rooms are the only DVC accommodations on property that also provide concierge service.
Jambo House at Disney's Animal Kingdom Lodge's strengths for first time visitors are its stunning theme and great kid appeal, it pool, and its great dining at Jiko and Boma.
Its DVC villas share these strengths, but, as noted on the first page, for some room types Kidani Village is the better choice.
Jambo House's principal negative is its distance from the rest of Disney World, other than the Animal Kingdom itself.
ACCOMMODATIONS AT JAMBO HOUSE VILLAS
All DVC resorts except the Polynesian have studio rooms, One-Bedroom Villas, and Two-Bedroom Villas.
Most have Grand Villas as well.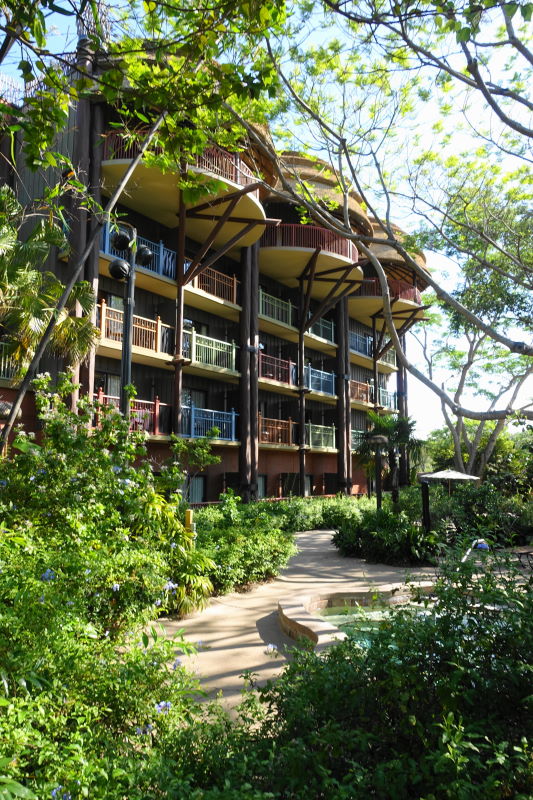 Jambo House has all room types, and floor plans of all its standard room types are on this page.
Jambo House has an addition two unique types of villas–concierge villas and value villas. Concierge and value villas are not covered by this review, except I do have floor plans for value villas at the end of this page.
STUDIOS AT JAMBO HOUSE VILLAS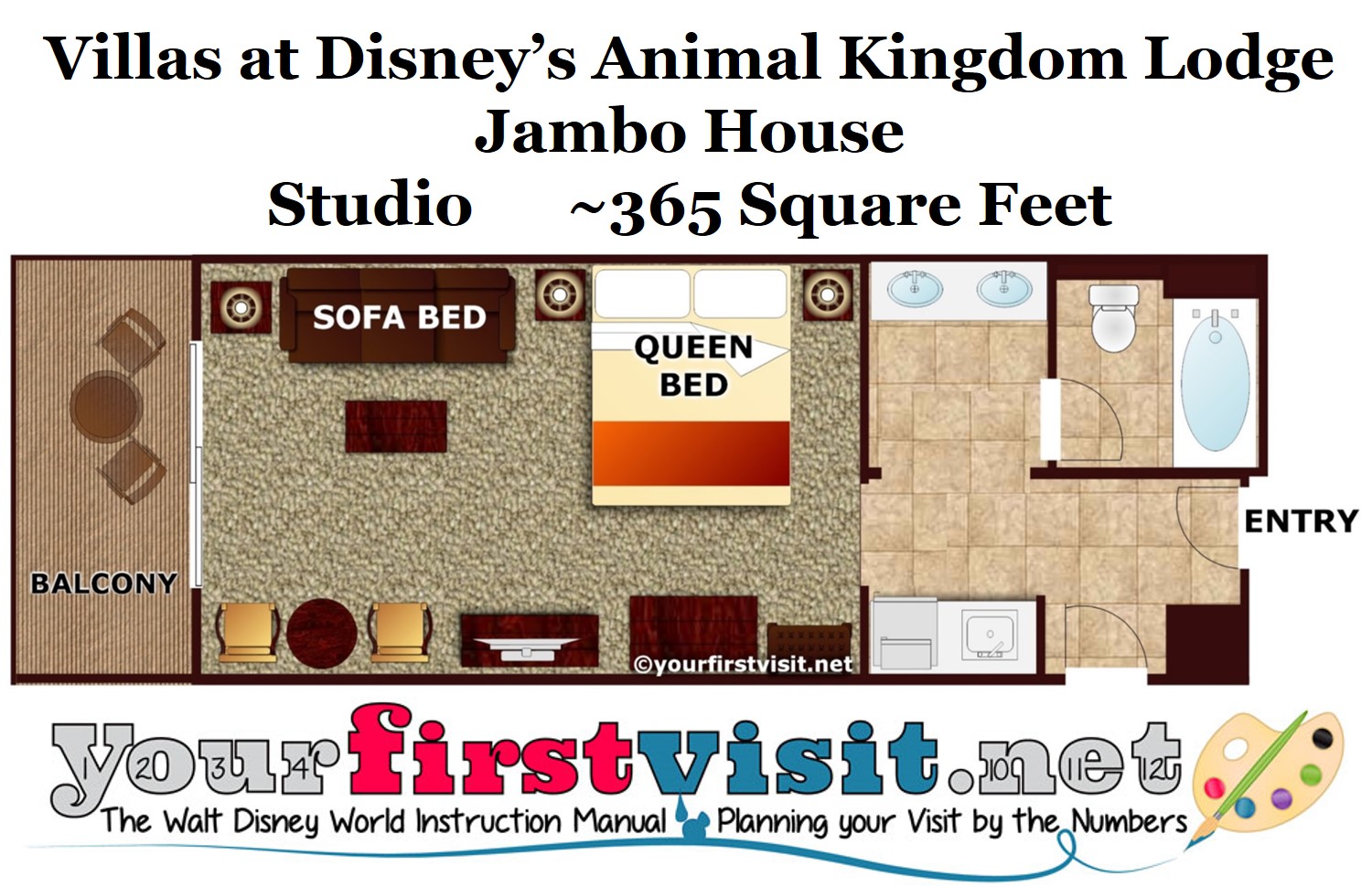 At Jambo House, standard Studios sleep four and have a microwave and mini fridge.
The microwave is one of several ways Studios are different from regular rooms at Jambo House.
A second distinction is that the second bed is a fold-out couch.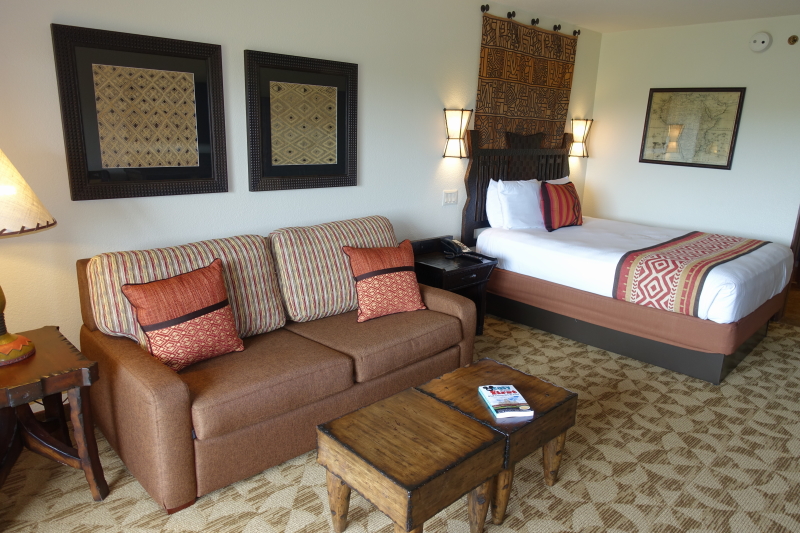 This increases the livability and flexibility of the space.
Finally, these rooms are longer than regular Jambo House rooms.
Since regular Jambo rooms are tied with the Wilderness Lodge as the smallest deluxe rooms at Disney World, these extra few feet do make the space feel more comfortable and luxurious.
These studios go for 10-20% more than regular rooms, and I don't see that the above features create enough extra value to be worth it.
A photo tour of a Studio begins here.
ONE-BEDROOM VILLAS AT JAMBO HOUSE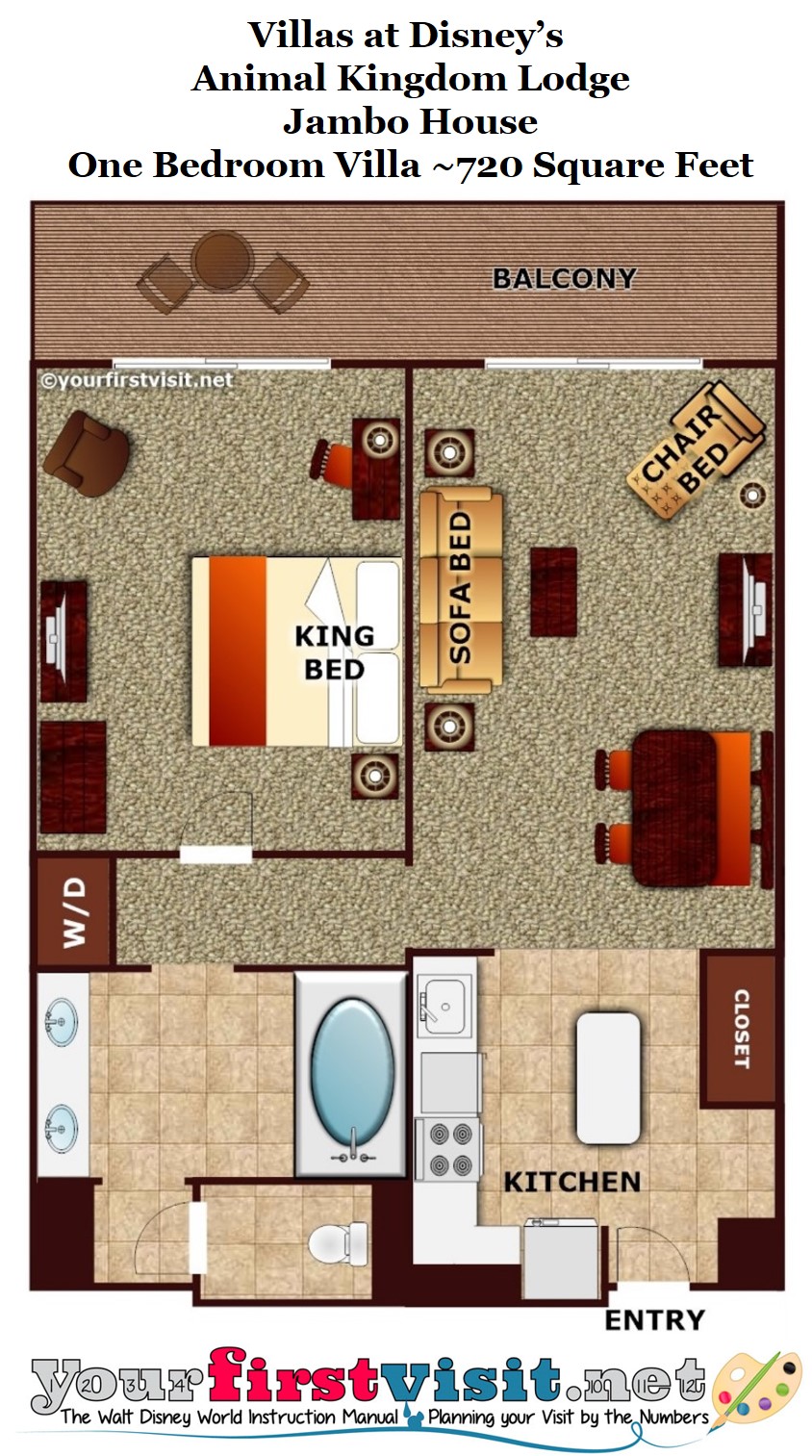 Standard Jambo House One-Bedroom Villas have a master bedroom with a king.
They have as well a full kitchen/dining/living space, and sleep 5 in about twice the space of a studio.
The three additional sleeping spots are on fold-out furniture in the living room space.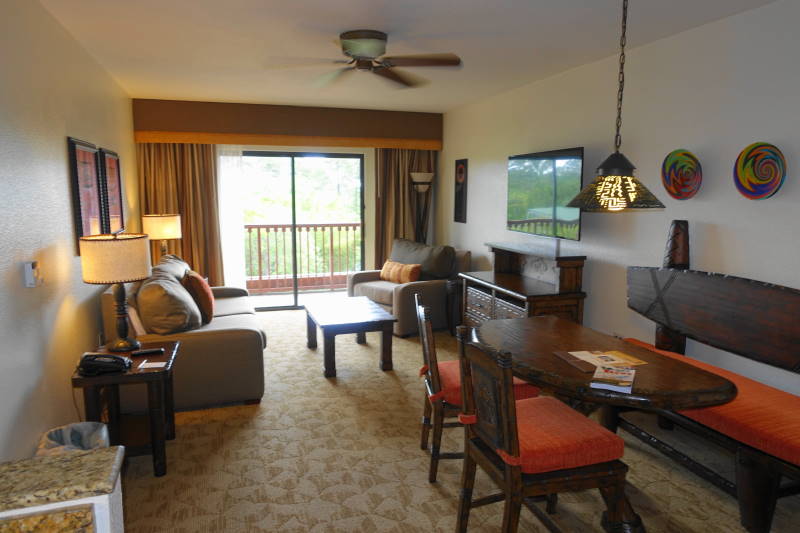 The bath is shared, with access to it from both sleeping spaces through the small hall between the master bedroom and the bath. Kids don't need to enter the master bedroom to get to this bath.
Unlike most DVC One-Bedroom Villas, these rooms have a full-width balcony accessible from either space.
One-Bedroom Villas are among the most comfortable ways to stay at Walt Disney World.
The additional space, full kitchens, and living and dining furniture are hard to beat, even though if you are following one of this site's itineraries you won't be in your room much to enjoy them!
At 50-60% more expensive than a regular Jambo House room, they aren't for everyone…but the value is there if you can afford it.
Of the Animal Kingdom Lodge One-Bedroom options, Kidani Village is the better choice, as it offers a second bath and even more space, for just a few dollars more a night.
A photo tour of a One-Bedroom Villa beings here.
TWO-BEDROOM VILLAS AT JAMBO HOUSE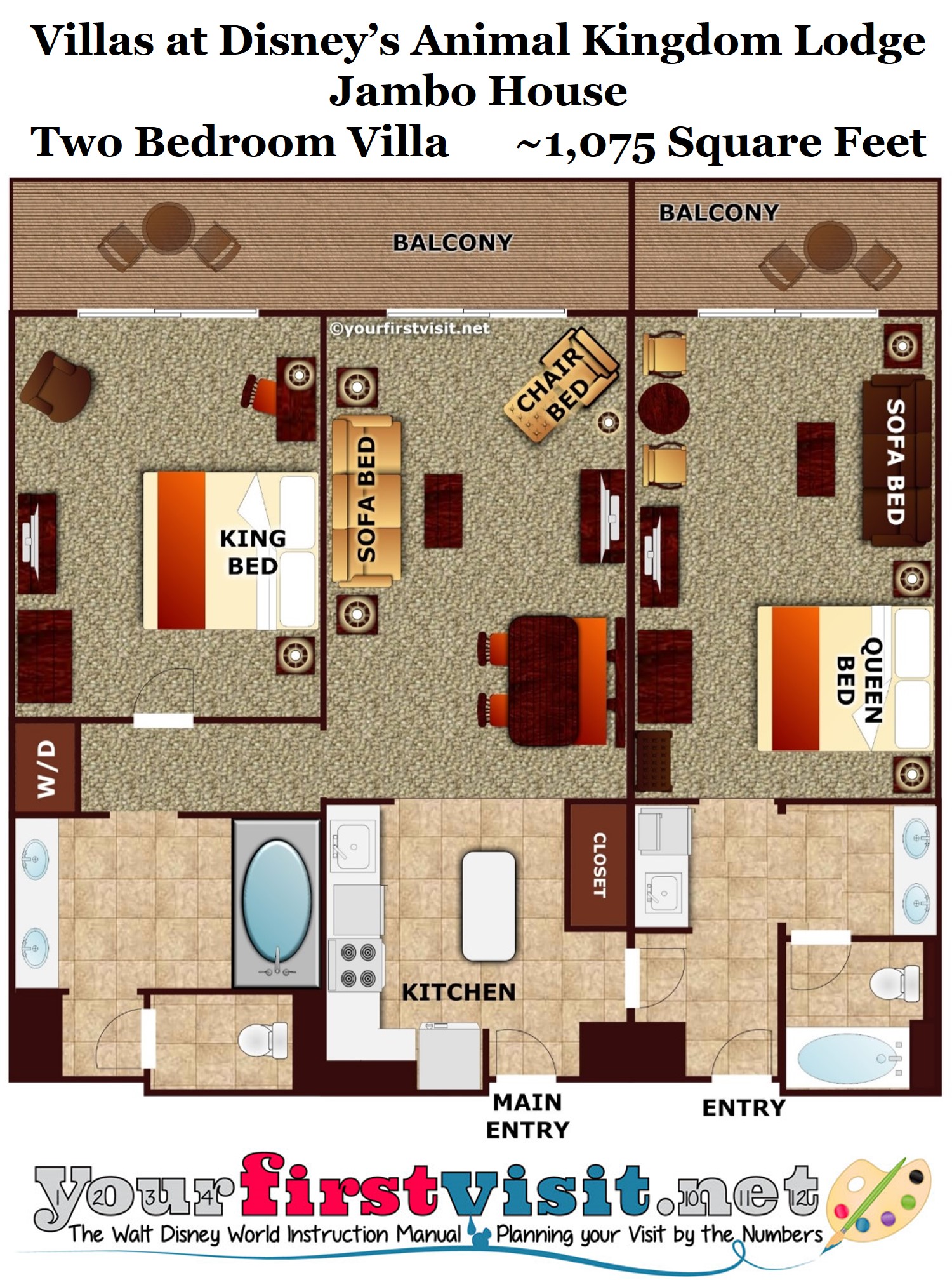 Standard Jambo House Two-Bedroom Villas add a Studio with a queen bed and a sleeper sofa, and another balcony, to the amenities of a One-Bedroom, and sleep 9.
Two-Bedroom Villas can be either cramped or comfortable, depending both on how you use them and what you are comparing them to.
Like almost all DVC Two-Bedroom Villas, in Jambo House Two-Bedrooms there isn't enough seating space in either the living room or in the dining spaces for all the people these rooms will fit. (Old Key West Resort and the Treehouse Villas are exceptions.)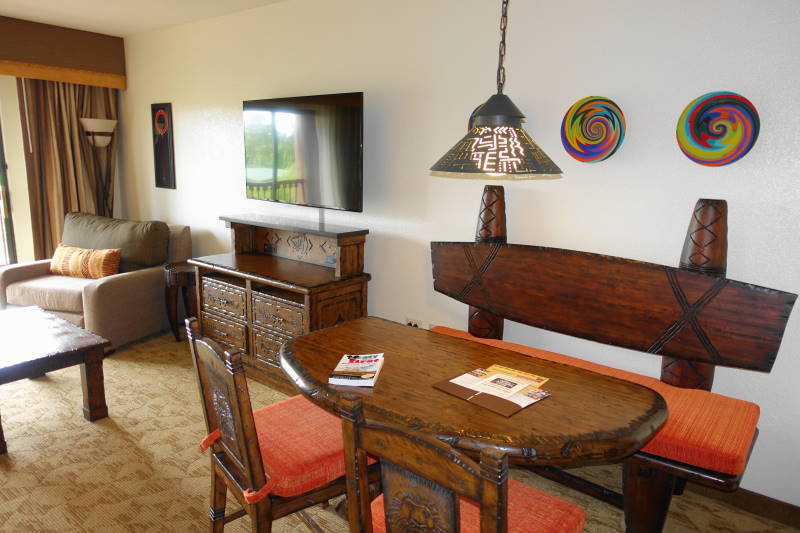 The living room chairs will seat three to five people, with two more chairs available at the dining table, and the dining table will seat four to five, with the range depending on the width and friendliness of those seated.
So if you are filling a two bedroom with 8 or 9 people, things can get awkward compared to the ease with which One-Bedroom Villas fit the people they can sleep. (And if you have this many people, Kidani Village is the better Animal Kingdom Lodge choice anyway…)
This is part of the reason why these rooms are only about 40-50% more expensive than One Bedroom Villas, even though they have more than double the sleeping capacity.
On the other hand, depending on the price season, a Two-Bedroom is only ~$100 more expensive than two regular Jambo House rooms, but provides 50% more space, and, compared to those rooms, all that extra kitchen/dining/living space and furniture.
If your family's sleeping needs will fit in the bedrooms–that is, you have six or fewer people, and don't need to use the fold-out beds in the living space–Two-Bedrooms are a particularly comfortable option.
In this case the Jambo House Villas are a better Animal Kingdom Lodge choice than Kidani.
GRAND VILLAS AT JAMBO HOUSE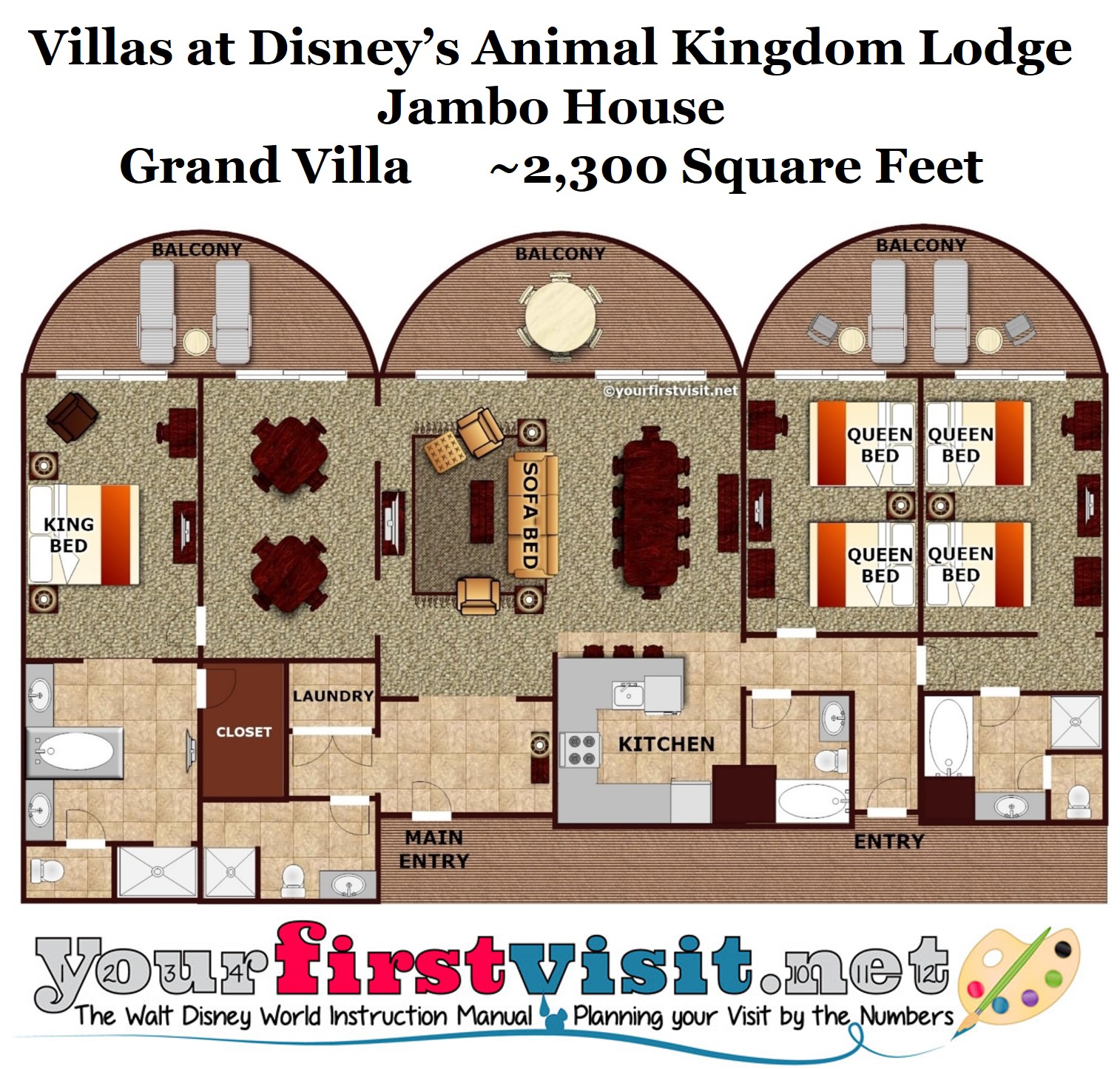 Grand Villas at Jambo House sleep 12.
They have three bedrooms (one with a king, and two with two queens) plus a sleeper sofa.
They also have a kitchen, dining room, living room, game room (with a pool table, not the card tables indicated in the floor plan), 3 large balconies, and 4 baths.
Note from the floor plan that two baths are private to bedrooms (the king bedroom, and one of the queen bedrooms) while two others are available to all.
Note also the two entry doors–one to the living room, and one to the queen bedroom area.
All Grand Villas are about twice the size of a Two-Bedroom Villa, while having only one more bedroom.
This makes them in effect 6 bays–a bay being about the size of a Studio.
So a way to think about the livability and design problem of a Grand Villa is that it adds one bedroom but three bays to the size of a Two-Bedroom. So what to do with the other two bays?
One part of the answer is consistent across all Grand Villas–at least one of the two extra bays is used to double the size of the shared kitchen/dining/living space compared to that of a Two-Bedroom Villa.
At first blush, this seems enough, as it doubles this space while adding only 50 percent more capacity.
But as noted above, the shared space in the Two Bedrooms is too small for their capacity. Just doubling it does not leave enough comfortable chairs in the living room space of Grand Villas for 12, nor in many cases enough room at the dining table for that number.
Most DVC Grand Villas are two-story spaces, and they resolve this issue by having the 6th bay, over the living room, combine a lofted space with a two-story ceiling over the living room.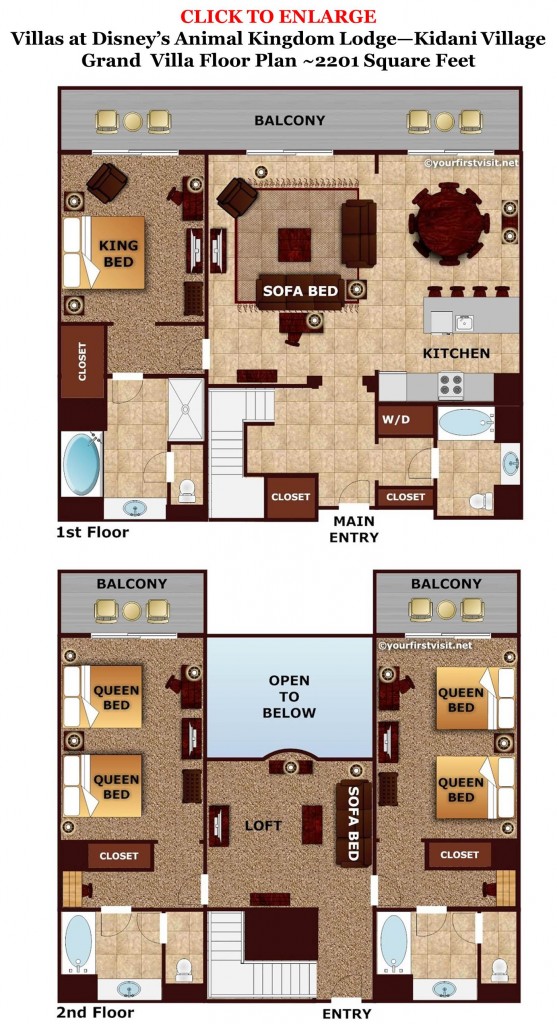 See the Kidani Village Grand Villa floor plan to the right for an example.
In the lofted space you'll find a second convertible couch and a TV.
This adds some needed living space, and provides the option for people to sleep in this space without disordering the living room by sleeping on its couch.
Moreover, the two-story ceiling in the living room enables two-story windows, and these add drama to the design.
Unlike at most DVC resorts, at Jambo House, Grand Villas are one story spaces. (BoardWalk, Riviera, Copper Creek and Grand Floridian Grand Villas are also one story spaces.)
Jambo House Grand Villas use the sixth bay as a game room. This neither expands living room-style space nor provides an alternate sleeping spot.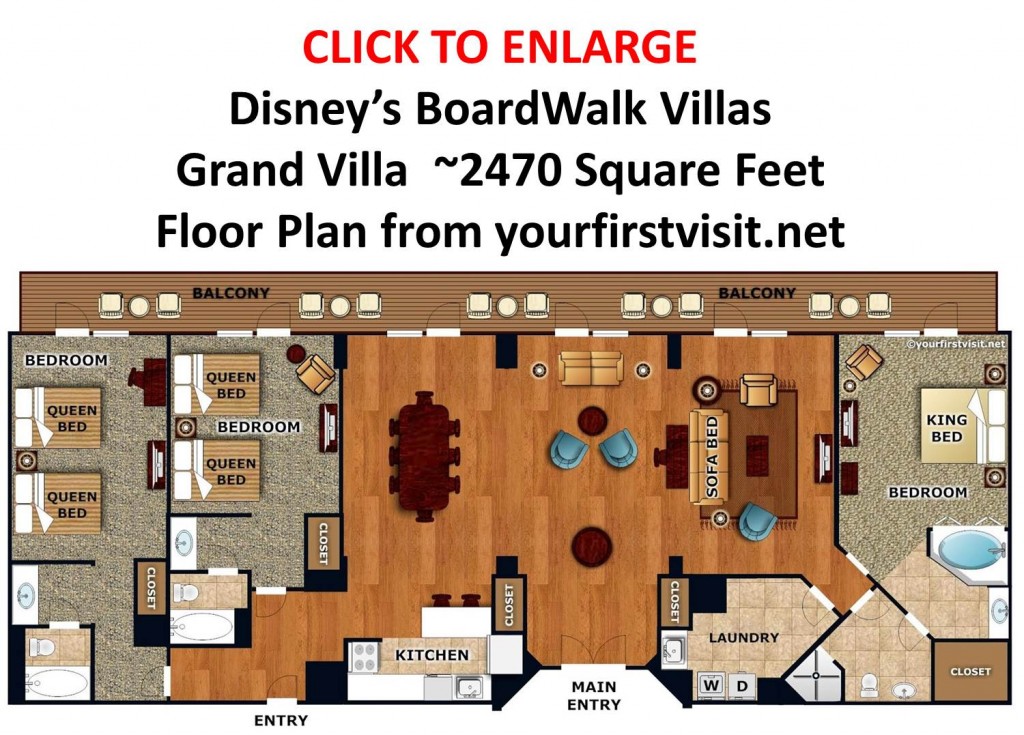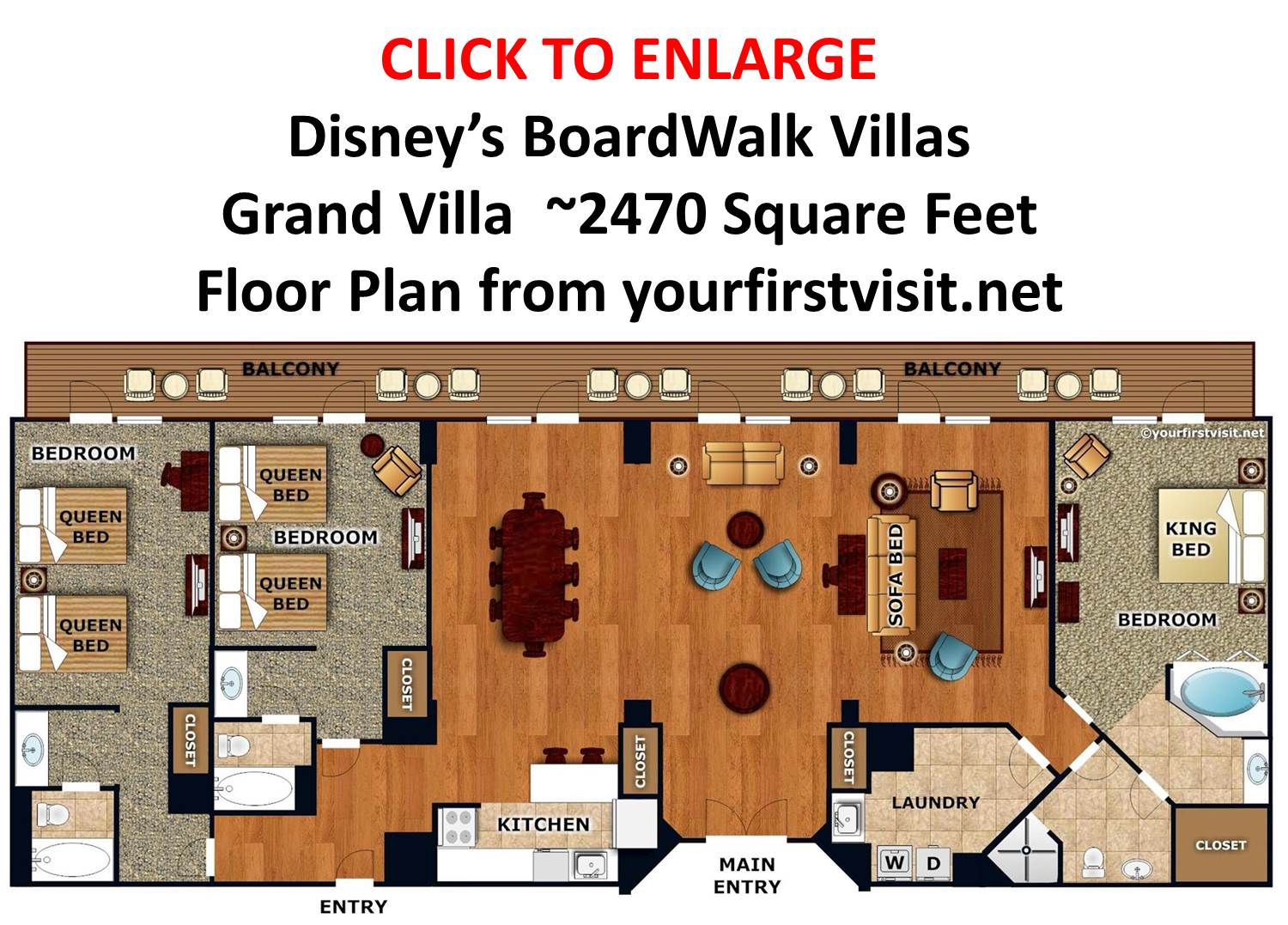 With one exception, the layout of the one-story BoardWalk Grand Villas is much better. (See image above.)
In the BoardWalk Grand Villas the sixth bay is used to expand the living space.
However, BoardWalk Grand Villas have only three baths, and the master bath is the only one accessible to guests sleeping in the convertible sofa.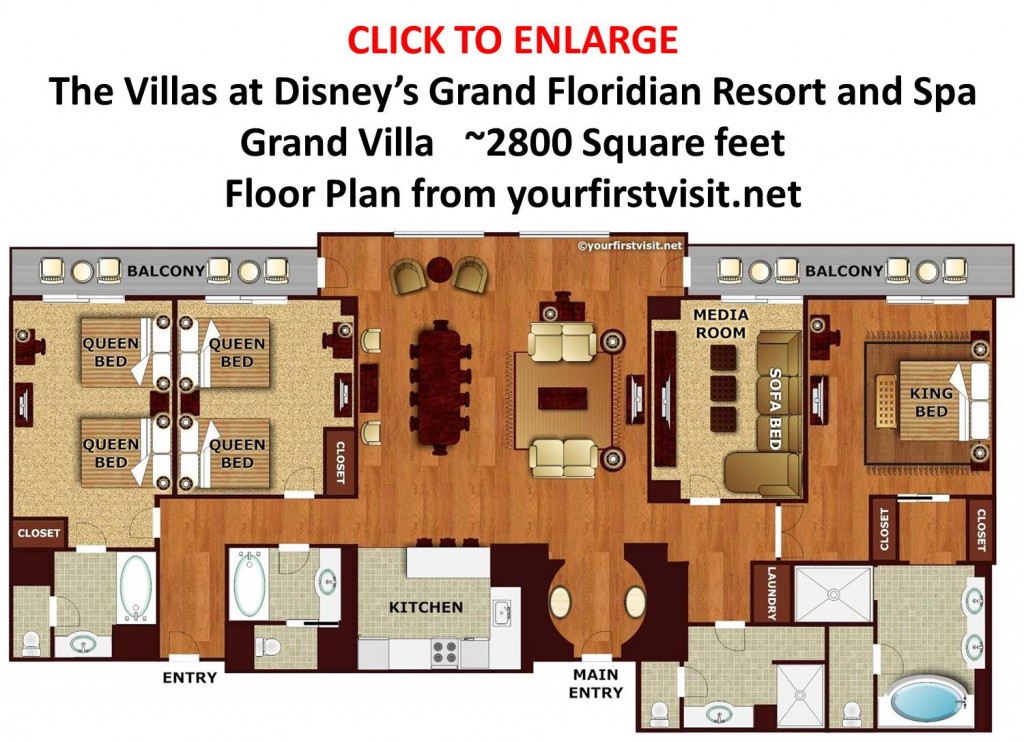 Grand Floridian Grand Villas use the 6th bay as a media room, and put the last two sleeping spots there–thus making them in effect four bedroom villas while also increasing livability. They also have four baths.
Despite the fact that I am not keen on the use of the 6th bay as a game room, I still rank Jambo House Grand Villas as the better of the two Animal Kingdom options for first time family visitors.
I don't see the differences between the one and two story options as so material as to overcome Jambo House's advantages in convenience and kid appeal.
That said, a family with a size or structure that means it will be using the sleeper sofa should carefully compare the Kidani Grand Villa floor plan with that of the Jambo House plan, and make its own call…
(To each of the capacity figures above, you can add one more kid under 3 at time of check in who sleeps in a crib.)
JAMBO HOUSE VALUE VILLAS
Jambo House also has a small number of "value" villas, each about three feet shorter than standard villas, and sleeping in the One and Two Bedroom sizes one fewer person.
These spaces are rarely available to anyone other than a DVC member whose home resort is the Animal Kingdom villas, and I have never stayed in one of them.  Approximate floor plans follow:
Jambo Value Studio: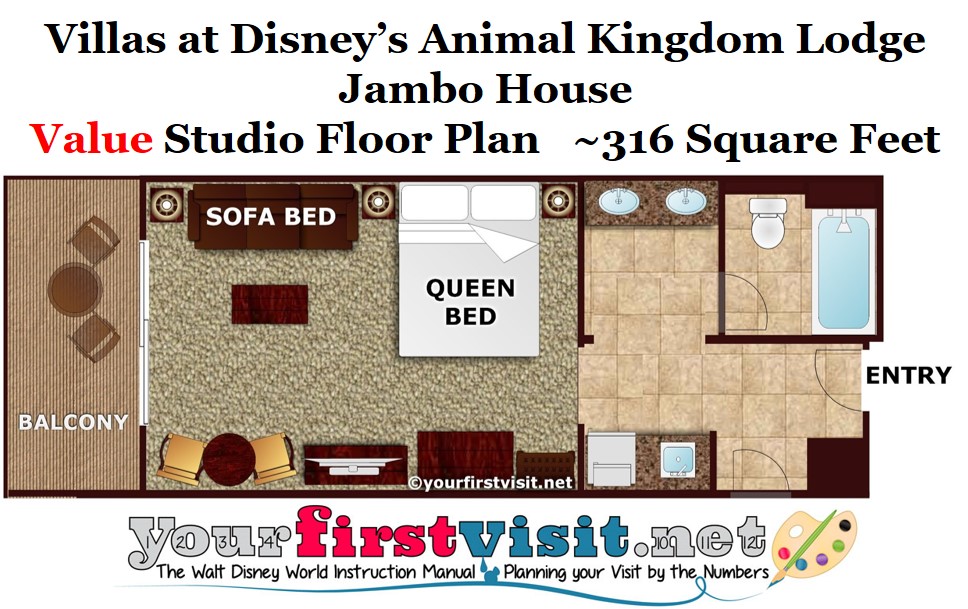 Jambo Value One Bedroom Villa: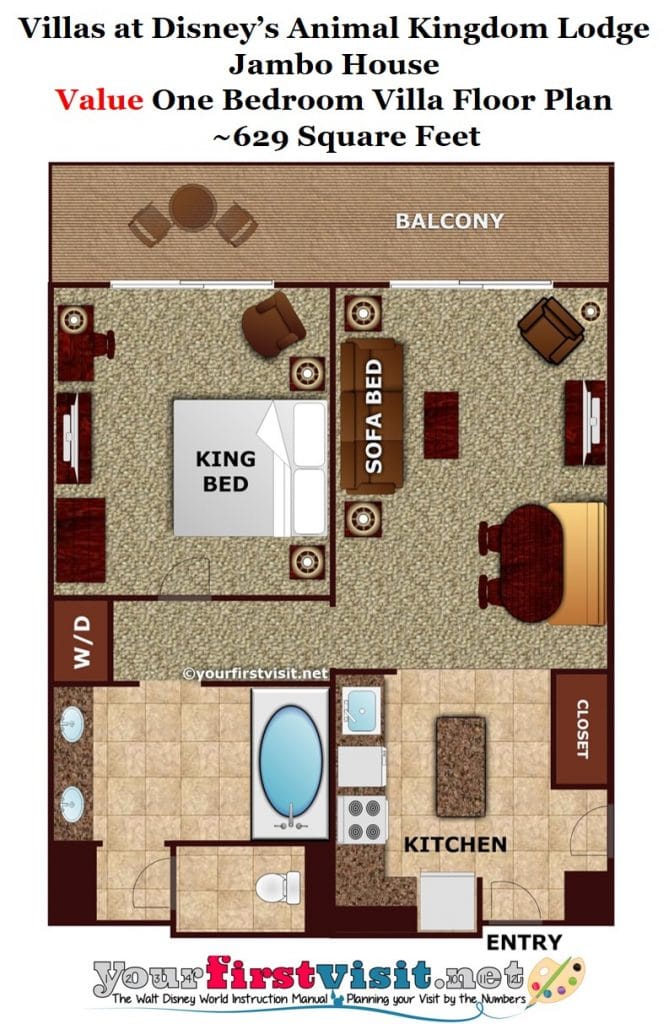 Jambo Value Two Bedroom Villa: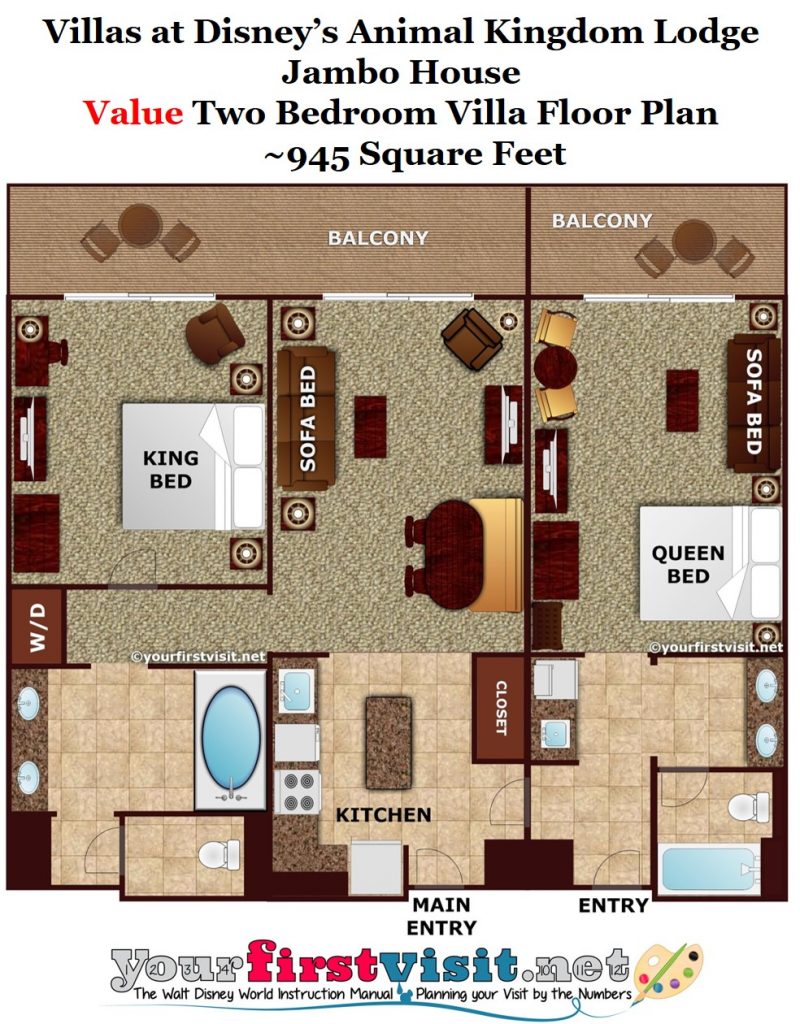 This review continues here!
The long-time travel agent partner of this site, Kelly, can book you at the Jambo House Villas or anywhere else at Disney World.  Contact her using the form below!


Follow yourfirstvisit.net on Facebook or Twitter or Pinterest!!</p
RELATED STUFF