Seven Night FastPass+ Lower Crowd Itinerary, Saturday Arrival
By Dave Shute
Below is a seven night, Saturday arrival FastPass+ based Disney World itinerary (revised May 2014) that is a shorter variant of my recommended eight-night itinerary.
(There's a Sunday arrival version too–if you could do either, the Sunday arrival version is better!)
This itinerary reliably works only during weeks that the normal eight night variant works without changes. To see if that's true for your week, look your week up here. If your week is listed with changes–e.g. "swap Sunday and Tuesday" then use the comment form below to ask for help!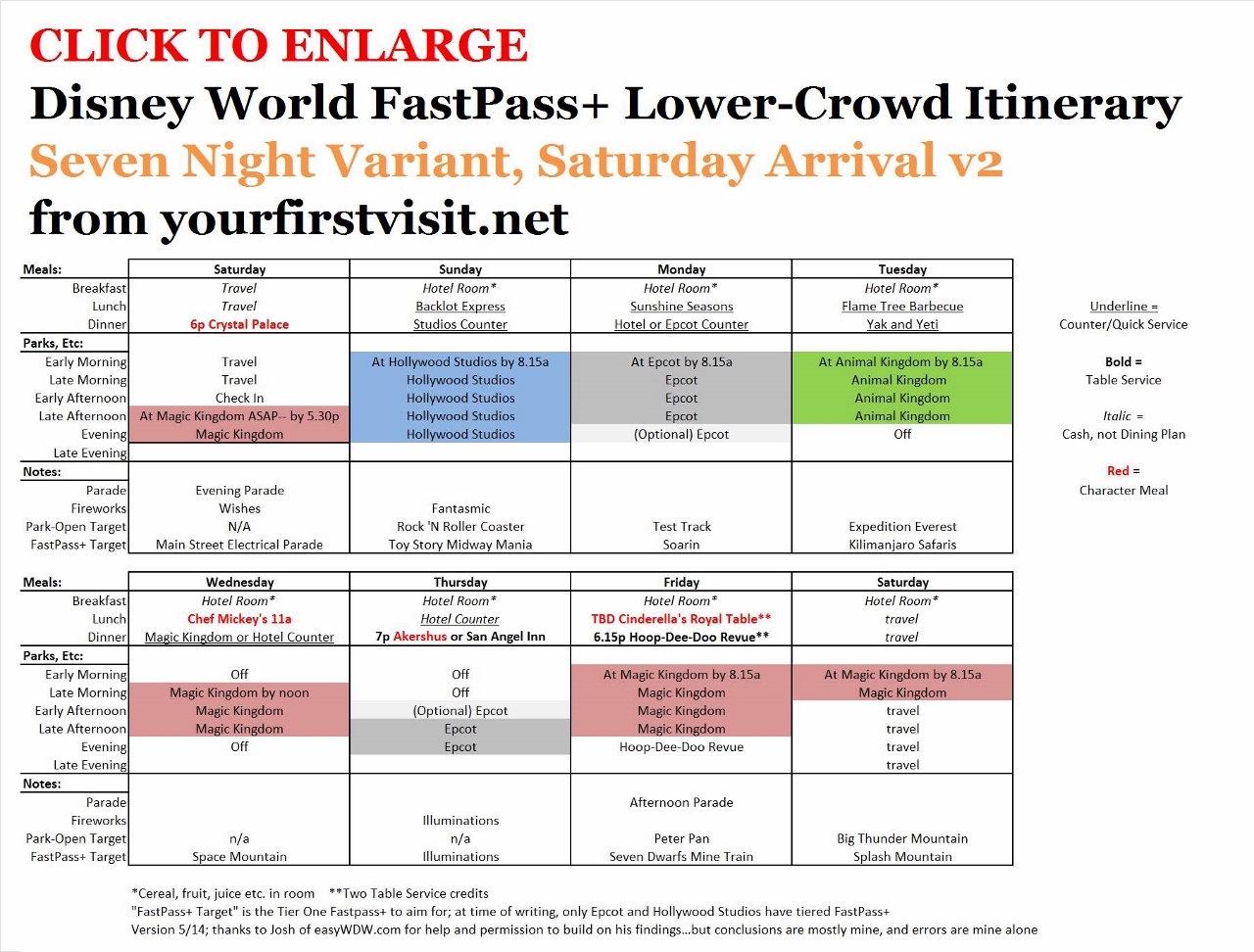 It replaces my old Autumn-Winter-Spring Itinerary because that no longer works optimally with FastPass+.
It has several differences from the old Autumn-Winter-Spring Itinerary–I'll get more into the details another time, but here's the key points:
It is built on FastPass+, not legacy Fastpass, assumes just one headliner per day, and takes advantage of multiple features of FastPass+
It's simplified.  There's just one table service meal in Epcot now, rather than two, and Cirque du Soleil is out.  As wonderful as Cirque is, the cost and complexity it adds to an already rough visit just aren't worth it. The net is a slightly easier trip, and a much less expensive one
It doesn't require a park hopper, but now costs one more ticket day–which is cheaper than a hopper anyway!
It avoids Extra Magic Hours (EMH) entirely.  EMH are generally a bad idea, so my past itineraries have used them sparingly for specific purposes. FastPass+ lets me address the purposes for which I used EMH before, so now no parks are visited on EMH days.  This means, incidentally, that the itineraries work both for those staying on and off-site
Getting it from the recommended eight-night itinerary to seven nights required losing much of the built-in free time…
The FastPass+ that make it work are in the To-Do List, so you can book FastPass+ at the 60 day window for FastPass+ sign-ups.
The To-Do List for this itinerary is here.
And here's the daily links:
Thanks are especially due to Josh from easyWDW. With his permission, I picked the targeted park days based on both my own practices and his daily park recommendations.
Follow yourfirstvisit.net on Facebook or Google+ or Twitter or Pinterest!!
RELATED STUFF