Shorter Walt Disney World Itineraries
By Dave Shute
SHORTER WALT DISNEY WORLD ITINERARIES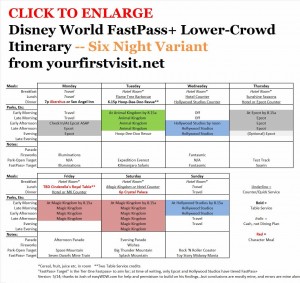 The standard itineraries of this site cover eight nights. (Why?–See How Long to Stay.)
Below is offered help for shorter itineraries.
SEVEN NIGHT WALT DISNEY WORLD ITINERARIES
MORE DISNEY WORLD ITINERARY HELP
For help in designing your own itinerary, or making major changes to the itineraries presented above, click here
If you need to figure out what you can afford first before thinking about an itinerary length, click here for what you can do for various budgets
WALT DISNEY WORLD ITINERARY LINKS
Follow yourfirstvisit.net on Facebook or Google+ or Twitter or Pinterest!!
RELATED STUFF