Fridays with Jim Korkis: The Hidden Magic of Walt Disney Trivia
By Dave Shute
Welcome back to Fridays with Jim Korkis! Jim, the dean of Disney historians, writes about Walt Disney World history every Friday on yourfirstvisit.net.
YOUR PERSONAL DISNEY LIBRARY (50)
By Jim Korkis
The title on the cover of the book, and as listed on Amazon, is The Hidden Magic of Walt Disney Trivia but the book is entirely about Walt Disney World, and I am assuming this is a self-published book since the interior page lists the author as "Jasson" indicating it was "self edited" and not too carefully.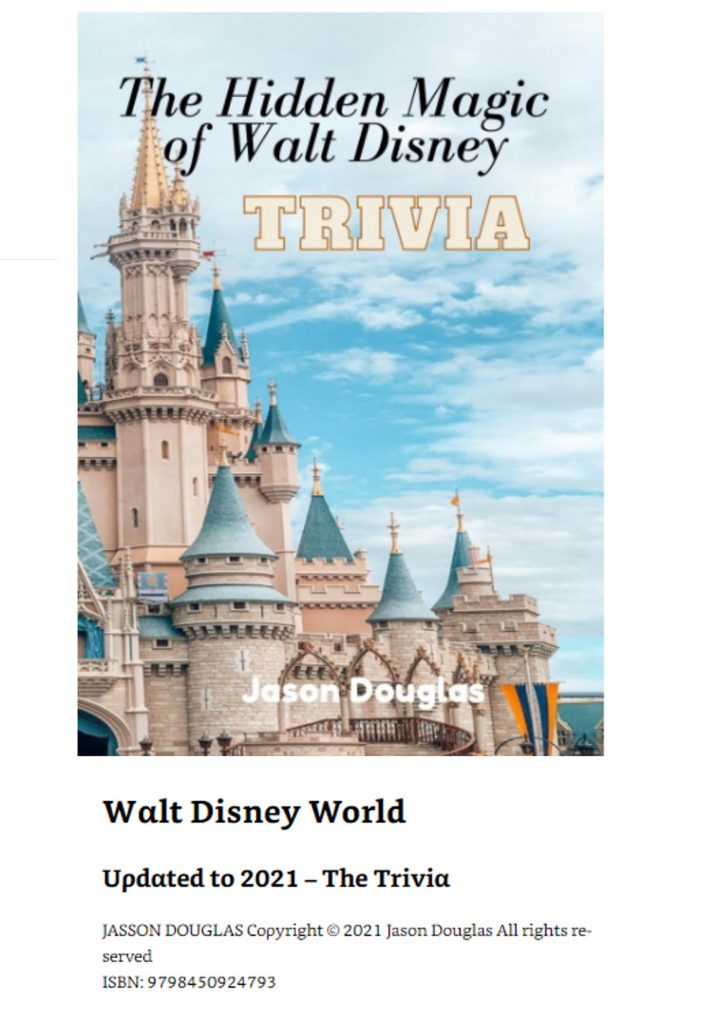 There are 290 unnumbered pages, no Table of Contents, no illustrations or photos and no Index. Good luck trying to find something. I am unfamiliar with the author and there is no information in the book or on its cover about him.
I really wanted to like The Hidden Magic of Walt Disney Trivia since I like the overall concept and the variety but it just comes across as disorganized and it takes a lot of effort to find the virtues. It is definitely not designed to be reader-friendly, and I found myself feeling frustrated, especially when after reading it I tried to find some specific things I wanted to talk about in this review. There was just no easy way to locate that information.
In theory, the book is divided into four lengthy chapters with each one representing one of the WDW theme parks–and only the theme parks, no resorts or other things on WDW property. Within each chapter there are two page sections devoted to a single attraction. Once again, these appear in no coherent order and not all attractions are included.
Each two page section has a short paragraph introduction, followed by a four-choice multiple choice question and a second question that requires a short answer. Then there is a paragraph with a "Fascinating Fact" and a paragraph of something to "Look For" at that attraction.
At the end of each complete chapter is a ten item scavenger hunt for that particular park. At the end of the book are additional Kids (and Kids at Heart) Scavenger Hunts. The end of the book has the answer to all the questions as well as the answers to the scavenger hunts. However, the layout is wonky at best and suddenly there will be huge blank sections between the answers especially in the Epcot section.
For the most part, the information is accurate (taking into consideration that things at WDW constantly change) and I found some of the information quite clever, but again too much of that is completely "lost" in the lack of the book's organization. It seemed a bit odd that there were only two questions per attraction and I would have liked to have seen a bit of explanation, especially for the "short answer" questions, in the Answer Key.
These days almost anyone can publish a book about Disney but with that independence comes the responsibility to edit carefully and to be empathetic and respectful of the reader.
Again, I wanted very much to like this book and be able to recommend it to others. There is indeed some good stuff between the covers but its presentation is confusing and irritating. It is like some of those cooking shows on the Food Network where the chef has prepared something tasty but the presentation is sloppy and unappealing, so he is eliminated from the competition.
*  *  *  *  *
Thanks, Jim! There's a different book, published in 2013, with the more natural title for Douglas's book of The Hidden Magic of Walt Disney World Trivia, this one by Susan Veness. Given the number and quality of the reviews of her book, it might be a better choice…
And come back next Friday for more from Jim Korkis!
In the meantime, check out his books, including his new books Vault of Walt: Volume 10: Final Edition,   Kungaloosh! The Mythic Jungles of Walt Disney World and Hidden Treasures of Walt Disney World Resorts: Histories, Mysteries, and Theming, much of which was first published on this site.

Follow yourfirstvisit.net on Facebook or Twitter or Pinterest!!
RELATED STUFF