Disney World Summer Crowds in 2019
By Dave Shute
DISNEY WORLD 2019 SUMMER CROWDS: THE PRINCIPLES
Walt Disney World summer crowds recently have been governed by three factors:
Public school summer break calendars, which have start and end dates more varied than you might think
The block-out dates of the "Silver" annual passes that have a high penetration among locals
The beginning of the peak of the hurricane season, in mid-August
BLOCK OUT DATES
Disney changed block out policies on certain annual passes that are highly valued by locals in 2015, in time to affect the summer of 2016.  All of July, most of June, and some of August were blocked out in the popular (because lower cost) Silver Pass in 2016 and 2017. Crowds both summers were lower than expected, likely largely because of this.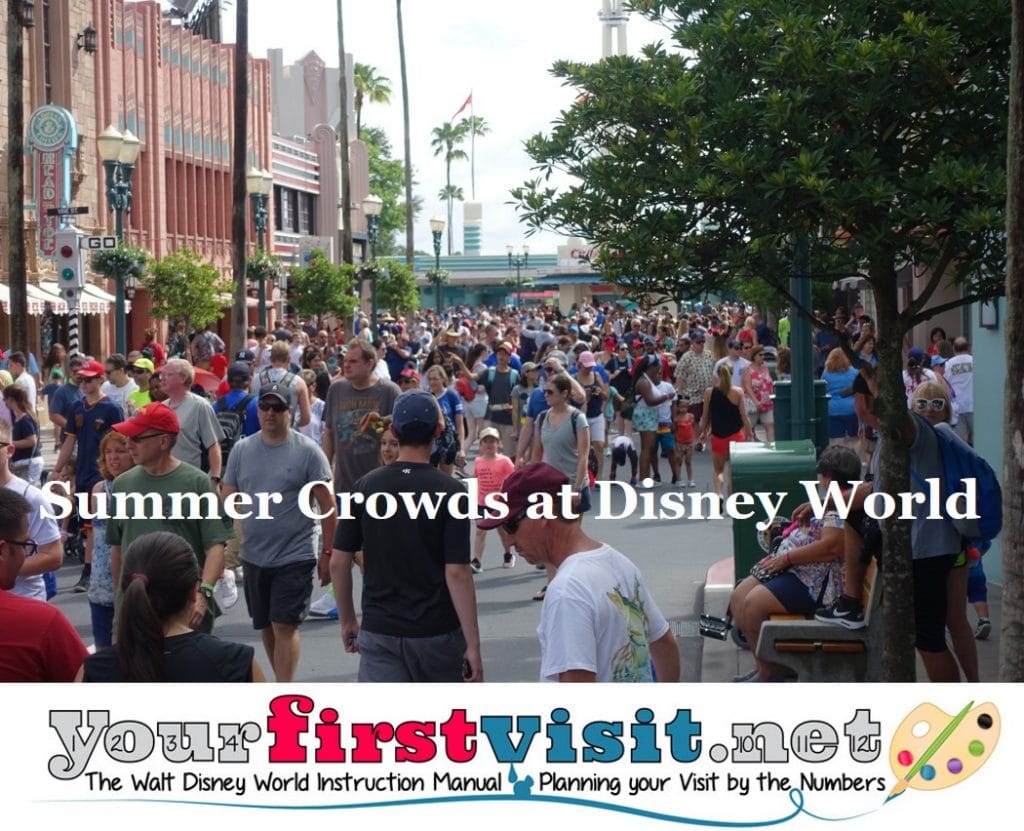 For 2018, the planned early June block out was lifted through June 29, and June 2018 saw higher crowds (according to the historical data on TouringPlans.com) than June 2017. The higher crowds may disappear now that the block out dates are back, and they may or may not appear next year.
For the summer of 2019, the Silver Pass block out dates begin June 3.  If the summer of 2019 is like 2016 and 2017, you may see as a result lower crowds–more at the moderate level–than I forecast below.  I'll keep my eye on this s the summer of 2018 unfolds and update this if necessary. You will, however, still be in Florida in the heat, humidity, and rain of summer–and I can't possibly recommend that…
So…back to the other two drivers of summer crowds–school breaks and the peak of the hurricane season.
Pretty much all kids are off all of July. As a result, July is typically the busiest summer month, and during it, the week that includes the 4th of July the busiest week.
Varied dates for when summer breaks begin means June can start well, and then build to high crowd levels.
August has the opposite pattern, beginning with high crowds, but, through the combination of a trickle turning to a flood of back-to-school dates, and savvy travelers avoiding the peak of the hurricane season, it ends quite un-crowded.
Families that can only visit in the summer (for example, school teachers) should go as early in June or as late in August as their schedules permit.
2019 PUBLIC SCHOOL SUMMER BREAKS AND THEIR EFFECTS ON WALT DISNEY WORLD CROWDS
The beginnings of summer breaks vary more than most people think.
The chart below illuminates this.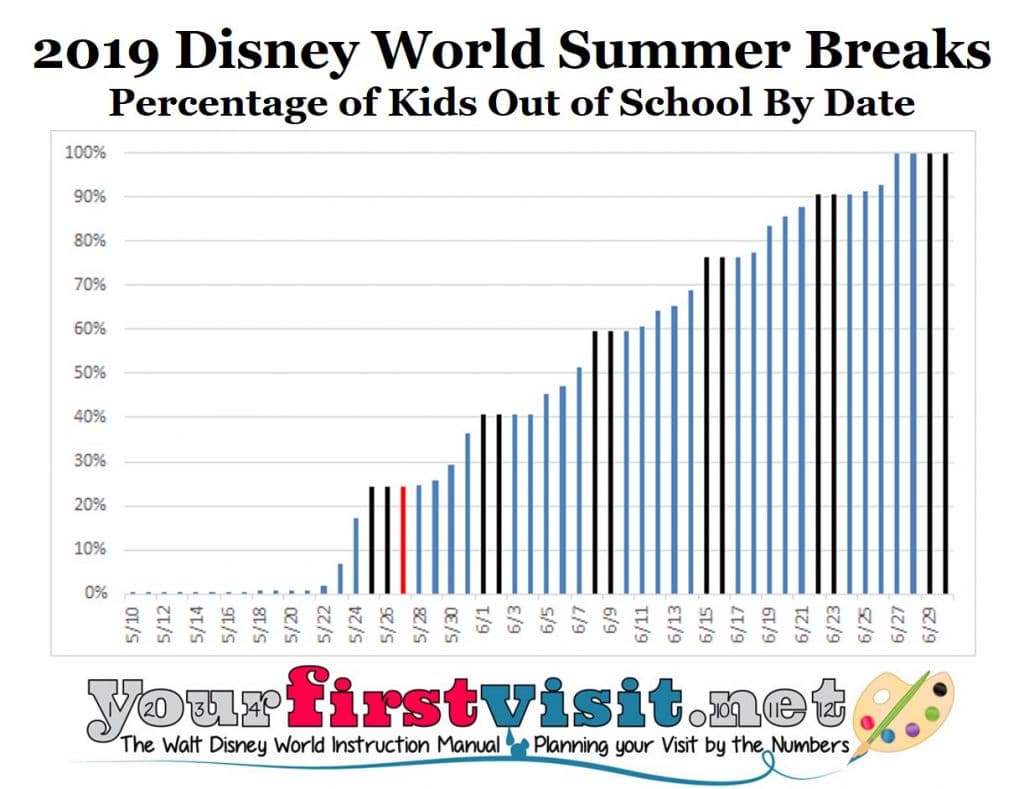 It's based on data from a weighted sample that includes the school breaks of 15.3 million US schoolkids. Weekends are in black and Memorial Day in red.
In 2019, about 25% of kids are out by Memorial Day and more than half are out by June 7; the proportion builds over the rest of the month, with 80% out by June 19 and essentially all kids off by June 27, 2019.
Few families plan their vacation for their first day out of school (especially folks in snowy climes who may be affected by make-up snow days), so there's a lag in the effect of these dates on summer crowds that I can't precisely quantify.
But the upshot is that in my 2019 Disney World crowd calendar I rate the crowds the week beginning May 25 8/high-minus, the week beginning 6/1 7 moderate-plus, the weeks beginning 6/8 through 6/22 8/high minus, and the week beginning 6/29 9/high.
All arrival dates in July starting 7/6 get a rating of 8/high-minus, as does the first week of August, beginning 8/3. The week beginning 8/10 sees a slight reduction, to 7/moderate plus, and crowds are lower the next week beginning 8/17, which I rate as 6/moderate.
I rate crowds at various levels of "low" beginning 8/24/2019 through September.
THE PEAK OF THE HURRICANE SEASON AND DISNEY WORLD 2019 SUMMER CROWDS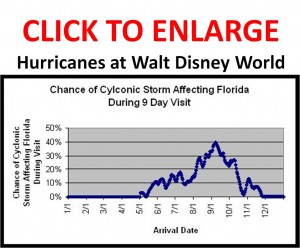 The hurricane season officially runs from June 1 through November.
It peaks, however, from mid-August to early October.
(Click the chart; see also Weather and When to Go to Walt Disney World.)
As a result, August crowds at Walt Disney World are affected not only by the end dates of summer breaks, but also by savvy travelers avoiding this potential weather.
Hurricanes rarely impact a Disney World vacation…but it is possible, so some savvy travelers with choices in when they can go commonly avoid this period. (Disney knows this, of course, and drops prices and commonly adds discounts to change the value and risk equation, resulting in other savvy travelers intentionally choosing this period!)


Follow yourfirstvisit.net on Facebook or Twitter or Pinterest!! 
RELATED STUFF