Review: The Treehouses at Disney's Saratoga Springs Resort and Spa
By Dave Shute
SUMMARY: THE TREEHOUSES AT WALT DISNEY WORLD
We visited Disney's Treehouses at Saratoga Springs shortly after they opened in August 2009.
These units are great for returning visitors who could really use three bedrooms (and who don't want to pay for a Grand Villa), but, because of their isolation, are not recommended for first time visitors.
(Note: for a review of the rest of Disney's Saratoga Springs Resort and Spa, which is where the Treehouses are located, see this.)
POSITIVES OF THE TREEHOUSES
Long ago guest facilities, in recent years these spaces have been used to house Disney World cast members. After extensive reconstruction, they re-opened to Walt Disney World Guests in the summer of 2009 as part of Disney's Saratoga Springs Resort and Spa.
The Treehouses are one of only four Disney properties that can exactly accommodate a family of nine. Two bedroom villas at Bay Lake Tower at the Contemporary Resort and most of the Animal Kingdom Lodge's two bedroom villas can also accommodate nine. After its recent renovation, Disney's Old Key West Resort also sleeps nine in its two bedrooms.
The Treehouses, however, accommodate 9 in three bedrooms plus a living/dining/kitchen area. They sleep
Two in a queen in the master bedroom
Two in another queen in another bedroom
Two more in bunk beds in a third bedroom (6- footers will be cramped in these bunks) and
Three more in the combined living room/dining room/kitchen.
The other 9 person options also sleep three in the combined room, but have only two bedrooms—a king-equipped master bedroom, and a second bedroom that sleeps four on two queen-sized beds (or a queen and a fold-out couch). The remaining three people sleep in the shared living/kitchen/dining space on a pull-out full-sized couch and a pull-out chair.
Three bedrooms simplify the lives of many larger families/groups, and resolve certain problems you might otherwise run into of putting two and two together to fill the 4 person bedroom that the other options present.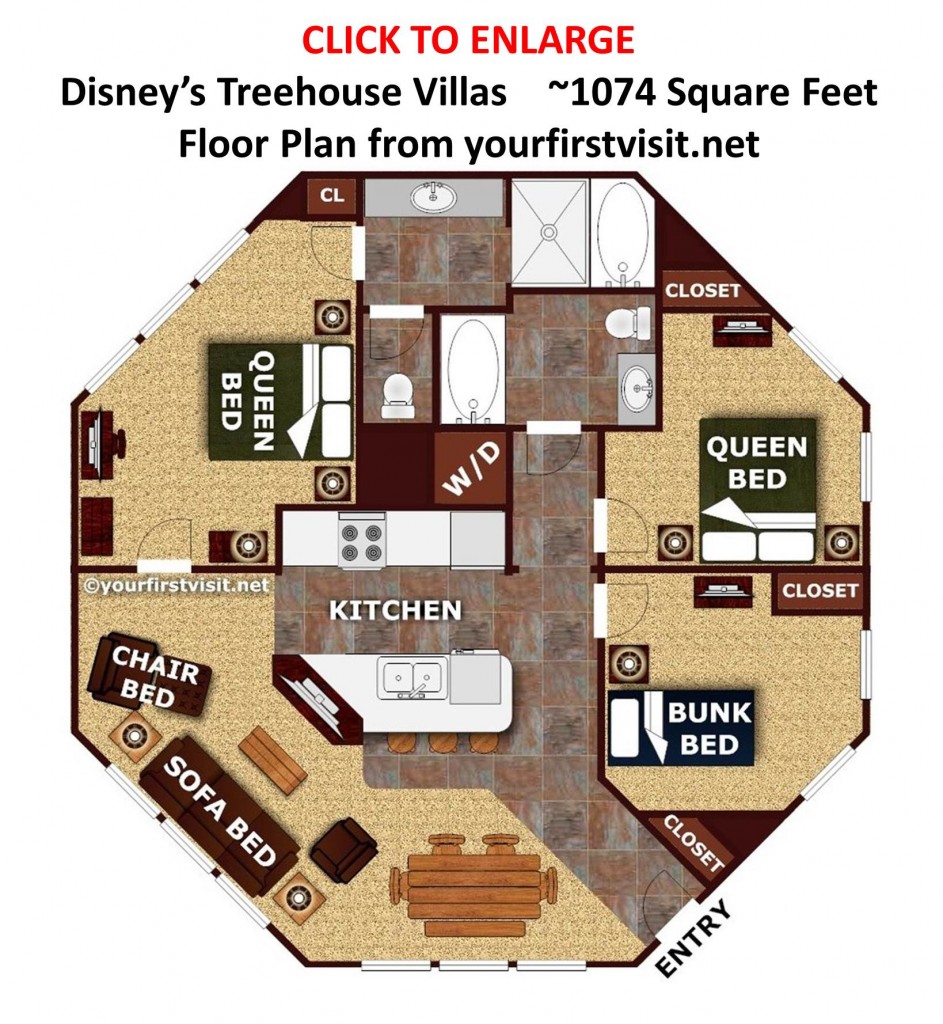 Moreover, the floor plan of the Treehouses increases the family-friendliness of the space compared to the 9 person options at Bay Lake Tower and the Animal Kingdom Lodge.
The bedrooms and baths of the Treehouses together take up about 60% of the floor space, in contrast to these other 9 person options, where they take up more than 70%.
Total square footage is comparable: ~1100 sf.
This may seem like a small difference, but the effect is that the common living/cooking/dining areas are about 33% bigger. When you've got 9 people around…this makes a big difference.
The living space difference is not a plus compared to that in the 9-person two bedrooms at Disney's Old Key West Resort. Old Key West two-bedroom units are enormous, and are more livable than even the Treehouses.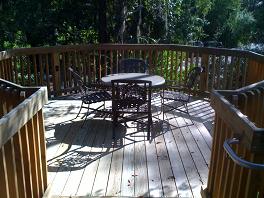 In addition, the Treehouses have the biggest deck of any Walt Disney World standard unit.
The deck is even bigger than those at the one and two bedroom units at Disney's Old Key West Resort.
A dining table and 4 chairs are provided on this deck; two more chairs can easily be carried out and fit around the table, and even more in the rest of the deck space.
(Dining space for nine is also inside, 6-7 at a table, and three more at the kitchen bar.)
The Treehouses are also the only facility at WDW besides Fort Wilderness where every unit has its own charcoal grill.
The setting is quite lovely.
The Treehouses are scattered in a wetland—we used to call such things swamps—between the rest of Saratoga Springs and Old Key West. The closeness to nature is unparalleled, even at Fort Wilderness (though I did once find a big frog in my tub at Port Orleans Riverside.)
The interior décor is up to date, very well done, yet rustic–reminiscent of the Wilderness Lodge rather than the rest of the Saratoga Springs property.
NEGATIVES OF THE TREEHOUSES
The most important negative for first time visitors is the inconvenience of these sites.
Saratoga Springs is already not recommended because of its distance from the rest of Walt Disney World. The Treehouses are distant and isolated from the rest of Saratoga Springs.
The Treehouses have their own buses (with two bus stops), but these buses run only to the main Saratoga Springs property—to access its main and other pools, concierge, gift shop, dining options, and bus stops.
Buses to the theme parks run only from Saratoga Springs itself—like at Fort Wilderness, getting anywhere off-property from the Treehouses takes two buses, one to get to a main Saratoga Springs bus stop, and a second to go from that main bus stop to a park.
This adds between 30 minutes to an hour of commuting time a day, depending on how many parks you are visiting.
The core Saratoga Springs facilities can also be walked to, but depending where your Treehouse is, this can be quite a hike, and will not likely save time.
Some of the on-site part of the inconvenience is made up for by the fact that there is a pool and hot tub at the Treehouses. This pool looks quite small, but is appropriately sized given that there are only 60 Treehouse units. (However, I always walked right by it and walked 10 more minutes to the Backstretch pool—Disney World's best quiet pool.)
A second negative is that the Treehouses have only two bathrooms, unlike the 9 person options at Bay Lake Tower and most of the Animal Kingdom Lodge villas, and the more recently designed 8 person two-bedroom units, which have three.
Our family found that having three bedrooms and extra common space more than made up for this; yours might not.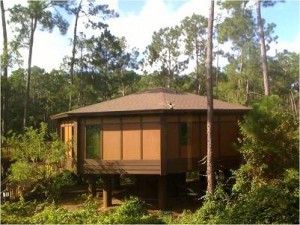 The final negative is the exterior.
It is somewhere between ugly and silly. This is partly an artifact of the architecture, and partly of color choices.
We did not find it off-putting; our favorite dogs are kind of funny looking too, and the feel for us was similar.
RECOMMENDATIONS
First time visitors needing space for 9 should not stay here, unless they absolutely need three bedrooms. It's just too inconvenient.
Instead, if they care most about convenience, they should rent a two-bedroom at Bay Lake Tower, and if they care most about kid-appeal, a two bedroom savanna view unit at the Animal Kingdom Lodge.
If neither convenience nor kid appeal matters, then Old Key West is the better choice.
Returning visitors intrigued by three bedrooms for 9 people should give the Treehouses a try!
LINKS FOR WHERE TO STAY AT DISNEY WORLD
RELATED STUFF