Disney World Refurb Update: Pop Century, Caribbean Beach, Coronado Springs, and the Yacht Club
By Dave Shute
NOVEMBER 2017 REFURB NEWS
While at Disney World earlier this week, I had the chance to check on the refurb status at Pop Century, Caribbean Beach, and Coronado Springs—and also stayed in a refurbed room at the Yacht Club. Here's the scoop on each.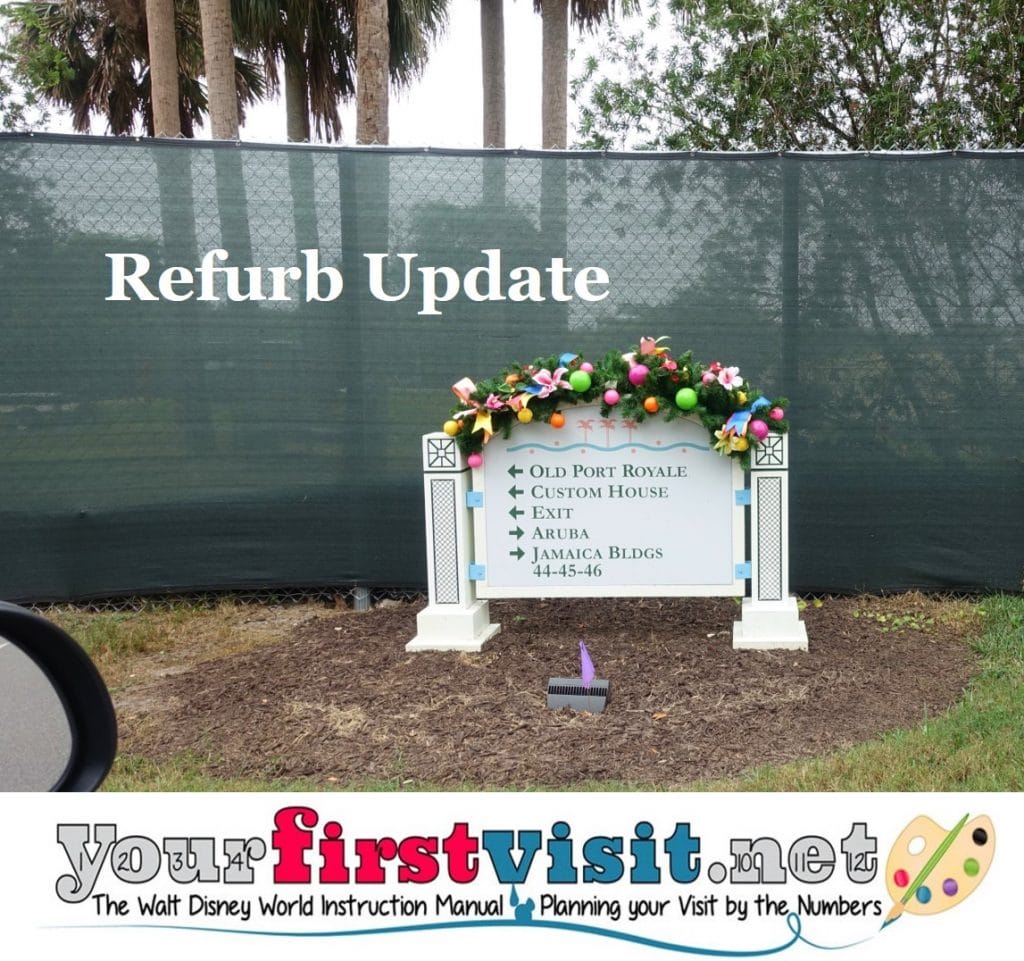 THE REFURB AT DISNEY'S POP CENTURY RESORT
Rooms at Pop Century are being transformed, with a queen and a queenly fold-down replacing the old full bed layout. Moreover, these rooms have joined the 1990s in adding coffeemakers! A photo tour of a refurbed room is here.
Of the ten buildings at Pop, four are done and two thirds of a fifth are being worked on. Specifically, Buildings 10, 9, 8, and 7 are done (this is all of the 90s and 80s sections, and half of the 70s section).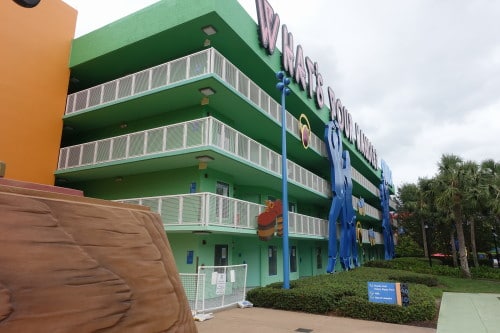 Building 6—the other half of the seventies section–was two thirds under refurb at my visit. In Building 6, the stem of the T, and the half of the top of the T closer to the food court is being refurbed…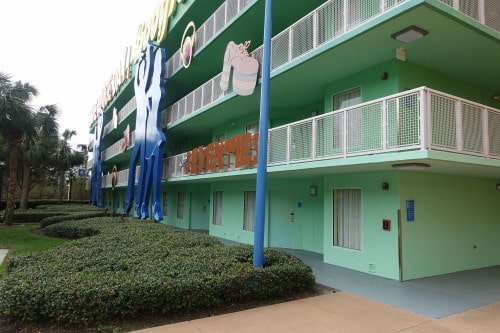 …and the half of the top of the T closer to the 80s section was still accepting guests into not-yet-refurbed rooms.
I don't expect another building to be added to the "under-refurb" list before January, as the combination of high demand and high prices in Thanksgiving week and especially later December makes rentable rooms very valuable to Disney World…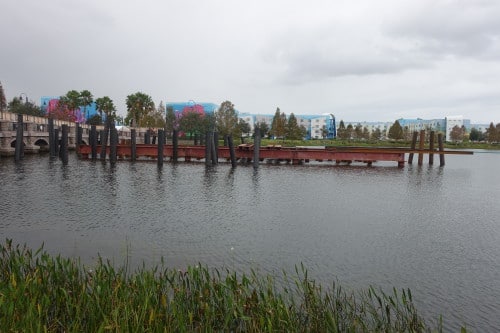 Elsewhere at Pop, there's work being done in and along the side of Hourglass Lake as part of the Pop/Art of Animation stop for Disney's new gondola system, expected to open in 2019. This matters little other than looking ugly–the walkway between Art of Animation and Pop remains open.
THE REFURB AT DISNEY'S CORONADO SPRINGS RESORT
Coronado Springs now has 12 accommodations buildings, of various sizes.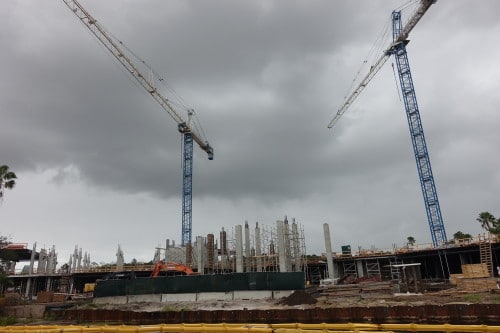 The former 13th building, Cabanas 9B, was demolished, and is being replaced with a high rise expected to open in 2019.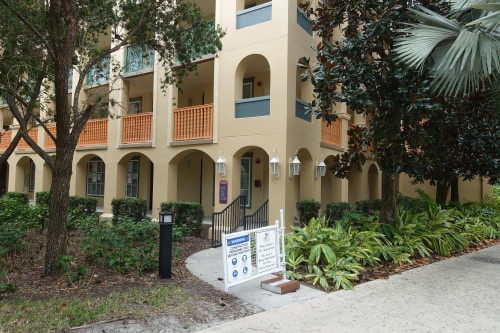 Fully refurbed so far are Casitas 1, Rancho 7a and Cabana 8a. Half of Casitas 3 is under refurb.
Something I'd not noted in my last visit in late September is that the old walkways between El Centro and the former 9B, and between 9B and the bridge by the dig site pool, are now closed.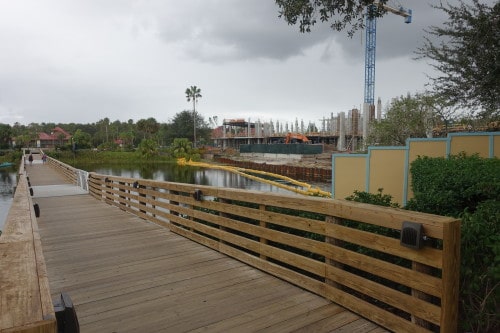 A new bridge now goes from just beyond the bike barn to the Dig Site bridge. What this means is that getting from El Centro to 9A in particular, but also 8B, is a longer walk, as these are now at the end of a dead-end trail that goes to almost the Dig Site and then around the small cove.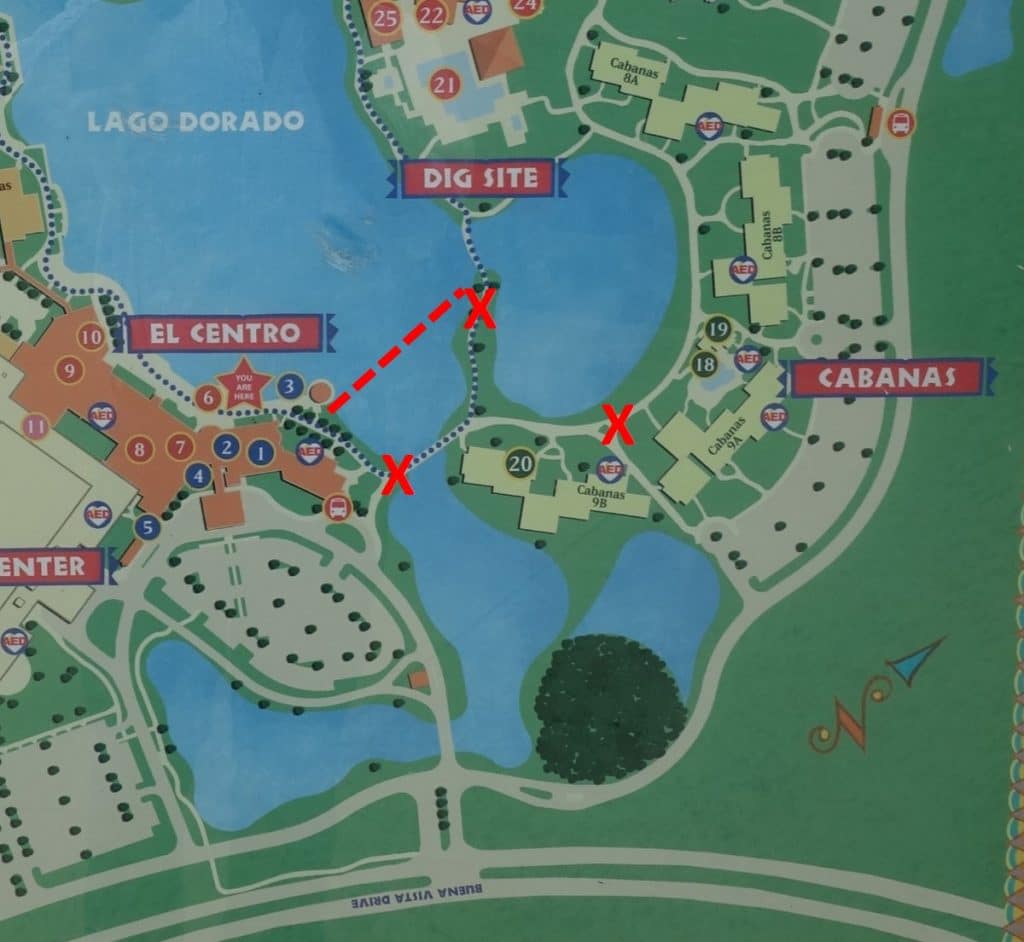 See the image, where the closed paths are marked with red Xs and the new bridge by a red dashed line.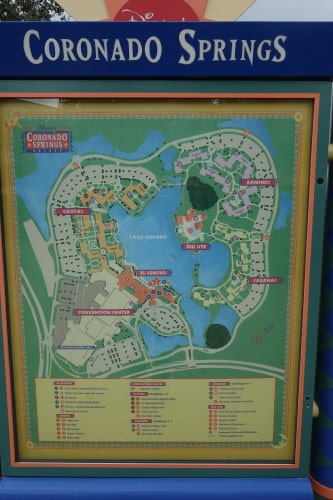 Curiously, the resort maps displayed here and there around Coronado Springs have not been updated, so perhaps this is a temporary closure while certain construction work related to the new tower is being done.
THE REFURB AT DISNEY'S CARIBBEAN BEACH RESORT
There's construction at the ends of Caribbean Beach for a gondola stop (south of Jamaica) and a new DVC building north of Martinique and Aruba.
More materially, the old food options, bar, shopping, etc. have been closed and replaced by weak temporary facilities.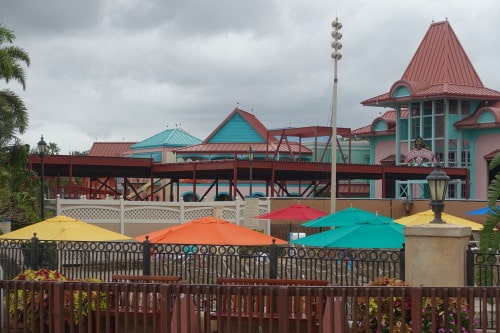 One of my commenters  was recently told that "construction would be done by the end of 2017." Well, the steel framing for at least some of the added dining is still pretty bare, so unless a lot of progress is being made inside the old building (which I can't see, of course) that seems quite unlikely.
Both Caribbean Beach 2018 pricing and reports on discussion boards about material being provided to UK folk who are booking Caribbean Beach makes August 2018 much more likely.
On a side note, the framing in front of the old building is up, and it sure looks to me like a porte cochere. This is important, as it implies what I've hoped for–that the check-in area will be moved here and away from the old Custom House, which will make Caribbean Beach much more workable as a resort.
THE REFURB AT DISNEY'S YACHT CLUB RESORT
Disney's Yacht Club Resort completed a much-need room refurb a month or so ago, and I had the chance to stay in one of these refurbed rooms on this visit.
I'll do a complete update of my Yacht Club review in December, but here's some observations—and some other thoughts about other new stuff, not really refurb-related but worth noting before I get that re-done review out.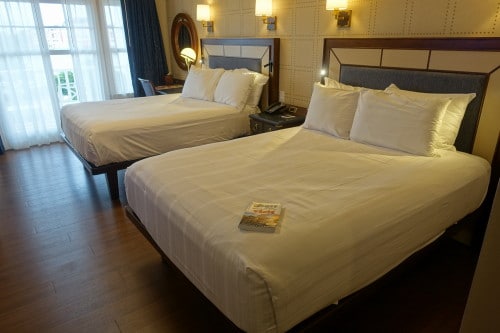 So maybe I'm getting too used to the austere and low-themed style of the newly-refurbed Disney World rooms, but I liked the Yacht Club room refurb more than I'd expected to.
It includes most of the features you've seen in Disney's most recent work—a wooden floor, furniture storage under the beds, a barn door closing the sink area, a pocket door separating the sink area from the tub, a nicer and more flexible shower head, more structured storage, a much bigger (54") TV, and about ten million charging points.
Disney theming is slender—but I'll say more about that in my updated review, also to come later.
Other points of interest at the Yacht Club—
The updated gift shop, the Market at the Ale and Compass, now has new options for both breakfast and dinner as of about a week ago.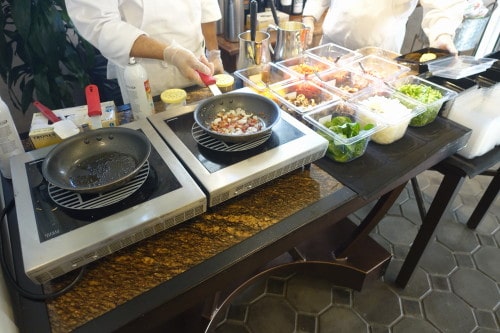 At breakfast, you can now get a made-to-order omelet…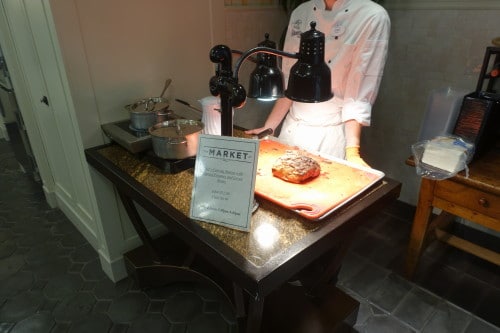 …and at dinner, there's now a carving station with a couple of sides.
These are both thin offerings, but compared to what was available here before they began being offered, it's a sound step forward.
I don't know if these are permanent adds (there was, by the way, an interesting interaction between the breakfast chefs and an electrician about the amperage of the outlet they'd plugged their induction fryers into) or just stop-gaps until the old Captain's Grille re-opens as The Ale and Compass late this month…but I hope it sticks around.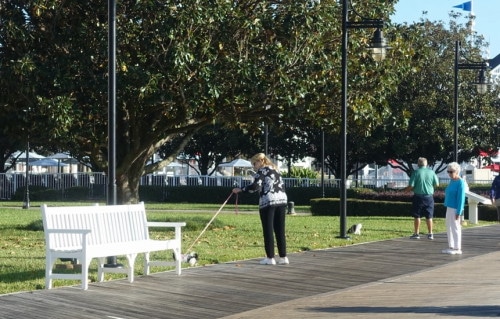 The Yacht Club was also recently named to a small group of resorts that are now (in a test) dog-friendly. I saw somewhere between two and five dogs (they all looked alike to me, so there may have been duplicates) but heard no barking.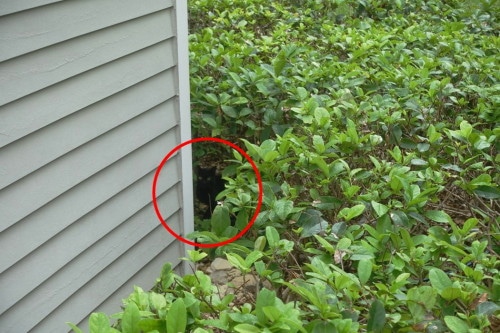 I also saw this unsupervised cat stalking the new dog relief area!
OK that's it on the refurb news! Put any comments or questions in the comment form below. Moreover, the long-time travel agent partner of this site, Kelly B., can help you book one of these hotels, or avoid them and book you into another! Contact her at KellyB@DestinationsInFlorida.com or 980-429-4499.


Follow yourfirstvisit.net on Facebook or Twitter or Pinterest!!
RELATED STUFF