First Time Visitors and Dining at Walt Disney World
By Dave Shute
(A slightly different version of this first appeared in WDW Magazine.)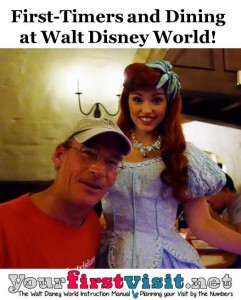 First time family visitors to Walt Disney World need to know three things about dining:
Some dining venues are among the best family experiences Walt Disney Word has to offer
The most popular of these can sell out months ahead, so planning really pays off in helping access them—you can—and should– start booking them 180 days before the day you plan to eat
Disney World dining in general is expensive, and some of the best experiences even more so, and there's no perfect way to cut the cost
The best rides at Walt Disney World are often called "E" Ticket rides—from the old days, when it took a most-expensive "E" Ticket to get on them.
Dining—particularly at certain "table service" restaurants that have offerings beyond the food itself–can be an E-Ticket experience as well!
("Table service" is Disney World lingo for venues with seats, waiters, and scheduled times. Venues without waiters are called "quick" or "counter" service, may or may not have seats, and can't be reserved.)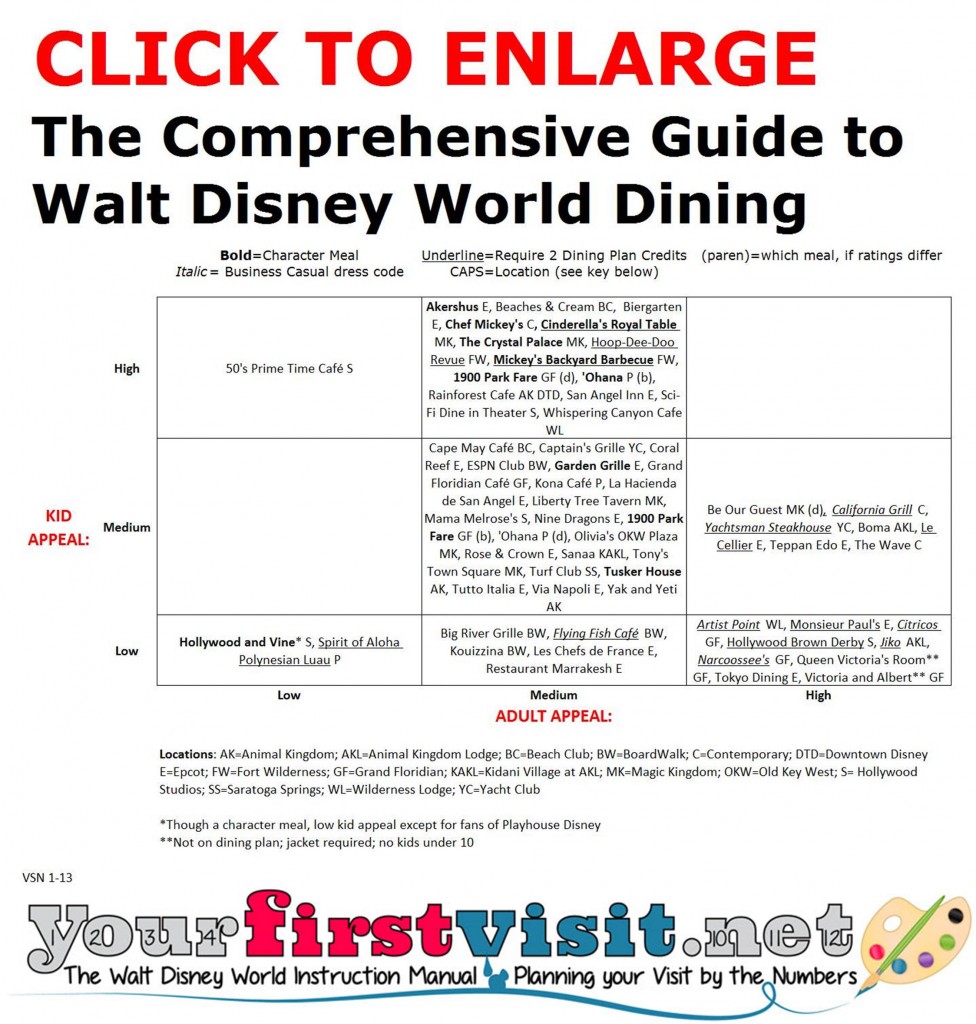 The most fun and best-loved family dining contains some or all of the following features in addition to the food:
A fun setting
Some kind of show and/or interactive play-along elements, and
Visits by Disney characters like Mickey, Tigger, or the Disney Princesses.
On almost everyone's list of the best among these are
The Hoop-Dee-Doo Musical Revue, a silly dinner show with interactive elements at Disney's Fort Wilderness Resort
The Princess meals Cinderella's Royal Table at the Magic Kingdom and Akershus at Epcot.  The first has the better setting, the second is much less expensive
Dining with Tigger, Pooh and friends at the Crystal Palace in the Magic Kingdom
Dining with Mickey and friends at Chef Mickey's at Disney's Contemporary Resort and 'Ohana at Disney's Polynesian Resort
Various degrees of wait-staff induced silliness at 50's Prime Time Café at Disney's Hollywood Studios and Whispering Canyon at Disney's Wilderness Lodge
Exotic settings in the local versions of national chain restaurants the Rainforest Café, in both Disney's Animal Kingdom and Downtown Disney, and T-Rex in Downtown Disney
That's why you'll find most of these on each of this site's itineraries.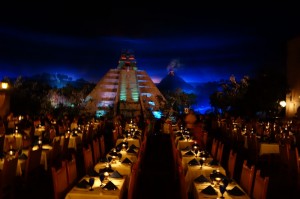 But, because the best dining options have limited capacity and are wildly popular, these restaurants can be filled almost as soon as reservations open for them—180 days before.
The importance of dining experiences is the Disney World topic that most surprise first-time visitors, and is where their doing some advance thinking and planning pays off most.   So you should pick your table service dining choices as soon as you can, and reserve them as soon as reservations open.
Disney World calls these reservations "Advance Dining Reservations—"ADRs" for short.
Reservations currently open 180 days before the date of dining—online at 6 a.m. and over the phone at 7 a.m. (If you are staying at a Disney World hotel, once 180 days from your arrival dates rolls around, you can make ADRs for not just that day but the first ten days of your visit.  You'll sometimes see this referred to as "180+10.")
Disney World dining is expensive.  The Disney Dining Plan, which has a couple of variants, is a way to prepay some of these dining expenses.  Years ago, you could save a lot of money by buying the "Disney Dining Plan," but at current pricing levels you won't save much—or anything—by buying it.
The Disney Dining Plan is a handy budgeting tool, and it does relieve some anxiety (because you already paid for it…) about the cost of meals in the parks.  So I do still recommend it.  But with or without it, the typical family should budget about $50+ per adult per day for dining, and somewhere between $25 and $50/day for the kids–depending on their ages and appetites.
The best way to save money eating at Disney World  is to buy ingredients and build some of your own meals.  This works best for cold breakfasts in your hotel room, and packing some lunches and/or snacks into the parks.
But these ingredients aren't cheap (if you have a car, you can hit an off-site grocery store…but that costs time you could be spending vacationing) and may not even be available in your hotel.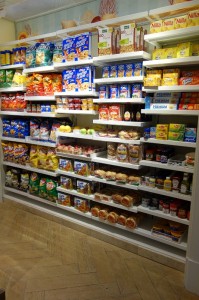 The availability of such ingredients—lunch supplies especially– varies widely across the Disney hotels.
The best selections of such food for sale in shops are found at Fort Wilderness and in the Disney Vacation Club resorts, and the weakest are the value resorts.
The example is from a shop at the Grand Floridian after its new DVC Villas opened.
Follow yourfirstvisit.net on Facebook or Google+ or Twitter or Pinterest!!
RELATED STUFF