Fridays with Jim Korkis: Magic Music Days
By Dave Shute
Welcome back to Fridays with Jim Korkis! Jim, the dean of Disney historians, writes about Walt Disney World history every Friday on yourfirstvisit.net.
MAGIC MUSIC DAYS AT WALT DISNEY WORLD
By Jim Korkis
I would assume that many readers of this site sometime over the last thirty-five years either participated in the Magic Music Days program at Walt Disney World or enjoyed a performance by earnest and talented teenagers involved in it somewhere on the property.
Walt Disney World's Magic Music Days Program began in 1985, followed by Disneyland in September 1987. It gives middle and high school choral, band, and other music groups the opportunity to perform at a Disney park as well as learn about musical performance from Disney professionals.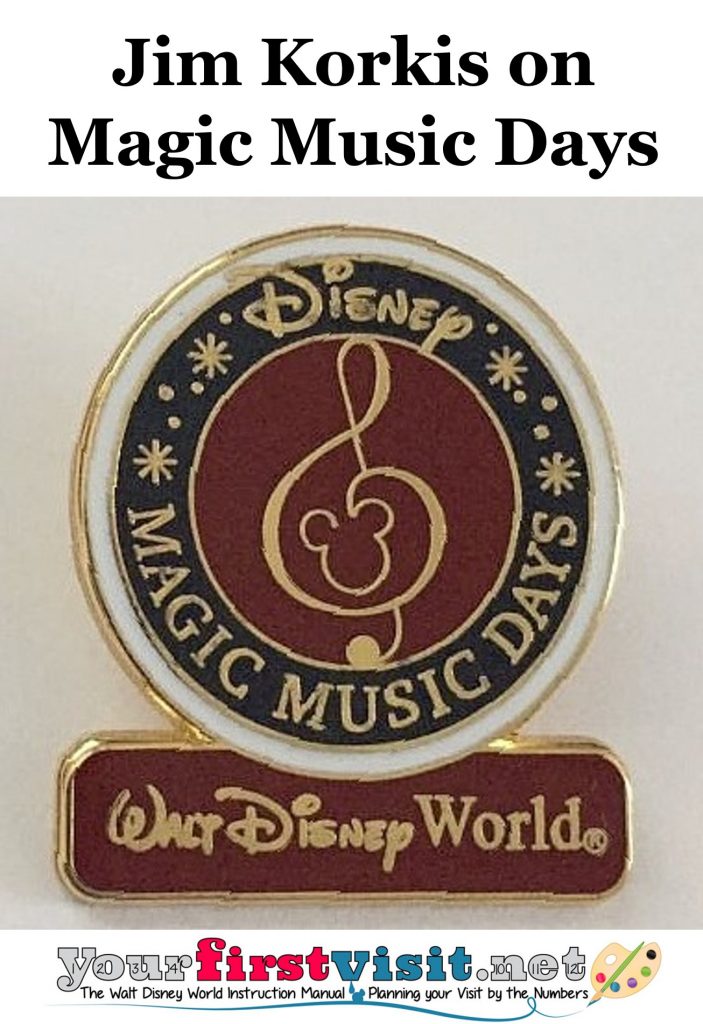 Prior to Magic Music Days, the program for guest performing groups had various names, including Disneyland Music Festival Program beginning in the late 1970s. Walt Disney World had its Disney Band Festival Program beginning in 1972. A Guest Band Program, where Disney first solicited nationwide for high school bands to perform, was begun for America on Parade in 1975. Magic Music Days was renamed Disney Performing Arts in 2011.
There are some differences in the Disneyland and Walt Disney World programs. At Walt Disney World, groups wishing to perform must send in a video audition and picture with their application. These are reviewed by the Magic Music Days team to ensure the group is up to Disney standards. All groups must purchase tickets through Disney Magic Music Days with a minimum 3-day theme park ticket purchase required.
Besides performing, the following workshops are offered to participants: Bands ("You're Instrumental" and "Jazz it Up"), Choirs ("Disney Sings" and "Disney's Show Choir Magic") and Dance ("Disney Dancin'" and "Disney's Broadway Magic"). According to Disney, "Professional Walt Disney World Entertainers teach at multiple workshops on Disney Property." The workshops are typically two hours or so in length, and are an additional cost.
"It is pretty amazing to me that middle school and high school students get to experience a glimpse into the life of a professional musician, singer or dancer," said Allen Gray, who was a program coordinator.
"In the You're Instrumental workshop for concert and marching bands, students rehearse and record a portion of a movie soundtrack from a classic Disney animated feature film. They get to experience the intensity professional musicians feel when in the recording studio.
"Once the students see the movie and hear themselves providing the soundtrack, they get a new sense of just how much they can achieve in a short amount of time. It empowers the students to think for themselves, take accountability and perform at a new level."
Bands may play on an outdoor stage at Disney Springs in front of the World of Disney store. At Epcot groups may perform on a stage that is encased by a temporary "shell", this is located next to Innoventions West. The stage faces a small seating area with a control booth at the rear of the area.
For those groups that are marching, the bands perform a march down the Magic Kingdom parade route at various times that may or may not coincide with one of Disney's actual parades. They may also march at Epcot around the World Showcase or Future World. Performances have happened at other locations around Walt Disney World as well.
In the past, participants received an exclusive Magic Music Days pin or a t-shirt with the program logo. The program operates year round and has welcomed more than 50,000 groups from six continents to the parks.
Some of the talented student performers who participated went on to successful careers including School of Rock actress Caitlin Hale, American Idol finalist Syseha Mercado and Dancing With the Stars's Lacey Schwimmer.
*  *  *  *  *
Thanks, Jim! I can't tell if Disney Performing Arts–the renamed version of Magic Music Days–is operating in 2022 or not. Perhaps an alert reader will let me know…And come back next Friday for more from Jim Korkis!
In the meantime, check out his books, including his new books Vault of Walt: Volume 10: Final Edition,   Kungaloosh! The Mythic Jungles of Walt Disney World and Hidden Treasures of Walt Disney World Resorts: Histories, Mysteries, and Theming, much of which was first published on this site.

Follow yourfirstvisit.net on Facebook or Twitter or Pinterest!!
RELATED STUFF