A Friday Visit with Jim Korkis: Cast Member Reminiscences by Annie Salisbury
By Dave Shute
Welcome back to Fridays with Jim Korkis! Jim, the dean of Disney historians, writes about Walt Disney World history every Friday on yourfirstvisit.net.
YOUR PERSONAL DISNEY LIBRARY (40)
By Jim Korkis
Former Executive Vice President Dick Nunis would tell newly hired Walt Disney World cast members that "I can't promise that you will like your job. I can't promise that you will like the people you work with. I can promise you that as soon as you tell someone you work at Disney they will want to talk to you about it."
It is definitely true that for people who have never worked at Walt Disney World there is a eager fascination in knowing what working there is like, and they often picture a pixie-dusted world. In truth, WDW is a business like any other, and so has its share of office politics, stupid arbitrary decisions, clueless managers, bad scheduling, poor pay, and worse.
Even some of the more high profile roles are plagued by these same things. When I worked at Epcot in Guest Relations, I had many Guest Relations friends who were part of Disney Special Activities–the VIP Tour Guides you see in the parks wearing plaid and herding people to ride).
The Private VIP Tour is an exclusive, customized experience lasting a minimum of seven hours.  Private Tours can accommodate groups up to ten guests. Celebrities and special guests of the Walt Disney Company usually have VIP Tour Guides to get them through crowds.
A Private VIP Tour is not a narrated history like the regular tours that can be booked, although guests can ask questions and do. Basically, the VIP Tour has a guide who can maneuver a guest quickly thanks to backstage access to the shows, rides (thanks to unlimited Fast Pass access), parades, and nighttime spectaculars (preferred viewing) or even transportation by van to another park so with a large group it is possible to pack the maximum amount of activity into a minimum amount of time.  Guests can pick their own itinerary.
Such Private VIP tours are not cheap. Pricing varies seasonally but can run up to $4,500 for the first seven hours.  Additional hours may be added at a rate of $425 – $750 per hour. Valid Theme park admission is required and is not included in the tour price. (By the way, the guide is paid their regular hourly rate, and does not receive a proportion of that exorbitant price).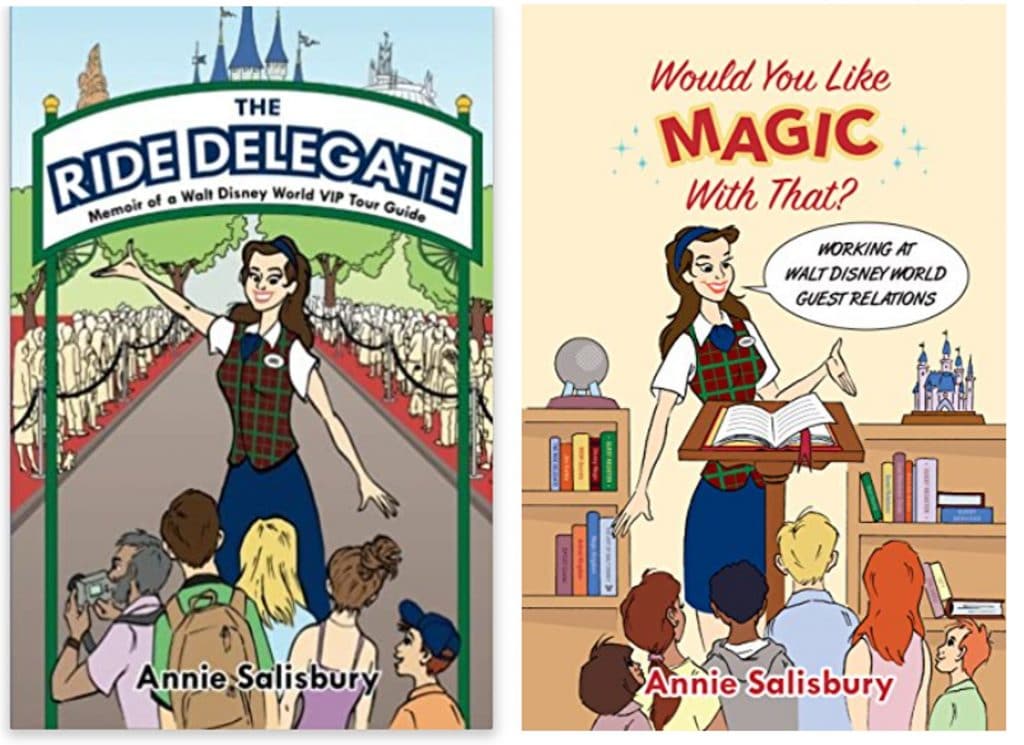 Annie Salisbury (a pseudonym), the author of these two books, spent roughly three years working at Walt Disney World, primarily in Guest Relations and Disney Special Activities. Before being hired at WDW, she was a huge Disney fan and a frequent visitor with her family.
The Ride Delegate and Would You Like Magic with That? share some of her personal experiences in her roles in Guest Relations and Disney Special Activities, and her strong opinions. The books have short, anecdotal chapters and present the working situation through the perspective of the author.
These are not happy books, although you may find yourself smiling or laughing especially about how some Disney guests behave, like the female guest who complained long and loudly about not being able to hear the carousel music everywhere in the Magic Kingdom, because that was what was supposed to happen in an amusement park, and wouldn't leave until it was fixed. She does not hesitate to share warts and all about her experiences, the frustrations and stress surrounding the job, and some may feel there might be too much whining and condescending about her situation, co-workers and guests.
However, for those interested in how some Disney Guest Relations cast members perceive their work and the guests they deal with during the day, these books will provide an insight into all of that and more.
*  *  *  *  *
Thanks, Jim! and come back next Friday for more from Jim Korkis!
In the meantime, check out his books, including his two new books,  Vault of Walt Volume 9: Halloween Edition, and Hidden Treasures of the Disney Cruise Line.

Follow yourfirstvisit.net on Facebook or Twitter or Pinterest!!
RELATED STUFF