A Friday Visit with Jim Korkis: The Disney Monorail by Kurtti, Hunt and Wolski
By Dave Shute
Welcome back to Fridays with Jim Korkis! Jim, the dean of Disney historians, writes about Walt Disney World history every Friday on yourfirstvisit.net.
YOUR PERSONAL DISNEY LIBRARY (39)
By Jim Korkis
As might be suspected, roughly half of The Disney Monorail is devoted to the early history of monorails and Walt Disney's fascination with transportation, as well as Disneyland's connection to the development and evolution of monorails.
However, there is more than enough other information about the monorails at Walt Disney World to justify a review of the book for this column. There is even information on the Disney monorails in Japan that have windows in the shape of Mickey's head silhouette.
In the past, I have been somewhat disappointed by Disney Editions books because they seemed to concentrate more heavily on the graphics than the text, which too often seemed like a limited accessory.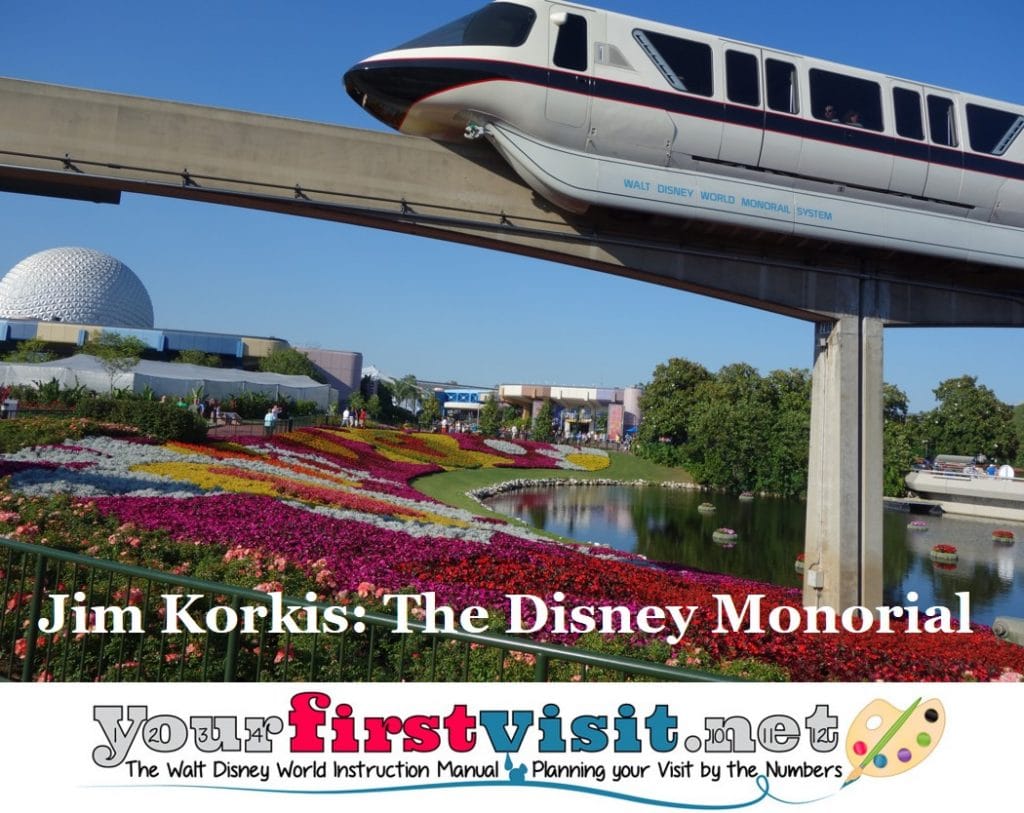 While The Disney Monorail does include beautiful, wonderful images from photos to illustrations to documents and more, the text here is not only accurate but informative and illuminating even when provided in "bite-sized" chunks.
I have always had great respect and appreciation for how author Jeff Kurtti has been able to maneuver through the many restrictions in writing for Disney Editions to provide outstanding new information rather than mere publicity "fluff". In this book he is assisted by the art background of Vanessa Hunt and Paul Wolski in creating a well balanced and pleasing design for the entire book.
Jeff Kurtti is a leading authority on Disney history. He is the author of more than thirty books and was creative director, content consultant, and media producer for The Walt Disney Family Museum, among many other accomplishments.
Vanessa Hunt is a Walt Disney Imagineer with a background in art history, and worked on preserving more than 160,000 pieces of original artwork for the Walt Disney Imagineering Art Collection. She is also the coauthor of Poster Art of the Disney Parks (2012) and Maps of the Disney Parks (2016), as well as a designer on Marc Davis in His Own Words: Imagineering the Disney Theme Parks (2019).
Paul Wolski is a graphic designer, creative director, and illustrator whose career began with Walt Disney Imagineering. He served as character illustrator for all signage in Mickey's Toontown at Disneyland and provided character graphics for Tokyo Disneyland and Disney's Hollywood Studios in Florida. Paul has worked as a book designer, collaborating with Jeff Kurtti on From All of Us to All of You: The Disney Christmas Card (2018) and working with Hunt on Marc Davis in His Own Words: Imagineering the Disney Theme Parks (2019).
Having those artists involved resulted in such treasures as being able to reverse the dust jacket providing a panoramic poster of 1975 concept art by John DeCuir of Epcot that spotlights the monorail.
The images in the book are large enough for a reader to immerse himself into them and look for details, and are diverse enough that they are not the usual images so familiar to Disney fans who have seen other articles about the monorail.
I learned new information so I believe that not only will this book be of interest to the casual Disney fan who likes to browse "coffee table" books but also to the Disney aficionado who wants some new material.
I was surprised not to find more material from Bob Gurr and also surprised that the bibliography references articles on websites (that I know from personal experience might disappear without warning) but very few books.
I highly recommend adding The Disney Monorail to your collection if you are a Disney fan.
*  *  *  *  *
Thanks, Jim! and come back next Friday for more from Jim Korkis!
In the meantime, check out his books, including his two new books,  Vault of Walt Volume 9: Halloween Edition, and Hidden Treasures of the Disney Cruise Line.

Follow yourfirstvisit.net on Facebook or Twitter or Pinterest!!
RELATED STUFF