A Friday Visit with Jim Korkis: Donald Duck in Florida
By Dave Shute
Welcome back to Fridays with Jim Korkis! Jim, the dean of Disney historians, writes about Walt Disney World history every Friday on yourfirstvisit.net.
DONALD DUCK IN FLORIDA
By Jim Korkis
Donald Duck visited the Sunshine State nearly two decades before Walt Disney World sprang out of central Florida swamps in 1971. Donald and his nephews were typical tourists in the animated cartoon short Don's Fountain of Youth, released on May 30, 1953.
They travel along US Highway 1, and come upon the site of an old Spanish fort, dated 1571. It would appear that background artist Art Riley drew inspiration from both Castillo de San Marcos and the Fort Mantanzas National Monument located in Saint Augustine. The Castillo de San Marcos was constructed during the latter decades of the 17th century; Fort Mantanzas was built in the mid-18th century.
Of course, they have misadventures with a Florida alligator and Donald mistakenly thinking he has discovered Ponce De Leon's fabled Fountain of Youth.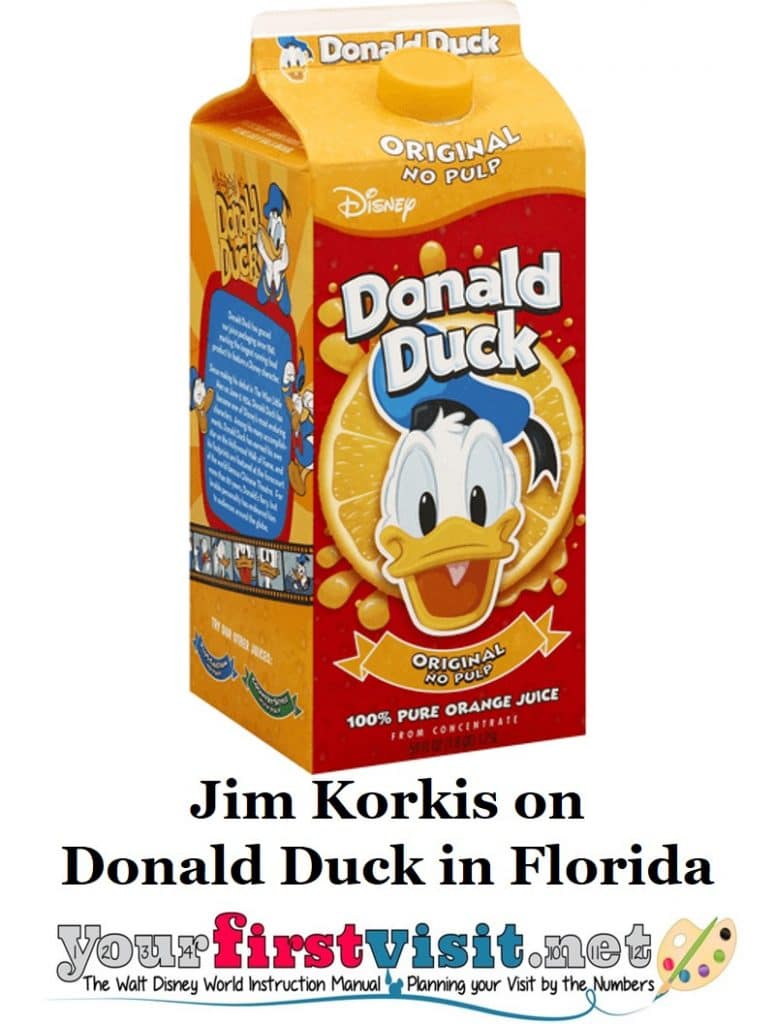 However, Donald had a presence at a citrus plant not far from Walt Disney World on US-27 in Lake Wales over a decade before the cartoon was made and that citrus plant is still there and operating today. Donald was used on the packaging and the marketing.
Citrus World's (now "Florida's Natural Growers") large water tower had the face of Donald Duck on it until 1998, when the company went through a re-branding with the new name, and at one time there was a full sized statue of Donald Duck in the lobby of the building and a huge billboard of Donald on the top of the building as well.
During World War II with rationing, many Disney licensees couldn't get material to produce items. The licensing of food products was one way Disney merchandising representative Kay Kamen kept money flowing into the Disney studio coffers: peanut butter, jam, popcorn, mustard, chocolate syrup and sodas were all produced featuring Donald Duck.
Donald Duck Orange Juice is the longest surviving Disney food and beverage licensee, starting in 1941. The company also produced Donald Duck Grapefruit Juice.
Donald Duck has no direct relation to food products–or orange juice for that matter–other than the fact that during World War II his popularity soared more than Mickey Mouse, and he was beloved by audiences around the world. Manufacturers just felt that his image would help sell a product.
During the 1940s, sixty boxcars of fresh citrus fruit a day were being processed by Florida Citrus Canners Cooperative at Lake Wales. About forty of those boxcars of fruit were converted into 8,000 gallons of orange concentrate destined exclusively for the United States armed forces and their allies.
Total volume of concentrate reached 800,000 gallons. When reconstituted on the basis of seven gallons of water to a gallon of concentrate, it produced 6.4 million gallons of juice. All were shipped under the Donald Duck brand. Concentrate required only about one-eighth of the space that fresh fruit required.
Donald Duck brand orange juice is still popular after nearly eighty years. After Walt died, the Walt Disney Company contacted the company and accused them of not having a proper license to use the character name and image because they could not find any paperwork.
The company was able to produce an old, yellowed document clearly showing that Walt and Roy had given them the rights with no cessation as long as they maintained the quality of the product.
Why isn't Donald Duck Orange Juice sold on Walt Disney World property? Well, Coca-Cola is a huge sponsor of Disneyland and Walt Disney World, so you will only find its Minute Maid Orange Juice. Donald Duck Orange Juice is licensed to Florida's Natural brand.
*  *  *  *  *
Thanks, Jim!  And come back next Friday for more from Jim Korkis!
In the meantime, check out his books, including his new books Vault of Walt Volume 9: Halloween Edition, and Hidden Treasures of the Disney Cruise Line.

Follow yourfirstvisit.net on Facebook or Twitter or Pinterest!!
RELATED STUFF