A Friday Visit with Jim Korkis: The Wonderful World of Disney Television
By Dave Shute
Welcome back to Fridays with Jim Korkis! Jim, the dean of Disney historians, writes about Walt Disney World history every Friday on yourfirstvisit.net.
YOUR PERSONAL DISNEY LIBRARY (32)
By Jim Korkis
Do you fondly remember the Walt Disney World Celebrity Circus show hosted by Tony Randall that ran on NBC in 1987? Or how about the 1993 syndicated Walt Disney World Journey Into Magic that took a look at many attractions at WDW? Or Kraft Salutes Walt Disney World's 10th Anniversary that aired on CBS in 1982?
Some of these dozens and dozens of shows only ran once with perhaps one rerun that same year. Some weren't even on one of the three major networks but were syndicated just in local markets.
After all, the shows presented things that no longer exist at the world's most popular vacation destination or didn't showcase popular new additions to WDW so they were quickly considered outdated. If you don't know the shows even exist or their names and dates, then how can you even begin to try to find them on YouTube or elsewhere?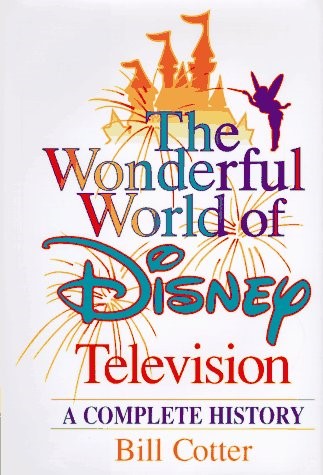 The Wonderful World of Disney Television: A Complete History is one of the valuable reference books I frequently use when writing articles. In fact, it is still the only resource for Disney television shows. It needs updating and expansion but no one has risen to the occasion to do so and probably never will.
Filled with little-known details, anecdotes, and vital statistics, the book has chapters that fully describe each of the Walt Disney television shows from the anthology series to the Mickey Mouse Club to Zorro to Mouse Factory to Touchstone series and much more. It includes complete schedules of aired episodes, seasonal highlights, production details, behind-the-scenes stories, full cast and crew listings, and plot synopses and much more including fascinating introductory essays for each chapter.
Cotter has his own website and on it, he explained about his book: "During the years I worked for Disney (1976 -1982) I put together a number of employee presentations on the company's old television shows, using that as an excuse to get these shows out of the vault so I could see them again myself.
"I researched the history of the show to help in introducing them, often tracking down some of the original cast and crew. As time went by I got to be known as the 'old TV show guy' and got calls from across the company asking for information.
"The calls continued even after I left Disney making me think there just might be enough interest in the shows for a book. Happily I was eventually able to convince Disney that there was, and they gave me complete access to the Disney Archives.
"After literally years of watching all of the episodes, the result was The Wonderful World of Disney Television, which was released in 1997. When I started writing my book I had no idea what a herculean task it was going to be, or how many pages the book would be. When I finished it turned out I had a little problem. Disney was thinking about a 300 page book. I wrote 1,100 pages."
Thankfully, that extra material was not lost but perhaps many people don't know how to obtain it.
Cotter continued, "Thanks to a wonderful editor (Monique Peterson) we ended up with a reasonable compromise, 635 pages. While I would have loved to see all it in print, some of the text had to go to get the book to a salable size. Happily I retained the copyright to the unused material, and have included it in a CD."
That CD has fifteen appendices covering a bibliography, shows that never were, publications, awards and more. In Adobe Acrobat PDF format, there's a full 256 pages of material for less than twenty dollars including postage. Cotter is also willing to ship it electronically and save the purchaser postage cost. If you are interested, go here.
Because the information is timeless, even though the book has been around for over two decades, the material remains accurate and helpful. As I said, I consider it a valuable reference volume in my own personal library.
*  *  *  *  *
Thanks, Jim! And come back next Friday for more from Jim Korkis!
In the meantime, check out his books, including his latest, Disney Never Lands, and about planned but unbuilt concepts, and Secret Stories of Walt Disney World: Things You Never You Never Knew
, which reprints much material first written for this site, all published by Theme Park Press.


Follow yourfirstvisit.net on Facebook or Twitter or Pinterest!!
RELATED STUFF