A Friday Visit with Jim Korkis: Cosmic Ray's Starlight Café and Sonny Eclipse
By Dave Shute
Welcome back to Fridays with Jim Korkis! Jim, the dean of Disney historians and author of Jim's Gems in The easy Guide, writes about Walt Disney World history every Friday on yourfirstvisit.net.
COSMIC RAY'S STARLIGHT CAFE AND SONNY ECLIPSE
By Jim Korkis
Cosmic Ray's Starlight Café, a popular chain of intergalactic food and beverage franchises with a "galaxy of food choices," has been open for business in Tomorrowland since 1994.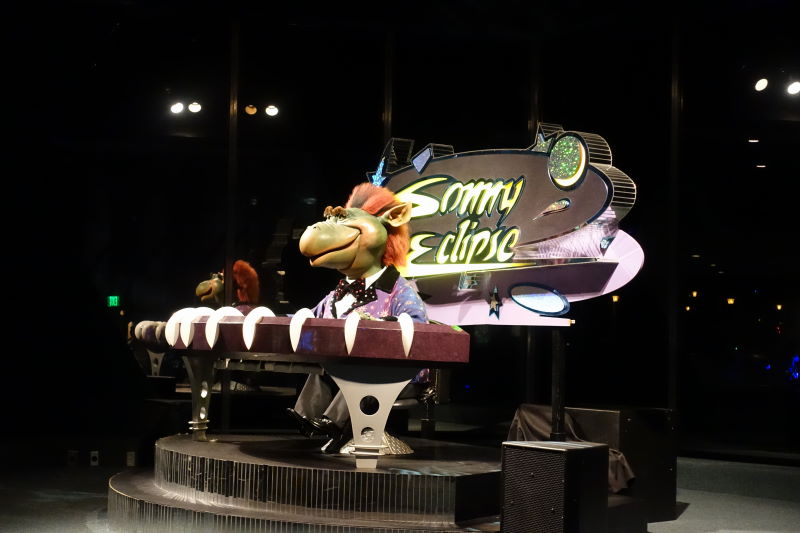 The restaurant was called the Tomorrowland Terrace until 1994. The original performer for the first decade was Michael Iseberg (aka Michael Iceberg) who amazed audiences with his frenetic performances using his early keyboard and synthesizer technology on his Amazing Iceberg Machine.
"This is the FIRST Earth Restaurant Franchise from Outer Space" proclaimed the original poster for what was the largest quick service location at the Magic Kingdom with its three food bays and extensive topping bar.
Guests dining in the Starlight Lounge Room on the lower level near the Alice in Wonderland tea cup attraction enjoy the song stylings and snappy banter of audio-animatronics lounge performer Sonny Eclipse (voiced by blues singer and songwriter Kal David) during his approximately twenty plus minute performance.
"Hey, speaking of planets, Donald Duck and Goofy were in here a few minutes ago looking for Pluto. Man, are they a few million miles off, or what?" remarks Sonny followed by the sound of canned laughter.
This Audio-Animatronics figure was actually modified from a similar figure, Officer Zzzzyxxx who was at the baggage screening desk outside of the Star Tours attraction at Tokyo Disneyland. Today, Disney refers to them as "cousins".
Direct from Yew Nork on the planet Zork, Sonny Eclipse is the "Biggest Little Star in the Galaxy" according to his billing. The Bossa Supernova and Eclipso musical stylings of Sonny and his Astro Organ, along with his ethereal and invisible backup singers The Space Angels have entertained guests for over two decades. His unseen technician is named Mike Feedback.
During his act, Sonny mentions his six-eyed (all purple), twelve-nostrilled girlfriend who blows him away and he sings a little love song he wrote for her entitled "Oh Bright Little Star".
The Metrophone booth from the Galactic Communications Network (GCN) located near the Tomorrowland Transit Authority PeopleMover connects guests to nine possible hilarious one-sided conversations including one with Johnny Jupiter who is Sonny's agent.
Kal David had been working in Los Angeles with George Wilkins, who wrote a great deal of music for Disney. Wilkins brought David in to sing the song Unhealthy Living Blues for the Goofy About Health section in the Epcot Wonders of Life pavilion in 1989 and it went so well that brought David back to do Sonny Eclipse.
It was all done out of Wilkins' Southern California home where he had set up a studio. Wilkins did all of the music on his synthesizer except for the guitar parts that were done by David. David was even able to incorporate a little of his famous blues guitar style in the song Gravity.
David worked for about three days. His female backup singers were The Brunettes, a group that featured David's wife Lauri Bono who still tours with him today. The women worked for one day and were crammed into a small vocal booth that included Wilkins' washer and dryer and one of the singers, Amy, was pregnant at the time.
"Everything was all written for me. There was no ad-libbing," remembered David. "It was just another short studio gig and then you went back to your real life. They showed me a drawing of the character and encouraged me to just be myself. I loved him immediately and I had played in many bars over my career so I understood the 'feel' of how he would be.
"I could have done a cartoony voice but they just wanted my real voice pumped up a little. I like the songs but they are not the blues. I am proud to be the voice of Sonny. It has turned out to be the steadiest performing gig I ever had."
*  *  *  *  *
Thanks, Jim! And come back next Friday for even more from Jim Korkis!
In the meantime, check out his books, including Secret Stories of Walt Disney World: Things You Never You Never Knew
, which reprints much material first written for this site, and The Vault of Walt: Volume 4, and his contributions to The easy Guide to Your First Walt Disney World Visit, all published by Theme Park Press.
Follow yourfirstvisit.net on Facebook or Google+ or Twitter or Pinterest!!
RELATED STUFF