The Living/Dining/Kitchen Area of a Boulder Ridge Villa at Disney's Wilderness Lodge
By Dave Shute
(For the first page of this review of the Boulder Ridge Villas at Disney's Wilderness Lodge, see this.)
PHOTO TOUR OF THE LIVING/DINING/KITCHEN AREA OF A BOULDER RIDGE VILLA AT THE WILDERNESS LODGE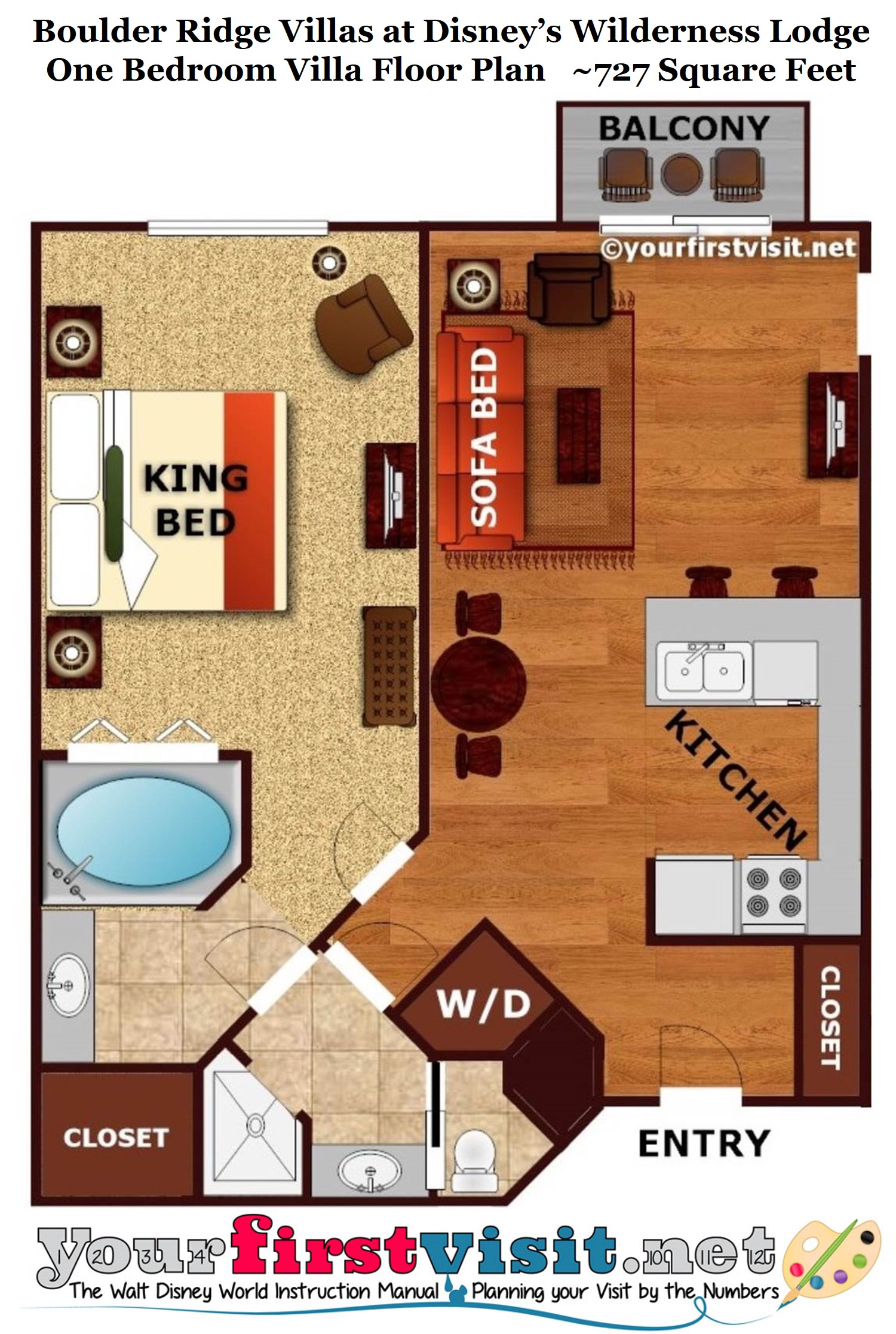 The living/kitchen/dining area in Boulder Ridge One and Two Bedroom Villas are identical.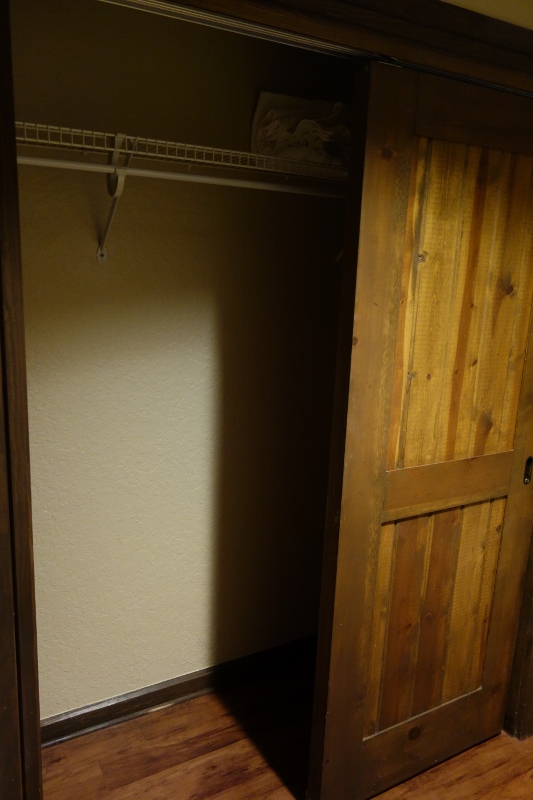 As you enter such a villa, you'll find a large closet on one side.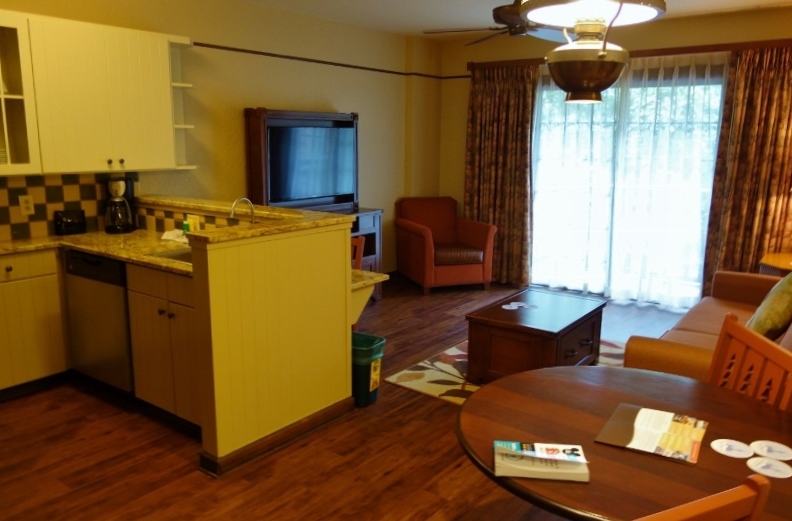 Pass it and the main living/dining/kitchen area opens up.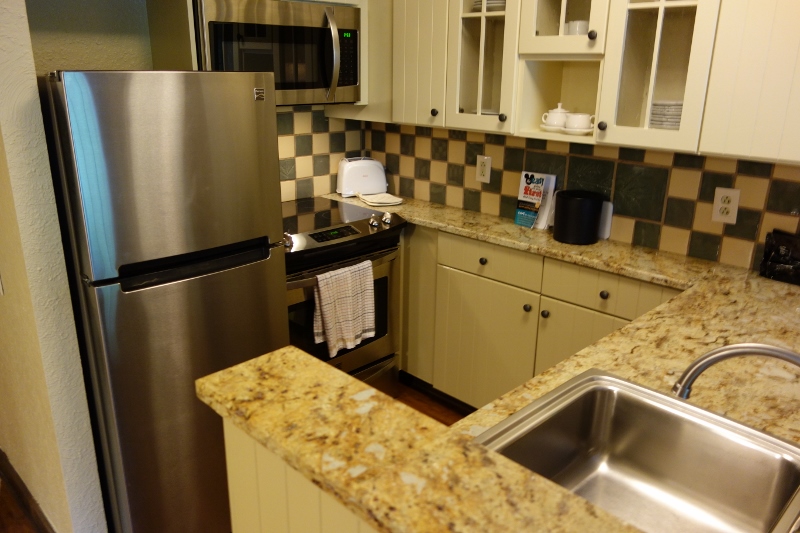 The kitchen  has white cabinets and stainless steel.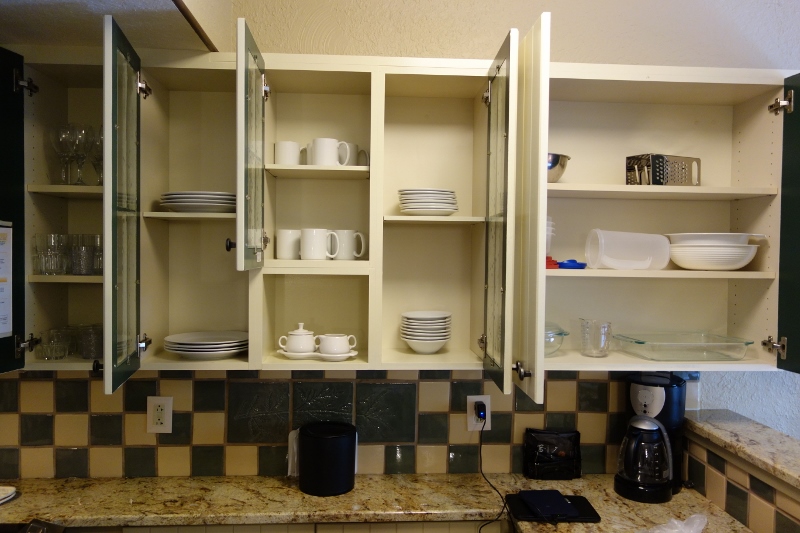 The kitchen has all the basics required to store, prep, cook and serve meals for the people these spaces sleep. Some of the stuff here…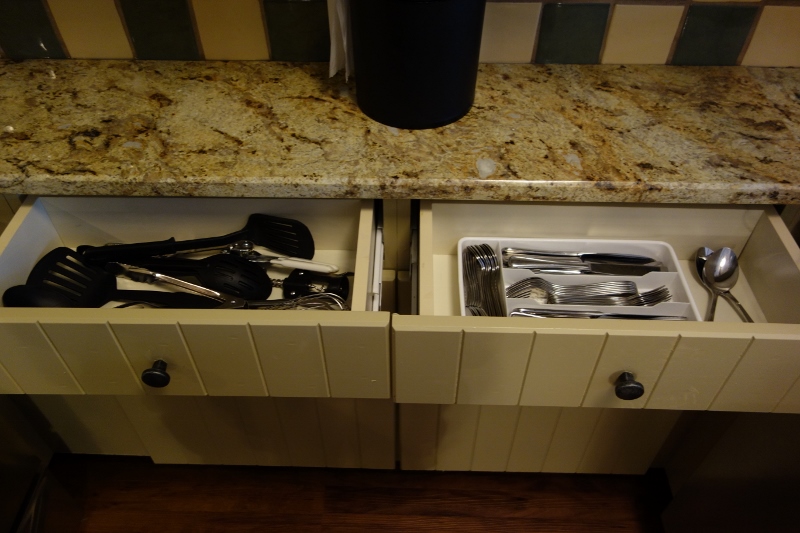 …more.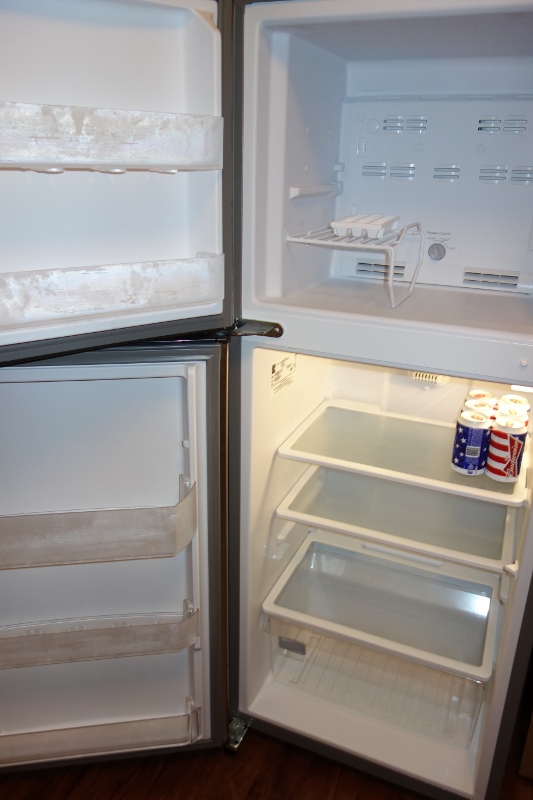 The refrigerator.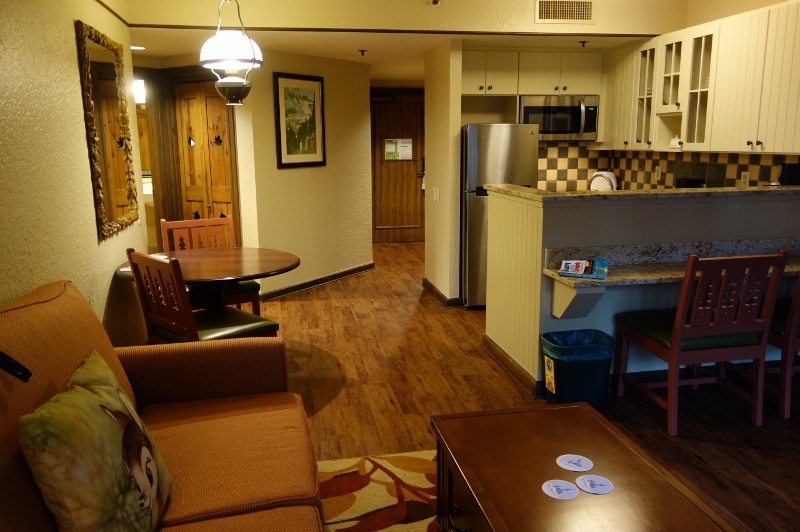 Deeper in the room–this shot is from the back near the balcony–you'll find the dining and living space. Note the small breakfast bar at the right…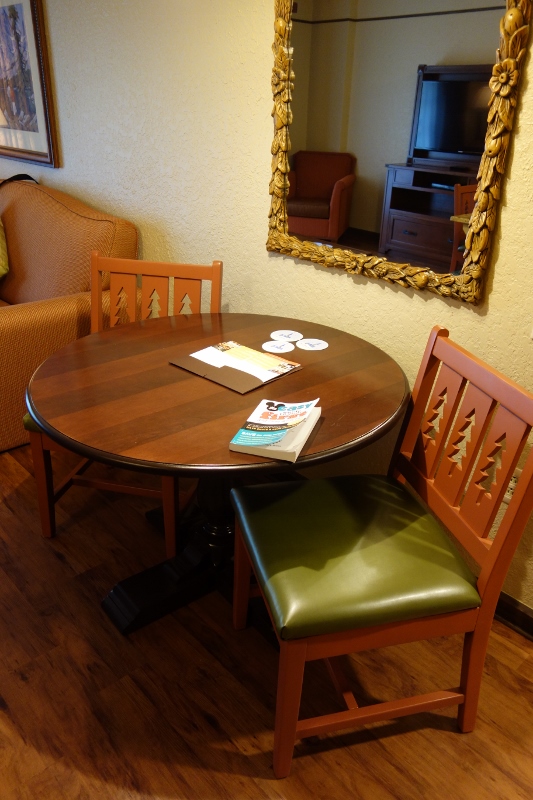 …much needed as the dining table is only provided with two chairs and cannot fit many more. The two together are fine for a four-person One Bedroom Villa, not so good for a Two Bedroom Villa.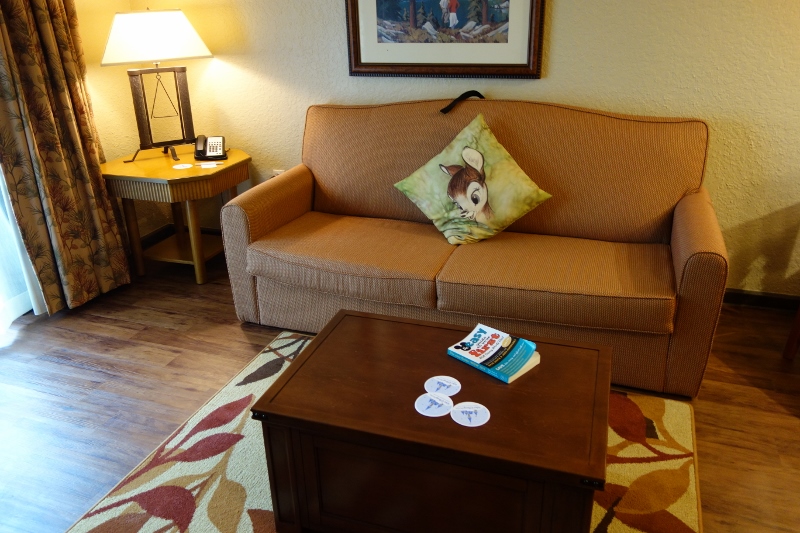 Also on the dining table side of the room you'll find this small couch. Note the Bambi pillow.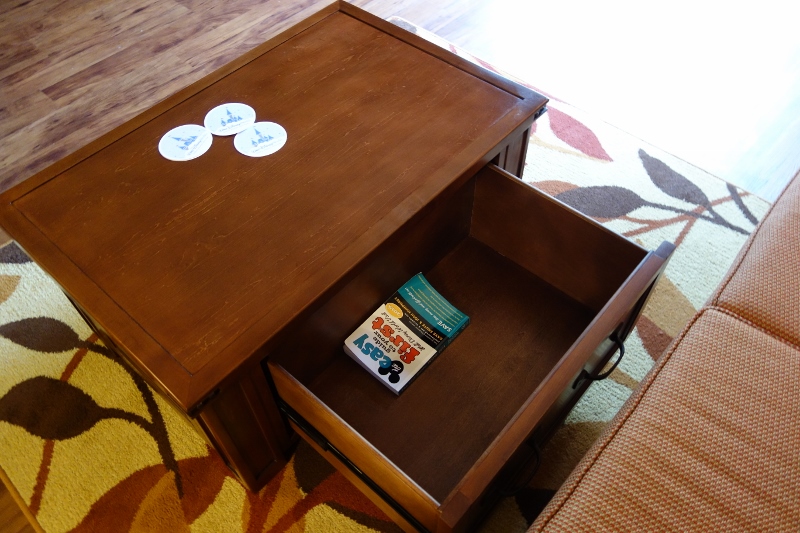 The coffee table has storage within it.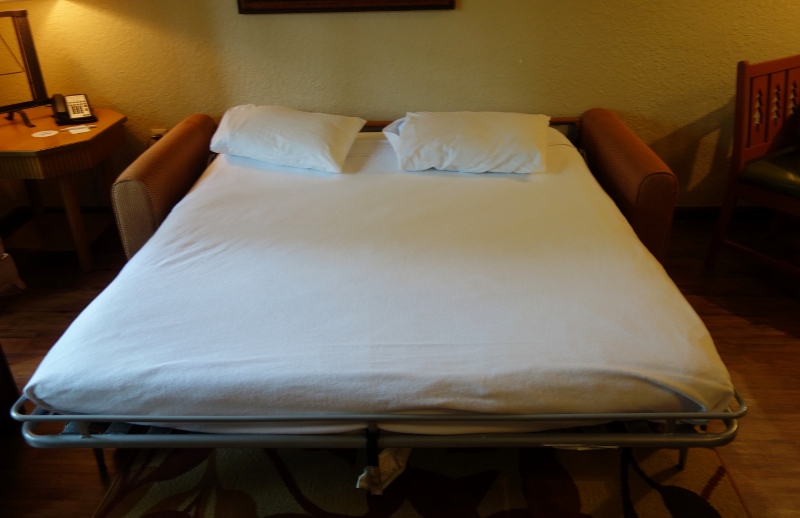 The couch unfolds into a bed that I measured as 60 inches wide by 75 inches long–as wide as, but a little shorter than a queen.  Because of metal rails the bed sleeps shorter than the measurements imply. I got the cushion as four inches deep.  Fine for kids, not for taller or heavier adults.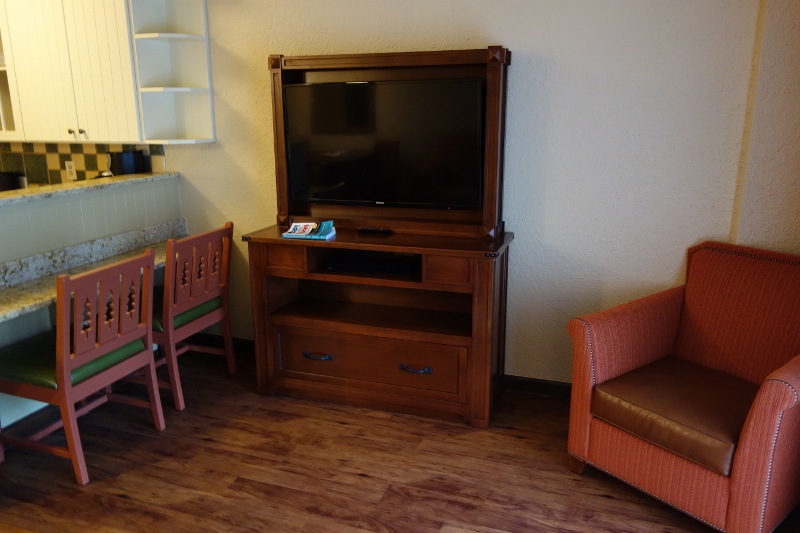 The other side of the room has a TV/dresser combo and a side chair. In One Bedroom Villas with a connecting door, that door will be where the chair is, and the chair will be closer to the couch, as indicated on the floor plan.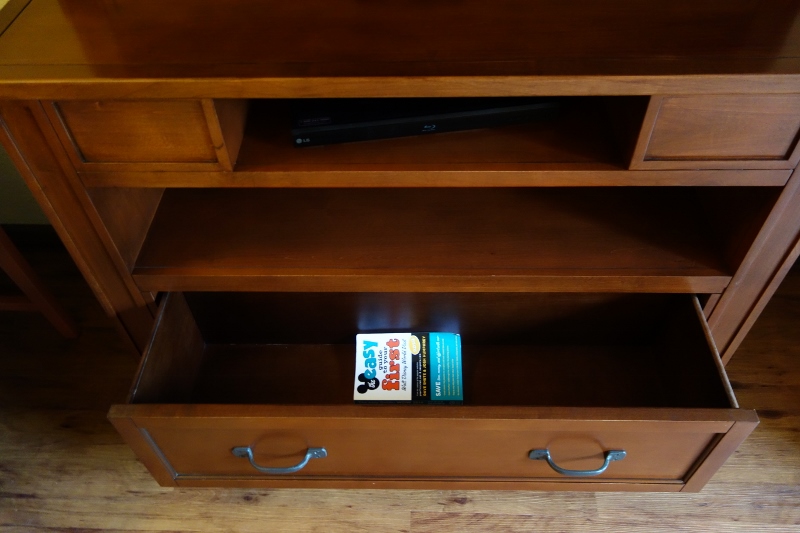 While the dresser has just one drawer, it, the shelf above it, the storage drawer in the coffee table, and the large front closet together provide plenty of storage for the two people this room sleeps.
Seating is another matter. The couch and easy chair are enough for the four a One Bedroom Villa sleeps, but for a Two Bedroom Villa, other chairs will need to be dragged into the living room, and there's not a ton of space for them.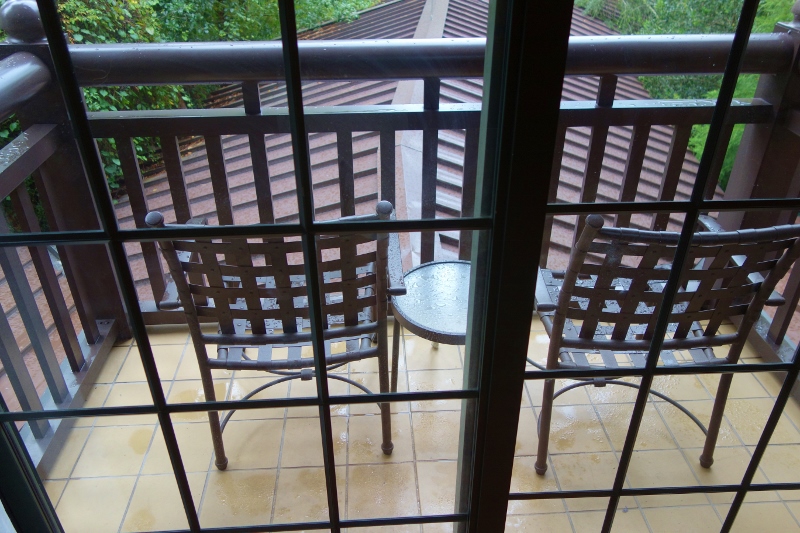 At the end of the space is a balcony. Most views at the Boulder Ridge Villas at the Wilderness Lodge are lovely.  The one above, from our August visit, not so much.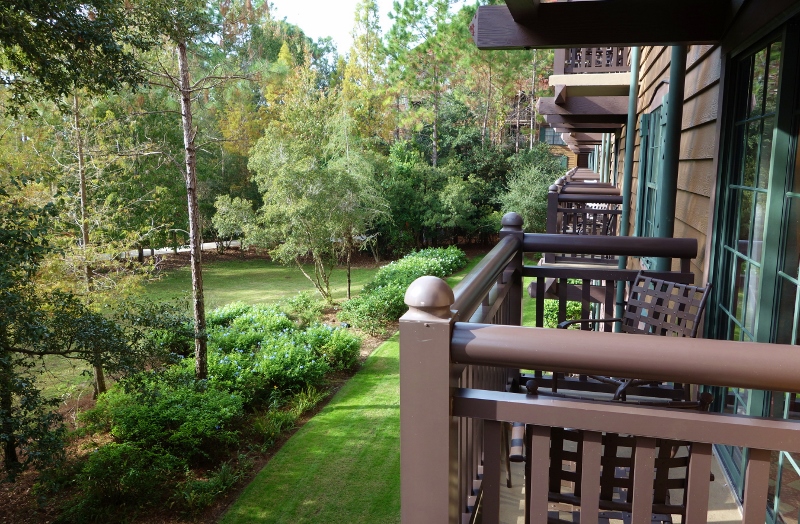 Here's the view from our December balcony.
The One Bedroom Villas are great spaces in a wonderful setting.  The Two Bedrooms don't fit well in the living/dining area all the people they can sleep…
This review continues here!


Follow yourfirstvisit.net on Facebook or Twitter or Pinterest!!
RELATED STUFF