Review: Agent P's World Showcase Adventure at Epcot
By Dave Shute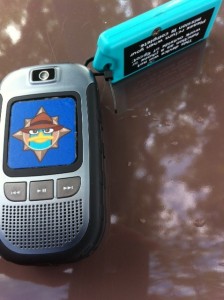 We recently did Agent P's World Showcase Adventure at Epcot, an attraction which opened in the summer of 2012.
Like the now-retired attraction it's based on, Kim Possible's World Showcase Adventure, it's a terrific new attraction for returning visitors, but we have mixed feelings about it for first time visitors.
The attraction is hard to describe, but at the simplest level it's a series of technologically-enabled scavenger hunts at various pavilions at the World Showcase.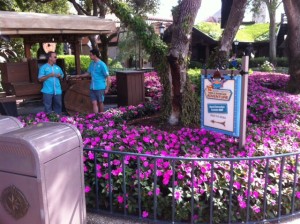 You can have fun completing just one hunt at one pavilion, or do them all.
The hunts are enabled by an adapted cell phone (or "F.O.N.E.", see the image above) which you can pick up at many sites in the World Showcase–see photo for one of the carts from which you can pick them up.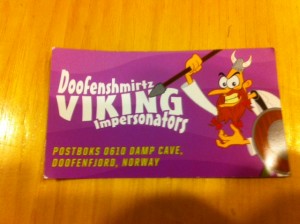 It's also more than just finding stuff–Epcot does stuff back to you in return!!
Our adventure was in Norway, and in response to the secret code our F.O.N.E. provided us, we got the special business card at the right from a cast member, which we then used in the next task!
It's a hoot, and we had a ball.
It's also a conceptual tour de force, as a mash-up of the Epcot World Showcase physical environment with the Phineas and Ferb plot and characters, all enabled by…an adapted cell phone that Disney provides!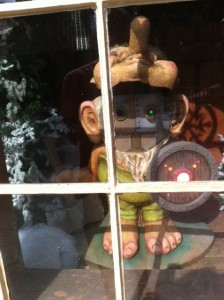 My issue with the attraction for first time visitors who may not ever return (the target audience of this site) is that while it happens in the World Showcase, it isn't really of the World Showcase.
While playing the Adventure, you won't be seeing the shows, doing the rides, enjoying the architecture, seeing the films, or exploring the shopping of the pavilions.  It's sorta like seeing a Shakespeare play solely to do a scavenger hunt of unusual words.
Of course, that's also why it's such a great attraction for repeat visitors.
Kids on average just aren't that keen on the World Showcase, and the Agent P World Showcase Adventure gives them a great new thing to do while their parents (in theory) are enjoying the rest of what the pavilions have to offer!
Follow yourfirstvisit.net on Facebook!
RELATED STUFF