A Family Suite at Art of Animation, or a Deluxe Room?
By Dave Shute
DISNEY WORLD'S ART OF ANIMATION FAMILY SUITES VERSUS DELUXE RESORTS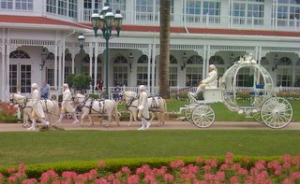 In my overview of the deluxe Disney World resorts, it's noted they are distinguished by having
the most amenities
nicest views
best dining options
best transport
largest rooms
best service, and
highest prices
However, there's a lot to like in the Art of Animation family suites.  In the review published this summer, I noted that
"there are even some deluxes that I'd skip to stay in instead in one of these family suites. You lose the fine dining, more sophisticated décor, balconies, and cooler pools of the deluxes, but for that you get a larger, better equipped, and more livable space…plus two baths."
So was I carried away, or are the family suites at Art of Animation really a legit alternative to a deluxe?
ART OF ANIMATION FAMILY SUITES MAY BE A BETTER CHOICE THAN THE DELUXES, DEPENDING ON WHY YOU ARE ATTRACTED TO A DELUXE
If you are attracted by a deluxe because of an item in the list above—"fine dining, more sophisticated décor, balconies, and cooler pools"—then Art of Animation is not a good substitute.  Moreover, I'd add to this list service and easy access to at least one park—two more reasons to stay at a deluxe.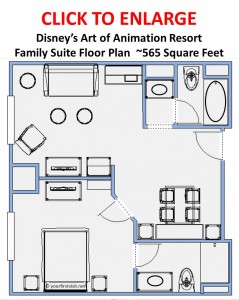 However, if the main reason you are attracted to a deluxe is simply the extra space, then Art of Animation wins.
Even the largest standard rooms at the Polynesian and Grand Floridian are smaller than Art of Animation Family Suites, and the smallest standard deluxe rooms—at the Wilderness Lodge and Animal Kingdom Lodge—are quite a bit smaller.
Art of Animation adds to the mix space for 6 on three separate beds, a private bedroom, a good-sized dining table, a microwave, and two baths.  There are a lot of families for whom this is a pretty nice mix of stuff compared to the outfitting of a standard deluxe room.
All this for a price that's a lot less.  In the 2013 Fall price season, weekday prices (pre-tax) are $269 at an Art of Animation Family Suite, $321 (20% more) in a  Wilderness Lodge standard room, and $446 (66% more) in a standard room at the Polynesian.
For a family that can fit into the two queens at Wilderness Lodge, I think I'd still advise Wilderness Lodge over Art of Animation. The theming there is so spectacular that it would be hard to recommend it over Art of Animation, even with the price difference, and since your family is smaller, the value of the extra space is a little less.  But if you really desire the extra space, or the separate bedroom, I can see Art of Animation instead.
The Polynesian is an even tougher choice.  Its theming is way cool, but not as cool as that of Wilderness Lodge.  Yes, it's the most convenient of all the Disney World resorts…and yes, its rooms are quite large.  But it's nearly twice as expensive…so if the various space and layout advantages are really valuable to you, Art of Animation might be a good choice here as well.
Not sure what to do?  Then split your stay—stay half your nights in one hotel, and the other half in the other.  Set as your second hotel the one you think you will like more.  That way it won't suffer as much by the comparison…
RELATED STUFF