Disney World Free Dining for the General Public to Come Out in Early August?
By Dave Shute
FREE DINING AT DISNEY WORLD FOR THE REST OF 2013
Crack insider the "Mysterious J" emailed me last night to let me know that a free dining deal for the rest of 2013 at Disney World for visits booked from Europe and South America will come out on August 1st.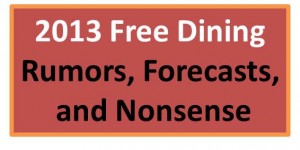 This deal will have book-by dates of November 15, and will cover arrival dates of
September 29 to October 2, 2013
October 18 to November 2, 2013
November 11 to November 23, 2013
December 12 to December 22, 2013
At or near the same time, a room rate deal will come out as well.
The "Mysterious J" has given me the heads up on such items weeks before they appear before, and has never yet been wrong.
Moreover, what typically happens is that these deals come out outside the US first, and then soon get released for the North American general public.
So this news bodes really, really well for general public free dining to come out in early August as well!
I've been frankly skeptical about such a deal and am oh so glad that it appears that my forecasts of no more general public free dining in 2013 might be wrong!!!
RELATED STUFF