Basic Itinerary: Daily Links
By Dave Shute
Click here to return to the introduction to the Basic Itinerary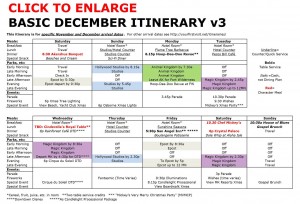 This Walt Disney World itinerary is designed for three specific December weeks. (Click here for itineraries for the rest of the year.)
You can review the basic itinerary by clicking on the thumbnail; if you need to enlarge it, click it again.
There is also a page for each day of your vacation, with specific instructions for that day. See links below.
LINKS TO DAYS AND TO-DO LIST
The links below take you to pages with specific guidance on what to do every day of your first family Walt Disney World vacation, and the To-Do List for preparing for your trip.
Click here to return to the introduction to the Basic Itinerary
LINKS TO BASIC ITINERARY VARIANTS
BASIC ITINERARY LESS SECOND SUNDAY: Summary To-Do List
BASIC ITINERARY LESS FIRST SATURDAY: Summary To-Do List
BASIC ITINERARY LESS FIRST SATURDAY AND SECOND SUNDAY: Summary To-Do List
BASIC ITINERARY 5 NIGHT VERSION: Summary To-Do List
BASIC ITINERARY RELAXED VERSION: Summary To-Do List
ITINERARY LINKS