Animal Kingdom Day 1 Disney World 2016 FastPass+ Basic December Itinerary
By Dave Shute
ANIMAL KINGDOM DAY 1: FIRST SUNDAY AGENDA
Today you have the morning off and then begin your visit to Disney's Animal Kingdom, which you will complete next Sunday morning. You have no scheduled meals today.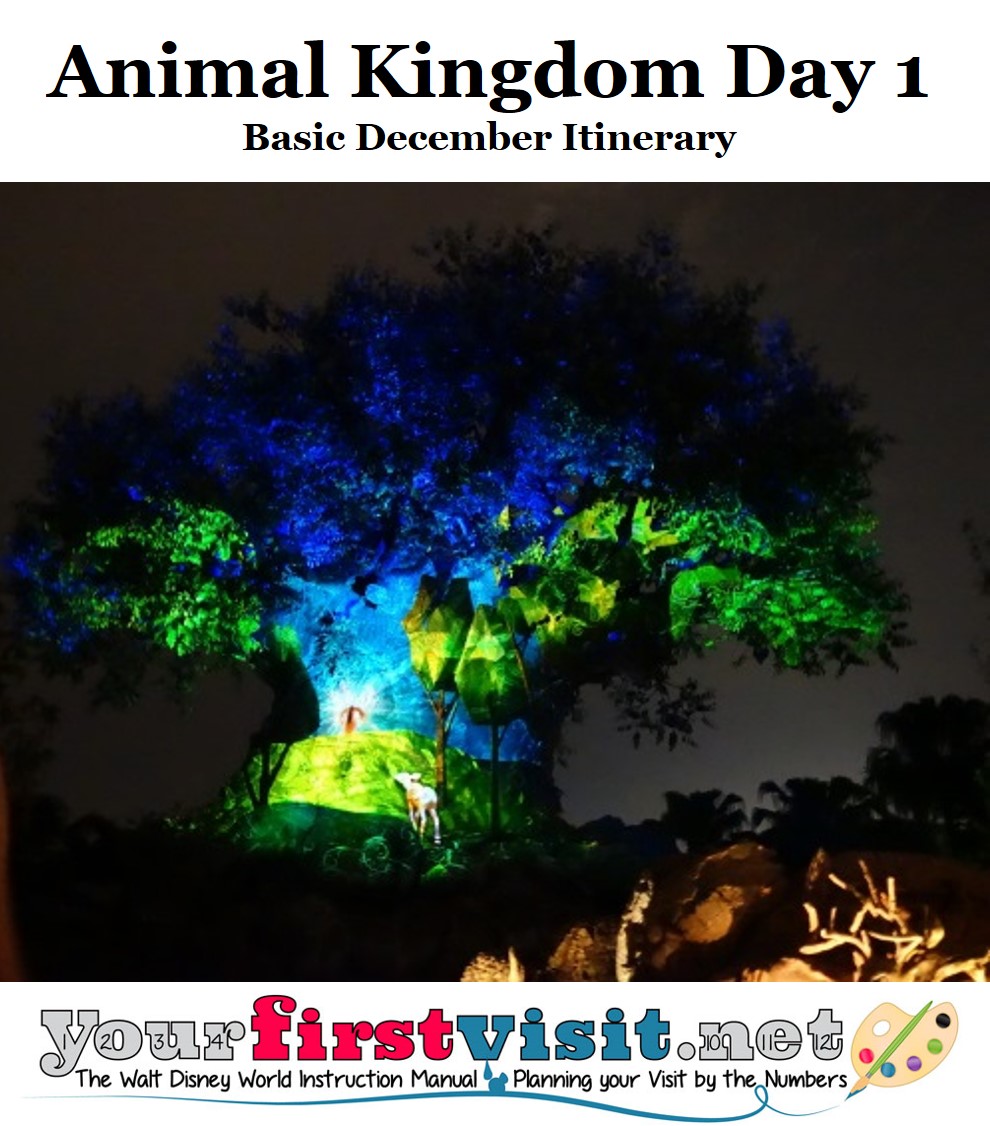 You should have FastPass+ for Kali River Rapids, Kilimanjaro Safaris, and Rivers of Light (I am hoping it will be open by your trip…)
(Note: this is from the 2016 Basic December Itinerary. The itinerary works only for the three weeks after Thanksgiving. See this for other itineraries.)
MORNING
Sleep in and eat breakfast in your room
Bring spare clothes as you will get soaked on Kali River Rapids
Arrive at Animal Kingdom by 1p
AT THE PARK
Today your goal is to see Discovery Island, most of Asia, Kilimanjaro Safaris after sunset, and Rivers of Light if it is open–you'll be returning next Sunday morning to see more of Africa, DinoLand, and other areas you missed.
Enter the park, grab a times guide, and compare the times of Flights of Wonder and Finding Nemo: the Musical to your FastPass + schedule, figuring out when to see these
Head to Discovery Island to see It's Tough to Be a Bug
Ride Kali River Rapids using FastPass+
Dry off, change clothes, and eat lunch at Flame Tree Barbecue
Recheck the show times and see Finding Nemo, and Flights of Wonder. Fit the Maharajah Jungle Trail and visiting the exhibits and carvings around the Tree of Life between shows
Have dinner at the counter service near Yak and Yeti
Use your FastPass+ for Kilimanjaro Safaris and Rivers of Light
If you have the time and energy, and lines are short, see Expedition Everest. You have FastPass+ for it next Sunday morning, but it's worth doing in the dark, too!
After dark, perhaps on your way out, see the Tree of Life Awakenings
PREVIEW OF TOMORROW
Tomorrow you have the morning off, then begin your visit to Disney's Hollywood Studios.
MATERIAL IN THIS DISNEY WORLD ITINERARY


Follow yourfirstvisit.net on Facebook or Google+ or Twitter or Pinterest!!
RELATED STUFF