The Updated Best-Ever Free Dining FAQ in the History of the World, 2016 Edition
By Dave Shute
Update: the 2016 Free Dining deal was released on April 25. See this for details.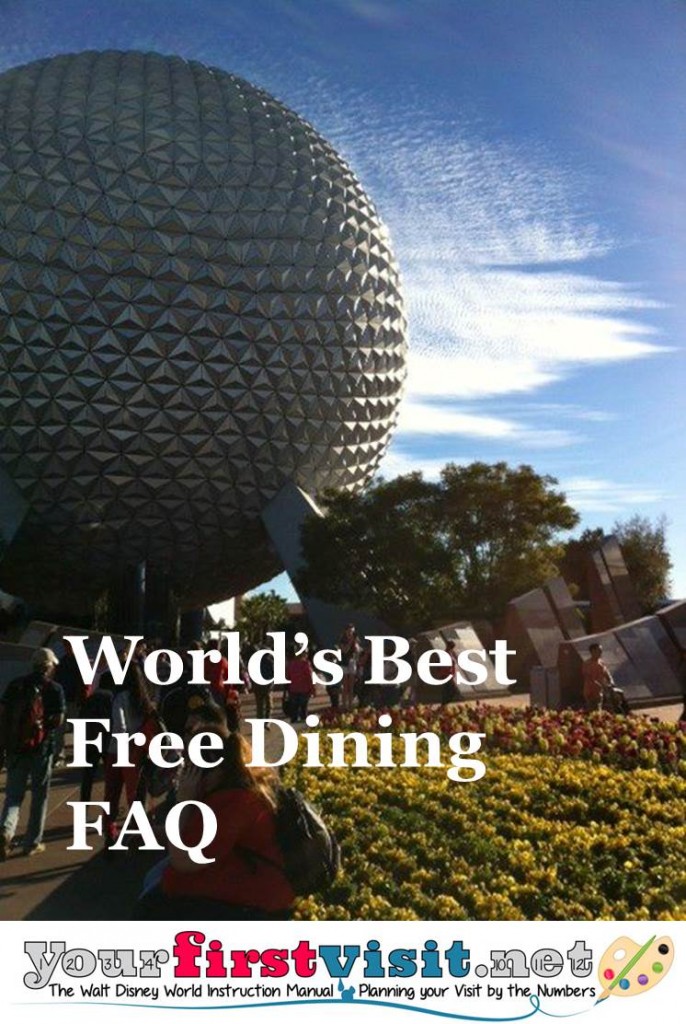 Free Dining is the favorite deal of many Disney World fans, and I get questions about it all the time.
In an unusual attempt to actually provide good answers, a while ago I put heads together with DISboards.com legends Smitch425 (Sarah) and Black562 (Joe Black–Joe's also on Facebook here; Sarah's shy).
We–well, mostly they–came up with the following FAQ. I've updated it for 2016, including the March price increase.
WHAT IS FREE DINING AND WHY SHOULD I CARE?
Q: What is free dining?
A: Free dining is a Disney World deal where, if you buy other stuff, you can get one of the Disney World dining plans for free. Most recently, eligible folk staying at an eligible value resort have gotten the quick service dining plan for free, and those staying at eligible moderate or deluxe resorts have gotten the regular dining plan for free.
Q: Is this a big deal?
A: For many families, it really is. The regular Disney Dining Plan costs $63.70 for people ten or over, and $22.85 for kids 3 to 9.
So a typical family of four with one younger kid and one older who would have otherwise paid cash for the dining plan will save more than $200 per night.
In the 2015 deal, you had to buy a Park Hopper or Water Park and More add on to your tickets to be eligible for free dining.  If the same is true in 2016, and you hadn't planned on buying one of these, you have to deduct the extra costs from your free dining savings to see if it's a good deal still. The hopper cost is $59 to $74 per person extra, depending on the length of the ticket.
Savings are less but still substantial for the quick service plan that's free for value resort stays—at $44.13/19.04, the same family would save $150/night.
Q:  Blah blah blah on that typical family–how much would my family save?
A: See the table below (as always on this site, click it to enlarge it):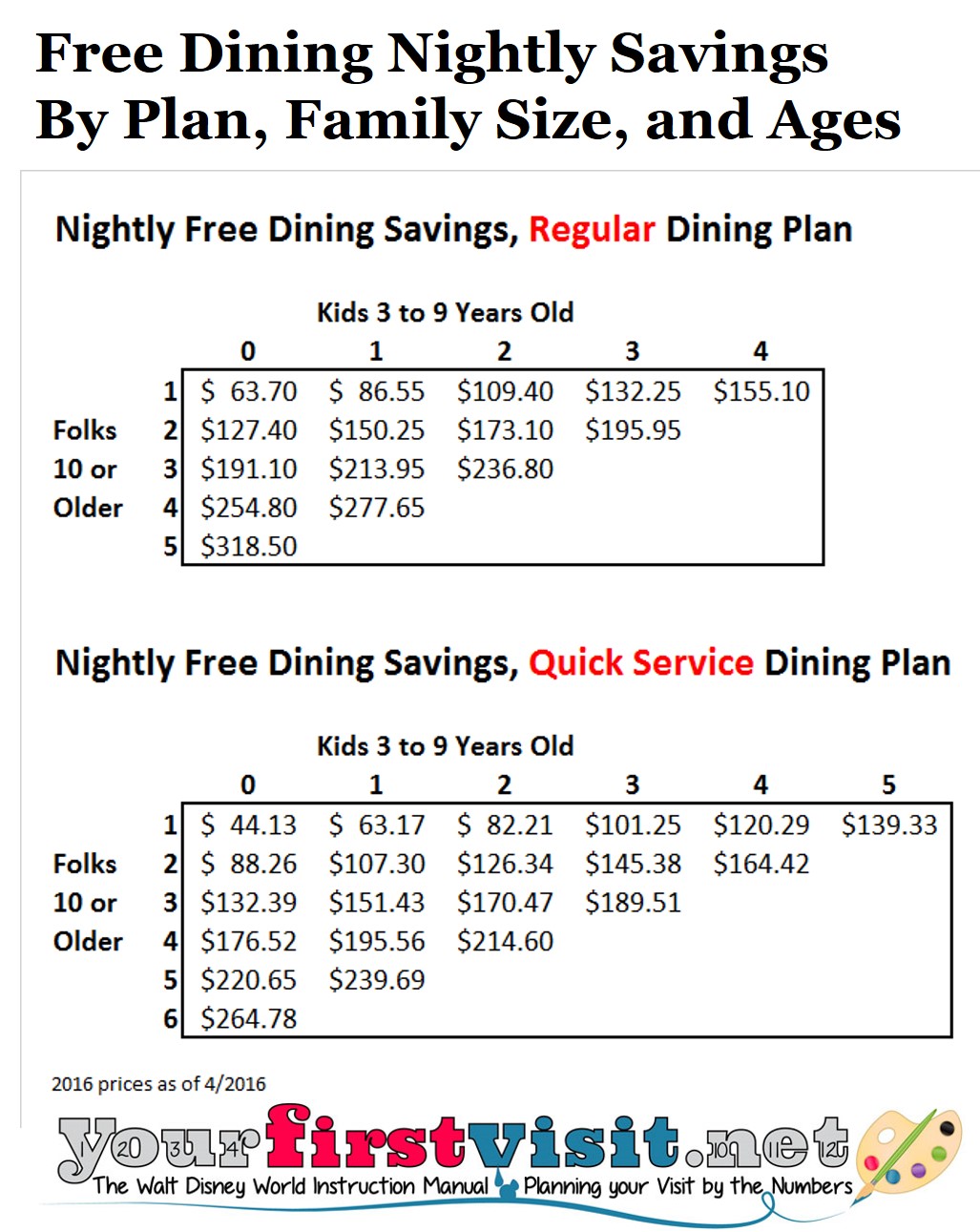 Q: Is it the best deal?
A: Not always.
The value of any deal is the difference between it and your next best option. Room rate deals are usually out for the same dates as free dining, and for some families—especially smaller families with younger kids staying at more expensive deluxe resorts—the room rate discount saves more money than free dining.
The least expensive Grand Floridian rooms during the September 2016 value season at 30% off generate savings of about $200 a night. From Regular Plan part of the chart above, you can see many family types will do better here at 30% off than they would from free dining, especially if they had not been already planning to buy a hopper.
Q: What's the Disney Dining Plan, anyway?
A: See below!
HOW TO GET FREE DINING
Q: OK, I'm sold. Now what?
A: In 2015, the deal came out in late April, and a lot of resorts sold out immediately.
You have to be willing to stay at an eligible resort, with an arrival date within the announced deal's eligible dates, for likely a minimum of three nights, and you likely will have to buy a minimum of two days of tickets for all in the room 3 and older.
Q: I already have a reservation just like that! Will Disney automatically convert it to the deal?
A: Disney don't do nothin' automatically.
If you already have a reservation, to get the deal if/when it is offered you have to try to change your reservation online–this is a new feature and does not always work–or call and change your current reservation, or make a new free dining reservation online and then call when that's set to cancel your old reservation.
Q: Tickets? But I already bought tickets!
A: That's a whine, not a question.
But yes, to be eligible for free dining, a new minimum 2 day Magic Your Way hopper or water parks and more ticket is typically required for each person on the reservation age 3 and up.
However, you can save your tickets for a future trip–multi-day Magic Your Way tickets which have not been activated by first use will remain valid forever. Annual Pass holders can use the un-activated extra 2 day ticket toward renewal costs when it is time to renew. Or you can just use both tickets to get 6 FastPass+ per day.
Q: Are all resorts and rooms in the deal?
A: All recent Disney World deals have excluded some resorts and room types—mostly those for which demand is high enough that no deal is needed to get heads in beds at full prices.
Recently, most commonly excluded have been Little Mermaid standard rooms at Disney's Art of Animation Resort, All-Star Movies, the Villas at the Grand Floridian, and one or the other of the Port Orleans resorts.
Moreover, even when not excluded, it seems that a limited inventory of rooms at resorts is made available for the deal–with a particularly limited inventory of the least expensive view types. Even fewer rooms seem to have been offered for Free Dining in 2015–expect this trend to continue in 2016 as well.
It's always best to have a backup resort and room type in mind should your desired location be excluded or sold out.
Q: When should I book?
A: As soon as you hear about the deal.
Since there are a limited number of rooms in the free dining inventory at each included resort, the sooner you book once a deal goes live, the better your chances are of getting your preferred location.
Q: My arrival date is before free dining but part of my stay is during it! Boo!
A: If you check in prior to a free dining promotion, you can do what is referred to as a "split stay."
For example, if you check in the day before free dining begins, you can book a room only stay for the first night, and a free dining package to begin the following day.
This would require you to check out and check back in, and it is possible that you would have to switch rooms. However, Disney can link the two reservations, and they will do everything possible to avoid a room switch.
Q: When is free dining offered?
A: The most common time for free dining is September, but recently arrival dates later in the year have been eligible as well. For 2015, eligible arrival dates were
August 28 – October 2, 2015
October 25 – October 31, 2015
November 8 – November 19, 2015
December 15 – December 21, 2015
As part of its strategy for recovery from the recession, 2009 through 2011 Disney offered free dining many other months. The last couple of years, this has been wildly scaled back.
Q: When is it announced?
A: See this for the variety of recent announcement dates. It's widely expected that free dining for September 2016 will be announced sometime between late April and mid June.
Q. I'm a proud DVC point owner! Can I get free dining?
A: Sorry—DVC rooms booked using points (either by the point owner, or for someone who is getting DVC rooms by renting points) aren't eligible. However, DVC rooms paid for by cash are eligible.
Q: Can I upgrade from the quick service to the regular plan, or to the deluxe plan?
A: Yes, you may. Simply pay the difference between the plans and you can upgrade all you wish.
Q: Should I book in advance for free dining?
A: Don't book now in the hope of getting free dining later.
Rather, book only if you are committed to a certain resort and set of dates, whether or not free dining emerges.
First, if bookings are up, Disney has no reason to offer a discount at all.
Second, if people book up certain resorts, they are more likely to be excluded.
Having an advance reservation has no benefit in any way over a new booking on release day. It doesn't hurt you—but it doesn't help.
Q: Can I have a puppy?
A: Perhaps. Our new puppy, Belle, is below.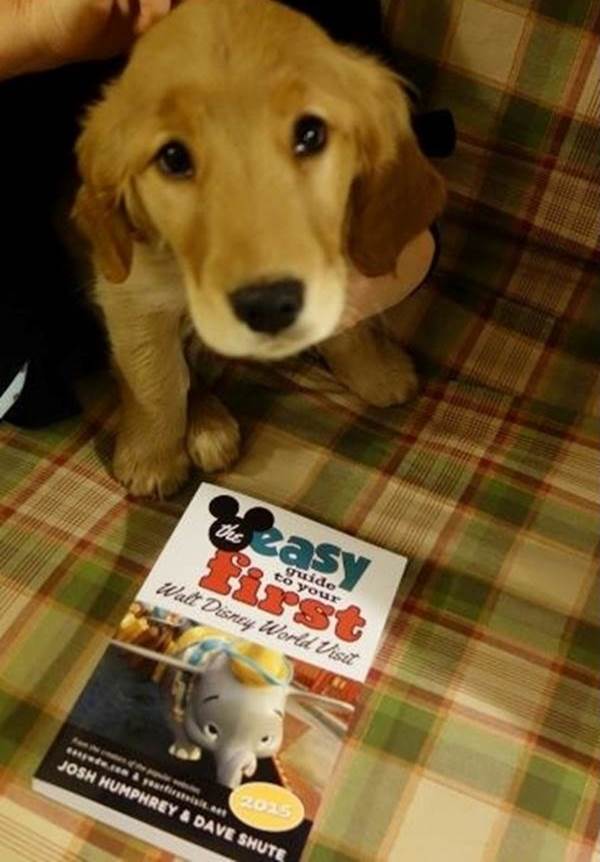 WHAT'S THE DISNEY DINING PLAN, ANYWAY?
The following is an excerpt from my and Josh's The easy Guide to Your Walt Disney World Visit from Theme Park Press:
THE DISNEY DINING PLAN
Disney World dining is expensive. For some guests, it may even be the priciest component of the vacation, eclipsing the cost of lodging and theme park tickets. The three versions of the Disney Dining Plan (Quick Service, Regular, and Deluxe) are a way to prepay some of these dining expenses.
Years ago, when the Regular Dining Plan included appetizer and tip at sit-down restaurants, you could actually save some money by using these plans. These days it's hard for us to recommend them:
The Quick Service Dining Plan is priced so high that it's only possible to break even or come out ahead if you use the credits solely for lunch and dinner. From there, you'll need to order only the most expensive items to eke out a potential savings of a dollar or two per day.
At a cost north of $60 per adult per day, the Regular Dining Plan is expensive and saving money with it requires planning only the most expensive meals.
The Deluxe Dining Plan comes with three quick or table service meals per day at a cost of about $115 per day per adult. Users either spend three or more hours per day eating table service meals or use their credits on faster quick service meals, in turn reducing the value of each credit.
With only a couple of exceptions, we suggest skipping the dining plans. Exceptions include:
If you take comfort in pre-paying some of your dining expenses as a budgeting tool (even if this means you spend more money), the Quick Service or Regular plans may make sense for you—the cash loss may be worth the budget comfort. It's nice knowing that food is pre-paid and users are free to order whatever entrees and desserts that they like, even if those prices are higher than they're accustomed to paying.
Pricing on the Regular Plan is advantageous for groups with kids under the age of ten that plan multiple one credit buffets and character meals. The cost of a child buffet at many character meals exceeds their cost of the Regular Dining Plan for that day.
Free dining, if available your arrival date, may save money as well. But compare savings to the room rate deals typically available at the same time. Smaller, younger groups in higher-priced rooms typically do better with the room rate deals than they would with free dining.
With or without a dining plan, the typical family eating their meals on property should budget $35–$60+ per adult per day, and between $15 and $40/day for the kids—depending on their ages and appetites.
DINING PLAN CREDITS AND WHAT THEY COVER
The Dining Plans are only available to guests staying at Disney owned and operated resorts. All guests on a single reservation (except children under three—not covered on any plan) must opt for the same Dining Plan if you elect to purchase it. There's no such thing as having four people on a room reservation and only three people on the Deluxe Plan. And it isn't possible for one person to purchase Deluxe, while the other chooses Regular. Everyone over the age of nine must pay the adult rate, regardless of how much they plan to eat. And kids 3–9 might be required order from the Kids' Menu if the dining location has one.
Those on the Dining Plan receive a number of credits based on the number of nights they're staying. The Dining Plan and credits are not connected to theme park tickets or anything else—just the number of nights on the reservation. The credits are usable from the check-in day through midnight on the checkout day. Credits can be used in any order on any of these days. On a three-night stay, a guest could conceivably use all their credits on the first day, the last day, or space them out.
Quick service meals generally consist of one entrée or combo meal, one dessert, and one non-alcoholic beverage. Virtually every quick service on property participates in the Dining Plan, and all quick service meals cost one credit.
Table service meals, including one entrée, one dessert, and one non-alcoholic beverage, cost one or two credits. Two credit meals are signature experiences at the most expensive dinner shows, buffets, and restaurants like Hoop-Dee-Doo Revue, Cinderella's Royal Table, and California Grill. The Deluxe Dining Plan credits also include an appetizer, in addition to the entrée, dessert, and non-alcoholic beverage.
Snack credits can be used on many small food items. The number and variety of items eligible for snack credits were greatly expanded in the summer of 2015. Examples include candy apples, ice cream bars, pastries, and bottles of water and soda. Look for the Dining Plan symbol on any menu to see what is eligible to be paid for with a snack credit.
Also in the summer of 2015, various quick service substitutions became more easily available—although always ask first, as policies are not set in stone and can vary by restaurant. For example, in some venues a quick service credit can be used instead as three snack credits (you have to get all three snacks at the same time), and when using quick service credits in the normal fashion, various sides can be substituted for desserts, drinks, or both.
The credits don't always cover everything you might want at a meal and no credits cover alcohol (except beer and wine at the dinner shows) or tips. Most guests have some additional dining expenses, in addition to the cost of the Dining Plan.



Follow yourfirstvisit.net on Facebook or Google+ or Twitter or Pinterest!!
RELATED STUFF