The Villages of Disney's Caribbean Beach Resort
By Dave Shute
(For the first page of this review of Disney's Caribbean Beach Resort, see this.)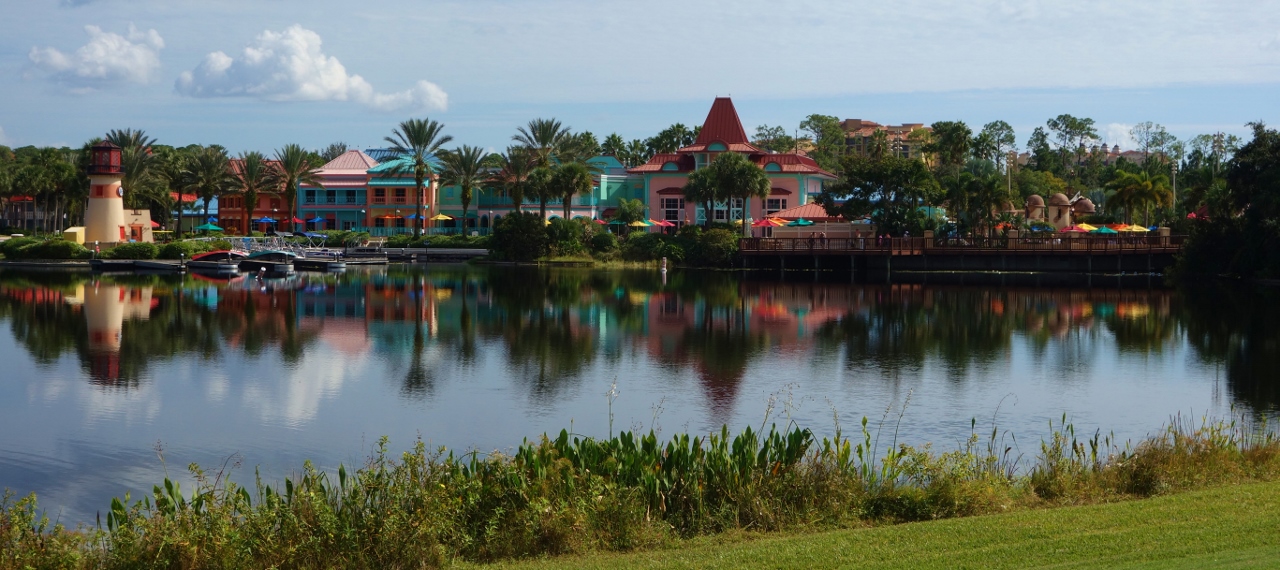 Accommodations at Disney's Caribbean Beach Resort are grouped into "villages," each of which has three to six two story, 64 room buildings.
All rooms were refurbed in 2014-2015. Pirate rooms (in Trinidad South) got  alight makeover, retained their full beds, and sleep four.
Rooms in all other villages got a major makeover.  Fulls were replaced with queens, and many rooms now have in a addition a fold-down Murphy bed, suitable for a person five feet or shorter, increasing the capacity of these rooms to five.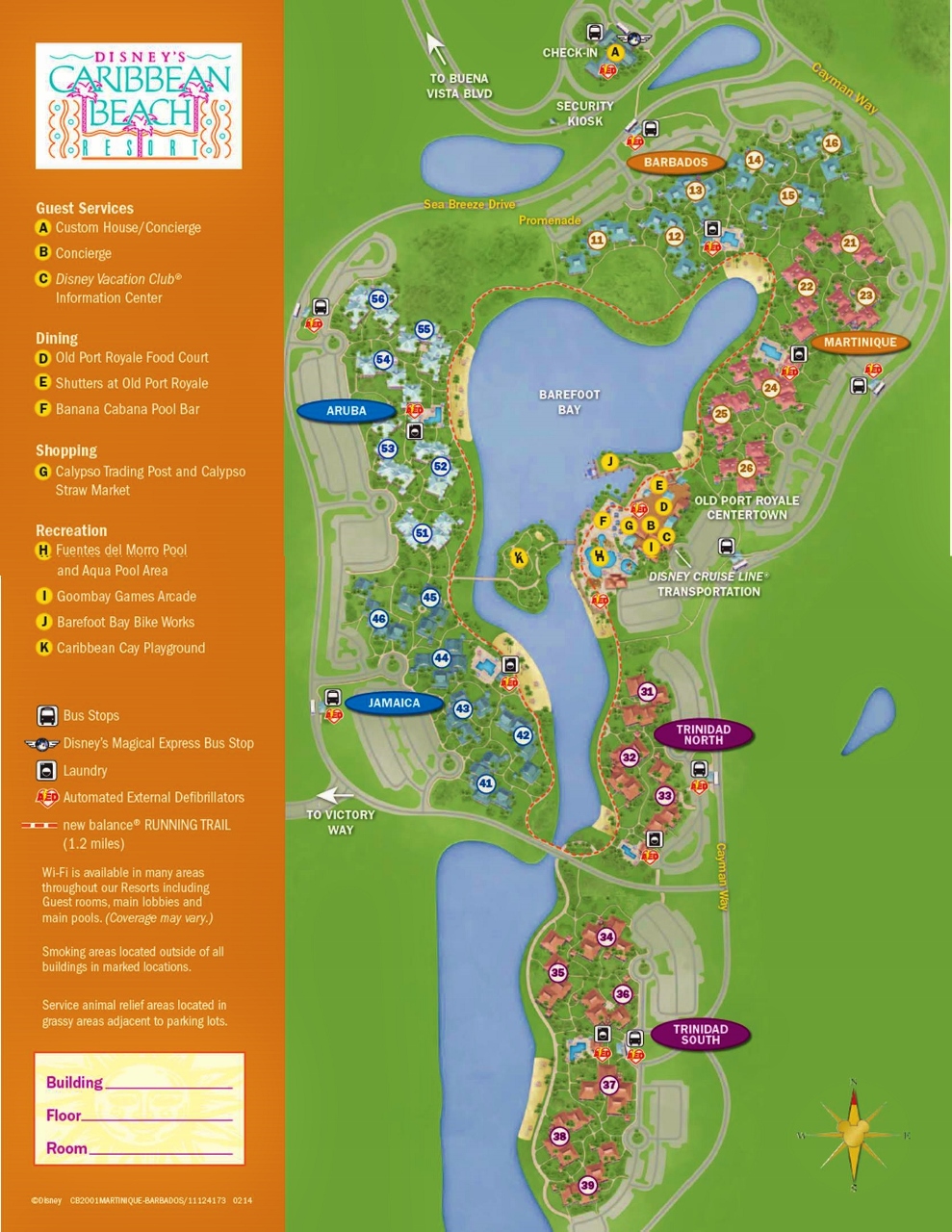 The villages are named after islands.  There's much similarity among them, but also some key differences. This part of the review of Caribbean Beach will discuss them village by village, starting with Martinique and going clockwise.
MARTINIQUE
Martinique is a six building area with three buildings priced as preferred, because many of its buildings are not far from the central services and pool at Old Port Royale. Rates are $40-70 per night higher than standard rooms in non-preferred buildings.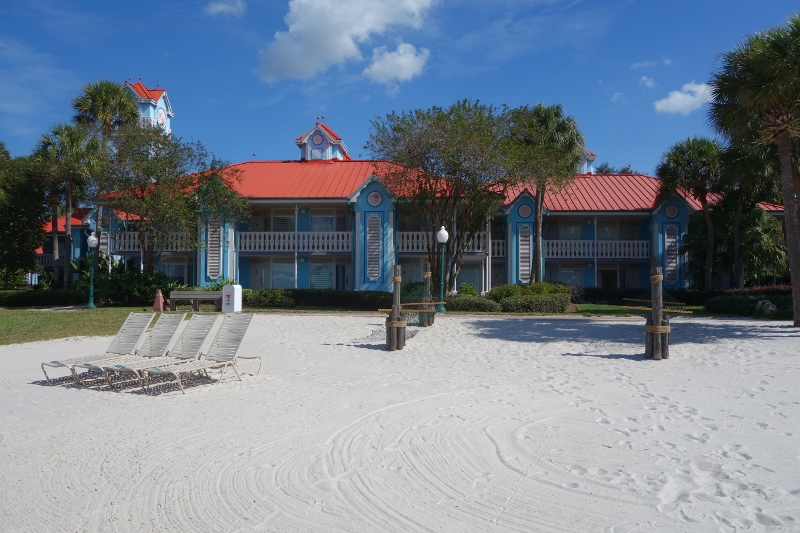 There are two beaches convenient to Martinique guests, one near Barbados and the other near Old Port Royale. Above is the latter. Note the blue buildings and red roofs–one of the best color schemes among the villages.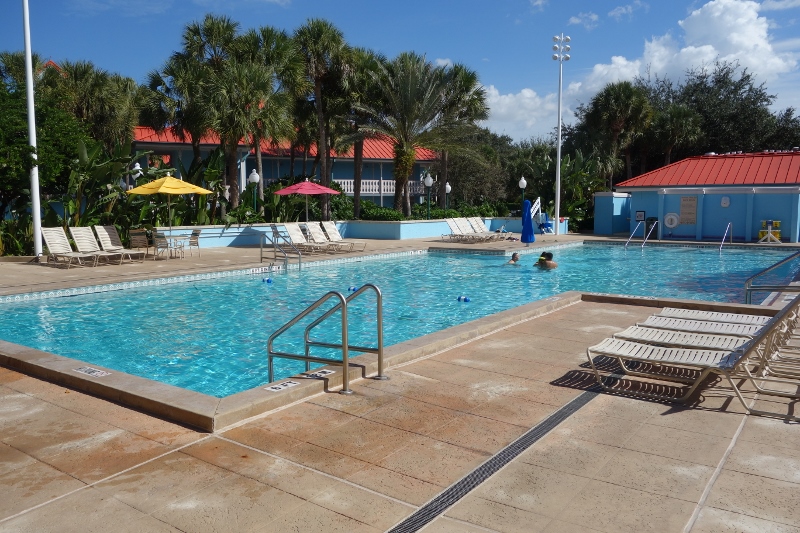 Each village has a pool–all are similar. Here's the one at Martinique.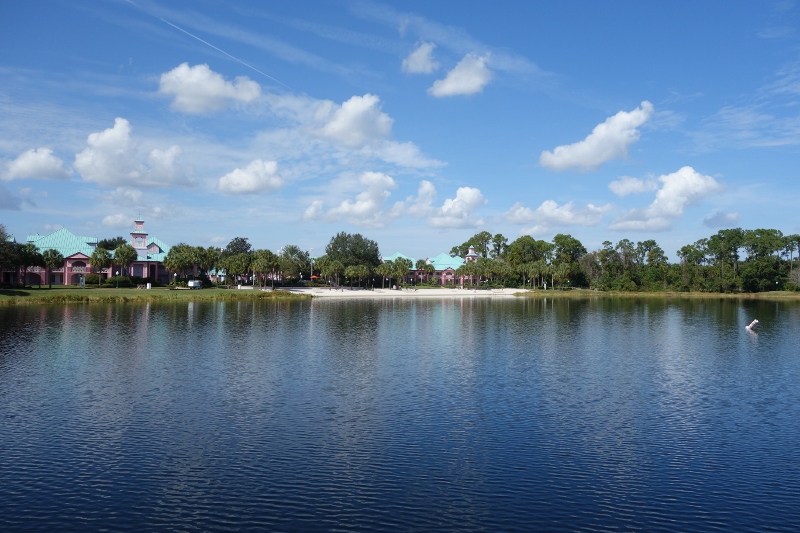 The view from the Martinique area is of the lovely beaches across Barefoot Bay in Aruba.
Martinique guests will find two bus stops to use–one at Old Port Royale is closer to some rooms especially in building 26, and most other rooms will be closer to the other bus stop.
TRINIDAD NORTH
Trinidad North is another preferred area, on the other side of Old Port Royale. Prices are the sames as in the preferred part of Martinique.
It has just three buildings and two beaches, and thus is overall the most compact and convenient of all the Villages.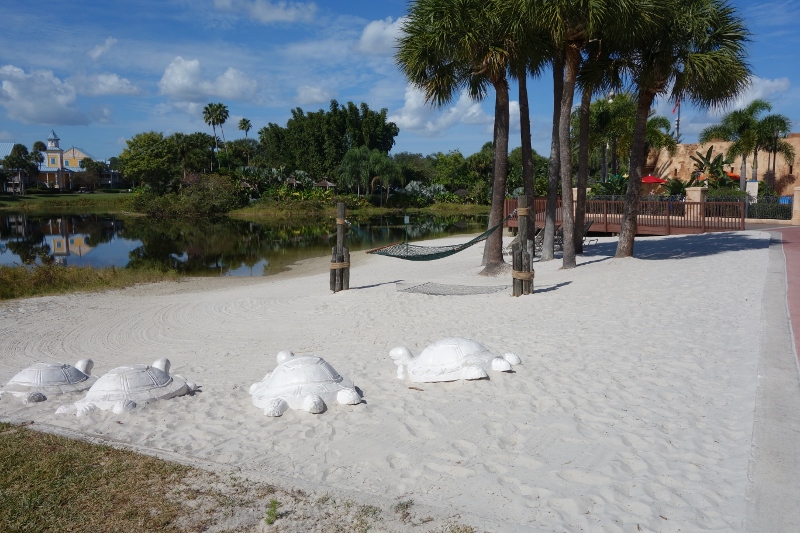 One of the beaches–near Old Port Royale.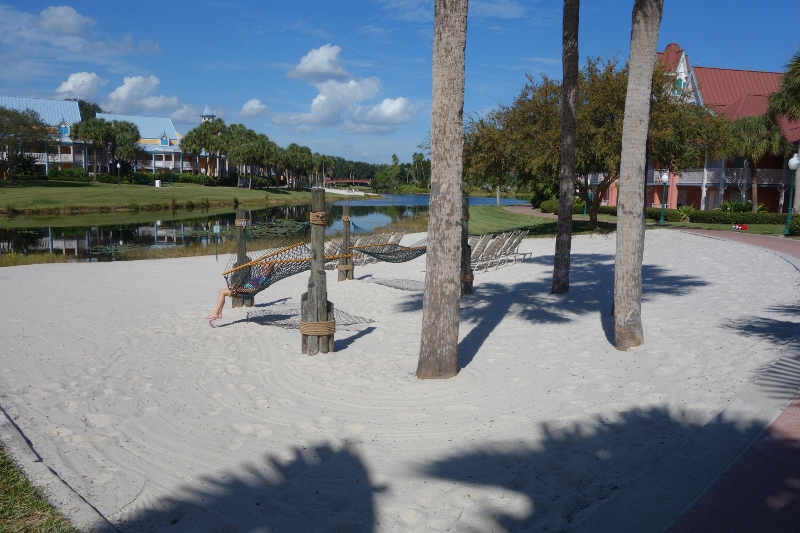 The second beach, further south.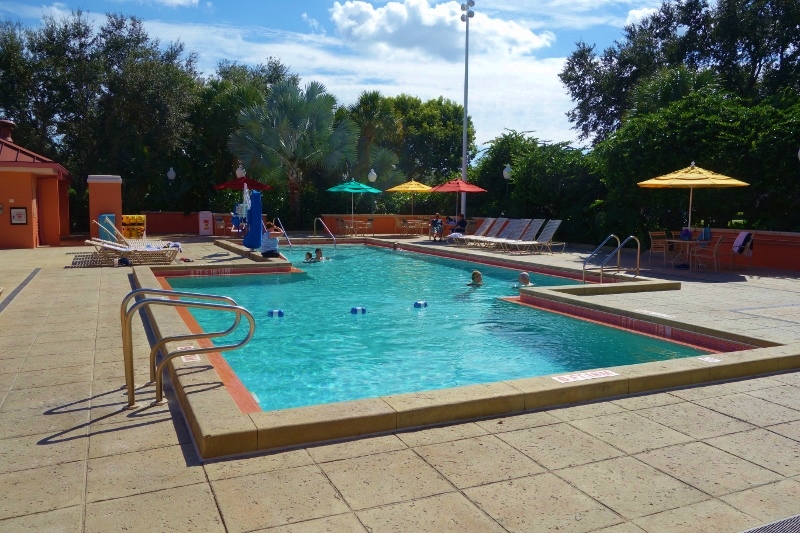 The pool at Trinidad North is at the end furthest from Old Port Royal–if this were a six building village, it would be right in the middle. This means all rooms are close to both the main pool and this smaller "quiet" pool.
Buildings here are a brown pink that adults probably call "coral." We'll get a better view in the same-color Trinidad South material coming next.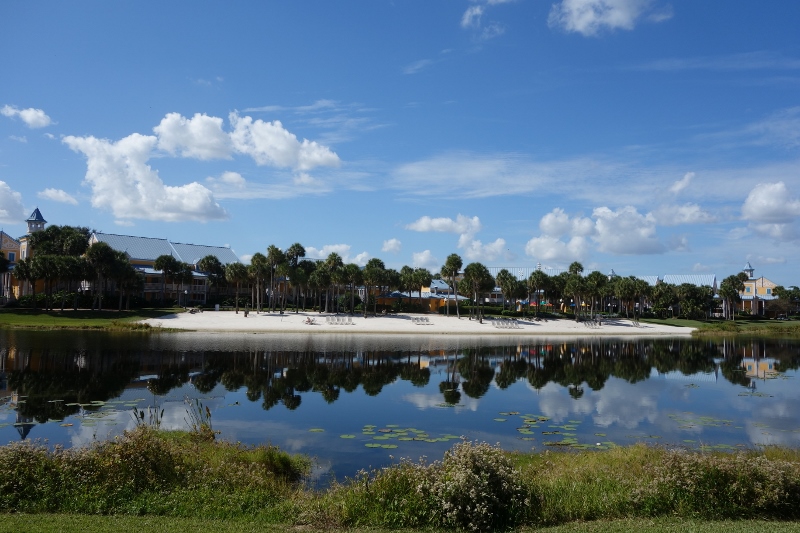 The view from Trinidad North is the great beach of Jamaica.
The bus stop is in the center and convenient to all rooms.
TRINIDAD SOUTH
Up the road–in a dead end–are the six buildings of Trinidad South.
In this distant, inconvenient area of Caribbean Beach, you'll find the expensive Pirate rooms.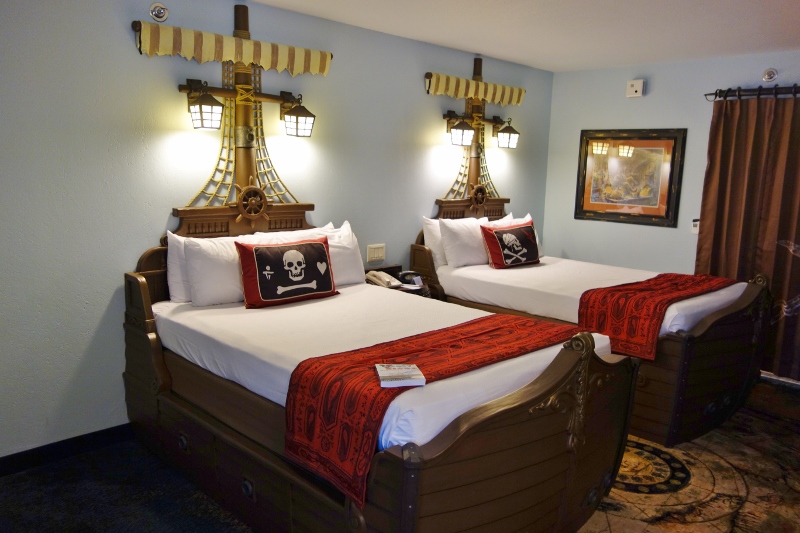 Pirate rooms are full bed rooms with special decorations meant to make them nautical and piratical. More on these is here.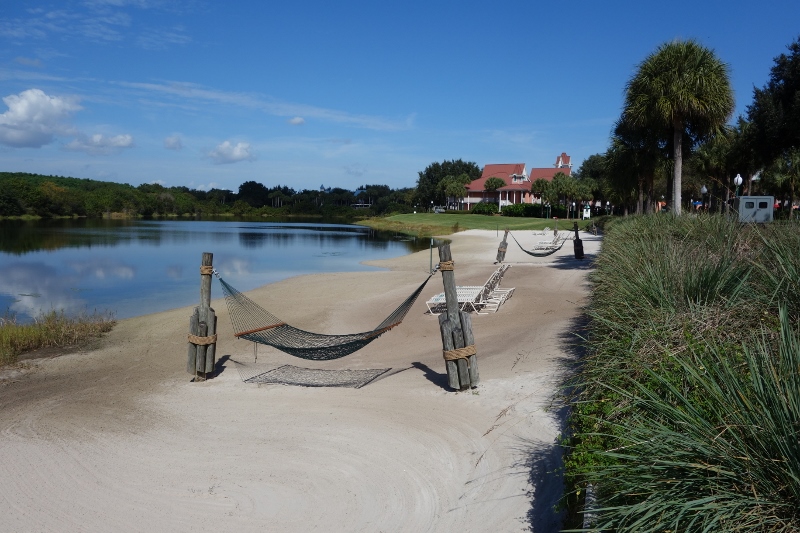 Here's the beach at Trinidad South.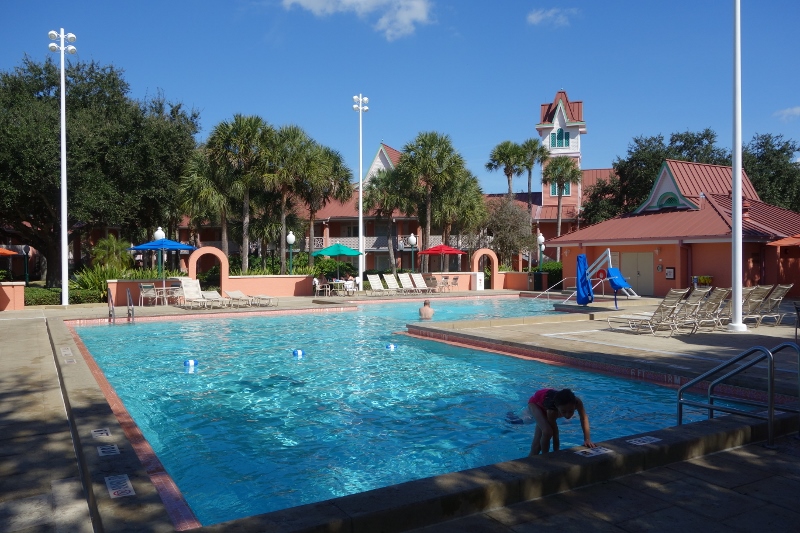 …and here's the pool.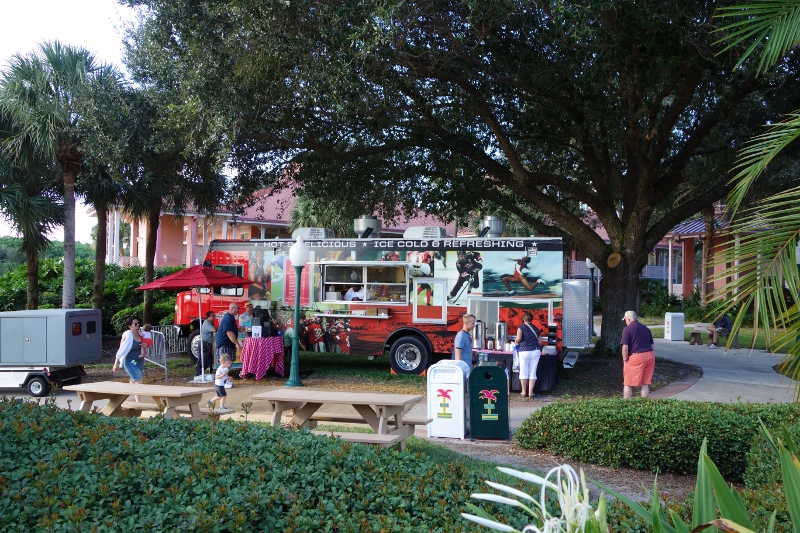 At my last visit–October 2015, my 8th stay here–a food truck (from ESPN) was perched just outside the Trinidad South pool. Grabbing breakfast or a quick meal from it is much more convenient than hoofing down to Old Port Royale, so here's hoping it stays!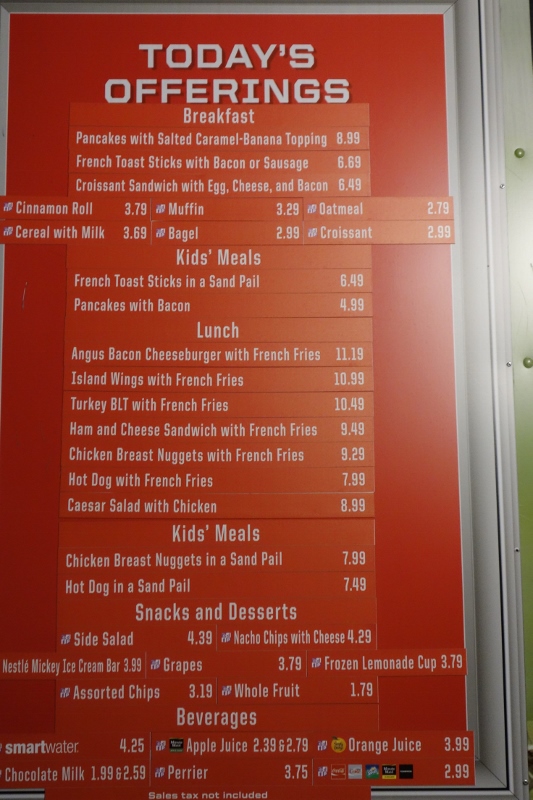 The menu for the food truck. Click it to enlarge it.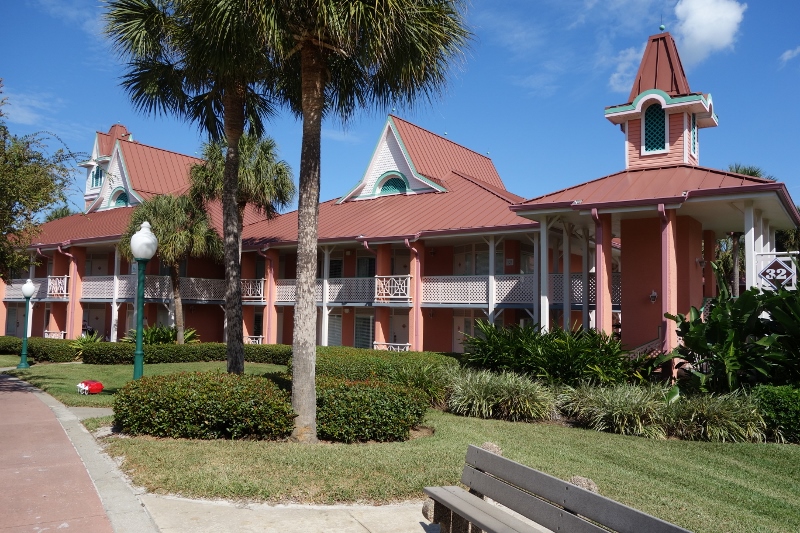 A better view of the insipid colors it shares with Trinidad North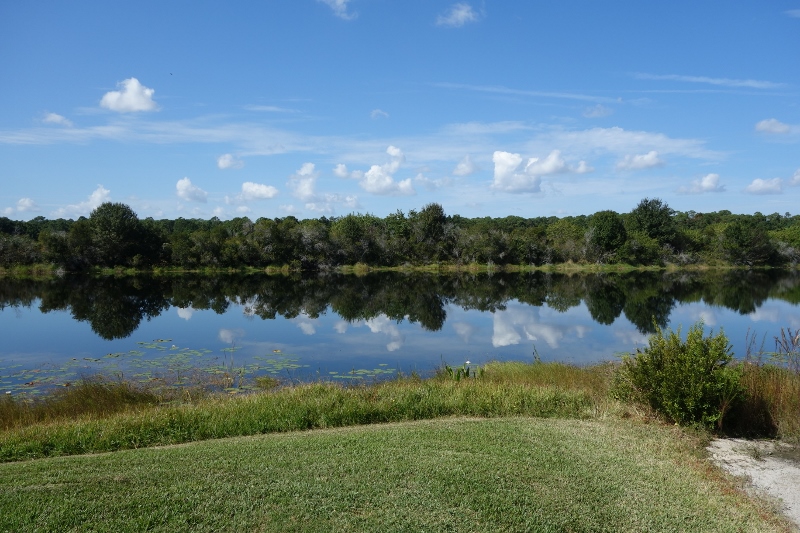 Trinidad South is on a separate lobe of Barefoot Bay–Barefoot Bay Bay?–and the land across from it is undeveloped. The view of this land is above.
The bus stop is in the center.
JAMAICA
Jamaica is my favorite among the Caribbean Beach Villages. Most of its six buildings are near enough to Old Port Royale via the bridge across Caribbean Cay, and those that aren't are still a reasonable walk via the road bridge and Trinidad North.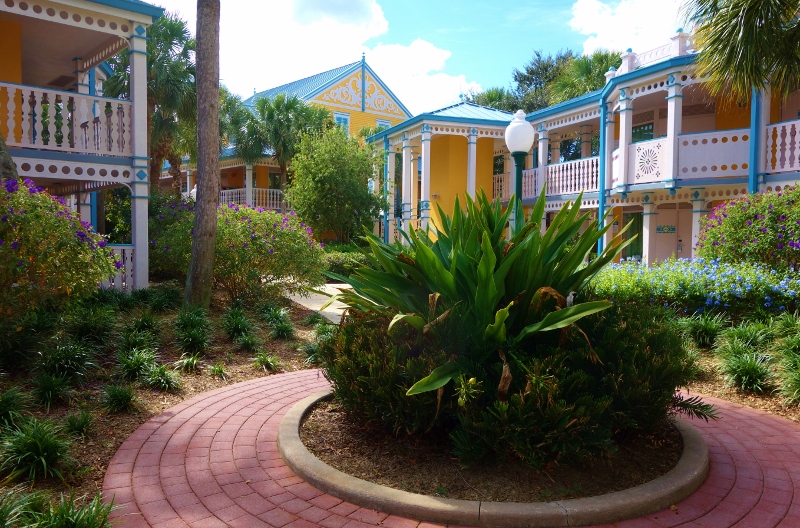 Jamaica also has a great color scheme…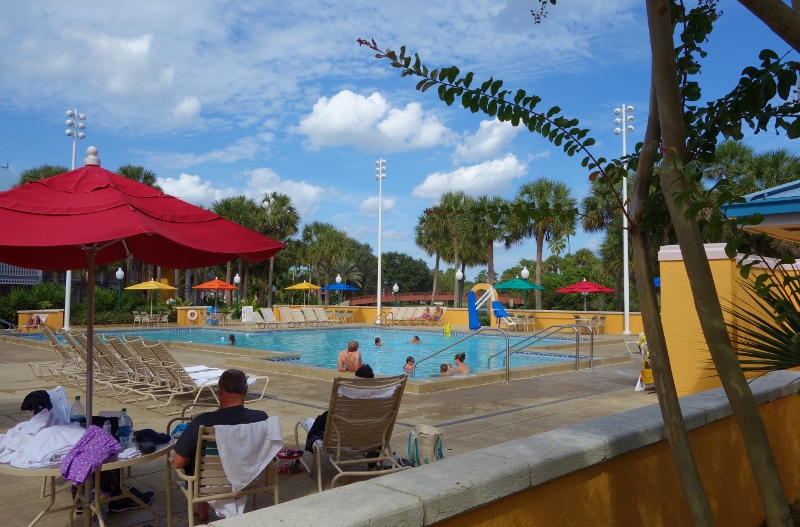 …a pool similar to the rest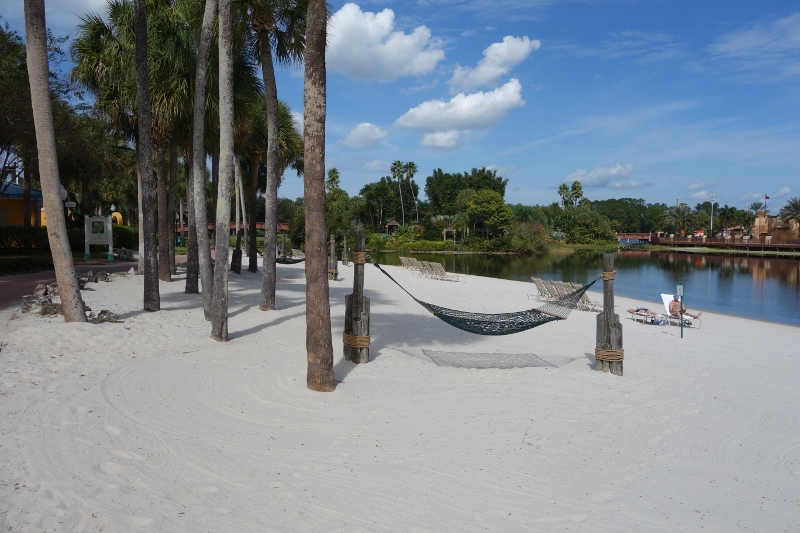 …a huge, gorgeous beach, and a nice view of Trinidad North and Old Port Royale.
The bus stop is in the center.
ARUBA
Aruba is the next best choice after Jamaica for those unwilling to pay for a preferred rooms.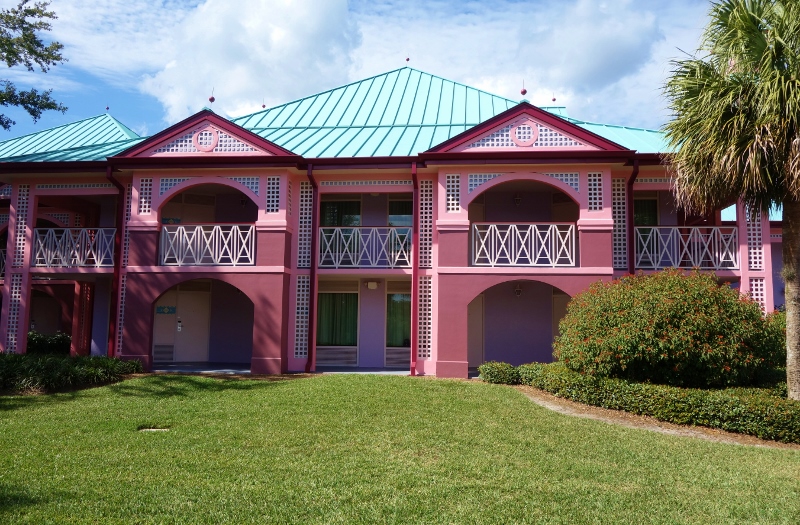 It has a so-so color scheme, and its bus stop is at the far end.  Some rooms will be closer to the footbridge to Caribbean Cay and Old Port Royal, others will be closer to the bus stop.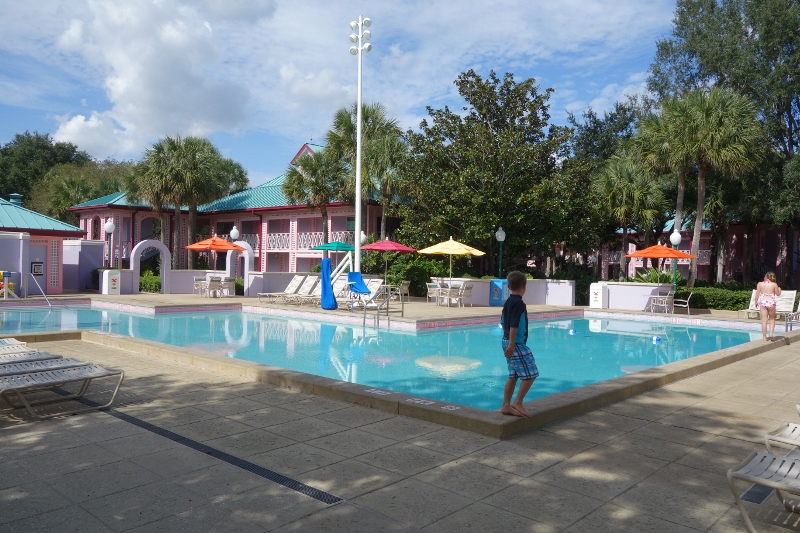 It has the usual pool…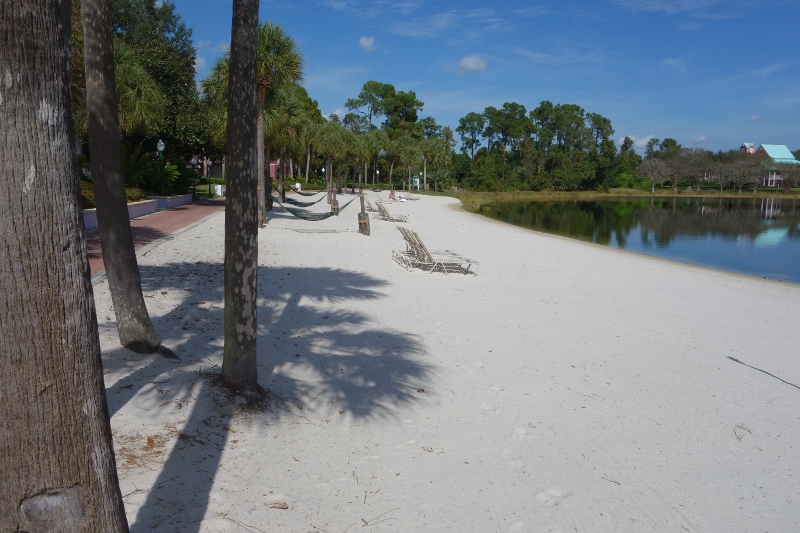 …and a beach second only to Jamaica's in extent and loveliness.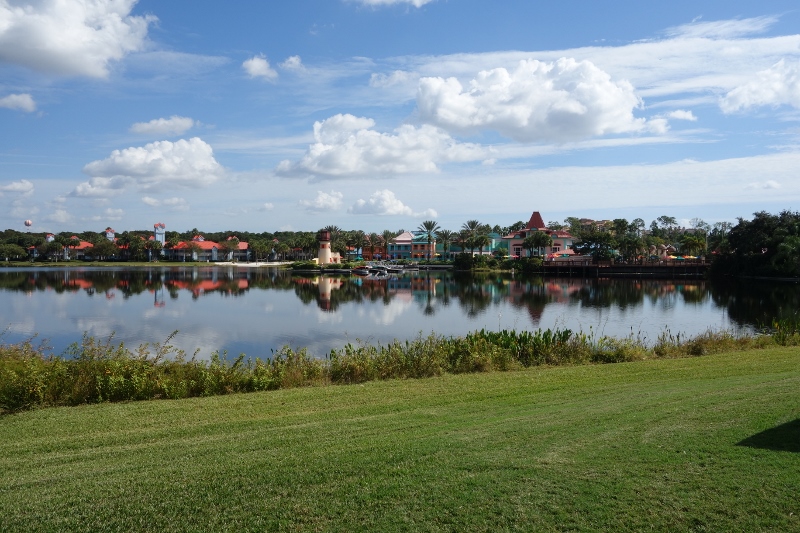 It has a nice view of Martinique and Old Port Royale.
BARBADOS
Barbados is almost as inconvenient as Trinidad South. It's near only the Customs House, which is of merit only if you've lost your keys. (When I lost my keys, I was staying in Trinidad South…) Building 11 is so isolated that I fear it has been bad and is being shunned.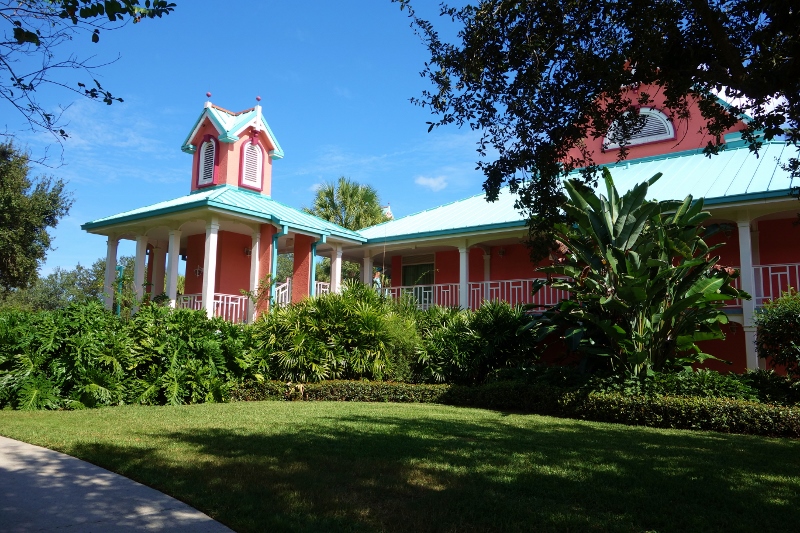 The colors are dull.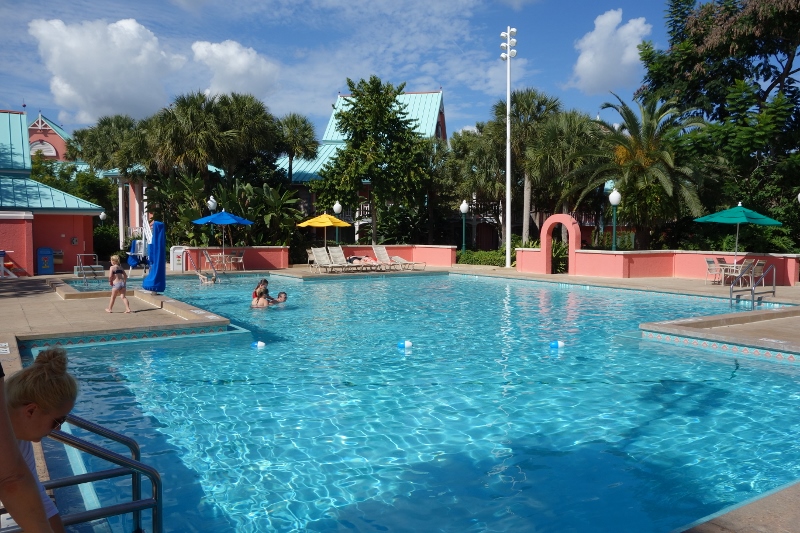 The pool is typical.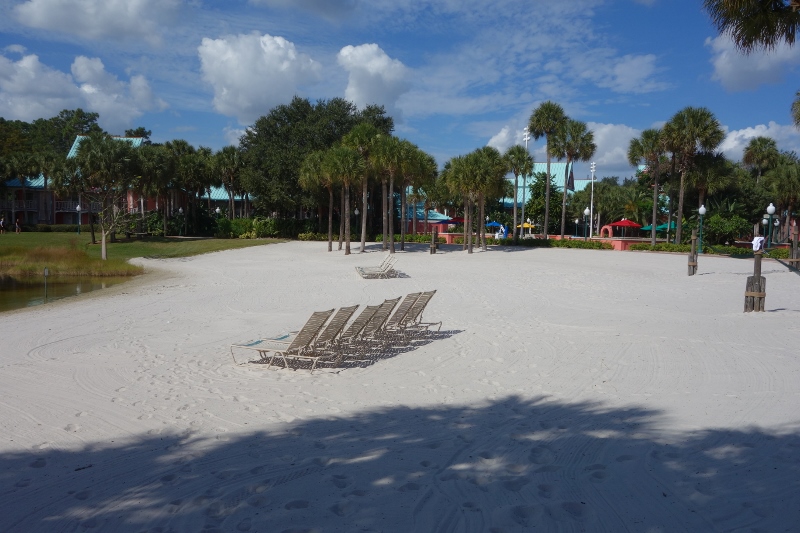 The beach is deeper than most, and because of that a little more interesting than some. However, many Martinique buildings are closer to it than they are to their own beach, so you will see the riffraff from Martinique rooms here as well as Barbados folk.
The bus stop is a little off center, but still convenient to rooms here.
THE PIRATE ROOMS IN TRINIDAD SOUTH
This review continues here.
PAGES:  Previous  |  1  |  2  |  3  |  4  |  5  |  6  |  7  |  Next


Follow yourfirstvisit.net on Facebook or Google+ or Twitter or Pinterest!!
RELATED STUFF