On My Birthday, My Request of You
By Dave Shute
So today's my birthday, and I'm requesting a birthday present from you!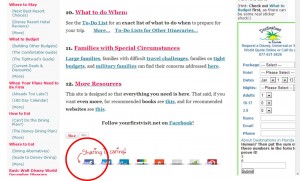 It'll take less than five seconds, but would be a really neat birthday present to me, and might help millions of other people.
Here's the task:
Scroll down until you see the Facebook button on the lower left—circled in the image.
Click it, and say something sorta nice—could be as simple as "helpful site"
WHY I AM ASKING FOR THIS BIRTHDAY PRESENT
I'm asking for this for a simple reason: more Facebook home page "likes" matters to Google and other search engines, and more will mean that this site will be more findable to the people looking for help in planning their Walt Disney World vacations.
There's lots of great sites out there, that I look at almost every day, and learn a ton from.
But there's only one site–this one—that Lee Cockerell called "astonishingly helpful for both first time and repeat visitors to Walt Disney World alike."
And that matters—because Lee Cockerell, as Executive Vice President of Operations at Walt Disney World, used to run the Disney World theme parks and resort hotels (under Al Weiss). And thus he should recognize good help with Disney World when he sees it…
So this site can really help people…but only if they can find it!
And if it's helped you, then you can help it to help others—by going to the home page, scrolling down,  clicking the Facebook "like" button, and saying something nice!
…and thanks…what you all do could be the nicest birthday present ever.
RELATED STUFF