What You Need to Know Now About Fastpass+
By Dave Shute
WHAT FIRST TIME VISITORS NEED TO KNOW ABOUT DISNEY WORLD'S FASTPASS+ PROGRAM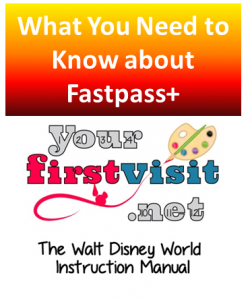 Update 8/25.  See also Frequently Asked Questions about Fastpass+.
Update 9/16: Many more resorts will be added to the Fastpass+ test in waves beginning 9/30
Update 9/26: FastPass+ are now available to eligible guests for November
Disney's Fastpass+ program allows you–well, so far, some of you– to reserve a limited number of Fastpasses from home, well in advance.
While full-roll out is still perhaps a ways off, some guests at Pop Century, the Yacht Club, the Animal Kingdom Lodge, and the Contemporary Resort have been testing the approach in August.
These four will continue the test in September and October, and Art of Animation, the Beach Club, Polynesian, and Port Orleans Riverside have been added to the test.
The rest of the Disney resorts will be added to the test in waves beginning 9/30.
(Thanks to my bud Andy from DisneyParksPlanning.com for the scoop on this.)
What's known right now is that those in the test
Don't seem to be able to book Fastpass+ until their arrival date hits the 60 day mark
Can book three Fastpass+ per day (some are getting a bonus 4th Fastpass+ at the Magic Kingdom)
That they can be booked at only one park per day
That you can't book any attraction more than once per day
That—so far—multiple "headliner" rides can be booked per day, and
That–so far–there seems to be little difference in the offerings available to those in the deluxes, moderates and values.
Moreover, if you are using Fastpass+ you can still, it seems, also use regular Fastpasses. At some point this will change and you'll be able to use only one system or the other.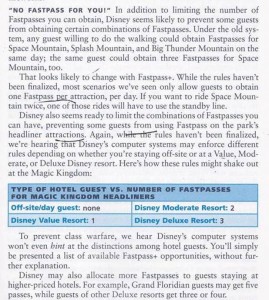 It's widely speculated by everyone who does the math that headliners will need to be restricted someday, and moreover that they may even be allocated by resort type.  See, for example, the excerpt to the right from The Unofficial Guide to Walt Disney World 2014
. Note that it's a forecast, not a fact!
So while at the moment this seems not to be an issue, I'm gonna focus here on prioritizing your Fastpass+ at each park, both because priorities are helpful even when you have several good options, and also so that the advice remains useful if the number of headliners you can book gets cut back.
(Note that I'm assuming that you are going one of my recommended (and thus low-crowd) weeks, using one of my itineraries, and that your kids are 8ish or older.  (Links to all this on the left sidebar.) Things will be different in high crowd weeks, for younger kids, or if you are at the parks different days than I suggest…Moreover, I likely will change these recommendations as we all get more experience over the next year on how the eventual fully-implemented Fastpass+ program actually works, and how it affects waits overall in the parks.)
I'm also assuming that you will still arrive at the parks early in the morning, well before opening—which is typically nowadays 8.45a everywhere but the Magic Kingdom, which is still going with a 9a opening.
Arriving plenty early means you can experience at least one more headliner with a low wait beyond what you can get to on Fastpass+.  Since you will be limited to 3—or perhaps 4—Fastpass+, with no repeats, this is a big deal.
Picking your early morning target is tricky.  There's two good ways to pick:
A ride with a really distinctive queue that you will largely miss if you go through the Fastpass return line—for example, Test Track and Expedition Everest.  (Recently Test Track Fastpass visitors have been getting the whole experience, no different than those using the regular line–but I'm not confident–yet–that Disney will stick to this…)
A ride you know you will want to see again, since you can only do one Fastpass+ per ride per day—more relevant to returning visitors who know what they want than for first timers.
So based on this, and on what's being offered right now for Fastpass+, here's my suggestions by park:
FASTPASS+ AT EPCOT
Epcot: Plan to arrive early and see Test Track.  Target for Fastpass+ first Soarin, then Turtle Talk with Crush,  and then Spaceship Earth (the last two aren't that hard to get now, but I predict they'll become tougher as Fastpass+ takes more of their capacity).
FASTPASS+ AT DISNEY'S HOLLYWOOD STUDIOS
Disney's Hollywood Studios: Plan to arrive early and see either Toy Story Mania or Rock N' Roller Coaster (pick the one you expect you might want to see twice.) Prioritize whichever you don't plan to see first as your first Fastpass+ selection, then Fantasmic, then the ride you want to repeat.
FASTPASS+ AT DISNEY'S ANIMAL KINGDOM
Disney's Animal Kingdom:  Plan to arrive early and see Expedition Everest.  Prioritize Kilimanjaro Safaris as your first Fastpass+ selection, then Festival of the Lion King, then Finding Nemo—the Musical. (These last two aren't that hard to get it to now, but their schedules can otherwise be awkward, and I expect they'll become tougher to access as Fastpass+ takes more of their capacity.)
FASTPASS+ AT THE MAGIC KINGDOM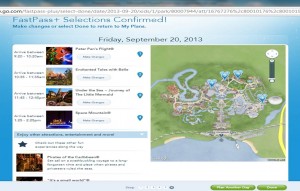 Magic Kingdom: Much tougher, as there are many rides that build long lines quickly.
The ones to target are Big Thunder Mountain, Enchanted Tales with Belle, Peter Pan's Flight, Space Mountain, Splash Mountain, and –when it opens—the Seven Dwarfs Mine Train.
Others will suggest adding Buzz Lightyear, Winnie the Pooh,  and Under the Sea—Journey of the Little Mermaid to this list.
There's enough there for two or three days' worth of Fastpass+ at the Magic Kingdom while extra headliners are available, and even more days if the number of headliners on offer gets cut.
Moreover, there's number of great rides not on these lists, because I'm expecting that with their high capacity they should have OK waits—these include Pirates of the Caribbean, the Haunted Mansion, and Mickey's Philharmagic.
So here's the thought for now:
Fastpass+ Priority Targets:  Enchanted Tales with Belle (lines can be too long even at open), the Mine Train Ride when it opens (same reason), Splash Mountain (you don't want to get wet at open)
Park opening first ride (without Fastpass+) targets: Space Mountain, Peter Pan, Big Thunder Mountain
Other possible priorities: Buzz Lightyear, Winnie the Pooh, Under the Sea—Journey of the Little Mermaid
So for as long as you can book multiple headliners per day up to 3, here's a suggested approach for dates before the Mine Train is available:
Day 1 at the Magic Kingdom: Plan Peter Pan at open, then Fastpass+ Enchanted Tales with Belle, Space Mountain, Splash Mountain
Day 2 at the Magic Kingdom: Plan to repeat the favorite from Day 1 at open, then Fastpass+ Big Thunder Mountain, Buzz Lightyear, and one of Winnie the Pooh, or Under the Sea—Journey of the Little Mermaid
If you have a third day at Magic Kingdom with a morning, then plan to save the first ride for a repeat of a favorite, then book as Fastpass+ repeat visits to Space Mountain, Splash Mountain and Peter Pan—almost everyone's list of Magic Kingdom favorites includes at least two of these three…
WHAT'S NEXT FOR FASTPASS+
My bud the "Mysterious A" had this to say in early August:
"In regards to Fastpass+, you were right about October. This is when we are going to see the first bits of what has been called the 'initial rollout.' Disney seems to have divided that month into two 'phases' of sorts: 'final testing' and the 'initial stage of rollout.'
Sometime around the middle of October, Disney is going give most Disney resort hotel guests access to online Fastpass+ and MagicBand features. This is will not be immediately given to everybody, as the rollout probably won't be fully complete until well into 2014.
As to when in 2014 specifically (and what 'fully complete' entails exactly) it's still not entirely clear. The several 'insiders' I've spoken with all seem to have different dates with the closest being about a year from now and the furthest away being in 2015."
So far, this is largely on the mark–although the October extension he refers to begins earlier, and happens in waves…
Follow yourfirstvisit.net on Facebook!
RELATED STUFF