Review: Disney's Pop Century Resort, Continued
By Dave Shute
This is the second page of this review of Disney's Pop Century Resort.  For the first page, click here.
A PHOTO TOUR OF A STANDARD ROOM AT DISNEY'S POP CENTURY RESORT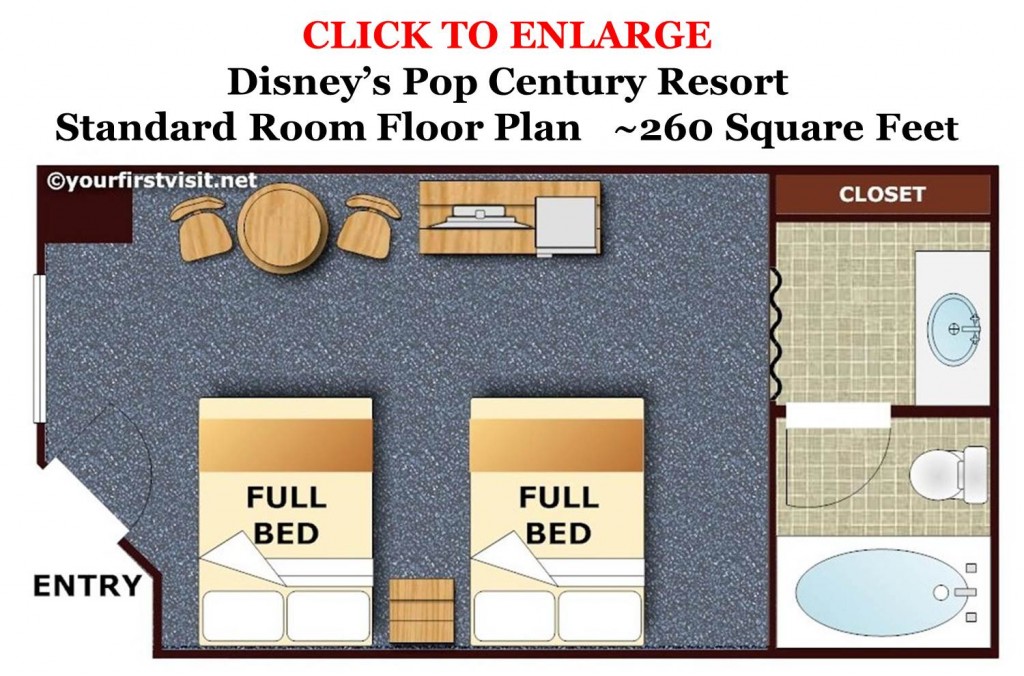 Standard rooms at Disney's Pop Century Resort have the same amenities as other value resort standard rooms.
However, they share with standard Art of Animation rooms a slightly different lay-out than you'll find in the rooms at the All-Stars.
Both the beds and the table and chairs at Pop Century are closer to the entry door than in the All-Star rooms. (See for example the All-Star Music floor plan on this page.)
The near bed in particular is so close to the door that it feels like the slightest trip would dump you into it. But once you are in the room, the slightly more spread-out furniture makes it feel more spacious than the rooms at the All-Stars.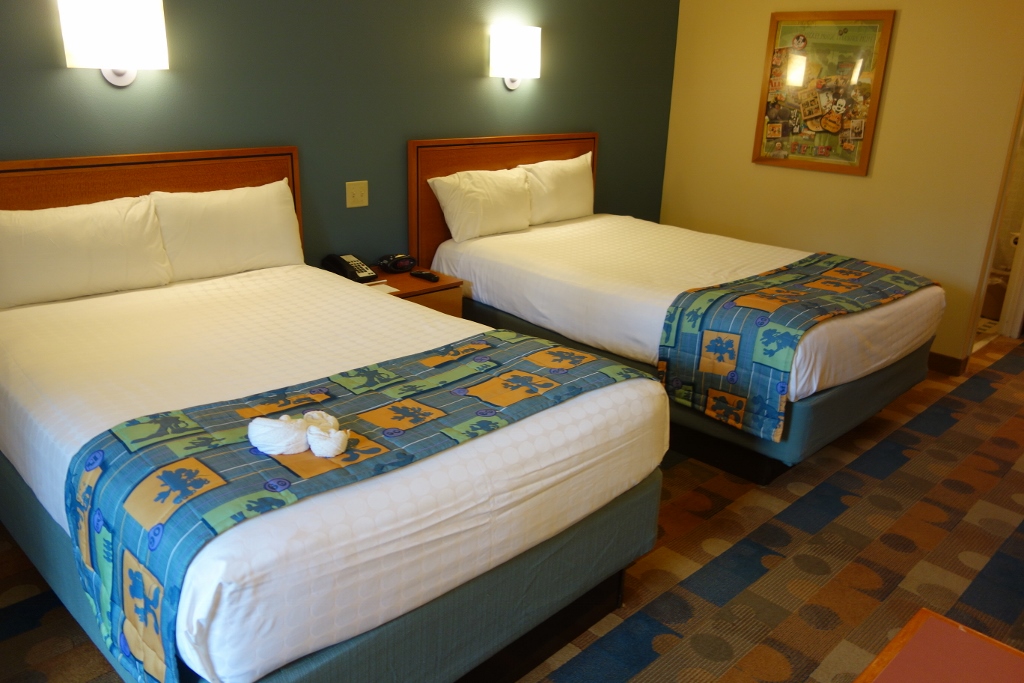 On one side of the room you'll find two full-sized beds.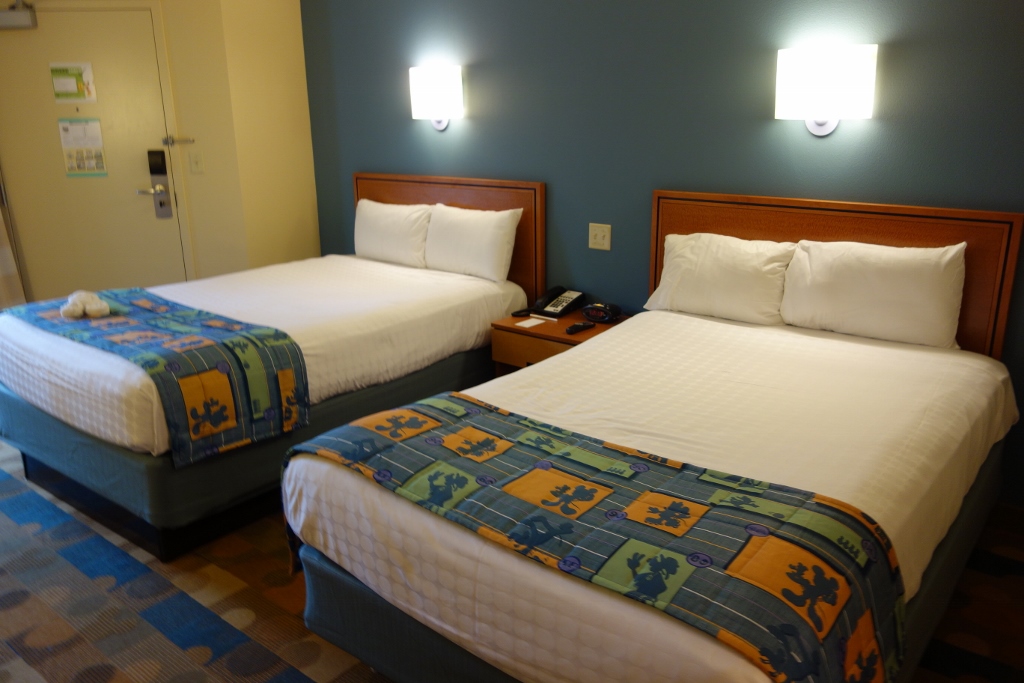 There's not much else here besides small table between the beds…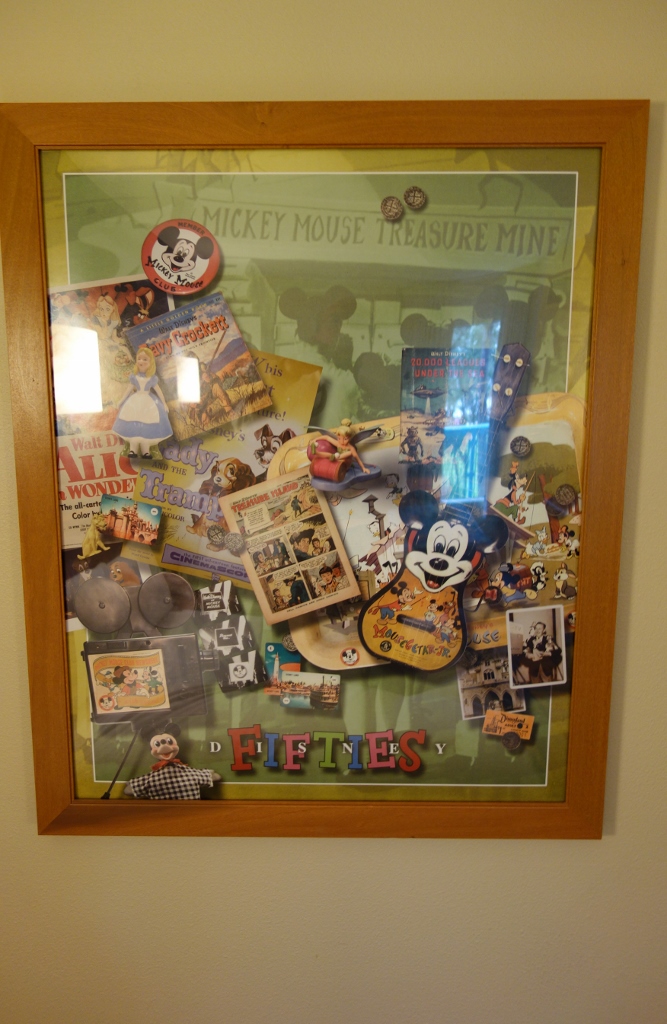 …and some poppy art on the wall.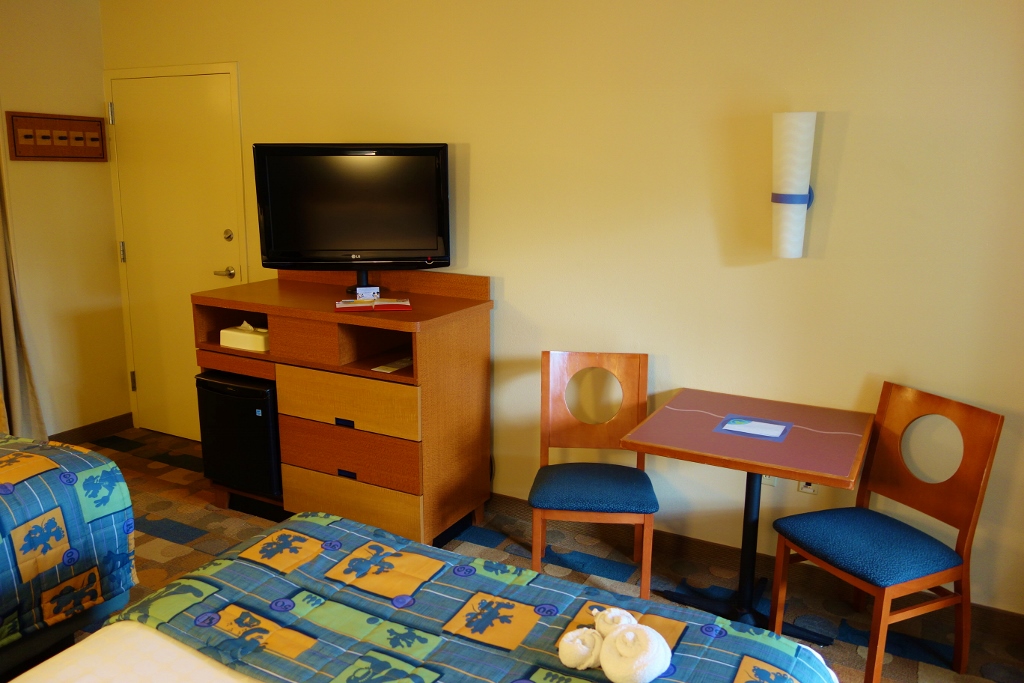 On the other side of the room there's a table and chairs, and a combined dresser/mini-fridge/TV.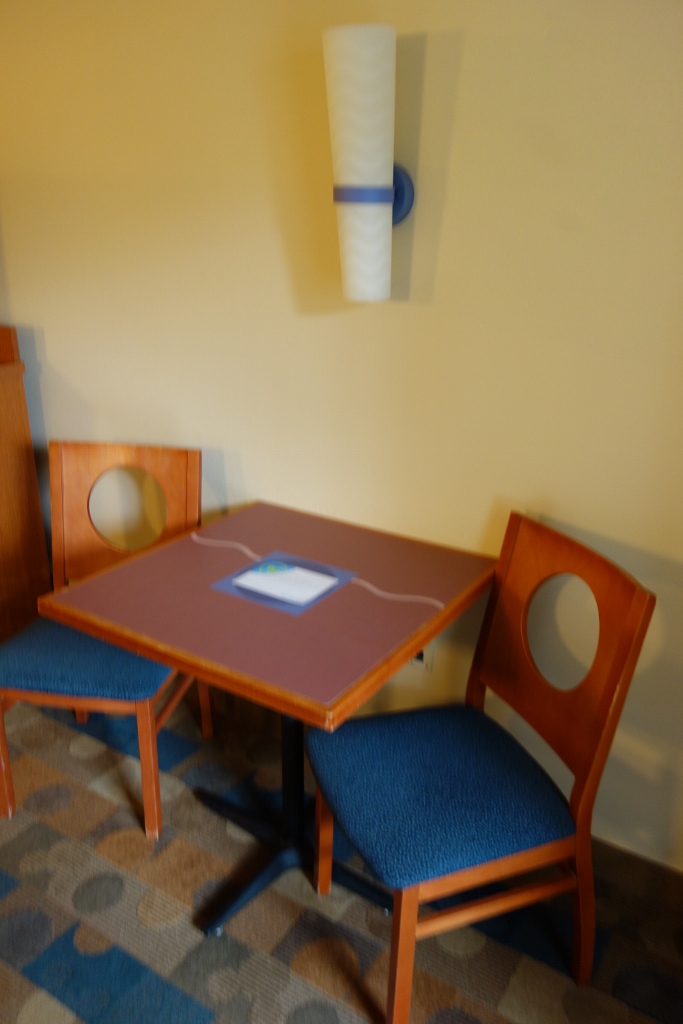 The table and chairs are fine for dining or playing cards.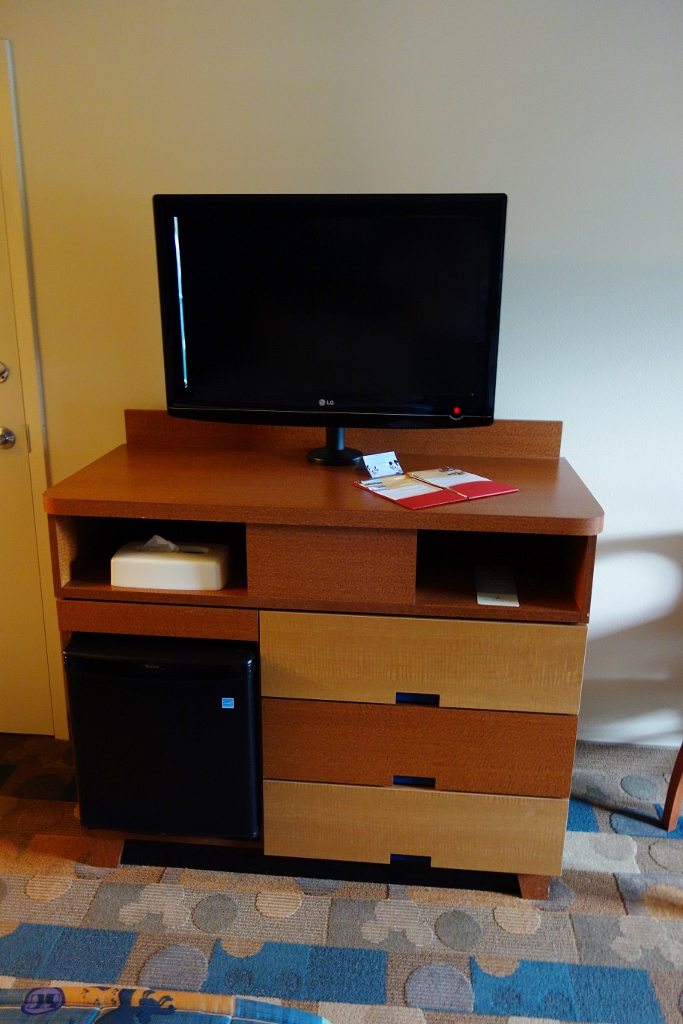 Here's a close-up of the combined dresser/mini-fridge/TV.  It has a couple of cubbies for storage…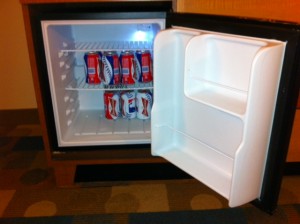 …and a mini-fridge–since mid-2012 standard and included in the price.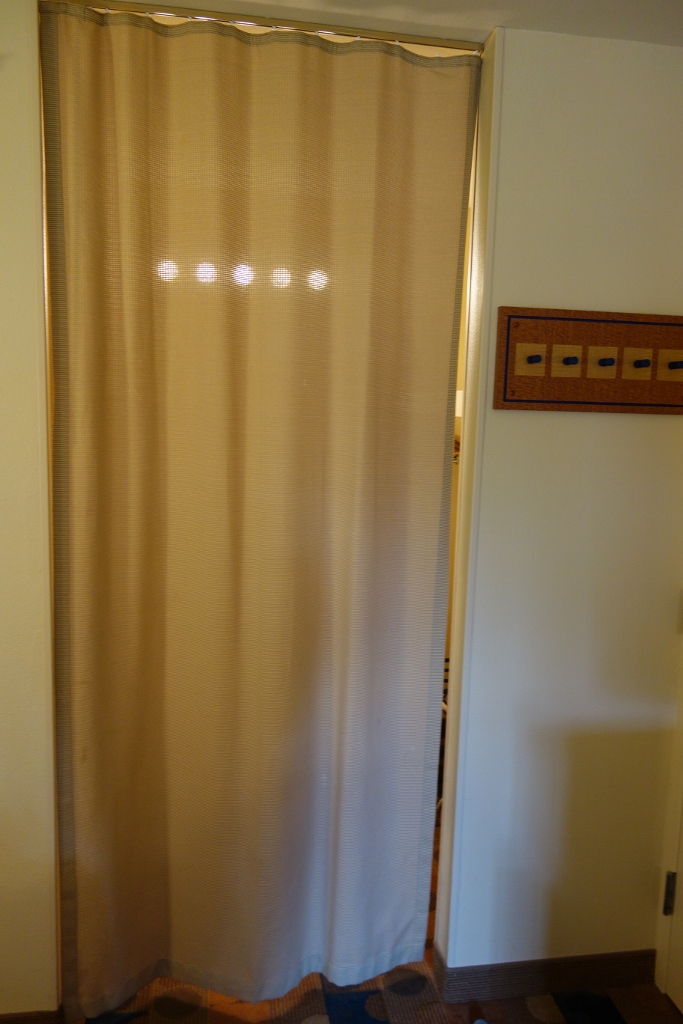 Also on this side of the room will be the connecting door, if your room has one, and a coat rack. There's also a curtain separating the bath and main space.
Beyond, you'll find the divided bath, with a sink/dressing/closet area segregated from the main room by a cloth divider, and a separate room with the toilet and shower.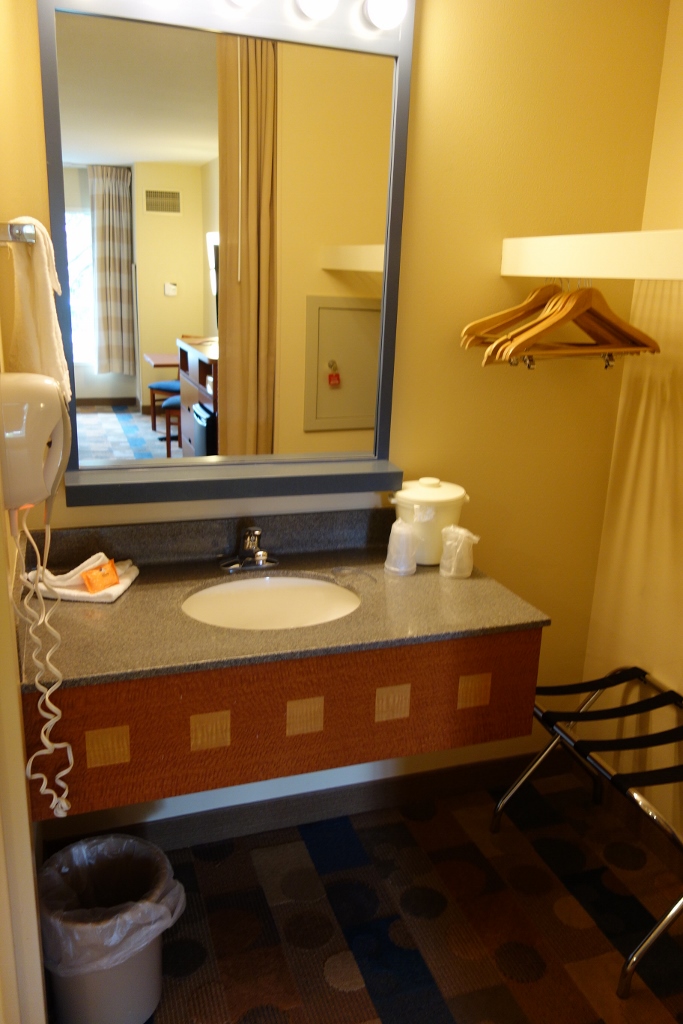 The sink area is small but nicely done.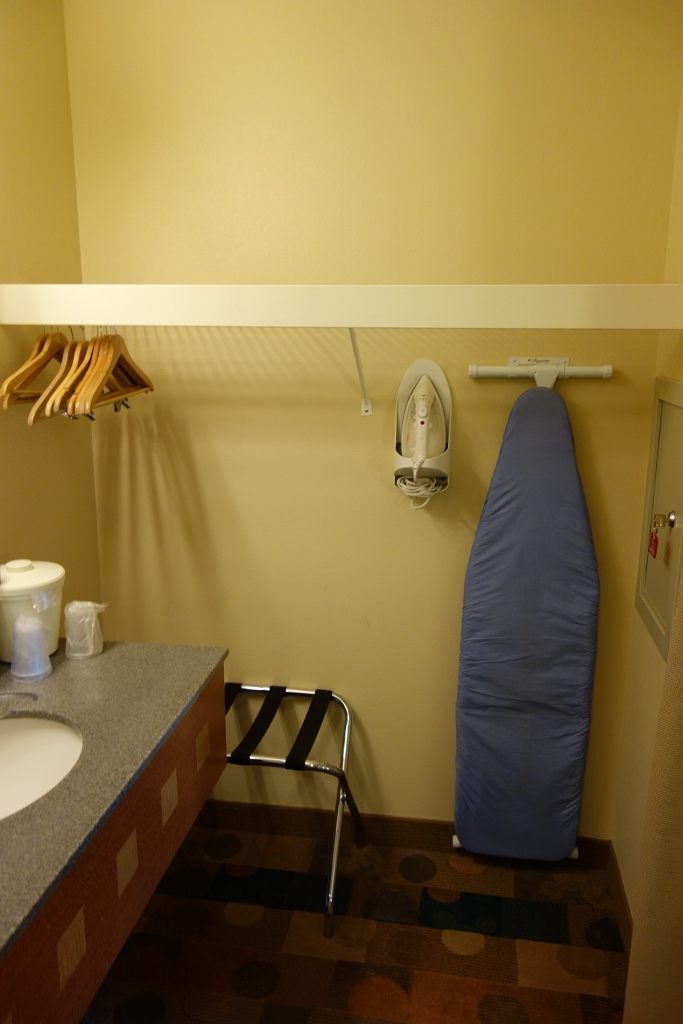 The closet/storage area includes 5 linear feet of clothes rod space, a luggage rack, an iron and ironing board, and a small wall safe.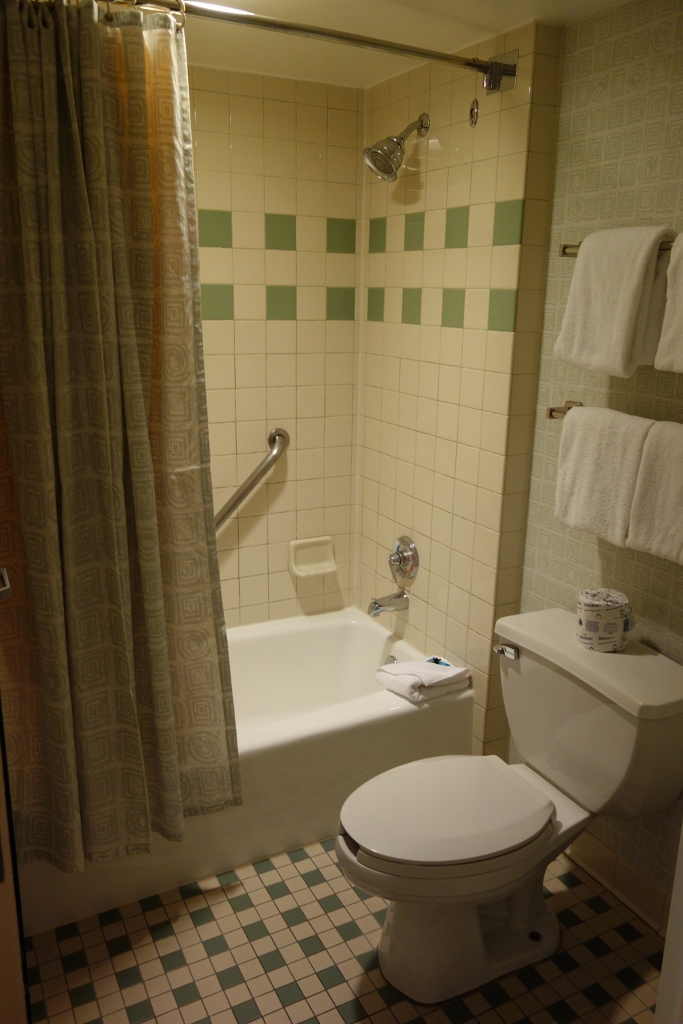 The toilet and tub area is behind a door next to the sink.
There's nothing special about these rooms.  They are small; their decor is adequate but uninspired to the point of being dull, especially compared to the Little Mermaid rooms at Art of Animation.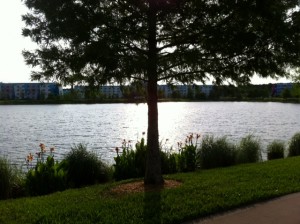 Rather, what's great about Pop Century is the price, relative convenience, the fun treatment of the exteriors, and the lake view!
MORE ON DISNEY'S POP CENTURY RESORT
This review continues here.
PAGES:  Previous |  1 |  2  |  3  |   4  |  Next


Follow yourfirstvisit.net on Facebook or Google+ or Twitter or Pinterest!!
RELATED STUFF