Review: Standard Little Mermaid Rooms at Disney's Art of Animation Resort, Continued
By Dave Shute
For the first page of this review, see this.
A PHOTO TOUR OF A STANDARD LITTLE MERMAID ROOM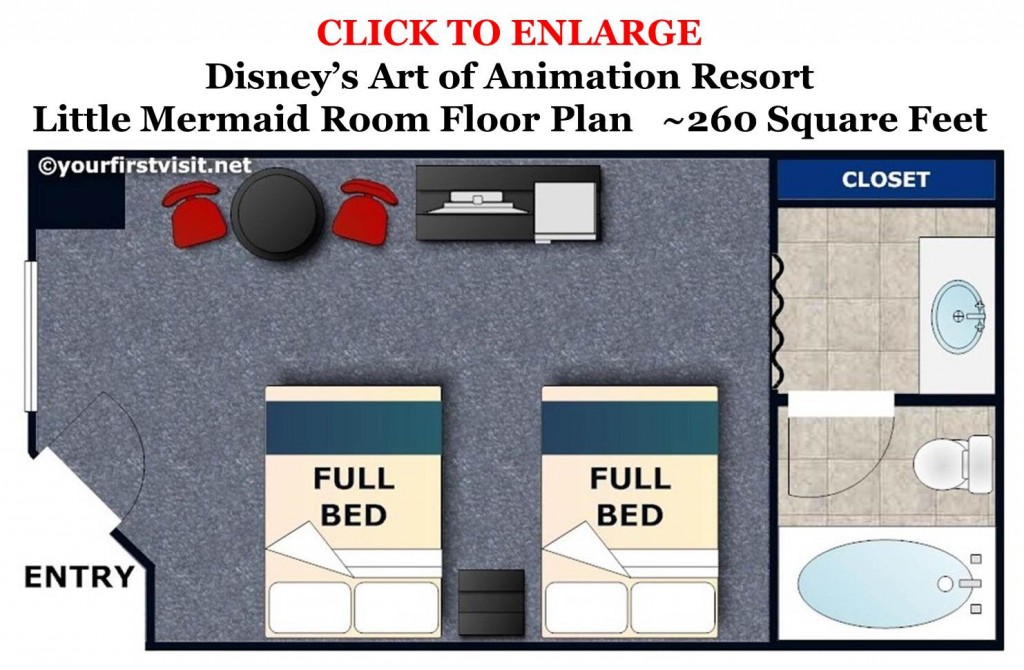 Standard 4-person Little Mermaid rooms have the same layout and size as the other value resorts.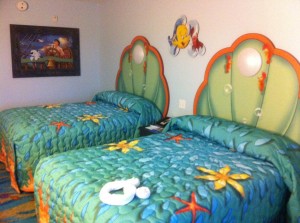 The room has two full beds, with an "undersea" theme and Flounder and Sebastian between them.
The "pearls" on the headboards are reading lights, each with its own switch above the nightstand that separates the two beds.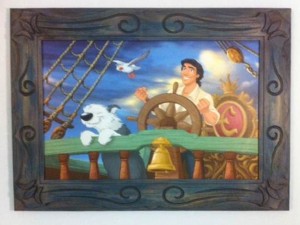 Towards the end of the beds, there's a painting of Prince Eric.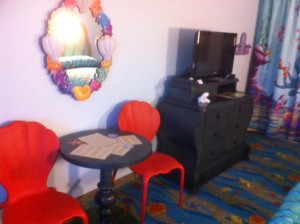 On the other side of the room, you'll find a table and chairs with a fun light fixture and mirror above, and a dresser with a TV  and a fridge inside.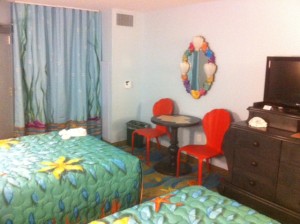 Here's another view of this side of the room. In this one, you can also see the curtain over the front window.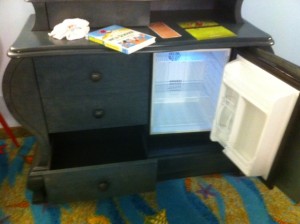 The dresser has only three drawers, and the fridge has no freezer compartment.
There's a shelf above the hanging rack in the bath with more storage, and also room for suitcases used for storage on the floor between the fridge and the bath.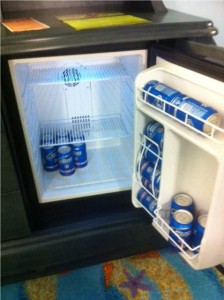 The fridge itself has pretty good capacity.  The photo shows it with 17 beers (guess where the 18th one was?).  The shelves inside are movable, and removable.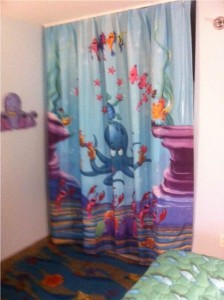 The bath is separated from the main living/sleeping area by a curtain, and you can also see, to its left, coat hooks.  The wall where the coats hooks are is where the door would be in a room outfitted with connecting doors.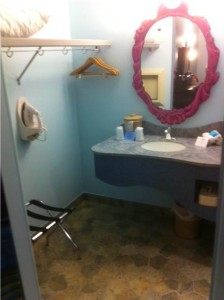 The bath has a single sink, and a large hanging area to its side, with a shelf above it, and an ironing board, iron, and safe.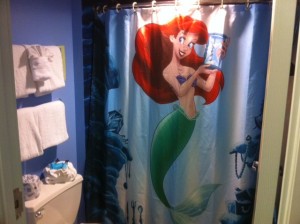 The toilet and tub are closed off into their own space.  The shower curtain presents the first appearance of Ariel in the room–see this.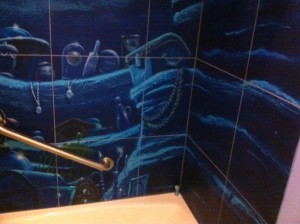 The tub surround is themed to Ariel's lair.
BEST AND WORST PLACES TO STAY IN THE LITTLE MERMAID AREA OF ART OF ANIMATION
This review continues here.
PAGES: Previous  |  1  |  2  |  3  |  Next
RELATED STUFF