Disney World Crowds in 2013: Christmas/New Years Crowds 2012/2013
DISNEY WORLD CROWDS FROM LATER DECEMBER 2012 TO EARLY JANUARY 2013
Disney World usually sees its highest crowds and prices of the year in the later third of December and the beginning of January, in the week that includes Christmas, and the next week that includes New Year's Eve.
This is for a pretty basic reason: kids are out of school these weeks.
However, not every school district has the same break schedule.
In 2012/2013, many more kids are out Christmas week than New Year's week, but there's enough on break New Year's week to still crowd the parks…
SCHOOL BREAKS AND DISNEY WORLD CROWDS

There's three archetype districts:
Long breakers–districts that take at least 2 full weeks (and three weekends) off
Short breakers–districts that take off as close to only December 25 to January 1 as they can
Shorter breakers–districts that start with a December 25 to January 1 mindset, but are happy to extend the break if they reasonably can, especially to avoid one or two day school weeks before the 25th or after the 1st
In 2012, a Tuesday Christmas, and the patterning of school breaks around it, will make it easy for many families to head to Walt Disney World either week. However, the preponderance of kids will be off Christmas week, so that week will be much worse.
ACTUAL 2012-2013 CHRISTMAS SEASON SCHOOL BREAKS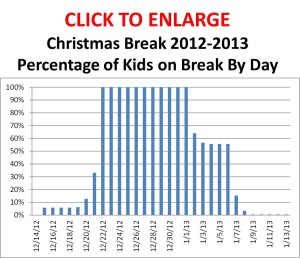 The chart to the right illuminates this.
It's based on data from a weighted sample including more than 180 of the largest relevant US public school districts.
(Click it to enlarge it; when it opens, click it again to enlarge it more.)
You can see that while a lot of kids start their break earlier, breaks start really building the 20th and 21st, and by Saturday 12/22, everyone is off.
At the simplest level, what this means is that about half of kids can only go to Disney World Christmas week, and half can go either Christmas or New Years week.
Given this, if the half that can go either week is randomly distributed between the two possible weeks, then 3 times as many kids will be at Disney World Christmas week than New Years week.
As a result, I'm classing Christmas week 2012 as 11/highest crowds, and New Years week 2013 as 9/high crowds.  New Years week will start enormously crowded, then slow down a bit after the 1st.
RELATED STUFF