Review: Disney's Caribbean Beach Resort, Continued
For the first page of this review of the Caribbean Beach, see this.
MORE STUFF ON DISNEY'S CARIBBEAN BEACH RESORT
Disney's Caribbean Beach Resort is one of 5 moderate resorts at Walt Disney World:
The moderates have much more room than the value resorts, more amenities, and (except for Fort Wilderness) much better landscaping. See this for what you get by Disney World price class.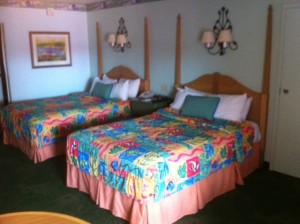 Although the typical moderate rooms, at 314 square feet (the cabins have 508 square feet), sound much smaller than the rooms available at the deluxe resorts, differences in hall/entry layout make the living space of the typical moderates much more comparable to many Walt Disney World deluxes than raw square footage would imply.
See this for more on square footage and livability.
Disney's Caribbean Beach Resort is officially "a tropical beachside paradise set on the beautiful 45-acre Barefoot Bay."
Its 200 acres include an arrival building, where you check in, make dining reservations, buy tickets, etc., called the Custom House; a central area with shops, food, another reservations and ticketing point. and the main pool called Old Port Royale; and 2112 rooms divided among six "villages"– Trinidad North, Trinidad South, Martinique, Barbados, Aruba and Jamaica.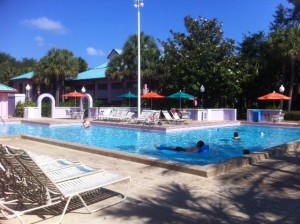 Each village is painted a different vibrant tropical color, and most have both their own beach and their own "quiet pool." (Barbados shares beaches with Martinique.)
("Quiet pool" is Disney lingo for a small, unguarded pool that is closer to most guest rooms than the large, guarded, main pool.)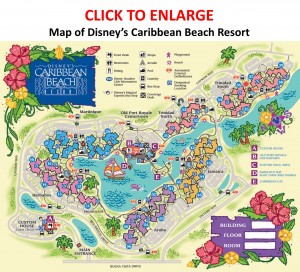 The six villages are scattered about. (See the map.)
Martinique and Trinidad North are closest to the resort's central facilities at Old Port Royale–where you'll find the main pool, shops, and dining. Rooms in these villages incur an extra cost because of their location.
Trinidad South–where you'll find the Pirate rooms–and, to a lesser extent, Barbados, are furthest from these facilities.
Jamaica and Aruba are in between, and the best choice for most first-time visitors.  Not overly distant from Old Port Royale because of a bridge, they best balance convenience and cost.
Each village has three to six buildings and its own bus stop.  When you arrive, note your building carefully on the map–the bus stop, beach, or quiet pool of another village may in fact be closer to you than that of your own village.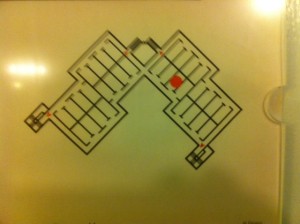 The buildings have 64 rooms each, laid out in a variety of ways.
See the image for the layout of Building 51 in Jamaica–where I most recently stayed. (Since starting this site, I've also stayed in Trinidad South and Barbados.)
Just as the best bus stops aren't always the first that come to mind, same for the stairs to the 2nd floor.  If you are in a second floor room, check out the fire escape map on your door to figure out the best stairs for various purposes.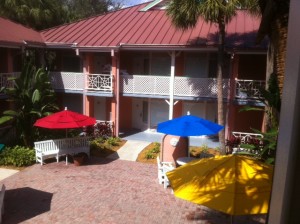 Some of these buildings have spaces designed with interior courtyards, punctuated with fun multi-colored umbrellas.
Others laid out in different ways have other landscaping approaches, but all the settings are quite lovely…and so are the beaches!
This review continues here.
PAGES: Previous  |  1  |  2 |  3 | Next 
RELATED STUFF