Review: Disney's Contemporary Resort
OVERVIEW: DISNEY'S CONTEMPORARY RESORT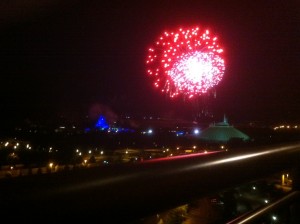 Our most recent stay confirms that Disney's Contemporary Resort is the fourth best deluxe resort at Walt Disney World for first time family visitors.
You can have a wonderful visit at any Walt Disney World resort hotel.
However, this site recommends that first time visitors to Walt Disney World who can afford it should stay at Disney's Polynesian Resort, a deluxe resort, and that those who can't should stay at Disney's Art of Animation Resort, a value resort.
(It also suggests that first time visitors should avoid the moderate resorts, while noting that these resorts are wonderful for visits after the first. See this for why.)
Compared to other Walt Disney World owned and operated resorts, the deluxe resorts are distinguished by having (on average) the most amenities, nicest views, best dining options, best transport options, largest rooms, best service, and highest prices.
Among the deluxe resorts, Disney's Contemporary Resort, a monorail resort, stands out for having some kid appeal, terrific convenience, large rooms, great views from some rooms, and fun dining options.
(See this for much more on resort distinctions by price class–value, moderate, deluxe, etc.)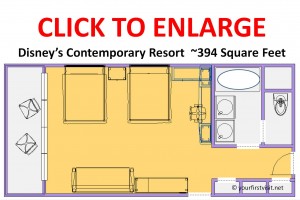 Standard rooms at Disney's Contemporary Resort are among the largest on property–smaller only than those at the Grand Floridian and Disney's Polynesian Resort.
Most of these rooms sleep five–two each in two queens, and another in a flip-down couch. Rooms with one king bed are also available.
You can add to this capacity of five a child younger than three who sleeps in a crib. A crib fits well between the closet and TV credenza.
DISNEY'S CONTEMPORARY RESORT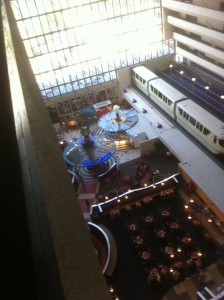 Resorts are ranked on this site for first time visitors based first on their kid appeal, and then on their convenience.
On this basis, Disney's Contemporary Resort is the fourth-best deluxe resort for first time family visitors to Walt Disney World.
Kid Appeal.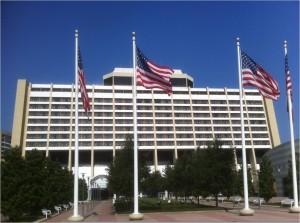 The moderate kid appeal of the Contemporary Resort comes from the sight of the monorail running right through its central atrium–the Grand Canyon Concourse.
Once the excitement of seeing the monorail fades, the architecture of the resort reveals itself to be rather brutal and un-interesting.
Convenience. Disney's Contemporary Resort is the second most convenient of all the Walt Disney World resorts after the Polynesian in carrying out the itineraries for first-time family visitors on this site.
It is unique among the Walt Disney World resorts in having a walking path to the Magic Kingdom.
The option of being able to get to or return from the Magic Kingdom in five to ten minutes without having to wait in line for a transport vehicle can be really valuable, especially right after fireworks or parades, or on peak attendance days when the park might be closed.
The Contemporary is also on the resort monorail loop.  The Magic Kingdom is the fourth stop heading in, and the Contemporary is the first stop coming back.
Access to Epcot is from taking the monorail to the Ticket and Transportation Center–the first stop–and from there taking the Epcot monorail.
Transport to the other theme parks is by bus, each of which is shared by at least one other resort.
Boat service is available to Fort Wilderness (convenient for the Hoop Dee Doo Revue) and to the Wilderness Lodge (convenient for Whispering Canyon).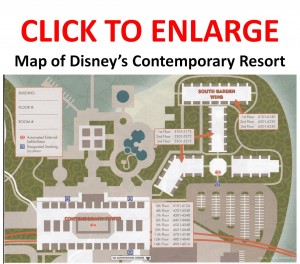 Best places to stay. This site suggests that first time visitors stay in standard rooms, not preferred rooms.
This is because they won't be spending much time in their rooms.
The single exception is visitors to the Animal Kingdom Lodge, who should always pay for savanna views.
The Contemporary almost qualifies as an exception–I do strongly recommend Magic Kingdom view rooms in the Tower.
Rooms in Disney's Contemporary Resort are in two areas–the Tower and the South Garden Wing. (See map above).
The old North Garden Wing–a favorite of many, including my parents–was demolished, and Bay Lake Tower, a Disney Vacation Club resort, opened in its former spot in 2010.
(Bay Lake Tower has its own review here.)
South Garden Wing rooms can be a hike from the Tower and its services, but are a good bit less expensive than Tower rooms–on the order of 75% of standard view Tower rooms, and two-thirds the price of Tower Magic Kingdom rooms.
That said, they are still more expensive than standard view Wilderness Lodge rooms, so if you are committed to a deluxe resort, but price is an issue–and you can fit into the Lodge's 4-person rooms–I'd advise staying at the Wilderness Lodge rather than in one of the Contemporary's South Garden Wing rooms.
Tower rooms, while more expensive, are much more centrally located.  Those staying in the Tower are in effect in Walt Disney World's most compact and easy to navigate resort.
Magic Kingdom view Tower rooms are about 15-20% more expensive than the cheapest Tower rooms.  But the views, especially of Wishes, can be really fun, so families that can afford this premium should request a Magic Kingdom view from as high a floor as possible.
BEST FOR:
Any first time family visitors who can afford it, but can't get into or don't want to stay at Disney's Polynesian Resort.
WORST FOR:
Families seeking the highest degree of kid appeal. Families too large to fit its 5 person rooms. See this for more on large families at Walt Disney World.
This review continues here.
RELATED STUFF